"It was a real battle today," said Chef d'Equipe Ian Millar.

Calgary, AB, Sept. 9, 2023 – The Canadian Show Jumping Team finished third behind winning team Ireland and second place Germany in the BMO Nations' Cup on Saturday, Sept. 9, at the CSIO5* Spruce Meadows 'Masters' tournament in Calgary, AB.
Defending champions Sweden were first into the International Ring followed by Ireland, Great Britain, Belgium, Canada, Germany and the United States. After a challenging first round with four teams advancing with double digit scores, the Swedish team failed to advance to the second round with a total of 34 faults.
Very unusual for a five-star Nations' Cup, there were three riders that came out of their tack and fell on course, including Ireland's Conor Swail ranked 14th in the world who had a fall at the water jump and was unable to return for the second round leaving Ireland with no drop score.
"It was a real battle today," said Chef d'Equipe Ian Millar, who himself won the BMO Nations' Cup for Canada in both 2006 and 2014. "It showed the difficulty of the course and not to mention the difficulty of the sport. Thank goodness no one got hurt today, but it just reminds everyone that our sport is a risky business. When you see great riders doing it, they make it look easy; something could always go wrong and there could be very serious consequences."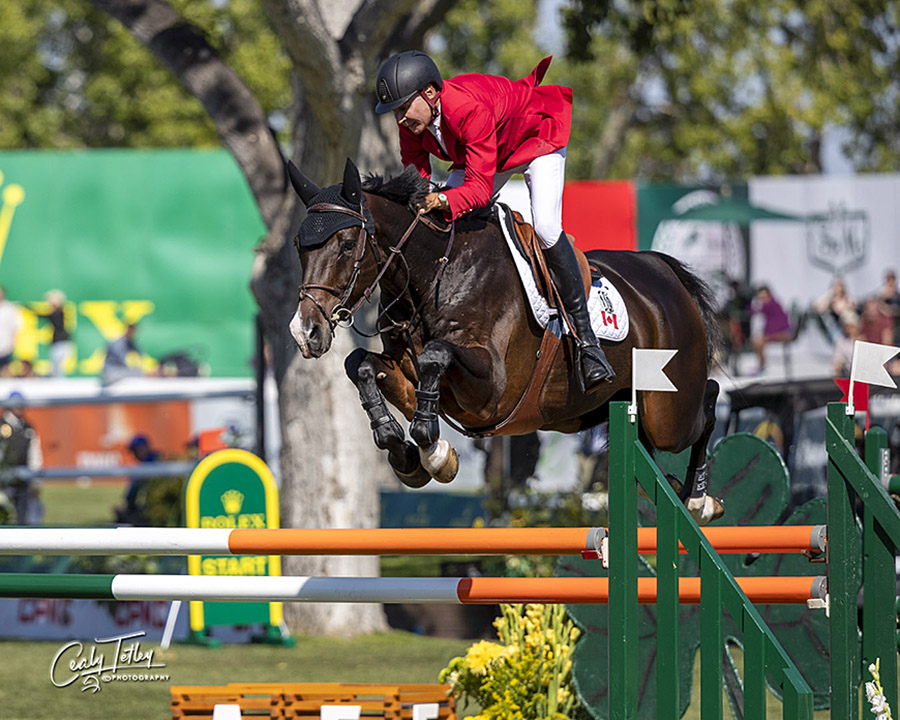 Mario Deslauriers and Emerson. Photo Credit: Cealy Tetley
With just four faults in the first round, the Canadian team of Mario Deslauriers, Erynn Ballard, Amy Millar and Tiffany Foster advanced to the second round just behind the first placed Irish team with a single fault. The podium positions remained a tight race between the top three teams of Ireland, Canada and Germany all the way to the final competitor.
Canada's lead-off rider Mario Deslauriers, 58, originally from Venise-en-Quebec, QC, incurred seven faults with one rail down and three time faults in the opening round with Emerson, the mount he partnered with to win the CSIO4* Wellington Nations Cup earlier this year.
On their second tour of the course designed by Leopoldo Palacios, Deslauriers and the 11-year-old Belgian Warmblood gelding (Eldorado van de Zeshoek x Berlin) owned by Wishing Well Farm LLC incurred four faults with a single rail in the triple combination.
Next in the order for the home team was Erynn Ballard of Tottenham, ON, posting a clear first round aboard her 2023 World Cup Final mount Gakhir (Sparatacus x Labor's VDL Indorado) a 12-year-old Dutch warmblood gelding owned by Esperanza Imports LLC & Ilan Ferder.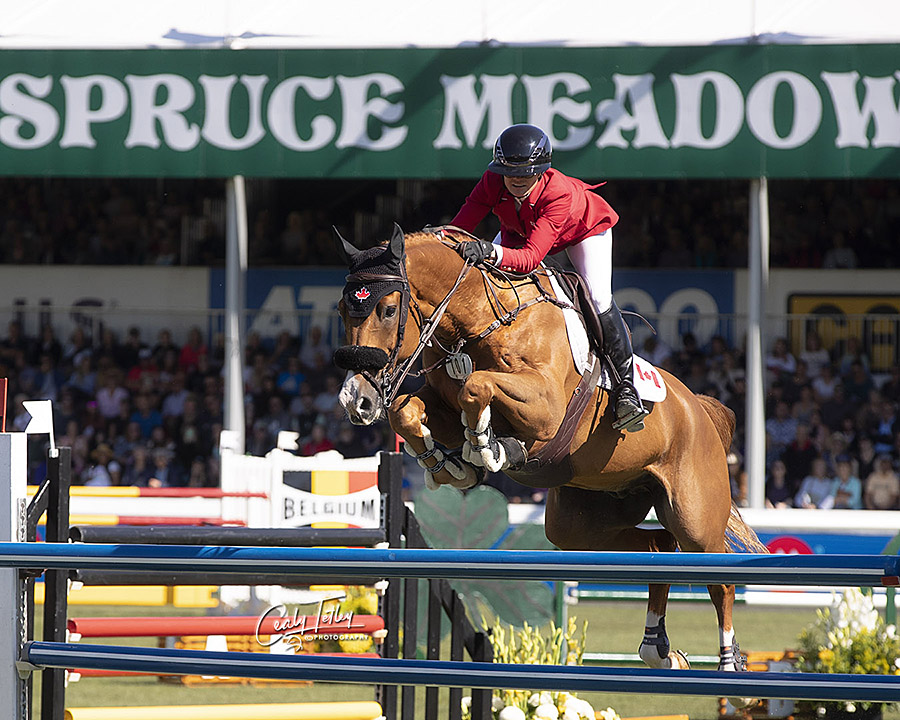 Erynn Ballard and Gakhir. Photo Credit: Cealy Tetley
Ballard, who made her Nations' Cup debut when she helped Canada win this event for the first time in 2006 came back in the second round and incurred eight faults with a step in the water and took an unlucky last rail on course.
Third rider Amy Millar, 46, of Perth, ON, delivered two strong rounds in front of the hometown crowd. Riding Truman, a 14-year-old Selle Français gelding (Mylord Carthago x Kolibri) owned by Millar Brooke Farm Ltd. and Overlund, Amy Millar was one of only four riders to jump clear in the first round. She and her top partner that won the BMO Nations' Cup in 2021, came back in the second round and had just a small blemish with one rail down in an otherwise perfect round.
"I was really happy with Truman today. He jumped the first round beautifully; it could not have been better," Amy said. "It was the lightest of rubs in the skinny vertical in the second round and I have ideas about what I need to do to clean that up."
"It's always so special to be here at Spruce Meadows," Amy continued. "The thing is that we want to win here so badly. The crowd was amazing, we got tonnes of congratulations, and everyone is happy with what we did. The field of competition here is really high so that is to be remembered when we think about where we stand in the world. If you're third here, you're not in a bad position! That's the big picture for us as we have to get to Paris."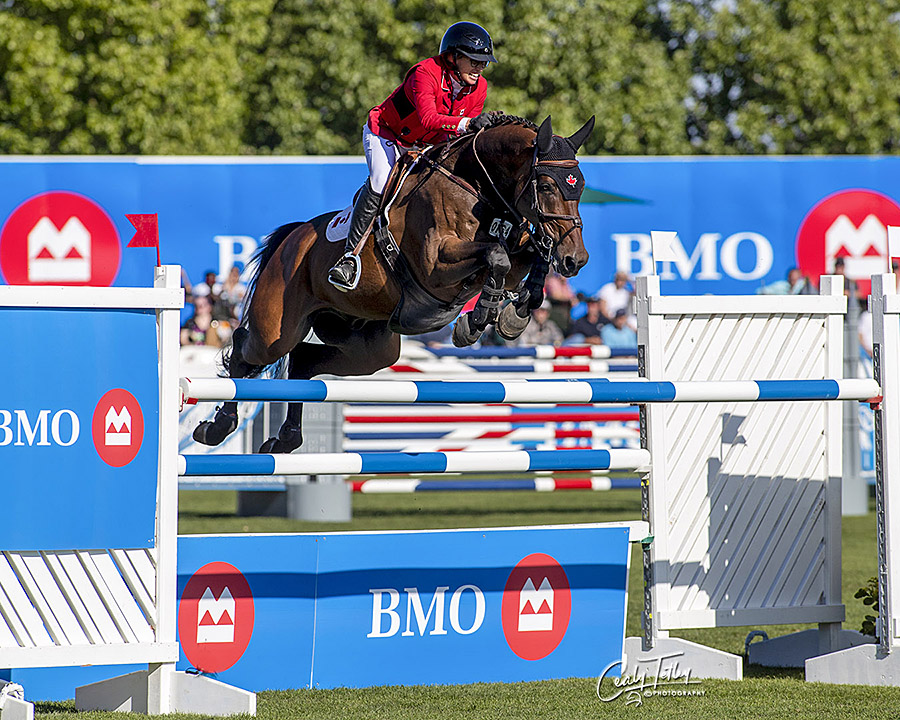 Amy Millar and Truman. Photo Credit: Cealy Tetley
Riding in the anchor position was Tiffany Foster of Langley, BC, and Figor, a 13-year-old Dutch Warmblood gelding (VDL Groep Zagreb x C-Indoctro) she owns in partnership with Artisan Farms LLC. The two-time Olympian with her World Championships partner delivered a very well executed clear first round but were just over the 78 seconds time allowed and added four time faults to the score. Coming back in the second round, the pair ensured a quicker pace and delivered the clear performance that Canada needed to hold and finish on 12 faults for the bronze.
"First things first, my horse was amazing. He jumped double clear; he was incredible today," said Foster. "Those time faults in the first round were 100% my fault. As a rider in a Nations' Cup, your focus is clearing the jumps, and in this particular one, you also had to focus on going fast. I was glad I could come back and go clear for the team."
"I am also very honoured that Ian (Millar) would put me to go last in this Nations' Cup," she continued. "I know it means a lot to him and I am glad that I was able to pull through."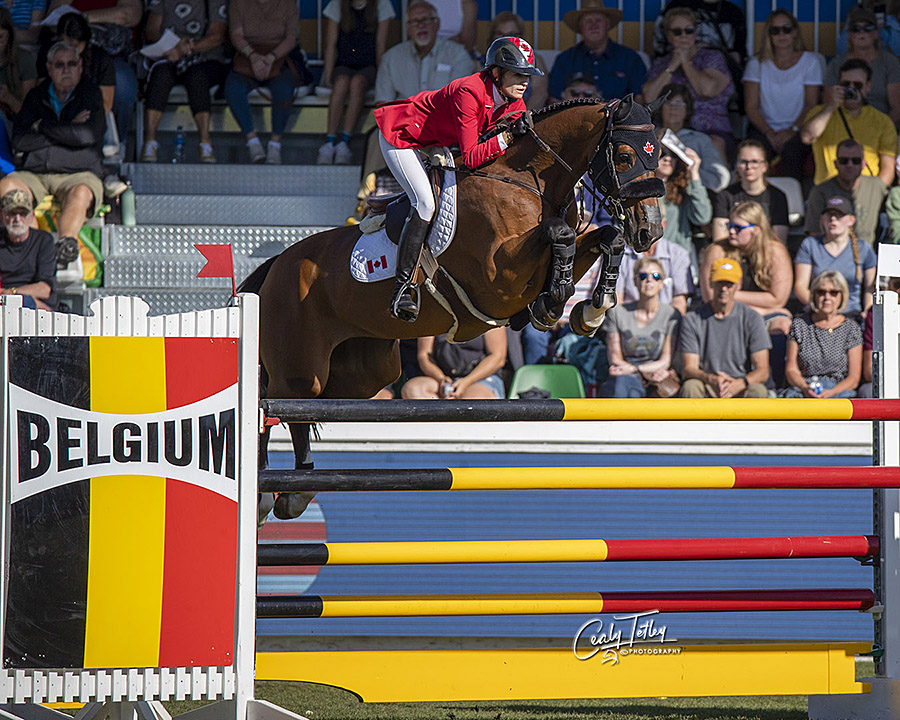 Tiffany Foster and Figor. Photo Credit: Cealy Tetley
Foster went on to express gratitude for the hosts and the hometown crowd in Calgary. "For us as the Canadian team, you can see that we brought and rode all our best horses, we take this Nations' Cup very seriously. We really appreciate what Spruce Meadows does for the sport of Show Jumping and are grateful for the sponsorship of BMO to hold an event like this. We also really appreciate the fans coming out."
Ireland claimed victory with a nail biting final clear round to hold up the BMO Cup for the first time since 2001 on a total of five faults. Germany took the silver with six faults, Great Britain was fourth with 41 and Belgium rounded out the teams that finished the competition in fifth with 57 faults.
"It was a great contest, and I am very proud of our Canadian team - each and every one of them," said Ian Millar. "We are building towards the Pan American Games in Chile and everyone is honing their skills and getting their horses ready. We wanted to do very well here, and we did, but it is about peaking to win the gold medal in Santiago."
The Canadian Show Jumping Team will compete next at the Pan American Games in Santiago, Chile, from Oct. 20 – Nov. 5, 2023
For full results from the CSIO5* Spruce Meadows 'Masters' tournament, visit https://www.sprucemeadows.com/masters/.