Wow – our shows continue to grow!

Our feet didn't touch the ground for the whole time the show was on – we started the prep work on Wednesday August 16, with Colie Florica starting to drag the ground for the way we Reiners need it. Colie does an amazing job each and every show. Our incredible group of pre-show volunteers helped us hang goodie bags on stalls, put the sponsor banners up (more on our sponsors next month), distribute the shavings and get the place ready for move in on Thursday, thank you to Lisa McCue, Jamie Breedon, Brooklyn Breedon, Peter Johnson.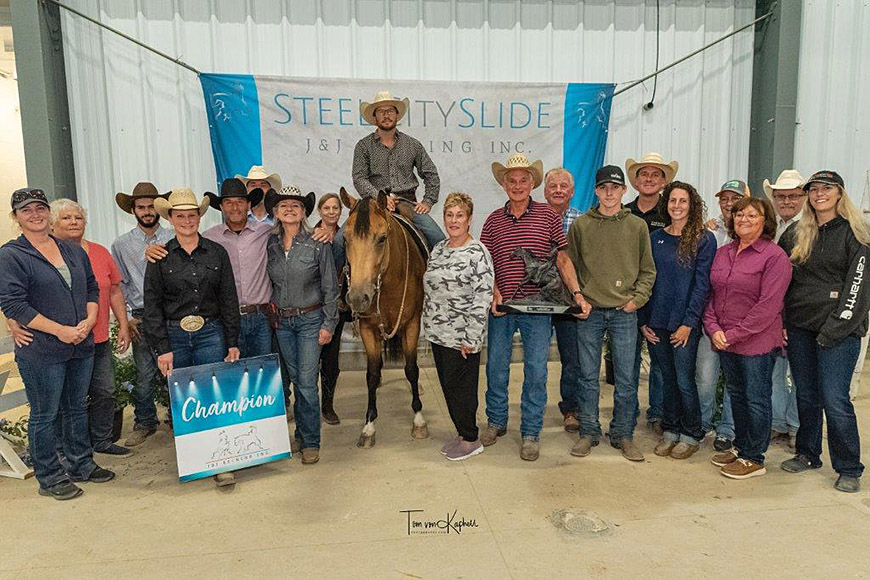 This show featured a Friday Freestyle, Saturday Derby, two Ranch classes and new for this show – a Working Western Rail class. We also partnered with the Canadian Quarter Horse Association (AQHA/CQHA) and they sponsored divisions in the Ranch classes, the Working Western Rail, and the Youth.
SHOW HIGHLIGHTS:
• The Friday Freestyle was a lot of fun and our goal is to run this at every show – as riders show off their horse's ability to whatever music they like! The Freestyle was sponsored by BML Roofing Systems Ltd.
• The winner for both Open and Non-Pro was Katelyn Cofell riding Aint No Bucklebunny riding to a Barbie song!
• Saturday's Derby was very exciting – with top-notch horses and riders battling it out, there were 4 divisions and 4 winners:
• Level 4 open: Chet Martin on Starrlightwhizz owned by Bil Rinzema
• Level 1 Open: Darby Mailhot on Hang On Im Juiced owned by Darby
• Non-Pro Level 4: Todd Sherrer on Charlottes Code owned by Dareth Miller
• Non-Pro Level 1: Al Rose on FM Epic Love owned by Al
• Derby was sponsored by HR Prospects.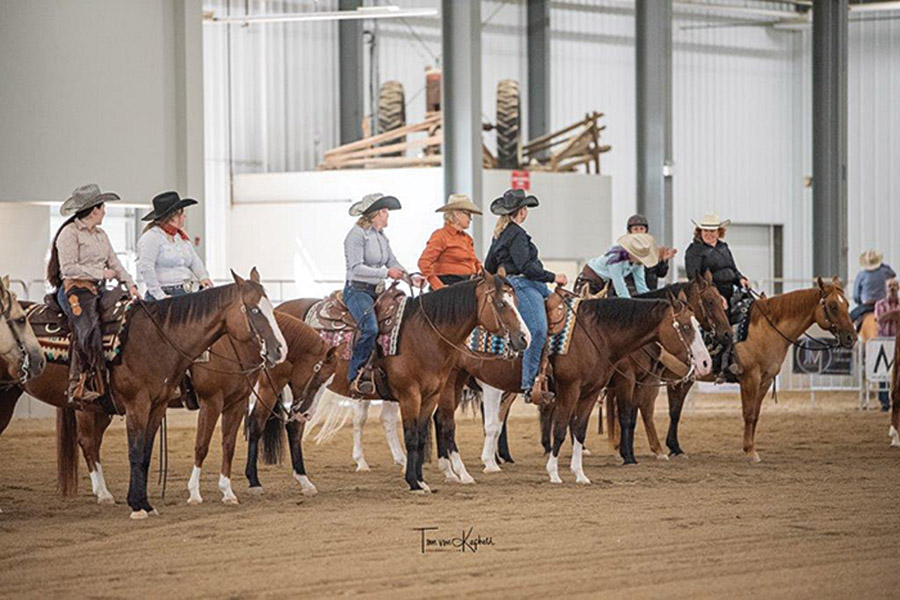 After the Derby, competitors got to enjoy dinner of sausage on a bun sponsored by Paul and Gail Reid of Glendarvon Farms.
The Ranch classes were sponsored by Jessica Parsons Farrier Service, with divisions sponsored by AQHA/CQHA. We had 38 entries in the Friday Ranch class (Open and Non-Pro), of those 24 also entered the AQHA division. and our Working Western Rail on Saturday had 33 entries across the Open and Non-Pro – as this was the first time we have hosted this class we had no idea it would attract this many participants! 
All our results from the show are on our website: https://www.jjreining.ca/

Our show dates for 2024 are:
June 14 – 16
August: 23 – 25

2025:
June 5 – 8
August 14 - 17

Hosting these shows it certainly takes a village. As J&J Reining Inc, it's up to us to do the planning for the shows, and when we get to them we have a fantastic group of staff and volunteers to bring the show to life.
Thank you to each and every one of you!
Your show team: Doug Jonas (show manager) Mike Munro and Deb Carruth (show office) Joe Scully (announcer), Linda Hitt and Lyle Jackson (judges), Gail Sadler and Tim Latam (scribes). Tom von Kapherr, Connie Smith, Diana Macdonald (photography and videography) 
And the show volunteers: Anne Lorimer, Brittany McQuarrie, Gail Easton-Reid, Janice Devereaux, Jen Skilling, Josi Erdelac, Karen McMullin, Ashley Janzen, Lisa Graham, Tim McMullin, Chris Breedon, Shelly Colling, Mary Tyrell, and Addison Spurr.

All pics by Tom von Kapherr 
Pro and Non-Pro articles written by Jen Jonas of Jonas Performance Horses (Pro) and Sharon Jones of Be A Better You (Non-Pro). Together, they are J&J Reining Inc. Both Jen and Sharon are believers in continual learning – if you're not learning you're not growing.