Hooves for Hospice is now in its 5th year

On October 16, 2017, Lynn Smillie and her family lost James Smillie, aged 83, after a courageous battle with cancer.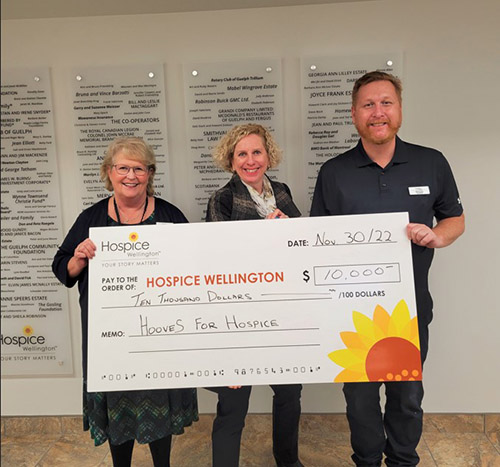 Jim, Lynn's father, had a passion for many things in life, his favourites being hockey and fishing. He loved hockey so much that he played with the Chippawa Old Stars, until he was 83. Jim also had a long history of volunteerism and aiding those in need of help.
Jim played an important role in Lynn's decision to purchase Noah, her white Percheron horse. At the time, Noah lived in Niagara, close to Jim's home. Every time she visited Noah, trying to decide if he was the right horse for her, Noah always showed particular affection to Jim. The decision was made to bring Noah home in January 2015, and to this day Lynn says it was the best decision ever made with her father's help.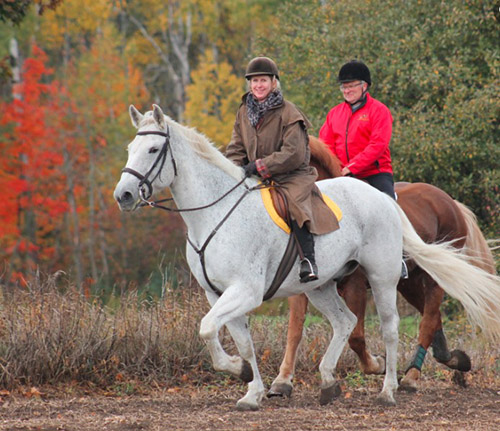 After Jim's passing, Lynn and her husband Peter founded, Hooves for Hospice, in October 2018, in Jim's memory and in support of Hospice Wellington. His memory lives on through this annual fundraising event supported by many loyal volunteers, generous sponsors and gracious landowners.
Hooves for Hospice is now in its 5th year, thanks to strong continued support in our community. In 2021, they raised $9,500 for Hospice Wellington, and they hope to surpass this goal. The funds raised go towards supplies for the Hospice Wellington kitchen, for the families supporting their loved ones.
For more information visit https://hoovesforhospice.ca/

Top Photo:
Pat Stuart, Director of Hospice Wellington and Phil Gourlay, the Events Manager at Hospice Wellington, for proper names/titles. 

Bottom Photo:
Murray Grein on his horse Bell., LLynn Smillie on her horse Noah. Photo credit to Julie Squires