Eye Tempt You won the slightly faster of two Trials for the Alex Picov Memorial Futurity

AJAX DOWNS, OCTOBER 4, 2023 - EYE TEMPT YOU, owned and trained by Jason Pascoe of Pontypool, Ontario, withstood a claim of foul to win the fastest of two Trials for the prestigious Alex Picov Memorial Futurity for 2-year-olds at Ajax Downs on October 4. The grey gelding, who has not raced since June when he was a close second in the $30,000 Bonus Futurity, broke sharply from the gate in the second Trial and was clear of his rivals in a matter of strides.
The North Dakota bred, ridden by Diego Benitez, cut across the track in mid-race while racing greenly but was deemed clear of his rivals as he went on to an impressive 2 1/4 length win in a time of 20.489 for 400 yards. Milena Kwiecien's Pretty Magicall, an Ontario sired and bred filly, was a strong second over Willie Lump Lump, who had to alter course when the winner came across the track.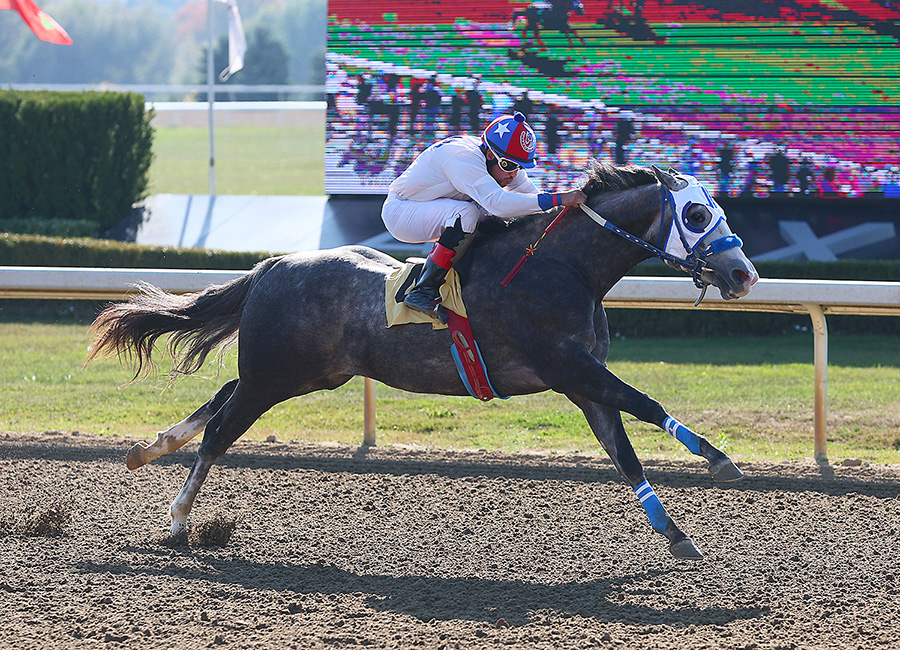 Eye Tempt You, a $10,500 yearling purchase in 2022, won the slightly faster of two Trials for the Alex Picov Memorial Futurity on October 4 at Ajax Downs - New Image Media/Clive Cohen photo
Sent off at 6 to 1 odds and making his first start since June when second by a neck on the QEOOI Bonus Futurity, Eye Tempt You earned an 85 speed index for his second win in three career races. The son of One Valiant Hero advances to the Picov Memorial Futurity final, worth over $70,000 as one of the favourites.
Pascoe, Ajax Downs' leading trainer, won the first Picov Memorial Futurity Trial too as Erik and Joyce Lehtinen's Ontario bred HAWKIN THE STRAW won in front running fashion, stopping the clock in 20.554, for an 83 speed index, under jockey Brian Bell.
"It was cool because no other 2-year-old in the race had gone the 400-yard distance, so it was an unknown," said Bell, who won two races on the afternoon, boosting his meet-leading total to 24 victories. "The way he broke from the gate, I said 'okay let's go on with it'".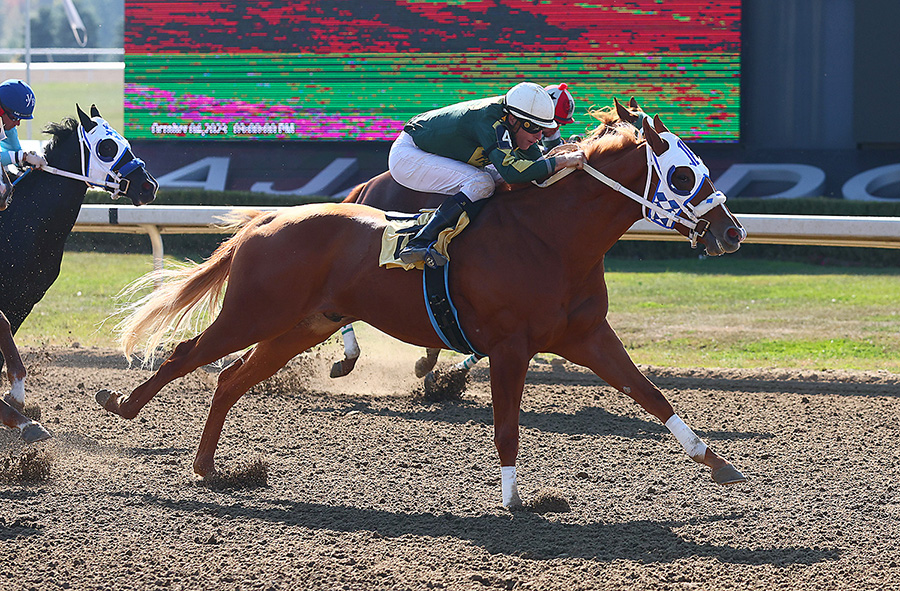 Ontario-bred Hawkin the Straw and jockey Brian Bell won the first Alex Picov Memorial  Trial on Oct. 4     
A son of American stallion BF Farm Boss, Hawkin the Straw began his career with three starts at Horseshoe Indianapolis before his maiden victory at Ajax Downs on Sept. 13.
The 10 qualifiers from the Picov Memorial Futurity will race for the purse of $70,000-added in the final on October 25.
*Ajax Downs has a special Thanksgiving Holiday Monday card of racing on October 9 to benefit the United Way, There will be a silent auction and a pumpkin giveaway to to the first 200 kids. Monday's racing card also includes the prestigious Alex Picov Championship for older horses.  
First race post time is 12:55 p.m.
Come to the races at our trackside tables, join in the fun and get an up-close look at these tremendous equine athletes.
For more information, contact www.ajaxdowns.com.