Sugarmans Delight's win on October 25 was his third of the year.

AJAX DOWNS, OCTOBER 31, 2023 -  It was fitting that the final race of the 2023 Quarter Horse season at Ajax Downs was won by the remarkable old-timer SUGARMANS DELIGHT, who was taking his 17th career win at the spry age of 10. Sugarmans Delight is a son of one of Canada's most influential Quarter Horse stallions, SUGARMAN PERRY, who was recently retired from stud duty by Joe and Christine Tavares of Enniskillen, ON.
Sugarmans Delight's win on October 25 was his third of the year for the Tavares family and boosted his career earnings to over $210,000 (US). The tall, sorrel-coloured gelding with a crooked white blaze was a stakes winner in 2022 at the age of nine, epitomizing the longevity of sons and daughters of Sugarman Perry.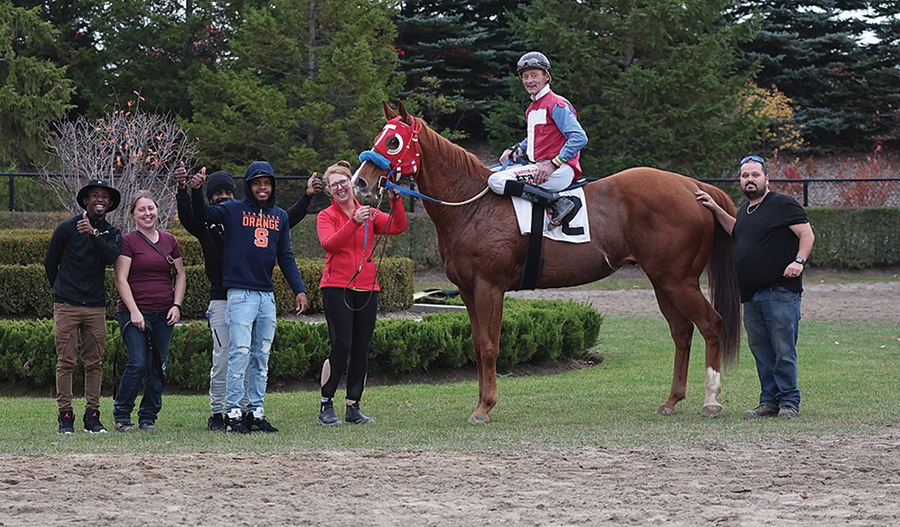 A joyous team from the Joe and Christine Tavares barn surrounds Sugarmans Delight, who won the last race of the 2023 Ajax Downs season on Oct. 25. (Clive Cohen/New Image Media)
"He's been a godsend to us,' said Joe Tavares. "We stood him at stud his entire career." Through the last day of this year's Ajax Downs season, offspring of Sugarman Perry have earned over $2.58 million.
Tavares purchased Sugarman Perry, a son of the top American stallion Mr. Jess Perry, for $70,000 through a friend from breeder Bob Gaston in Texas. Sugarman Perry, a foal of 2002 won four races for Tavares at Picov Downs before he entered stud. From his first small crop in 2008 came stakes winner Sugarnspicenotsonice and stakes placed Sugar Boy Barry.
Fiesty Icon, bred by Picov Cattle Company and raced by Rick Kennedy, came along in 2012 and was a two-time Horse of the Year at Ajax Downs and earner of over nearly $400,000 while racing until the age of nine. There have been plenty of other top stakes winners in recent years for Sugarman Perry including All Outta Sugar, Hanover Hill Theresa, Night Fishn, and one of 2023's top 2-year-old, Sugar N Pride, winner of the Ontario Sires Stakes Futurity.
"His offspring are intelligent, which makes them great," said Tavares.
Right: Sugarman Perry - photo by Dave Landry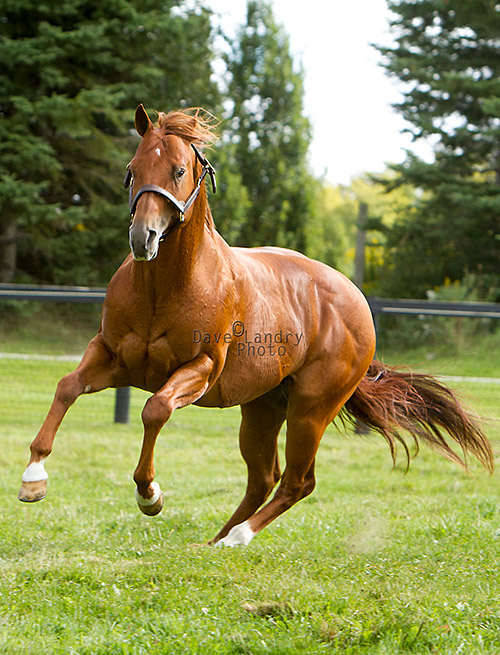 *The 3-year-old division at Ajax Downs in 2023 was flush with top performers and may well produce the Horse of the Year for the season. Ontario breds SNOW MOOSE and SOUR CANDY each won five races (Snow Moose won two other races including the Alex Picov Championship but was disqualified from both) with Snow Moose garnering an impressive 45 QROOI points, just one point more than his rival.
You have to go back to 2018 to find a horse who earned more QROOI points in a season when Country Boy 123 picked up 47 points.
Snow Moose is owned and bred by Milena Kwiecien of Burlington, and Sour Candy, the Picov Derby winner, is owned by Craig Spada and Rick Crispi. On the filly side, both Kwiecien's VALIANT CHICK INSNOW, who dead-heated for the win in the Alex Picov Championship, and Carol and Jaime Robertson's HAD TO BE IVY, the Princess Derby winner, each earned 33 points.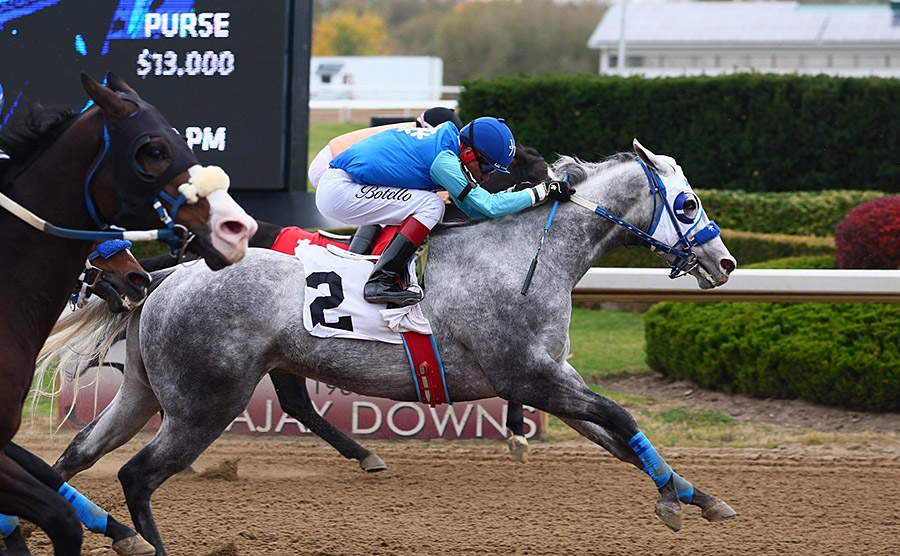 Snow Moose, a candidate for 2023 Horse of the Year  - New Image Media/Clive Cohen
*One of the biggest stories of the 2023 season was that of young trainer LAUREN SPADA, 20, perhaps the youngest racehorse trainer in Canada. Spada, whose late grandfather Peter was a successful owner, took over the training of the stable of horses from her father Craig and in her first full year won 20 races from 59 starts, a remarkable 34 percent. Lauren's 20 wins put her third behind leading trainer Jason Pascoe (37) and runner-up Bob Broadstock (23).
*The 2024 Ajax Downs Quarter Horse season is tentatively scheduled to begin on May 7. Keep up-to-date on Ajax Downs simulcast room events and schedules at www.ajaxdowns.com or on social media, @ajaxdowns.