Gold and Bronze medals for Canada with Olympic Qualification Secured for a Ticket to Paris.
Jumping

Quillota, Chile, Oct. 30, 2023 – About last night! A better story could not have been written about the conclusion to the Santiago 2023 eventing final for Canada. The team came to the Pan American Games with a goal – to qualify for the Olympics next summer. Their plan was to stay focused on the job at hand, capitalize on strong team dynamics and perform through each phase as they had done all year long. They achieved all that, and then some. Because they're coming home with a ticket to Paris 2024 and a GOLD medal.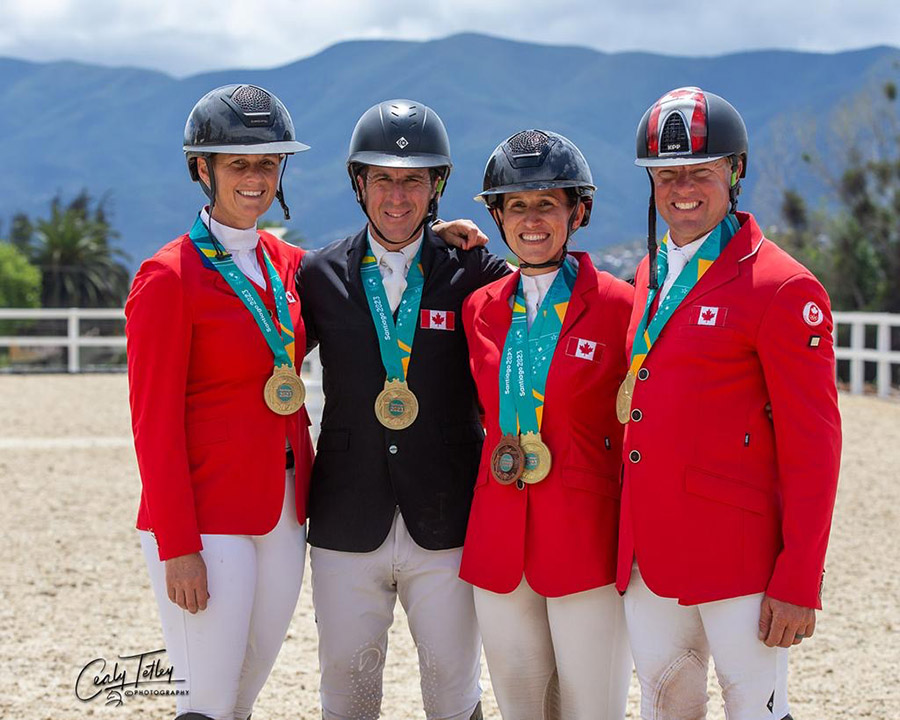 Colleen Loach, Mike Winter, Lindsay Traisnel and Karl Slezak. Photo Credit: Cealy Tetley
For the team, dedicated to their primary objective of the Olympic berth, the team gold medal, is according to them, a very special bonus. Not to mention that debut Pan Ams' athlete Lindsay Traisnel picked up an individual bronze. Humble, grateful and shared as an all-encompassing team, it was an extraordinary yet very Canadian win.
"From doing our job and doing it well, not trying to be exceptional, we got an exceptional result," Mike Winter, two-time silver team eventing medalist (now gold medalist) expressed after the medal ceremony.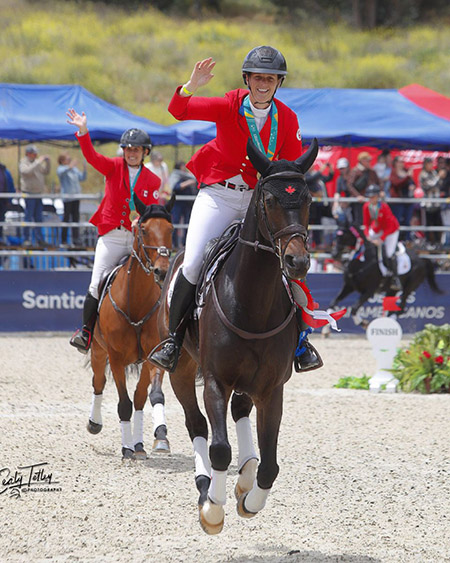 Right: Lindsay Traisnel and Colleen Loach. Photo Credit: Cealy Tetley
With the win coming down to 0.1 points on the scoreboard some could say it was just meant to be. The stars may have been aligned, but this team and the Canadian Eventing High Performance program have been working for two years to lay the foundation to make this gold medal possible and achievable for the athletes and the country. The program is obviously working.
"It was a very exciting, special day. It was unexpected to be honest, I mean the way the team performed wasn't unexpected but the actual outcome to be standing at the top of the podium, was," Rebecca Howard, Eventing Chef d'Equipe explained. "Winning was an extra bonus. Really the message of the week was just for the team to go and do what they do. It's nothing extraordinary it's just literally doing what they've done all year and them performing that way was going to produce a good result and that's exactly what happened!"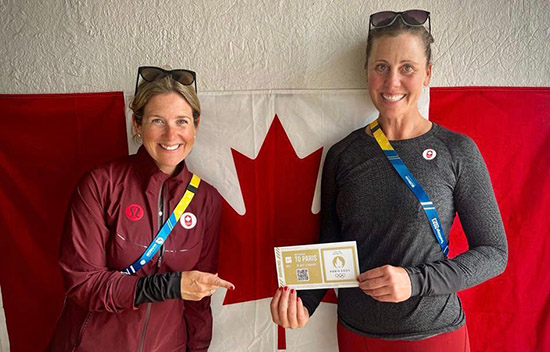 Chair of the High Performance Advisory Group, Eventing Emily Gilbert and Chef D'Equipe Rebecca Howard.
Photo Credit: EC Staff
But let's back up a little and remember how extraordinary the end to this triathlon really was. The exciting result was a culmination of three days of competition with 38 athlete combinations representing 8 countries from the Americas. Starting with the dressage test, Canada performed well ending on 93.5 and went into cross country day in the silver medal position trailing by 13.7 off the USA's total of 79.8.
The leaderboard shuffled again after day two's cross-country when after only time penalties hit the scores, Brazil had moved up to silver with a total of 101.5 and Canada was narrowly behind in bronze with less than a rail separating them on 105.2, but a full 19 from the USA's commanding lead of 86.2.
With individual reverse order of go on show jumping day, earlier team athletes showed that rails would be coming down across the board. Brazil was the first to jump clear but due to a time fault, the double clear round remained elusive.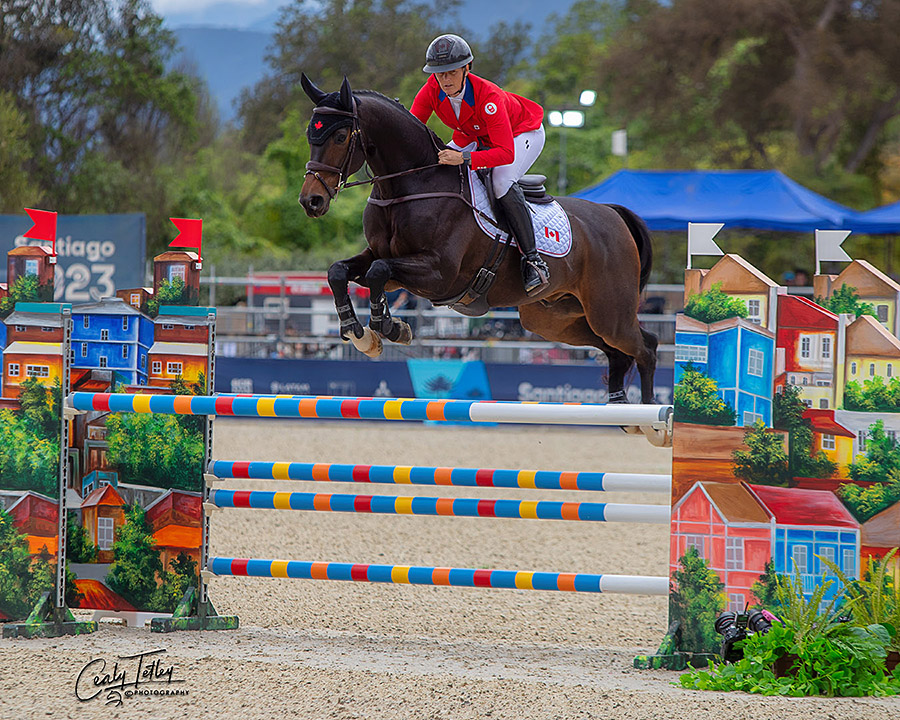 Colleen Loach and FE Golden Eye. Photo Credit: Cealy Tetley
Enter Canada's Colleen Loach of Dunham, QC and FE Golden Eye (Goldfever 3 x Contendro I), the 11-year-old Hanoverian gelding co-owned by Loach, Peter Barry and Amanda Bernhard and groomed by Brooke Massie. From their Grand Prix ring experience, "Goldie" and Loach made the round look easy and posted what was the only double clear round of the day. This was the inspiration the team needed, and according to Loach holding pressure off as best as possible.
"My horse is an exceptional jumper, so I knew that if I just did my job, he would do his, and that is very confidence inspiring going in," Loach shared. "We just tried to do our thing like we do every time and keep it simple and not make it too stressful."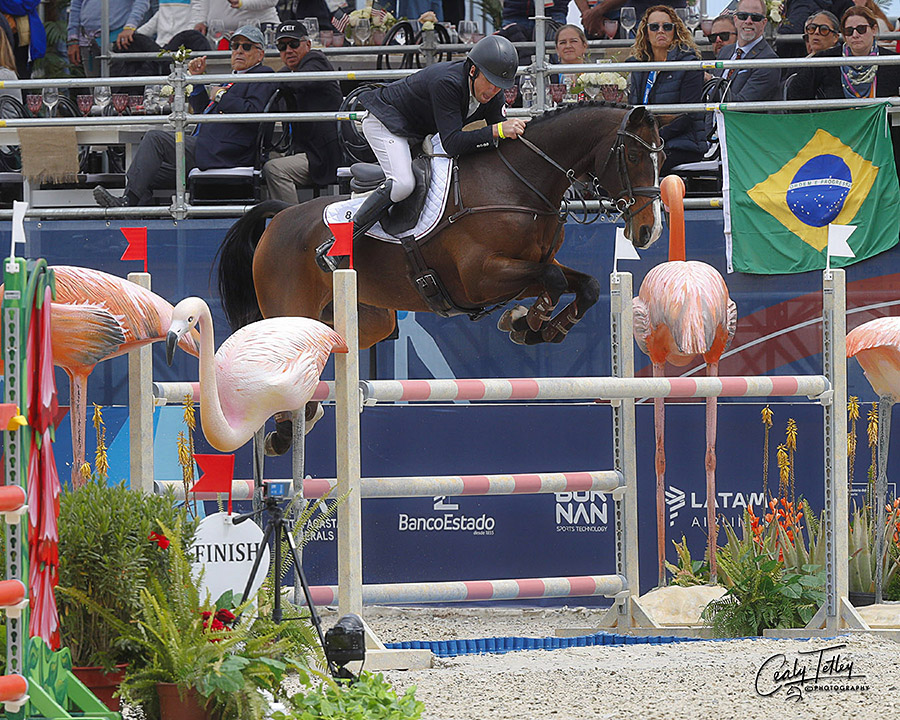 Mike Winter and El Mundo. Photo Credit: Cealy Tetley
Michael Winter of Toronto, ON and El Mundo (Numero Uno x Calvaro F.C.), the 14-year-old Dutch warmblood gelding co-owned by himself, wife Emma and Jonathan Nelson and groomed by Amy Ferris followed with a clear round adding just time. When asked, Winter was sure to point to the partnership and teamwork that ensured he could go clear and add to the overall result.
"We all have a plan as a group, when the first one goes out and executes it, it raises belief. And the atmosphere in the team has been amazing. Everyone has just done their job like total professionals, especially the horses," Winter said. "I am just so honoured to be with these people who have all had cool heads and done their job, and the grooms for taking such good care of the horses, the support staff, coaches, management, farrier – it's such a team effort. It doesn't seem real but it's so exciting."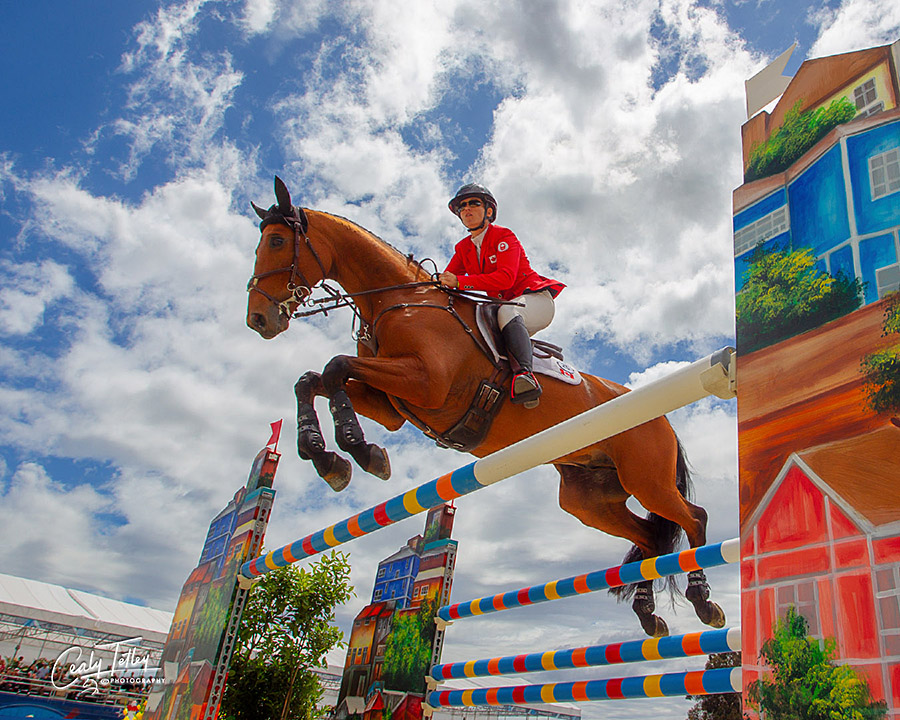 Lindsay Traisnel and Bacyrouge. Photo Credit: Cealy Tetley
Eventual individual bronze medalist Lindsay Traisnel of Maidstone, ON sealed the deal for the Olympic berth with a clear round on Bacyrouge (MyLord Carthago*HN x Clyde de la Combe), the 12-year-old Selle Français gelding owned by Patricia Pearce and groomed by Jade MacInnes. Although she may have been surprised with the medal she earned, she had been confident it was possible from the start.
"I would say it's a little unexpected, but I have an amazing horse and a great team so I thought I probably could do it!" Traisnel expressed. She was also happy to answer questions about the horse that earned the medal with her. "We call him Dreamy in the barn and he definitely is. We've had him for eight years and we've got a great partnership. He's just incredible."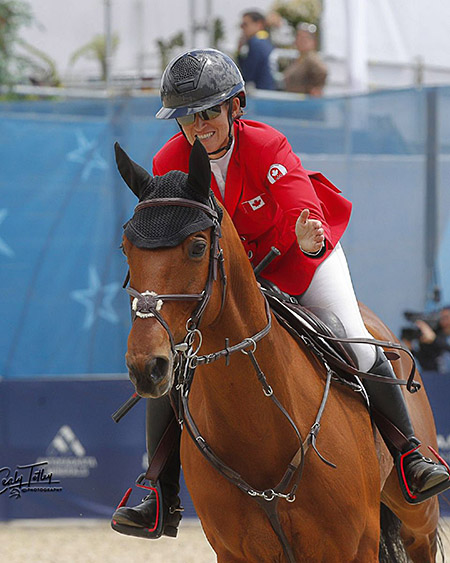 Right: Lindsay Traisnel and 'Dreamy'. Photo Credit: Cealy Tetley
With the Olympic spot earned for Canada the two rails down for Karl Slezak of Tottenham, ON and Hot Bobo the 10-year-old Irish Sport horse mare sired by VDL Arkansas that he owns with wife Katlyn Hewson and groomed by Amber Wavryk would not endanger their finish. The day was not typical for he and "Bobo" when asked about how it went in the ring.
"This has been a very good week. Today, in general she just got a bit sensitive to the bit. That's not typical of her but you live and learn everyday," Slezak explained. Like his teammates he was quick to point to the team result. "Just super excited to be a part of this team. I mean we all worked really hard to get this qualification, that was the goal and we achieved it," he said.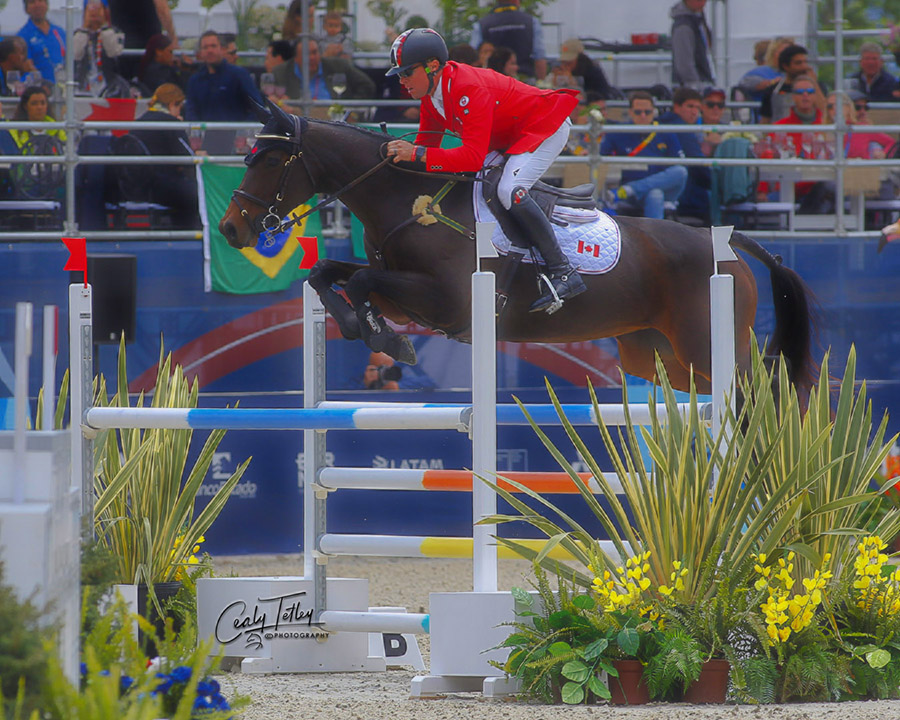 Karl Slezak and Hot Bobo. Photo Credit: Cealy Tetley
While Brazil did produce two clear rounds, a combination of time penalties and poles down dropped the team into bronze overall. When the top four athletes from Team USA entered the stadium, they had an advantage of seven rails over Canada. With a drop score system to help ward off any costly mistakes, no one expected what was about to happen, and it was a nailbiter to the very end.
The first American pair had two rails and a three second time fault. Followed by the next with four rails and one second of time, taking away over half the team advantage when third American Liz Halliday entered the ring. The Olympian had three rails down, erasing their lead and leaving it to eventual individual gold medalist Caroline Pamukcu to protect the teams' top spot.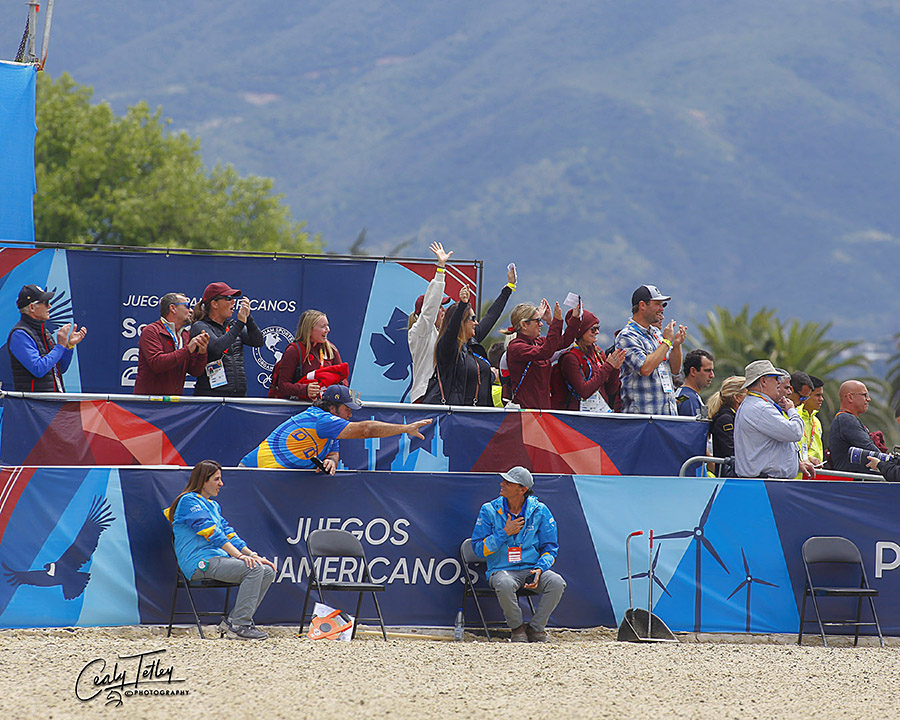 Photo Credit: Cealy Tetley
Members of Team Canada were all waiting and watching for the final combinations to sum up the scores, thinking at first based on numbers that silver would be the colour of the day. It came down to the final ride with Pamukcu needing to go clear. With a miscommunication at an oxer on course, they went through the jump and added four penalties their score to finish the team on 115.7, a mere 0.1 below Canada's total of 115.6. Canada was on top of the podium!\
Even though the win came down to one rail and a razor thin advantage, what is behind it is so much bigger than that. Time, team, support, dedication and hard work all culminated in the medal and the pride that goes with it.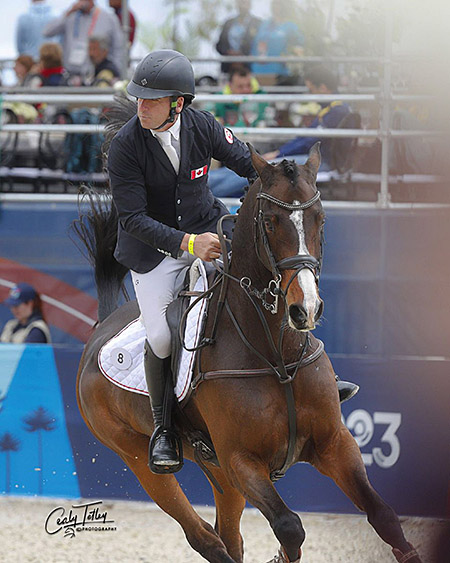 Right: Mike Winter and El Mundo. Photo Credit: Cealy Tetely
"This is not just great individual results," shared Winter who's the athlete representative on the High Performance Advisory Group, Eventing (HPAG). "But it's a culmination of two years of complete high performance restructuring and we didn't just win this this medal, our high performance group which includes our chair, our background veterinarian, our farrier, our selectors – and so many more. We executed today but that foundation is what got us here."
"I think today was a testament to the work that these guys have put in over the course of their entire careers but also their trust in what we put together as a high performance group," said HPAG chair Emily Gilbert who was on site to see the win. "I think that they all went out there and did their job and kept it simple and straightforward. We brought them because we know they're all brilliant and capable and we are just absolutely thrilled to see that they did exactly what we wanted them to do. It is really inspiring, rewarding and I'm kind of speechless to be honest!"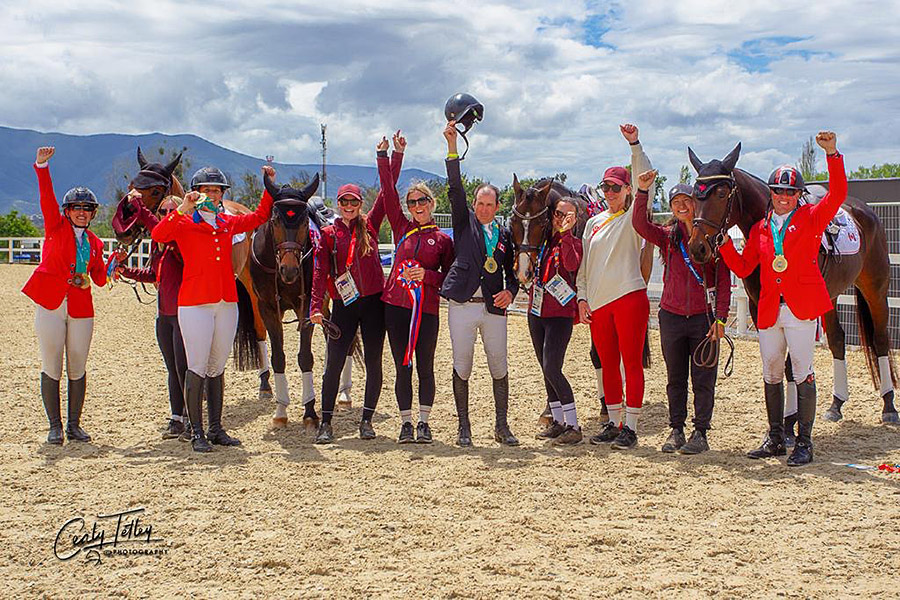 Photo Credit: Cealy Tetley
"A team gold is an incredible achievement and with the ticket to Paris booked, it ensures Canadian Eventing will be well represented at the Olympics," said EC's High Performance Director James Hood. "We are so proud of this team. Everyone including the athletes, horses, grooms, owners, coaches, supporters, parents, friends and family all played a role in this success. What the HPAG has accomplished over the last two years and for all the support that has helped make this happen we offer a huge congratulations all around, it is well deserved."
"Thank you also to Sport Canada and the Canadian Olympic Committee for their ongoing support of our programs and for their assistance in helping get us to the Pan American Games. We share our appreciation with our hosts Santiago 2023, the Pan Am Sports Organization, and the Pan American Equestrian Confederation."


Source: Equestrian Canada News Release