"Today was a great start for Canada," said Chef d'Equipe Ian Millar.
JUMPING
Quillota, Chile, Nov. 1, 2023 – Show jumping got off to an exciting start with some unexpected twists and turns. After watching the leaderboard change throughout the first day of Pan American Games jumping competition, the Canadian team finished third behind Colombia in second place and defending champions Brazil in first.
A field of 46 starters representing a total of 18 nations, nine with teams and nine with individuals, came to the Games to vie for glory. Canada, like many others is here to chase one of three qualifying spots up for grabs for the Paris 2024 Olympic Games.
With perfect conditions in the main arena, Brazilian course designer Marina Azevedo, the first-ever female designer for the Games, laid down a track with a Northern Chilean flare and a good deal of difficulty which offered opportunity for faults throughout the course. Time was the main rival with the objective to tackle 13 obstacles with 16 jumping efforts at 1.50m as fast as possible.
"Today was a great start for Canada," said Chef d'Equipe Ian Millar. "We came to these Pan Am Games with five strong horse rider combinations. Who you didn't see today was our traveling reserve rider Erynn Ballard and her mount Gakhir owned by Ilan Ferder Stables and groomed by Stephanie Kerman. As Chef d'Equipe at a championship your reserve rider is always of critical importance. The team extends its appreciation to the athlete and owner for their commitment to the team."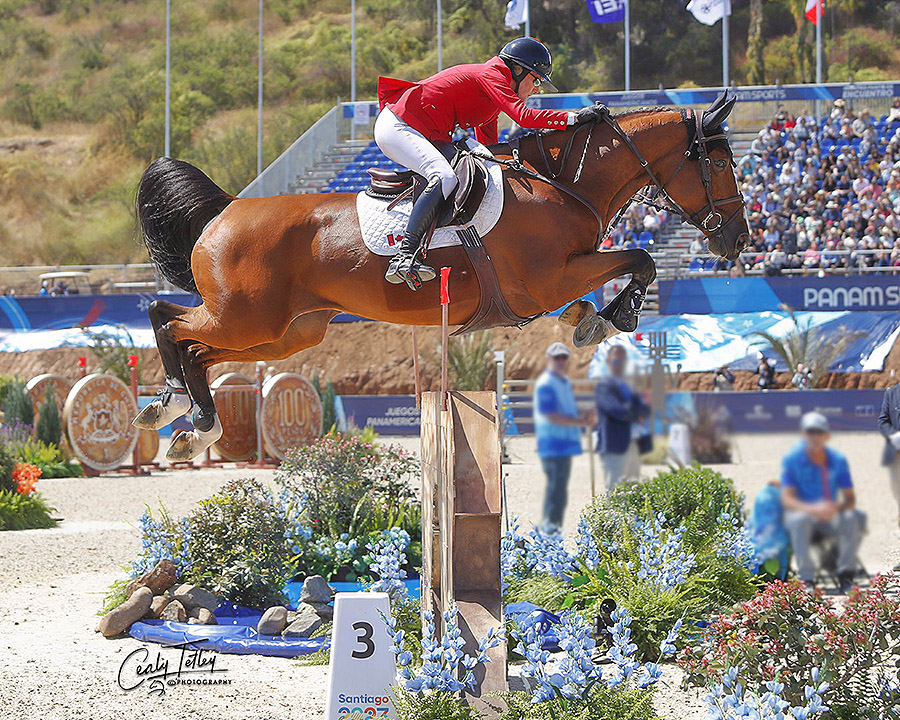 Beth Underhill and Nikka vd Bisschop. Photo Credit: Cealy Tetley
Leading the way for Canada was Beth Underhill, of Mulmur, ON, riding Nikka vd Bisschop, (Emerol NOP x Nabab de Reve) the 10-year-old Belgian Warmblood mare owned by the Rein Family LLC and groomed by Clemence Resseguier.
The Olympian and three-time Pan Am medalist (1991,1999) with her go-to Nations Cup partner had an unlucky rail down at element ten. With the four faults incurred added to her time, she finished the round on a score of 4.02 placing her in thirteenth individually.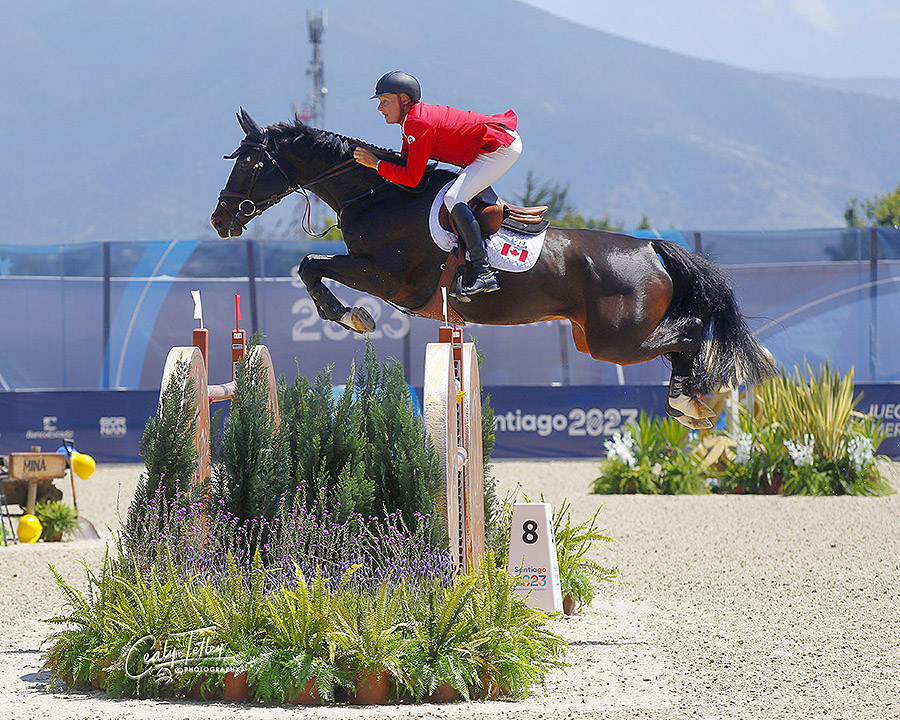 Mario Deslauriers and Emerson. Photo Credit: Cealy Tetley
Second to go, another veteran of Team Canada, three-time Olympian Mario Deslauriers, of Venise-en-Québec, QC, delivered a solid round aboard Emerson (Eldorado VD Zeshoek x Berlin), the 11-year-old Belgian warmblood gelding owned by Wishing Well LLC and groomed by Megan Grabowski.
After navigating the course with precision, they had an unfortunate rail at the final combination in front of the stands at 12b. With a slightly faster time than Underhill, the pair finished on a score of 3.89 placing 12th individually.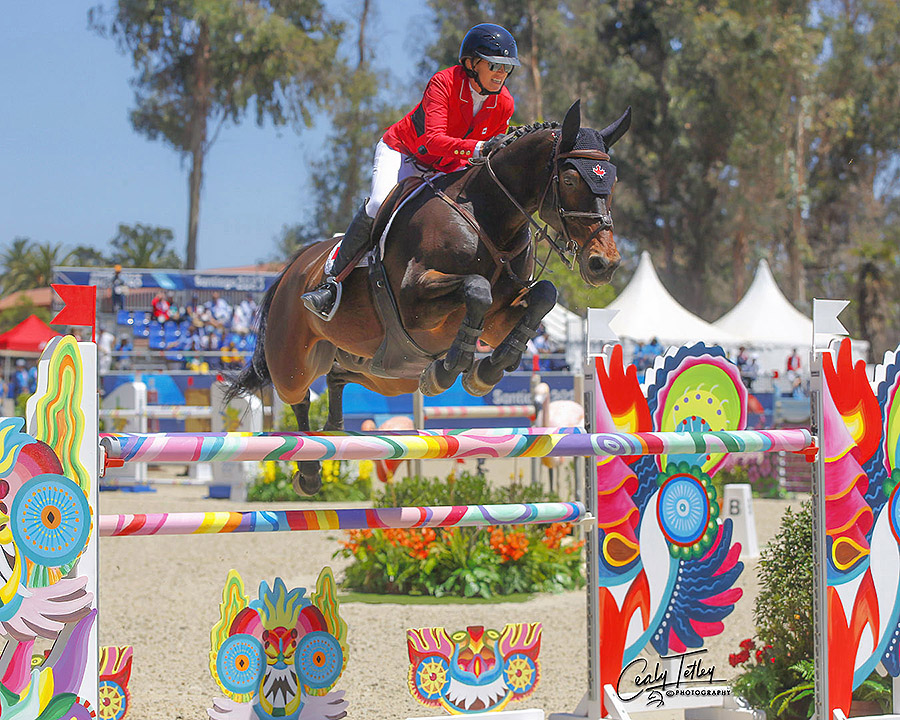 Amy Millar and Truman. Photo Credit: Cealy Tetley
In her Pan American Games debut, the third Canadian through the ingate was Olympian Amy Millar of Perth, ON, aboard Truman (Mylord Carthago*HN x Kolibri), a 14-year-old Selle Francais gelding owned by Millar Brooke Farm LTD. & Overlund. The pair delivered an expertly ridden clear round in 76.29 seconds, to finish fifth individually. Millar will carry a score of 1.71 into team final.
"Coming in and doing the first day of speed always adds a different element to the whole thing," Amy said when asked about the day's competition. "I think it shakes things up a bit, and I also think historically a lot changes tomorrow. You have to keep yourself in contention today and then tomorrow should be our strong suit. We have scopey clear-round, jumping machines on our team!"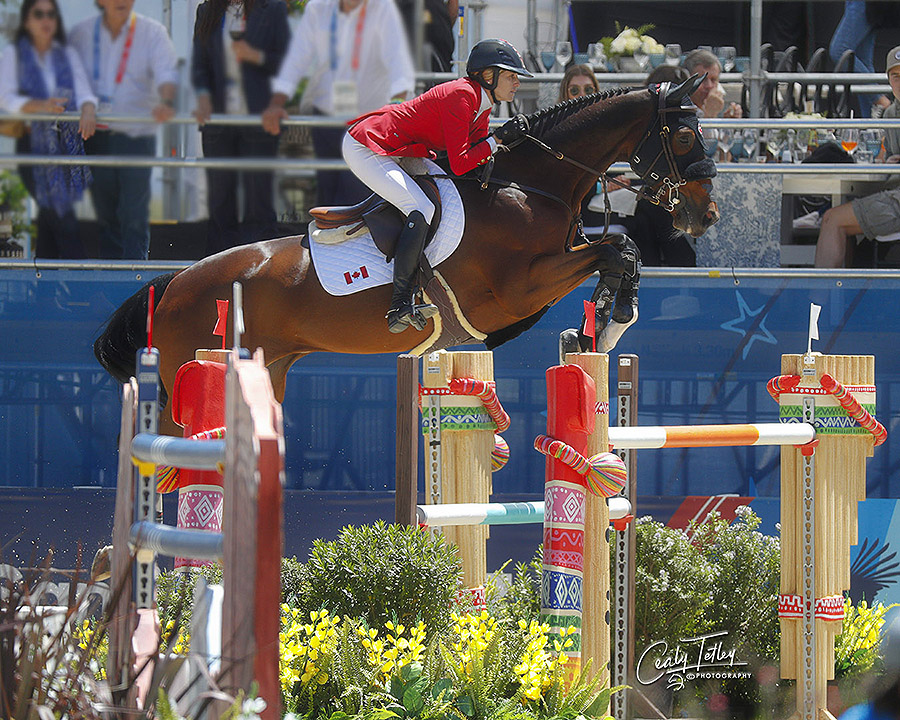 Tiffany Foster and Figor. Photo Credit: Cealy Tetley
Last to go was Olympian and Pan American Gold medalist (2015) Tiffany Foster of Langley, BC riding Figor (VDL Groep Zagreb x Indoctro) the 13-year-old Dutch Warmblood gelding owned by Foster and Artisan Farms and groomed by Caroline Holmberg.
Delivering a strong performance the pair unfortunately had a back rail at the flamingo double combination 9b resulting in a four fault effort. Foster and Figor finished the day with an individual score of 4.40, standing fifteenth overall.
"The team's effort today was solid." said Chef d'Equipe Ian Millar. "We have four horse rider combinations all capable of double clear rounds in tomorrow's Nations' Cup. In all sports expect the unexpected; that was true today. I believe we are well positioned for a podium finish."
Tune in Wednesday Nov. 1 for the two rounds of team competition running first from 11:00 am – 2:00 pm (local) and then 2:30pm – 5:00 pm to see Canada capture a spot on the podium
and a ticket to Paris 2024!
For more information and full results, click here.


Source: Equestrian Canada News Release