HOLD YOUR HORSES! HEARTLAND COMES TO CAN-AM!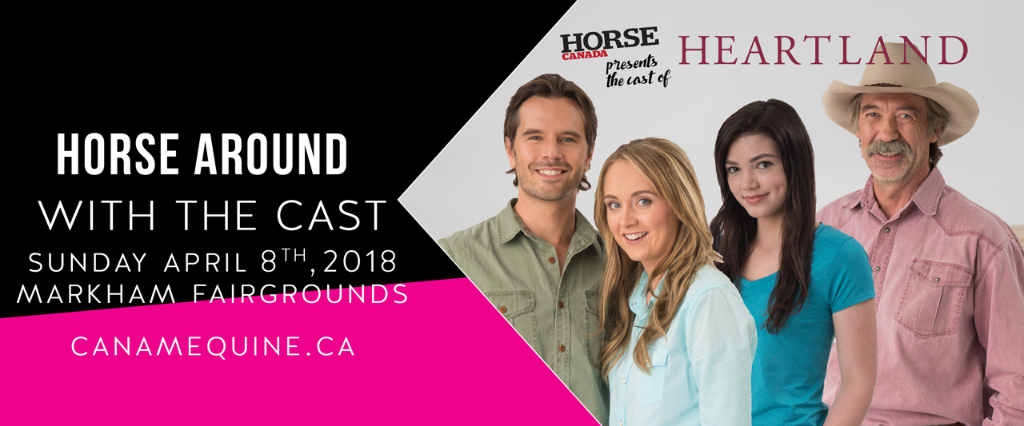 The Can-Am Equine Expo has announced their newest special featured event, Horsing Around with Heartland's Cast presented by Horse-Canada. On Sunday April 8 the cast of Heartland on CBC will be in attendance for a question and answer session with fans. Amber Marshall (Amy Fleming), Graham Wardle (Ty Borden), Shaun Johnston (Jack Bartlett) and Alisha Newton (Georgie), will all be in attendance on Sunday April 8 at 4:30pm in the Main Arena. Horsing Around with Heartland's Cast will give fans the opportunity to ask their favourite stars questions and interact with them in a fun panel discussion.
There are 2 types of tickets that can be purchased:
Can-Am & Heartland Ticket Combo (includes entry into clinicians, shopping, etc.). Adults $32/Youth & Senior $27/ Child (0-6) $10
Horsing Around with Heartland's Cast Admission Only. Adults, Youth & Senior $20/ Child (0-6) $10
There will be a limit of 700 tickets sold. Only those with tickets purchased will be allowed entry into this special featured event. Tickets can only be purchased online through Ticketweb.ca. No autograph session included.

For more information on this special event visit canamequine.com or LIKE us on Facebook at the Can-Am All Breeds Equine Expo!