CAN-AM All Breeds Equine Expo. Join Us!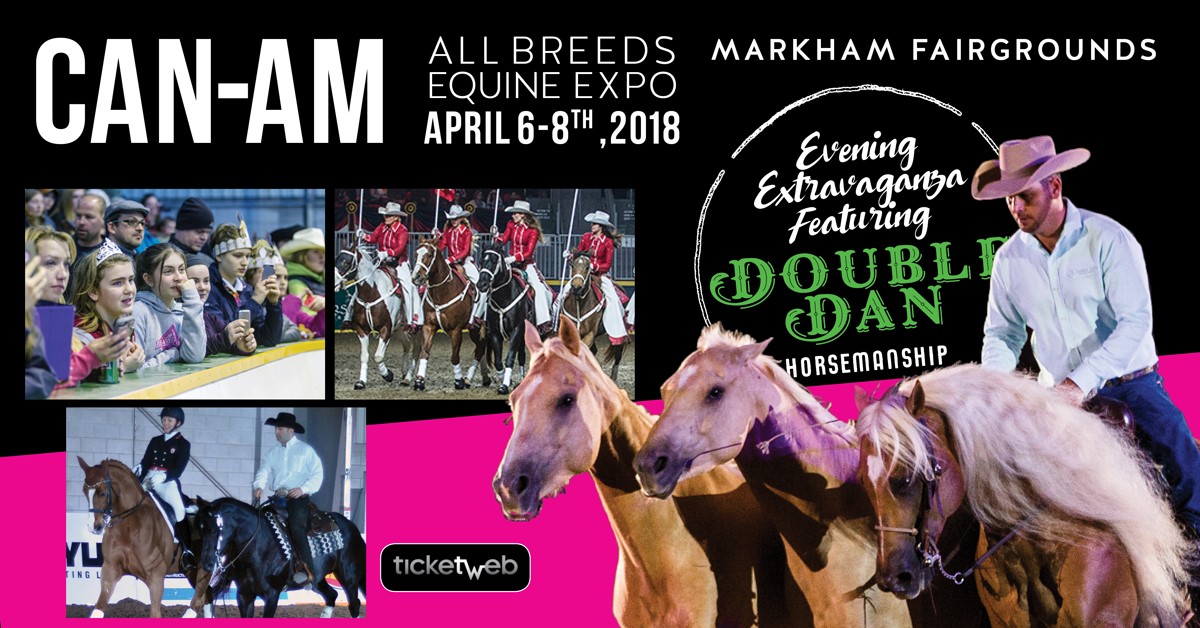 Show Overview
 Few expressions are more meaningful in the context of spring and the renewal of nature than the simple phrase "Can-Am".  Horse enthusiasts throughout southern Ontario and adjacent regions in the United States always embrace the implications of the term with remarkable excitement.  First and foremost, it evokes the return of the Can-Am All-Breed Equine Expo to the Markham Fairgrounds for a three-day spectacular involving the many ways in which horses impact human beings.  Asan inspiring combination of education and entertainment, it is scheduled this year for April 6, 7, and 8.  For many people "Can-Am" also denotes meaningful collaboration: as a gathering point for members of the equine community, the show draws together experts from the many disciplines that make up the world of horses, as well as vendors with products and services that should appeal to riders and followers of the various breeds and passionate fans for whom the weekend represents both an escape from urban life and a venture into the very best that the horse industry has to offer.  If "Can-Am" amounts to a showcase of international talent and an all-encompassing forum for both professional interaction and significant dialogue about the latest trends, the term may also be said to refer to something that people really want – a fun and informative celebration of horse culture as played out in a beautiful historic setting.

The Can-Am show addresses the needs of horse owners and riders -- much of it in the form of vital up-to-date information about industry standards, training techniques, health concerns, and even advances in specialty fields such as photography, saddle fitting, and drilling in style.  But the dynamic reach of the show, as demonstrated by in-house surveys conducted over several years, indicates that its appeal extends to more general audiences as well.  It doesn't matter if you don't own a horse.  Attending the Can-Am is such a powerful experience that you will most likely leave the grounds at the end of your stay inspired to get one– or at very least you will come away with a better understanding of the traditional importance of horses to human progress, as well as with a fuller appreciation of how they continue to influence just about every aspect of our lives.  In short, Can-Am takes for granted that the special bond that exists between us and horses represents a natural part of the worlds of agriculture, sports, entertainment, and transportation and that people are never too young to begin acquiring the necessary skills that give them an inside track on responsible horse ownership.  Perhaps the best indication of Can-Am's belief in a philosophy of education for fledgling horse enthusiasts is its bringing in EquiMania, a trailblazing program designed to teach kids about the many different aspects of owning and caring for horses, instilling positive values that will stay with them through their years of interaction with horses.  Much of what Can-Am has to offer in the way of specialized clinician presentations raises the basic concepts put forth in Equine Guelph'simaginative ever-popular exhibit to an expert level that more experienced horse lovers will readily embrace.  
Clinicians
Featured this year in one of the most astounding round-ups of international clinician talent ever assembled in Canada are several exciting specialists with impressive resumes who are new to Can-Am as well as others who are attending for much-anticipated return appearances. The speakers at this year's event include Dan James, the Australian-born trainer whose mission to bring entertainment to bear on in-depth education about the incredible bond between humans and horses serves as the centerpiece of this year's Evening Extravaganza.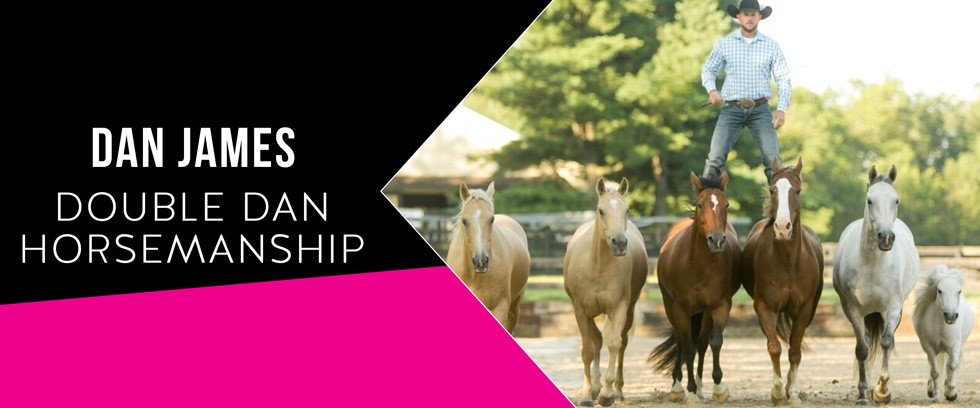 Each day in the RAM Main Arena (in Building 7 of the Markham Fairgrounds), Dan will be focusing on aspects of Liberty training, with each presentation offering novel insights that will facilitate your own success in this exciting discipline.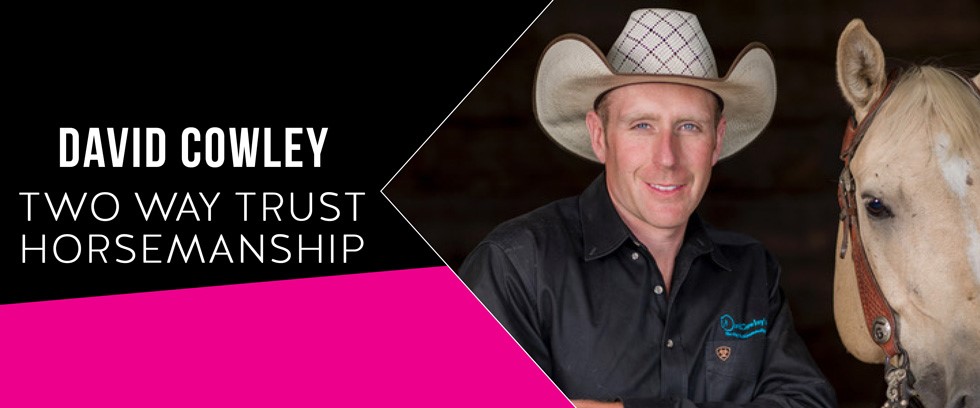 Other speakers include David Cowley, the renowned and gifted horseman whose pioneering efforts in the field of communication have underscored many television and film productions featuring horses, and 
Cindy Ishoy, the illustrious award-winning dressage master with notable success on the international circuit.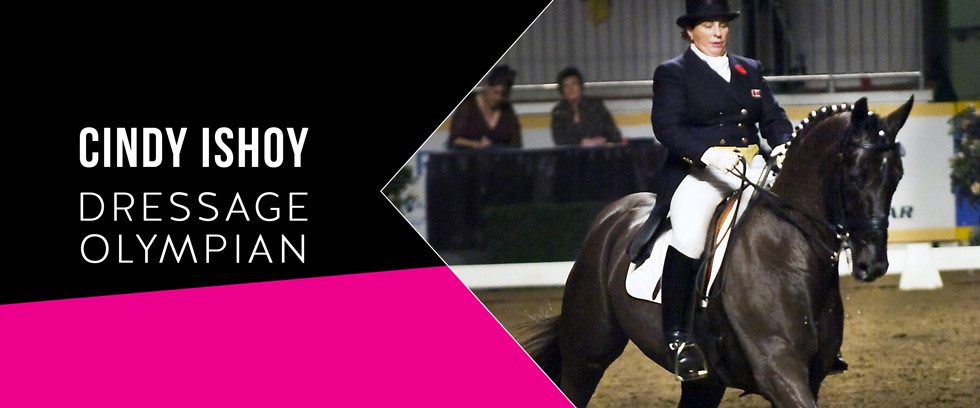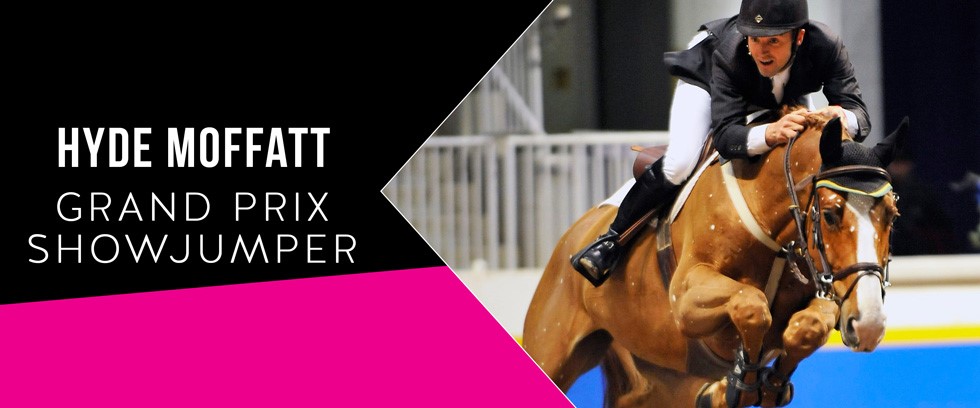 Hyde Moffatt joins the clinician line-up this year with an expert presentation called "Riding with Structure: Keeping It Simple," based on his deep understanding of how horses think and how they perceive information.
Loris Epis,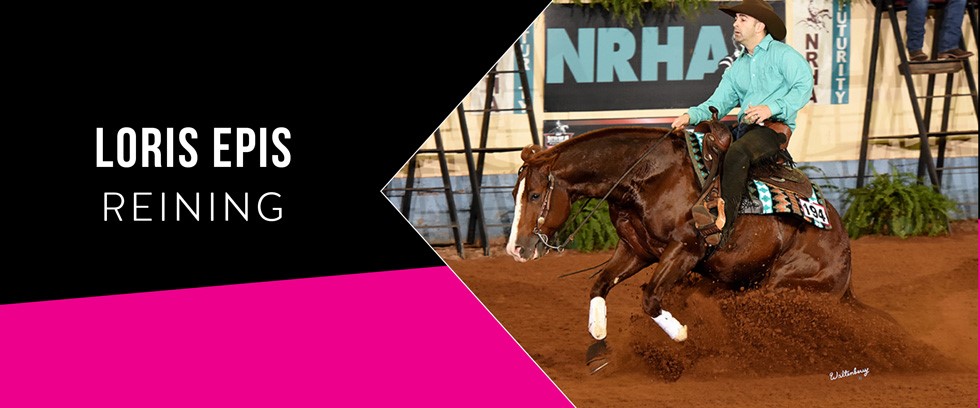 a specialist in the training and showing of Reining Horses, fills another important niche in the roster of show speakers. Freestylist Lindsey Partridge brings a formidable understanding of the"harmony" between horses and humans with her presentation, "Creating a 'YesHorse' with Harmony Horsemanship". 
A variety of other speakers will be presenting on a diverse range of topics in the Dickie's Presentation Ring (inBuilding 8), the BOSS Dust Control Ring (in Building 6), and the OE / InterCityLecture Room (located outside Building 4).  These include Dr. Bruce Watt, Lauren Bode, Hud Roberts, Shawn Hamilton, Derrick Moran, Tim Hayes, Dr. ScottHie, Terry Jenkins, Laurie Bishop, Mike King, Debra Pearce, Susan Raymond, Jackie Bellamy, and Tracey Evans.   With such an extraordinary roster of talent and expertise, and with its innovative zeal and informative state-of-the-art, all-encompassing approach to the many equine disciplines, Can-Am strives to deliver one of the key points of its governing mandate – that it is vitally important to enhance the value and significance of the Equine Industry through meaningful education. 
Evening Extravaganza
Special attention should be given to Can-Am's celebrated annual Evening Extravaganza, to be held this year on the Friday and Saturday nights, April 6th and 7th.
Starring Dan James of Double Dan Horsemanship, a well-known International trainer, the show highlights the magic of horses in a variety of ways.  With the use of his incredible liberty horses, Dan's performance showcases equine freedom and beauty, comedy routines, roman riding, fire stunts, and much more! 

But that's just one part of an extended presentation underscoring the diverse abilities of horses as athletes and entertainers.  The Pony & Saddle Club Challenge will showcase up-and-coming equestrians in a series of obstacles, games, and events.The Canadian Cowgirls – always beautifully costumed in stunning patriotic attire -- will also perform in a dazzling, precision-timed musical routine. The masterfully choreographed "Leather & Lace: Pas De Deux," with Dressage and Reiner stars, will showcase both fields simultaneously, and will then offer a surprising change-up, with the riders trading off their horses to try each other's discipline.  Along with exciting events such as trick riding and roping, this non-stop variety show offers a perfect way to unwind after a jam-packed day of shopping and attending Can-Am's full slate of presentations and clinics.  A dazzling display of equine versatility, the show brings into clear focus the power of horses to amaze and entertain. As a special treat for fans of the hit CBC series, Heartland, actressesAmber Marshall ("Amy") and Alisha Newton ("Georgie") will co-host on Saturday night.  Along with their co-stars, Graham Wardle ("Ty") and Shaun Johnson("Grampa Jack"), the two performers will also engage in an entertaining question-and-answer session on Sunday afternoon, Horsing Around withHeartland's Cast.
Hall of Fame
 When it comes to paying tribute to the great members of the horse community, the producers of the Can-Am Equine Expo take a very serious stance.  For them, there can be no"horsing around" when it comes to recognizing industry leaders, both past, and present, whose inspiring contributions set a standard of excellence for contemporary horse enthusiasts and, with equal force, light the way for future participants in the dynamic World of Horses.
Two renowned members of the horse community will be inducted into the Hall of Fame at this year's Can-AmEquine Expo. Ross Millar, the show's creator, is a staunch supporter of the idea of raising the banner of distinction in honour of industry leaders. With great pride, he is pleased to announce that Kevin Rundle and Barry Finn have been selected for admission in a special ceremony at this year's show, scheduled for April 6-8 at the Markham Fairgrounds.  These two distinguished Canadians will receive their lifetime awards for their contributions to the equine industry as part of Can-Am's Evening Extravaganza on Friday, April 6 -- a fitting tribute from a grateful community of friends, fans, and horse enthusiasts. 
 When we hear expressions like "champing at the bit," "eat like a horse," and "straight from the horses' mouth," chances are we come to realize one of the most important things about equine anatomy: the dental well-being of horses is a vital part of their overall health.  The late Kevin Rundle, an expert in horse dentition, was a veteran of the Can-Am show, and his lively presentations about the role teeth play in establishing effective communication between horses and riders were always a must for riding enthusiasts.  Rundle's induction into the Hall of Famer is a well-deserved acknowledgment of his pioneering efforts in the field of equine care.
Hold your horses – that's not all!  Barry Finn, the publisher of The Rider, joins Rundle as an inductee into the Can-Am Hall of Fame.  Finn is a second-generation inductee: his father, Aidan Finn, was similarly honoured at Can-Am's first Hall of Fame ceremony in 2013.  As a long-time member of Ontario's horse industry, Finn through his publication and his social-media savviness has had an incalculable effect on establishing new standards of information-sharing to both the Western and the English sectors of the riding communities.  His reach is impressive, and his induction is a natural reflection of the profound impact of The Rider as an all-breed, all-discipline newspaper.
The Can-Am Hall of Fame is an integral part of the show's commitment to supporting the horse industry and celebrating the legacies of the community's great leaders and innovators. Be sure to check out the gallery of past inductees in the Main Arena at this year's show.