Team Canada's impressive freestyle performance enabled them to hold on to 10th place in the Squad Championship
---
The Canadian Vaulting Team closed out Canada's participation in the FEI World Equestrian Games™ Tryon 2018 (WEG) by coming together to secure a top 10 finish the Squad Competition in Mill Spring, NC, on Sept. 22, 2018.

Team Canada's impressive freestyle performance enabled them to hold on to 10th place in the Squad Championship with a total score of 6.731 after two rounds of competition that included a Compulsory Test and two Freestyles. The squad was comprised of:

Alexandra Balance, 22, of Qualicum Beach, BC;
Jessica Bentzen, 27, of Parksville, BC;
Jaydee Fluet, 11, of Sundre, AB;
Alisa Schmidt, 32, of Chilliwack, BC;
Kate Thomas, 21, of Lantzville, BC; and,
Korynn Weber, 21, of Nelson, BC.
Their creative and emotional routine – performed on 11-year-old Friesian-cross gelding, Charles, alongside his owner and lunger, Saacha DeAmborossio of Bothell, WA – embodied the spirit of WEG by depicting the ups and downs of teamwork.

Having performed the routine once before in the Nations' Cup Team Vaulting Championship on Sept. 19 to the tune of 6.827 points, the team returned to the ring relaxed and ready for their second go. The six vaulters, horse and lunger worked as one to produce a notably improved score of 7.602 for round two and earned Team Canada, whose members refer to each other as "family", seventh place in the Squad Freestyle Final Competition.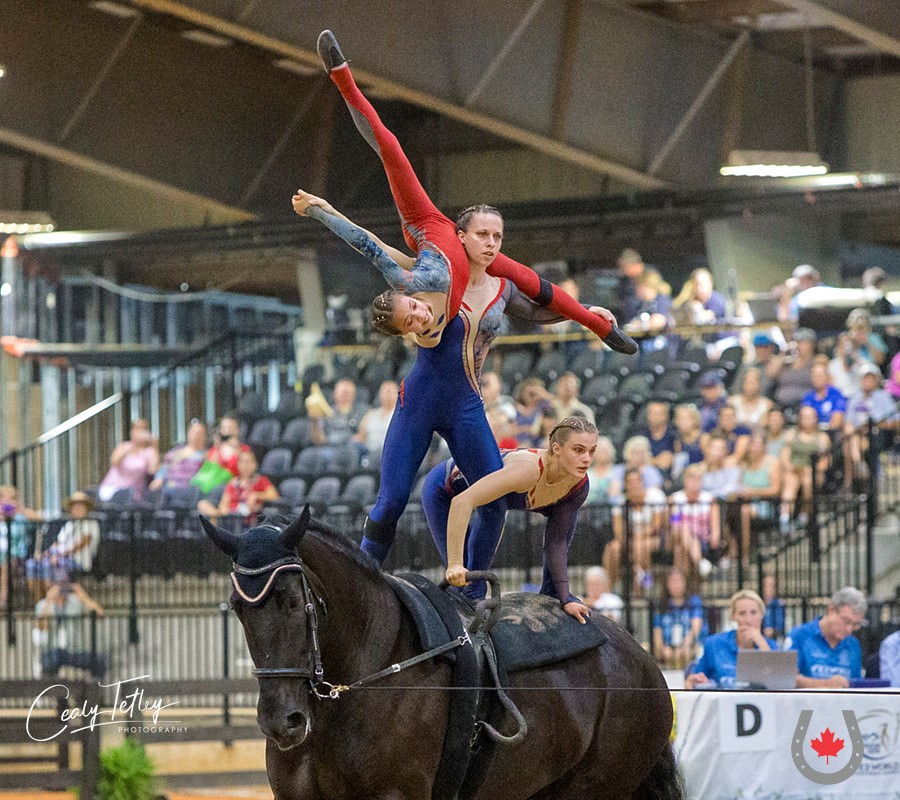 Team Canada's final freestyle earned an impressive score of 7.602, contributing to an overall placing of seventh in the Vaulting Squad Competition.
Photo Credit - © Cealy Tetley - www.tetleyphoto.com

"Like a true team, it felt so together," said Bentzen of the performance. "To have Saacha and Charles in there with us – it wasn't our regular horse or lunger, but from the first day we worked with them, they were part of the family. Charles tried so hard and Saacha was right there with us. It feels so good to see scores up on the board that really reflect how it felt on the inside. When it's going well, that connection that we're trying to get is seen by the crowd and the judges."

Weber added, "The time we took between moves wasn't tense or panicked, it just all felt so organized and together. We knew what each other was doing before it happened. We've run it so many times on the barrel, on the ground and on the horse that if everything's going right, you're not really thinking of anything. It's just breathing, counting, feeling Charles' stride and rhythm, and your body knowing when to keep moving on to the next move."

The squad's flyer, Fluet, was the youngest Canadian athlete to compete at WEG 2018, and her gravity-defying poses and stunning leg extensions wowed the crowd.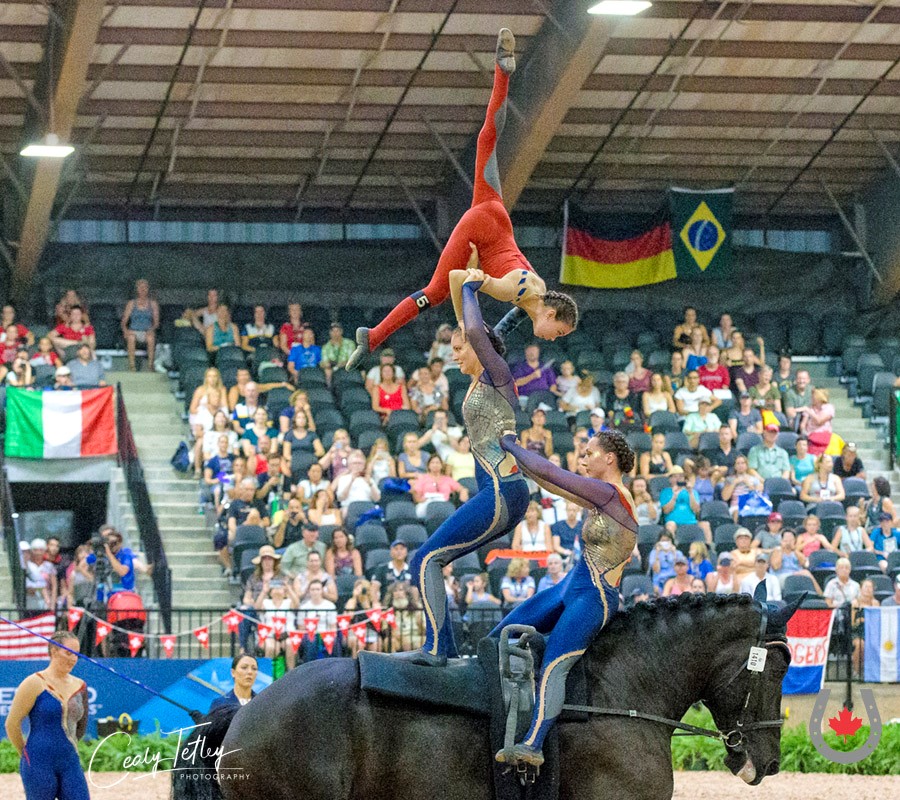 The squad's impressive performance ended Canada's participation at the FEI World Equestrian Games™ Tryon 2018 on a high note.
Photo Credit - © Cealy Tetley - www.tetleyphoto.com

Fluet concluded, "In our warm-up I thought, 'This is going to be our last go with this team and I'm going to be so sad after this,' so I was really happy that we did so good!"

The gold medal went to Team Germany, who ended on a score of 8.638 points. The Swiss team came next in the silver medal position with 8.433, while Austria collected 8.198 points for bronze.

While the Vaulting Squad Competition represented the end of Canada's run, WEG 2018 will conclude on Sept. 23 with the cones phase of driving and the individual final for jumping. For the full schedule, live results and more info visit https://tryon2018.com.

For full EC coverage of WEG 2018, including results news releases for all CET disciplines, breaking news, and games insider features, visit www.equestrian.ca/events-results/games/ridetotryon. Also be sure to check out EC's Facebook, Twitter and Instagram for unique content, including a daily WEG photo album.