The Dressage Derby was held as an exciting exhibition competition that challenged riders to perform a test at the FEI Prix St. Georges level on a horse they'd never ridden before after just five minutes of preparation.
---
Inaugural Canadian Dressage Derby Delights Crowds at Royal Horse Show
The Royal Horse Show in Toronto, ON hosted the inaugural Dressage Derby on Canadian soil, with riders from Canada, Guatemala and the United States descending on the Coca-Cola Coliseum to delight crowds with a unique new format for the popular dressage night on Nov. 6, 2018. 

The Dressage Derby was held as an exciting exhibition competition that challenged riders to perform a test at the FEI Prix St. Georges level on a horse they'd never ridden before after just five minutes of preparation. 

Competing for bragging rights as the first-ever Canadian Dressage Derby winner were Esther Mortimer of Guatemala, Adrienne Lyle of the United States, Tom Dvorak of Hillsburgh, ON and Jaimey Irwin of Stouffville, ON. Held in a knock-out style format that proved to be a battle of the sexes, the women kicked things off, competing head-to-head on an unfamiliar horse for a spot in the final round. 

Mortimer, 40, who represents the Guatemalan Dressage Team in international competition, but is currently based out of Millgrove, ON, was the first to swing up on Ribot (Reno x Cor Noir), a 16-year-old Oldenburg gelding generously offered to the competition organizers by owner, Carla Bahr. Under the guidance of Dvorak, Ribot has competed up to the small tour level with much success, including top-three placings at CDI competitions in Wellington, FL, Ottawa and Cedar Valley, ON, and most recently at the CDI 3* Dressage at Devon in Pennsylvania this past September.

Making for an exciting spectator experience, the riders were required to mount and complete their five-minute familiarization in the Coca-Cola Coliseum under the watchful eyes of the crowd and the judges, with no previous preparation in the warm-up ring. Mortimer made good use of the familiarization, meshing with Ribot quickly before completing a solid test for a score of 68.897% from judges, Cara Whitham (retired FEI 5*), Joan Macartney (retired FEI 4*), and Brenda Minor (FEI 4*).

Immediately following Mortimer's test, Lyle, 33, an American Olympian from the 2012 London Games, mounted up on Ribot and commenced her familiarization. Having plenty of experience riding a variety of horses through a training business she runs in partnership with American dressage veteran, Debbie McDonald, Lyle was also able to build a rapport quickly with Ribot. After completing the identical Prix St. Georges test, Lyle earned a score of 72.574% and her berth into the final round.
"I love (competing on a horse I've never ridden before), it's a really fun challenge," said Lyle. "I love only having a couple minutes to sort it out on the horse; it's a good test of horsemanship and strategy. I've ridden in two derbies before in Wellington, FL and from the very first time I did it, I thought it was awesome. There's a lot of good humour involved and the riders are all having a really good time. And it's fun for the audience; it's a little bit of a different format and I think it engages them."
The audience was also treated to amusing and intelligent commentary throughout the night by broadcaster Adam Cromarty, and Canadian Olympian Jacqueline Brooks. The duo also interviewed riders and judges during the familiarization periods, giving the spectators first-hand insight into the experience.

The men took centre stage next, partnered with one of Mortimer's current small tour horses, Adajio (Alabaster x Eldorado), a 14-year-old Hanoverian gelding owned by Sue Schramayr that was her partner for the 2018 Central American and Caribbean Games in Bogota, COL, where she helped Guatemala take the bronze medal.

Irwin, 40, a high performance Canadian dressage athlete and EC Certified High Performance 1 Coach, took centre stage first with Adajio. After a smooth familiarization, he took on the Prix St. Georges test and rode to a score of 66.103%.

Making for a fun and lighthearted rivalry, Irwin's mentor from his early years in dressage, Dvorak, 53, was up next. A veteran of Olympic and Pan American Games, Dvorak has been a top Canadian dressage athlete for many years, based out of his Friday Hill Dressage facility, where Irwin spent time as a working student during his early 20s. His experience was on display as he quickly adapted to Adajio and rode to a score of 69.338% to secure his spot against Lyle in the final.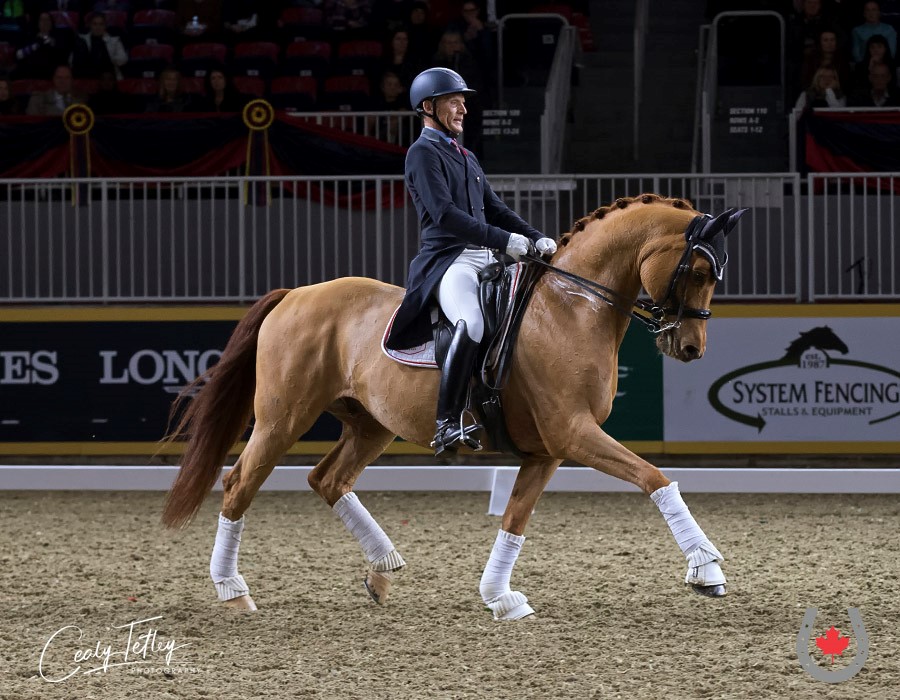 Canadian veteran Tom Dvorak won his first round of the Dressage Derby aboard Adajio, owned by Sue Schramayr and trained by Esther Mortimer of the Guatemalan Dressage Team.
Photo Credit – © Cealy Tetley – www.tetleyphoto.com
"This is the first time I've done a derby, so I had no idea what to expect, but I love the format," said Dvorak. "When I was asked to do it, I was like, 'Oh yeah, count me in for sure.' It's a great challenge and a great test of horsemanship overall. I think the spectators appreciated how difficult it is to get on a strange horse. Even though the horses are all trained, everybody does things a little bit differently, so to have to figure them out that quickly is a great challenge."
For the final showdown, Lyle and Dvorak were paired with Daedalus (ES de Laurentis x ES Sam Steele), a 13-year-old Hanoverian gelding owned by Gail Tittley and ridden successfully by Maya Markowski of Listowel, ON on the Canadian CDI circuit in the small tour.

Dvorak went first and once again put on a masterclass in the familiarization session, before gaining a score of 66.912% from the judges. However, it was Lyle who ultimately earned top honours, scoring 69.559% to become the inaugural champion of the Dressage Derby at the Royal Horse Show.
"It feels great to have won," said Lyle. "They are all really incredible riders and it was a really close competition. It's a great way to showcase top riders without having the expense of shipping a lot of horses in. You can still see every one of them was an incredible rider and I think the crowd really appreciated it."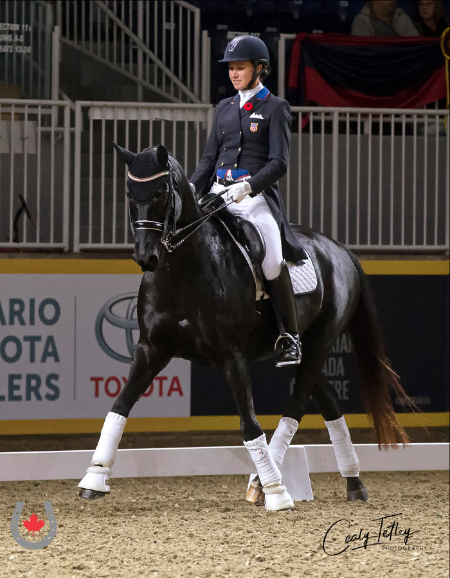 American Olympian, Adrienne Lyle expertly guided Daedalus, owned by Gail Tittley and trained successfully to the small tour level by Canadian Maya Markowski, to ultimately win the inaugural Canadian Dressage Derby at the Royal Horse Show. Photo Credit – © Cealy Tetley – www.tetleyphoto.com
Dvorak added, "There are always horses you look at and think, 'I wish I was on that horse.' I've seen both of these horses in the warm-up ring at shows, and I'm so happy I had the opportunity to ride them. I can see what a good job those riders did. I really appreciate that the riders and owners brought the horses here, because without borrowed horses, this competition wouldn't be possible. It's huge of the owners to trust us with these horses, because they are all top-level show horses, and I really appreciate that."

In addition to the Derby, dressage night at The Royal Horse Show was host to two special performances. The first was the official retirement of Jacqueline Brooks' long-time partner, D Niro (D-Day x Napoleon 625), a 19-year-old Swedish Warmblood gelding owned by Mary Brooks and Brookhaven Dressage Inc.

The iconic partnership between Brooks and D Niro, affectionately called Goose, has spanned nearly a decade, with highlights including the 2012 London Olympics and 2013 FEI World Cup Dressage Final. The duo are also known for firing up crowds with their creative and engaging freestyle performances and have been Royal fan favourites for many years.

To celebrate D Niro's retirement, Brooks led him through one last freestyle, interestingly set mainly to an acoustic cover of Simon and Garfunkle's "The Sound of Silence" by the metal band, Disturbed.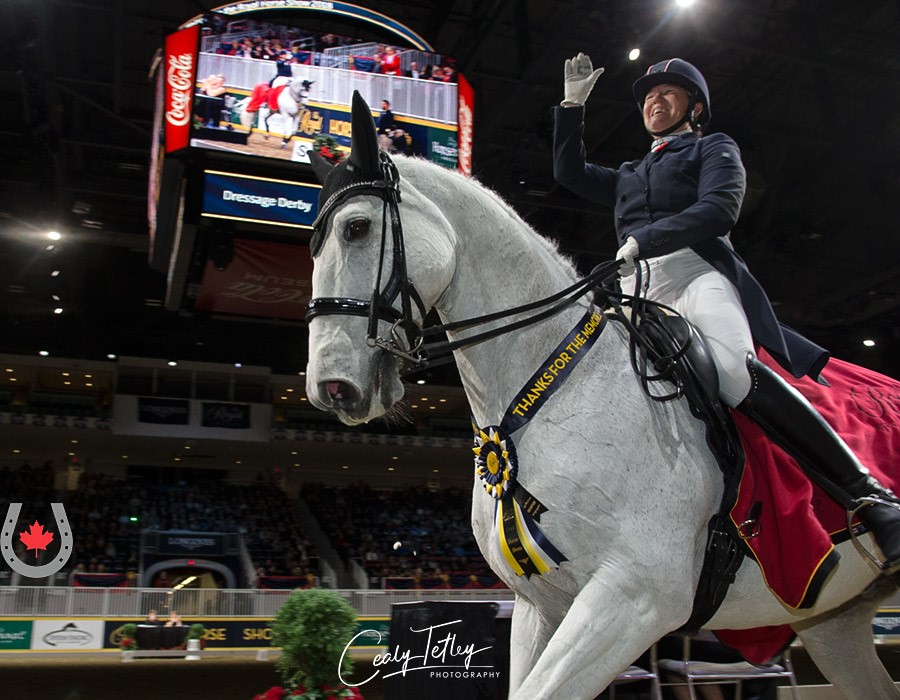 Fan favourites, Jacqueline Brooks and D Niro performed one last Freestyle at the Royal Horse Show during an emotional and heart-warming performance to honour the 19-year-old gelding, who will now officially enjoy retirement. Photo Credit – © Cealy Tetley – www.tetleyphoto.com
Fans had the opportunity to enjoy another special freestyle performance, this time by Brittany Fraser-Beaulieu of Saint Bruno, QC, and All In ((Tango x Damiro), a 13-year-old Dutch Warmblood gelding she co-owns with her husband, Marc-Andre Beaulieu and father, Craig Fraser. Fresh off their appearance at the 2018 FEI World Equestrian Games in Mill Spring, NC in September, the crowd was dazzled by the duo's intricate choreography, which highlighted All In's renowned talent at the extended trot. 

For more information on the Dressage Derby at the Royal Horse Show, visit www.royalfair.org .