Meet and Greet Fundraiser July 5, 5:30-9:30
---
Coe Hill, ON - The Ontario Mounted Special Service Unit (OMSSU) is a not-for-profit civilian mounted patrol unit made up of volunteers who have been through rigorous training, both themselves and their horses, to ensure that they are ready and capable to be deployed when needed.

OMSSU is an affiliate with Ontario Search and Rescue Volunteer Association (OSARVA), whereas some team members are on OSARVA ground search teams. Currently, these individuals are in training for mounted search and rescue. OMSSU also engage in mounted perimeter patrols for large restricted access areas; community relations and safety events; private functions; and trail patrol.

The OMSSU also has a Signature Formation Drill Team. 2018 represented its inaugural year and they performed at both Ancaster Fall Fair and Erin Fall Fair. The team also patrolled the fairgrounds and parking lots between shows, meeting and educating the public, crowd control and animal rescue from hot cars. We did trail patrol at Hoofbeat held at Sunrise Therapeutic Riding and Learning Center where our members assisted in the capture of a runaway horse.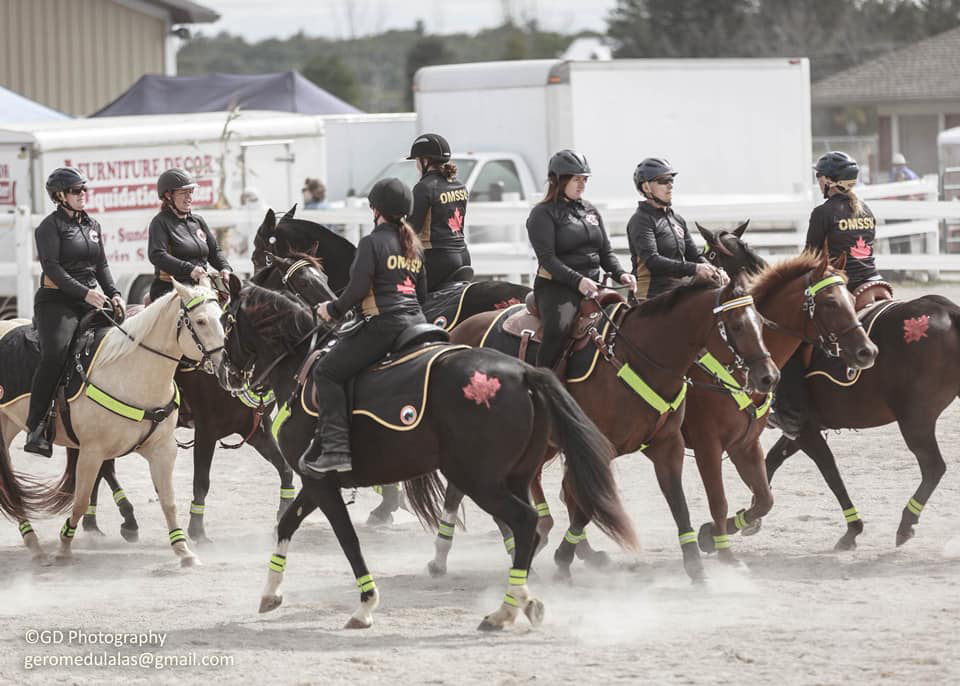 This year our Drill Team has been invited to perform and train at the Mounted Police Colloquium in Lexington, Kentucky. Fourteen unit members will be travelling down with their horses in September.

This year OMSSU has participated in Erin Horse Days and will be mounted up doing perimeter patrols and fire lane clearing at Hagersville Rocks. We will also have a showing at various Canada Day celebrations throughout Ontario including Lynden, Apsley and Orillia.

Each year OMSSU hold their Service Horse School where certified instructors train and test our mounted teams in obstacles, drill, search and rescue and patrolling. This year our Service Horse School is going to be held on July 5 -7, 2019 at Ancaster Fairgrounds. On July 5th, from 5:30 pm to 9:30 pm we are inviting the public to our Meet and Greet Fundraiser. Wine and cheese, silent auction and raffle all open to the public for free. However, donations are gratefully accepted. Meet our officers and their mounts, get information on our unit and if you think you and your horse have what it takes, let's talk.

If you would like more information, please do not hesitate to reach out or better yet, come out to Ancaster Fairgrounds. We'd love to see you.

Contact:
Cindy Fuerth, Director  cfuerth@omssu.ca
Kathi Karpinski, Sponsorship & Marketing  kkarpinski@omssu.ca