Following the first official horse inspection on July 26, where all 43 entries passed, dressage competition at the Games begins on July 28.
---
July 26, 2019, Lima, PER – Canadian dressage athletes, Jill Irving of Moncton, NB, Tina Irwin of Stouffville, ON, Lindsay Kellock of Toronto, ON, and Naima Moreira Laliberté of Outremont, QC are ready to kick off the equestrian portion of the Lima 2019 Pan American Games in Peru.
Following the first official horse inspection on July 26, where all 43 entries passed, dressage competition at the Games begins on July 28. The first day of competition will feature the Grand Prix for the big tour athletes, and Prix St. Georges for the small tour, with results counting toward both the team competition and the first individual qualifier. The team medals will be decided on July 29 following the Grand Prix Special and Intermediate I. From there, the top 50% in the rankings from both the big and small tour will move forward into the Grand Prix Freestyle and Intermediate I Freestyle, respectively, to compete for individual medals.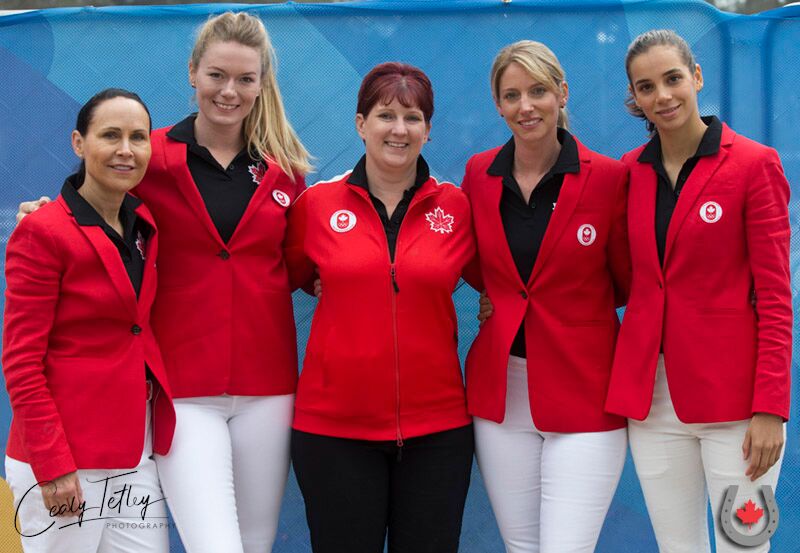 Irving, 56, will be representing Canada on the world stage for the second time, having made her major games debut at the 2018 FEI World Equestrian Games (WEG) in North Carolina. In Lima, she will be riding in the big tour with her WEG mount, Degas 12 (De Niro 6 x Regazzoni), a 17-year-old Hanoverian gelding owned by Irving and Windhaven Farm. Since 2013, they have been racking up top placings at the FEI level, and in 2017 helped the Canadian Dressage Team earn its first-ever gold medal in the prestigious CDIO 3* FEI Nations Cup at the Adequan Global Dressage Festival (AGDF) in Wellington, FL.
Irwin, 38, is making a Pan Am return, already having a team silver medal under her belt from the 2011 edition in Guadalajara, MEX. Her partner for the small tour in Lima is Laurencio (Laurentio x Donnerhall), a 12-year-old Oldenburg gelding she co-owns with her husband and fellow elite dressage athlete, Jaimey Irwin. Together, Irwin and Laurencio have a remarkable record, earning an incredible nine consecutive wins in 2016, and even posting a world record score during the 2017 AGDF. Canadian Dressage Team staples, they contributed back-to-back small tour wins to the team during the Nations Cup at AGDF 2019.
Joining Irwin in the small tour portion is Kellock, 29, aboard Floratina (Fidertanz 2 x Rubin Royal OLD), Chloe Gasiorowski's 11-year-old Hanoverian mare. Since getting the ride on Floratina in early 2019, Kellock has seen impressive and consistent success, scoring above 70% in every single test she's entered, including strong scores that helped clinch Canada's silver medal in the 2019 AGDF Nations Cup. The goddaughter of four-time Canadian Olympian Ashley Holzer, Kellock has also trained under seven-time Canadian Olympian, Christilot Boylen, plus gained valuable experience as a groom for Jacqueline Brooks and Gran Gesto at the 2008 Beijing Olympics.
At 22 years of age, Moreira Laliberté is Canada's youngest teammate. A highly successful competitor since the very beginning of her FEI career, she represented Canada at the FEI North American Junior and Young Rider Championships for four consecutive years and earned a total of six medals, including two team and one individual gold. In 2018 she hit two more milestones, moving up to the Under 25 level, and making her European debut aboard her Lima partner, Statesman, a 12-year-old Hanoverian stallion sired by Sandro Hit and owned by KML S.à.r.l. In early 2019, the duo moved up to the big tour and have been making their mark, picking up three FEI wins on the Ontario CDI circuit before traveling to the Games.
"The Canadian Dressage Team is ready to get the Games started," said Christine Peters, Equestrian Canada Senior Manager, Olympic/Paralympic Program and the Canadian Dressage Team Chef d'Équipe for Lima 2019. "All of our athletes look great, the horses have settled in well, and training rides have been going according to plan."
Peters continued, "Our team has a mix of experienced and up-and-coming talent, and we are ready to claim our position on the podium and earn our qualification for the Tokyo 2020 Olympics."
A total of 43 horse-rider combinations are expected to compete in dressage at the Lima 2019 Pan Am Games, representing over 15 countries. With even more than medals on the line, the top two teams not already qualified for the Tokyo 2020 Olympic Games will earn their berth.
For more information on equestrian events at the Lima 2019 Pan Am Games, including the full schedule of equestrian competition, entries and results, please visit www.lima2019.pe/en. To follow the CET's #RideToLima through results coverage, behind-the-scenes content and breaking news, visit www.equestrian.ca/events-results/games/ridetolima and be sure to check out EC's Facebook, Twitter, and Instagram for unique content, including a daily photo album.

Jill Irving and Degas 12. Tina Irwin and Laurencio. Lindsay Kellock and Floratina. Naima Moreira Laliberté and Statesman Photo Credit: © Cealy Tetley - www.tetleyphoto.com
Photo at top: The Canadian Dressage Team for the Lima 2019 Pan Am Games. Left to right: Jill Irving, Lindsay Kellock, Christine Peters (Chef d'Équipe), Tina Irwin, Naima Moreira Laliberté. Photo Credit: © Cealy Tetley - www.tetleyphoto.com.