Ten years! How time flies!
For the last decade, the Horse Tent has offered informative and entertaining presentations, demonstrations and activities for horse enthusiasts of all ages. A Thanksgiving Weekend tradition for many—the Erin Fall Fair welcomes over 30,000 people annually.
Presented by Budson's—Provisions for Country Living, the Horse Tent is a popular destination (the weekend sees over 12, 000 visitors) for the "horsey" and "non-horsey" set alike. From educational exhibits, to kid-friendly crafts; from breed displays to hands-on demonstrations, the Horse Tent offers a diverse snapshot of the local equine community.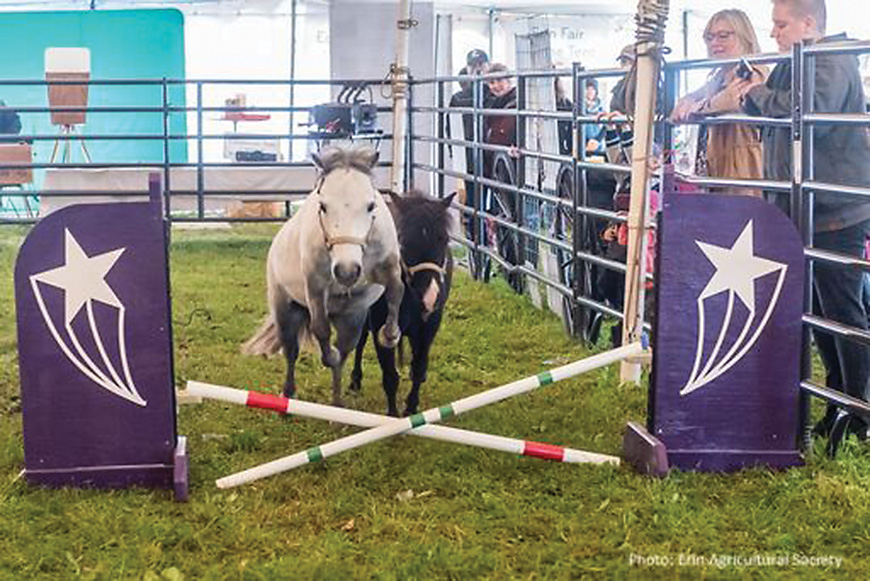 Of particular note, the Erin Agricultural Society (EAS) Horse Heritage Hall of Fame award ceremony will be returning to the Horse Tent. This award was introduced in 2018, and created to "celebrate and recognize leaders within Erin's horse community". Last year four incredible recipients received this inaugural award; who will it be this year? Come to the Horse Tent on Saturday, October 12th at 11am to find out!
Horse Tent Committee Chair, Nina Miles, is looking forward to this year's programme: "We are really excited about some of the new exhibitors and activities coming to the Horse Tent for 2019. Make sure to visit us at the fair, we promise a fun experience for all!"
With Fall in the air—or should we say "Fair"—Erin Agricultural Society President Rod Perry adds: "The Fair is a wonderful opportunity to celebrate our community and its agricultural heritage. The Horse Tent has become a tradition over the last 10 years and is to be congratulated on marking this milestone! Speaking of traditions, this year we have added some new attractions which we hope will become traditions of the future: our new tented, outdoor entertainment venue, Festival Gardens, which has an exciting line-up booked for the whole weekend; and for our young fair-goers, a larger petting farm allowing children the chance to get up-close and personal with a variety of furry and feathered farm animals."
Established in 1850, this year marks the 169th Erin Fall Fair. Described as "Ontario's preview to the Royal Winter Fair", the Erin Fair runs from Oct 10th to 14th; the Horse Tent is open Saturday, Sunday & Monday.
169th Erin Fall Fair and the Horse Tent's Tenth Anniversary—Come celebrate with us!
For more information on the Horse Tent, please go to https://www.erinfair.com/horse-tent/