Bobby Kerr, Beth Underhill, Dr. Russell MacKenzie-Guire and more to highlight this years show!
The Can-Am All Breeds Equine Expo is thrilled to announce its return to the Markham Fairgrounds for the 2020 show! Eastern Canada's premier equine event will take place April 3-5, 2020 bringing together thousands of horse lovers and industry partners all under one roof for a great weekend for everyone from the seasoned horse person to the weekend rider and everything in between! The Can-Am Equine Expo will continue to feature a lineup of international clinicians, family-fun entertainment and performances, all indoor shopping and free on-site parking!
Can-Am is thrilled to be welcoming back one of the most celebrated wild Mustang trainers and entertainers, Bobby Kerr. His passion for horses and western lifestyle lead him to train and show for over 40 years where he eventually found his love for the American Mustangs. He spends most of his time on the road and horse show circuit demonstrating and educating audiences how versatile, usable, and trainable the American Mustangs are. Appearing on some of the world's largest stages including the Del Mar National Horse Show, Equine Affaire and the National Finals Rodeo in Las Vegas, Bobby will be bringing along his Mustangs to entertain audiences during the Evening Extravaganza performances and educate throughout the day presenting clinics. For those that have yet to see this equine entertainer, you're in for a treat and are sure to be smiling and laughing throughout the performance.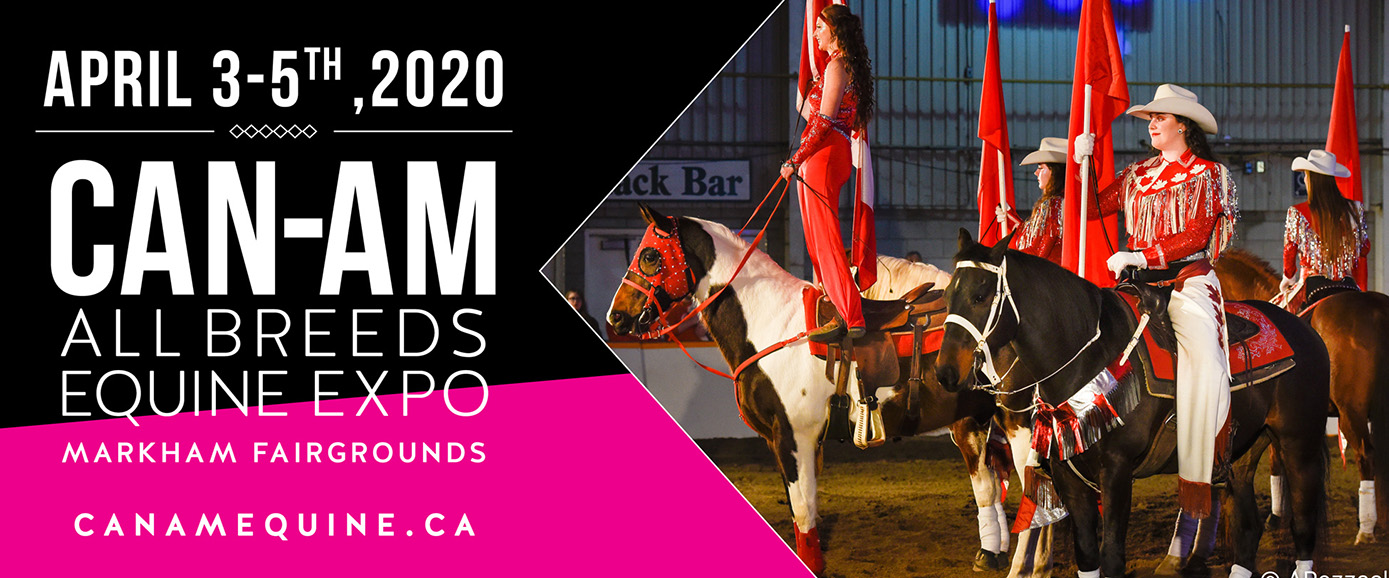 Beth Underhill is one of Canada's most well-known household names when it comes to showjumping having represented Canada in numerous Olympic, Pan-American Games, World Equestrian Equestrian Games and World Cups. She is still competing at the highest level, winning multiple Grand Prix's across North America on her mount, Count Me In and when she's not in the ring, she's passing along her knowledge through coaching and teaching clinics. Beth has a special skill when it comes to guiding participants through clinics and ensures they receive the benefit of her experience and we can't wait to see her present at this years Can-Am Equine Expo.
Coming all the way from the United Kingdom, Dr. Russell MacKechnie-Guire from Centaur Biomechanics will present his ground-breaking doctoral research specializing in Horse, Rider and Saddle Interaction at this years Can-Am Equine Expo. As lead Biomechanist for Team Great Britain and FEI Spotlight biomechanics expert, Dr. MacKechnie-Guire lectures & clinics demonstrate fascinating research highlights and how improved training techniques and technology contribute to horse welfare, soundness and performance. In addition to featured keynote schedule, Can-Am is thrilled to announce the opportunity to host a Centaur Biomechanics Equine Sports Science Course on Saturday April 4 on site. Stay tuned for more details!
The Evening Extravaganza show is always a highlight to end a full day of shopping, presentations, lectures and clinics at Can-Am! This year's featured entertainer is North America's most well-known wild Mustang whisperer, trainer, and entertainer, Bobby Kerr. The show will feature his very well-trained Mustangs, and other four-legged friends to entertain and showcase how multi-talented this breed of horse can be. If you have yet to see Bobby in action, then you're in for a treat and are sure to be smiling and laughing throughout the performance. The Canadian Cowgirls will also perform during the show, dazzling the audience with their musical performance Along with exciting events such trick riding and roping, this non-stop variety show offers dazzling display of equine versatility and brings into clear focus the power of horses to amaze and entertain. A purely entertaining experience, designed to introduce kids to the magic of the horse, this is a show you won't want to miss!
One of the main features of the Can-Am Equine Expo is the vendor and tradeshow shopping. Last year's record-breaking attendance reflected on tremendous sales for vendors and with an overwhelming response from vendors, over 60% of spots are already booked up for the 2020 show!
The 2020 Can-Am Equine Expo is shaping up to be the most successful show to date! So, come and join them for a weekend of fun, entertainment, education and get in touch with your country roots! For more information, visit canamequine.com or LIKE them on Facebook at 'Can-Am All Breeds Equine Expo'