Held Sunday, February 16, at the CSIO5* Palm Beach Masters in Wellington, FL
Wellington, Florida – The Canadian Show Jumping Team comprised of Erynn Ballard of Tottenham, ON; Tiffany Foster of North Vancouver, BC; Eric Lamaze of Wellington, FL; and Sam Walker of Nobleton, ON, placed fourth in the $290,000 Longines FEI Jumping Nations Cup™ of the United States of America on Sunday, February 16, at the CSIO5* Palm Beach Masters in Wellington, FL.
Canada was sitting last among the eight teams contesting the $290,000 Longines FEI Jumping Nations Cup™ of the United States of America following the opening round of the two-round competition. Demonstrating why show jumping is anything but predictable, the Canadian Show Jumping Team clawed its way back to fourth place in the final standings with an improved second round performance.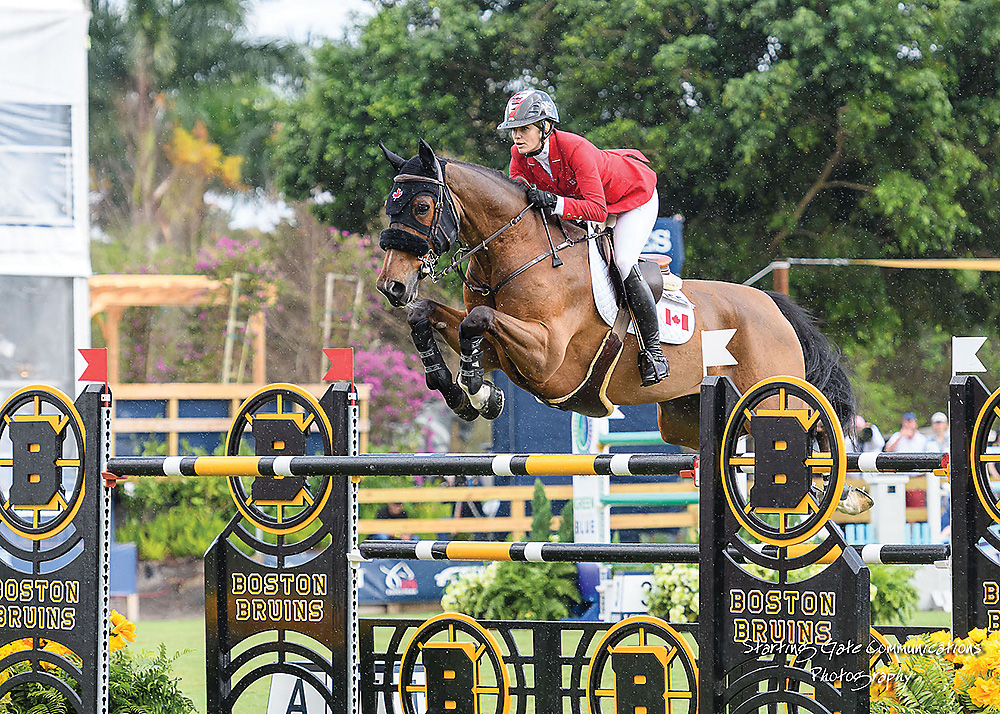 As the lead-off rider, Foster did her job for Canada by delivering two fault-free rounds riding Figor, a 10-year-old Dutch Warmblood gelding (VDL Groep Zagreb x C-Indoctro) owned by Andy and Carlene Ziegler's Artisan Farms LLC.
"I know our team, and I know we can be good when we fight back," said Foster, 35. "We had a couple of unfortunate things happen in the first round, but it shows our strength as a team that we can come back and almost have a podium finish."
As one of four riders to jump double clear in the competition – the others being Laura Kraut of the United States, Emily Moffitt of Great Britain, and Mexico's Nicolas Pizarro – Foster received $15,000 of the $60,000 bonus on offer.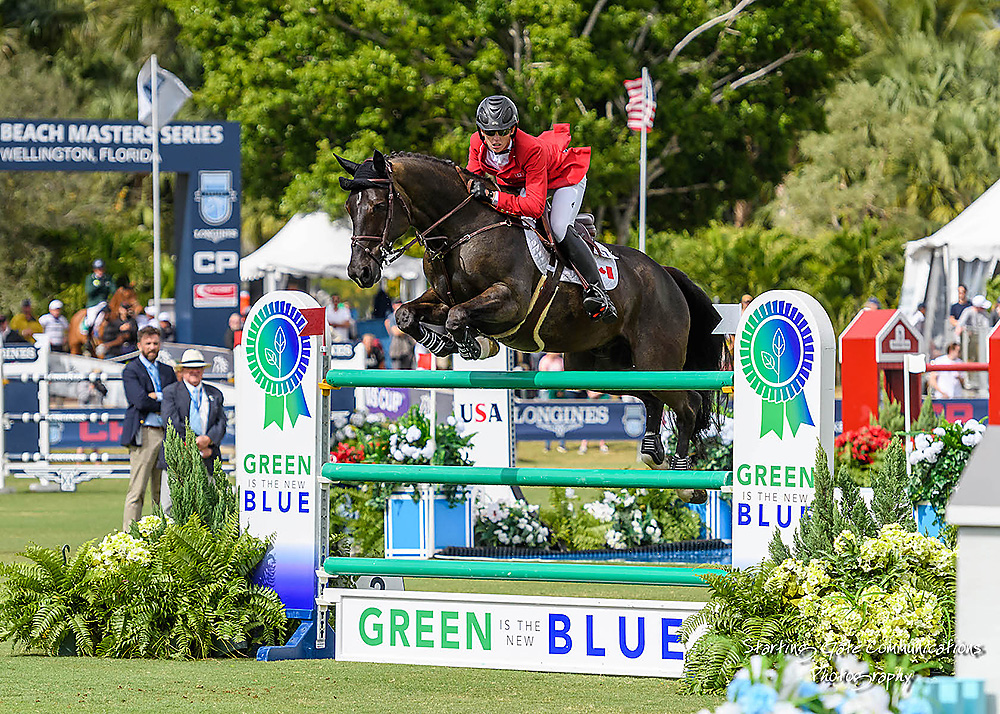 "Anytime you jump double clear for your country it's a big deal and something to be proud of," said Foster, who also jumped double clear earlier in the day riding Galino for Artisan Farms to finish second in the $15,000 1.45m Bruins Classic. "I'm especially proud of Figor. I've always believed in him and we've been working hard to have it all come together. This time I really came in thinking it was at least a possibility, if not a necessity, for us to jump double clear and I was proud that I was able to deliver on that."
Making his Nations Cup debut, 17-year-old Walker jumped two strong rounds that belied his young age. Having incurred four faults in the opening round, Walker and his recently acquired mount Kel'star du Vingt Ponts, an 11-year-old black Luxembourg gelding (Kannan x Landor S) owned by Castlefield Sport Horses Inc., came close to delivering a clear the second time out when a rail fell at the final fence on Irish course designer Alan Wade's track.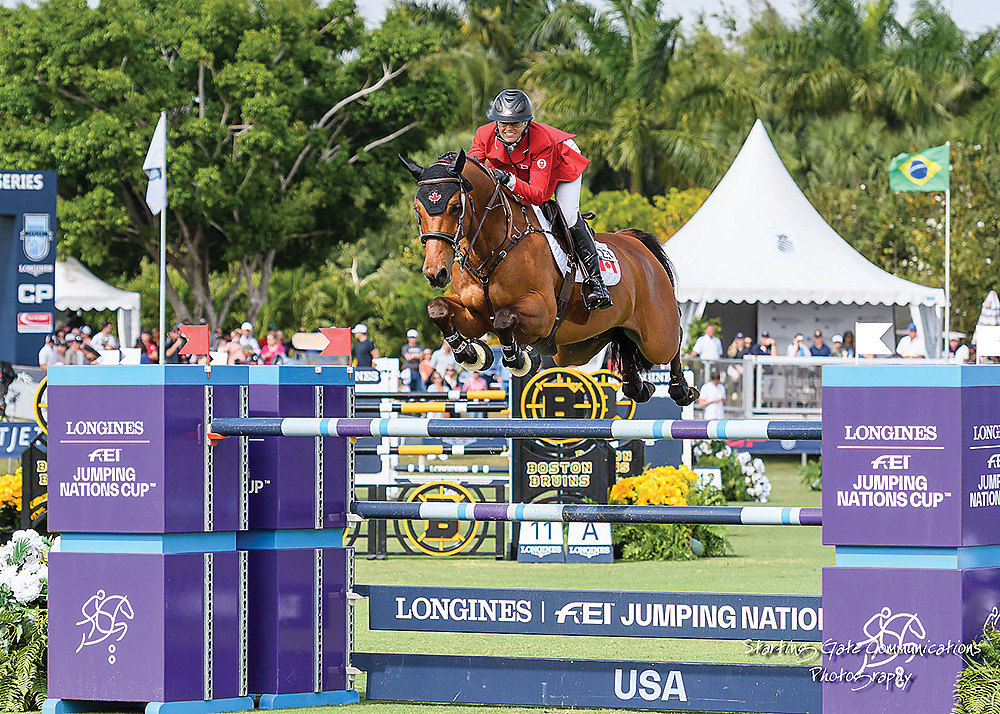 After a difficult first round that saw Ballard put 16 faults on the scoreboard riding Fellini S, the pair returned to deliver a much-improved second round performance. Ballard, 39, and the 10-year-old bay Dutch Warmblood gelding (Vermont x Rash R) owned by Ilan Ferder were clear until a rail came down at 11b of the double combination for four faults.
Riding in the anchor position for Canada as he has done so many times before, 2008 Olympic Champion Lamaze, 51, was off to a rocky start when Coco Bongo stopped at the second fence. With four faults for the refusal, a rail down at 11a of the double combination, and two time faults for exceeding the time allowed of 76 seconds, Lamaze finished the first round with a total of 10 faults. Being the master that he is, the three-time Olympic medalist returned to jump clear the second time out with Coco Bongo, a 15-year-old bay Rheinlander gelding (Caretino x Calido) owned by Artisan Farms LLC and his own Torrey Pines Stable, leaving Canada to count four faults in the second round. When added to the 14 faults from the opening round, Canada finished the day on a total of 18 faults.
When other countries began dropping rails, Canada slowly climbed its way up the standings and ultimately finished the day in fourth position overall. A jump-off was required to determine the winner, as both Great Britain and the United States had completed two rounds of jumping tied at eight faults apiece. Two-time U.S. Olympic team gold medalist Beezie Madden riding Darry Lou went up against Alexandra Thorton and Cornetto K. Both women were clear in the jump-off, but Madden's quicker time of 33.11 seconds versus the 36.34 seconds posted by Thorton clinched it for the home side.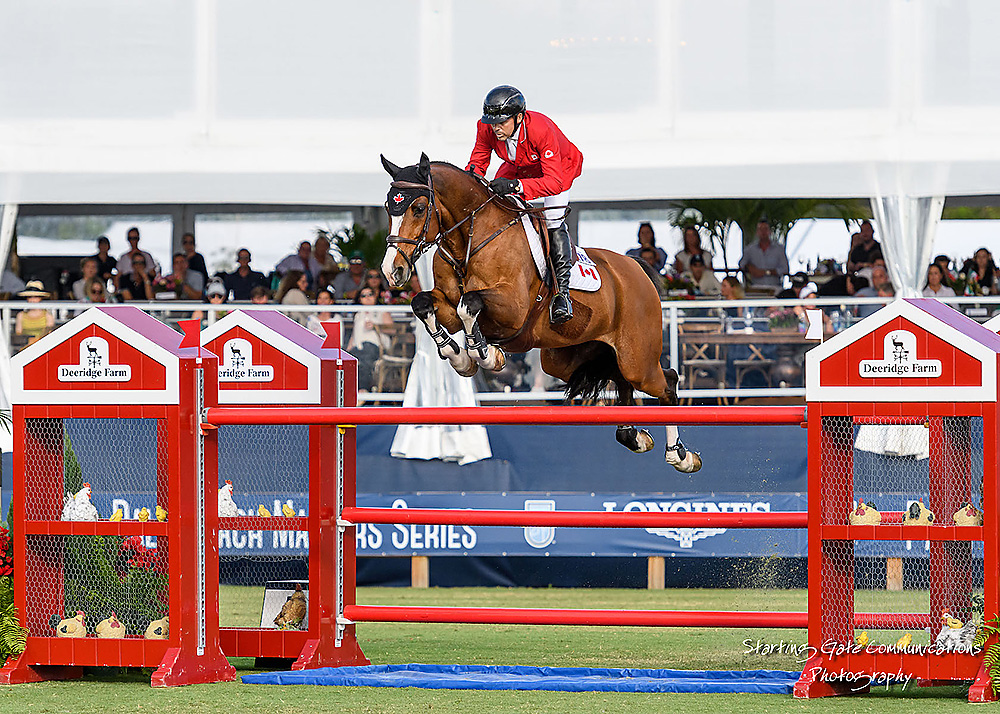 Mexico kept its faults tally at 17 to stay ahead of Canada with 18 faults. Israel and Ireland tied for fifth place with 20 faults apiece while Australia and Brazil tied for last place on 28 faults each.
"It was an anomaly for two of our riders to have such big scores in the first round so I wasn't surprised that they came back strong in the second round," said Canadian Show Jumping Team chef d'equipe Mark Laskin of Langley, BC.
"Tiffany was awesome," continued Laskin of his team's strongest performer. "Her horse got a lot of great mileage last year as a nine-year-old and he's developed into a solid contender that Tiffany can count on to be very consistent going forward. Sam was a major contributor and delivered beyond expectations for his first time out, especially as a 17-year-old. He's a great competitor with a lot of composure, and I think he will be a big factor in the Canadian Team's future."
The $290,000 Longines FEI Jumping Nations Cup™ of the United States of America acted as the first of three qualifying events in the North America, Central America and Caribbean League for the Longines Nations' Cup Final to be held in Barcelona, Spain, from October 1 to 4, 2020. As the only three teams eligible for qualifying points, the United States earned 100 points for the win while Mexico earned 80 points. Canada has 70 points on its scorecard heading into the next event, the Longines FEI Jumping Nations Cup™ of Mexico, to be held from April 30 to May 3 in Coapexpan, Mexico.
The third and final qualifying event takes place on home soil for the Canadian Team. The Longines FEI Jumping Nations Cup™ Canada will be hosted at Thunderbird Show Park in Langley, BC, from May 26 to 31. At its conclusion, the top two teams in the point standings will be invited to contest the Longines FEI Jumping Nations Cup™ Final in Barcelona.
PHOTOS:
Tiffany Foster of North Vancouver, BC, delivered two clear rounds for Canada riding Figor, owned by Artisan Farms LLC. Photo by Starting Gate Communications
Sam Walker, 17, made his Nations Cup debut for Canada riding Kel'star du Vingt Ponts, owned by Castlefield Sport Horses, Inc. Photo by Starting Gate Communications
Erynn Ballard of Tottenham, ON, riding Fellini S, owned by Ilan Ferder. Photo by Starting Gate Communications
Three-time Olympic medalist Eric Lamaze of Wellington, FL, rode Coco Bongo for owners Artisan Farms LLC and Torrey Pines Stable. Photo by Starting Gate Communications