"Before COVID-19 hit we were running full capacity; every time we would add a stall it would fill and a request for another would pop up," said Rosemarie.
By Karen Dallimore.
Rosemarie Huxted, a 2003 graduate of Olds College in Alberta, moved back to Ontario in 2005 to start her own business of coaching, training, and boarding horses. Her 200-acre farm is called RLH Equestrian, located near Dalkeith, in the Ottawa region.
Business has been good. There wasn't much she didn't offer in lessons, from extreme cowboy, jumper and dressage, western pleasure, to reining and barrel racing, all with a huge focus on horsemanship. She also offered training, from colt backing to fine tuning, both western and English. There were clinics, indoor and outdoor boarding, breeding, and sales.
Then, on May 3, 2019, Rosemarie Huxted lost her barn, several horses and 17 head of cattle in a barn fire. "It was a complete loss of over $50K in tack and gear, as well as six of the barn's key lesson/competitive horses including our up and coming breeding stallion, Bullseye."
It was a devastating blow but she was determined to rebuild.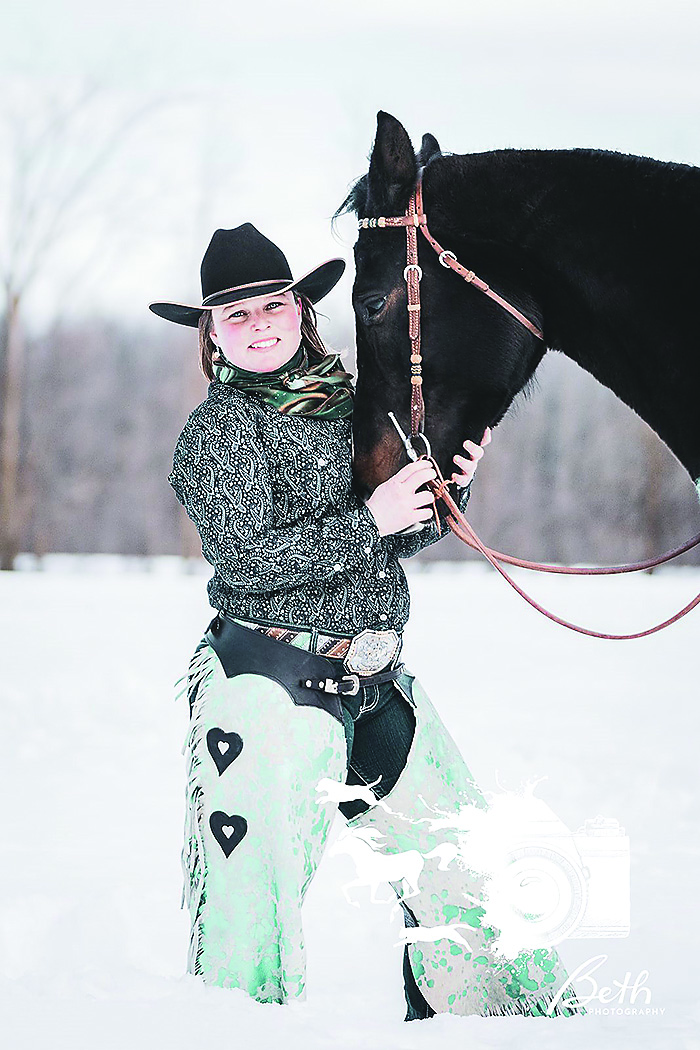 As Rosemarie described, "Months' worth of sweat, tears, hard work, and huge community support has seen this project head down the back stretch to now be reaching the finish line, less than one year later!" They're just finishing staining the boards on 20 new box stalls in a new barn along with tack lockers, a wash stall and grooming stalls.
Then, the COVID-19 pandemic struck.
"Before COVID-19 hit we were running full capacity; every time we would add a stall it would fill and a request for another would pop up," said Rosemarie. There were fourteen boarders, four horses in for training, and lessons on evenings and weekends. Five clinics were in the works; nine of her students were eying up qualifying for the Extreme Cowboy World Championships in Texas in November 2020.
Suddenly, all of that has changed. Since COVID-1919 hit they have lost five boarders. Some people lost their jobs over night, some moved their horses home to pasture, and the show horses that were on training? As Rosemarie says, "that has come to a slow steady "jog" as the western pleasure world would say!"
Lessons aren't happening. "They're not allowed," said Rosemarie, "and I'm glad to actually have amazing clients who respect and understand that it's for our own safety to help stop the spread of this virus."
Training has remained as busy as ever though, with 5 horses in the barn for client training. "We have found ways to adapt," through the use of social media, videos, and photos to keep clients updated.
The plans for Texas and the dreams of their team going to the Extreme Cowboy World Championships will have to wait, with the patient coach pointing to, "a year to train, a year to grow, a year to develop before we will see that ride."
Since the COVID-19 restrictions, reliable essential service from farriers and vets has remained obtainable, so that also helps to keep the business running. They also have a stockpile of supplies; they make our own hay so having a good inventory reduces that stress.
Their biggest concern was obtaining bedding. It seemed that overnight there were no shavings left in sight and what one could find had jumped up to $8 a bag. She grabbed a semi-load like some would grab toilet paper, only to be faced with six police stops under strict travel restrictions on what would usually be a simple run into Quebec. "We had to have our paperwork in order," said Rosemarie. "Thank God for having our own transport to go get the load as well, as shipping fees were double the cost, as truckers don't want to be on the roads, no places to eat, no places to even pull over and rest anymore for them." She figures this might be just the beginning for supply and demand struggles to come.
"I feel as though the horse industry is going to be hit hard, and we are going to realize that our sport is a luxury to most and will have to adapt to survive," she predicts. The horses will undoubtedly see more pasture time, allowing them to live a more 'natural' life for a while. She plans to remain closed to lessons for a while, even after restrictions have lifted, to remain healthy so she can focus on running her business. Once she can start to re-schedule, her offerings for clinics will be revised to one day events, keeping it simple and easy on the pocketbook. She has several months of training booked right now and offers stalls for lay-ups. In her experience, having the facilities to offer these varied services is going to be key to remaining in business for long term.
Once again, like after the fire, she will rebuild, making decisions one month at a time, doing what is best for the animals and the people to help ride out what she calls the, "pandemic rodeo." 
©Words For Hire 2020