"We had expensive mistakes that costs us quite a few points but overall, I'm thrilled" - Chris von Martels
Tokyo, JPN, July 25, 2021 – Brittany Fraser-Beaulieu of Saint-Bruno, QC, and Lindsay Kellock of Toronto, ON, closed out dressage competition for Canada at the Tokyo 2020 Olympic Games in Japan on July 25, 2021.
Fraser-Beaulieu, 32, and her partner, All In (Tango x Damiro) made sure to make a statement in their first Olympic appearance during the day two of the Dressage Grand Prix Team and Individual Qualifier. The 16-year-old Dutch Warmblood gelding, whom Fraser-Beaulieu co-owns with her father, Craig Fraser and husband, Marc-Andre Beaulieu, impressed the judges with his expression in movements such as the extended trot and tempi changes. The combination's consistency and presence led to a final score of 71.677% from the judges. As the Grand Prix format was broken down into six groups, no overall placings were awarded.
"I think it was the best Grand Prix I've had to date," said Fraser-Beaulieu. "I'm glad it chose to be this day. All In was spectacular in there, he went in and did his very best for me. He handled my nerves so well. I felt like the moment he went down centerline he settled in and he knows his job so well. It was an incredible experience for both of us: It wasn't my best score, but the feeling I had underneath me was amazing, so that's all I can ask for."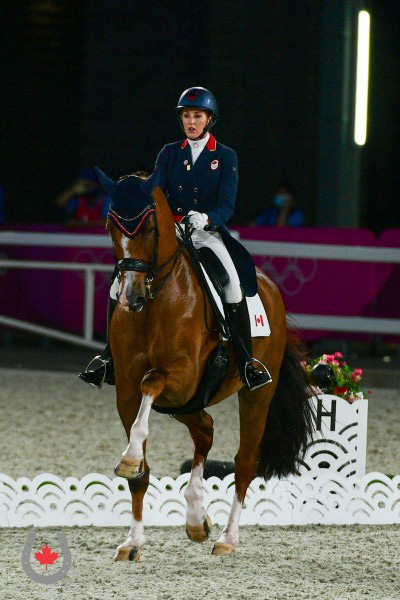 Kellock, 31, put in an admirable effort guiding Sebastien (Sandro Hit x Fidermark), a Rheinländer owned by Enterprise Farm Equestrian, LLC, to a score of 65.404%. She produced individual movement scores of 8.0 for the half-pass and passage, skillfully managing the 15-year-old gelding in his first major games appearance as he began to show the effects of his long journey to Tokyo.
"I've learned from this. Maybe Sebastien just peaked a little too early [after travelling] but I'm thrilled to be here," said Kellock, who experienced the Olympics as a groom for Jacqueline Brooks at Beijing 2008 and for coach and godmother, Ashley Holzer, at London 2012. "I lost my brother in January, so that's been difficult. I started qualifying a couple of days after he passed. But I know he wants me to be here and be competing. I feel he's with me every day. I'm wearing a necklace that he gave me today. I miss him dearly but tried to do well for him."
Fraser-Beaulieu and Kellock's scores combined with that of teammates, Chris von Martels of Ridgetown, ON, and Eclips (Apache x Olympic Ferro), the 12-year-old Dutch Warmblood that he co-owns with Barbara Soederhuizen. The Toronto 2015 Pan AmericanGames medallist took to the Olympic ring during July 24's Grand Prix, dancing with the black gelding to the tune of 68.0959%.
A total score of 6605.5 placed Canada 11th in the team competition, below the top eight cut-off needed to move on to the Grand Prix Special on July 27, which will decide the team medals. From there, the top 18 horse/rider combinations who qualified in the Grand Prix will move forward to the Freestyle on July 28 to compete for individual medals.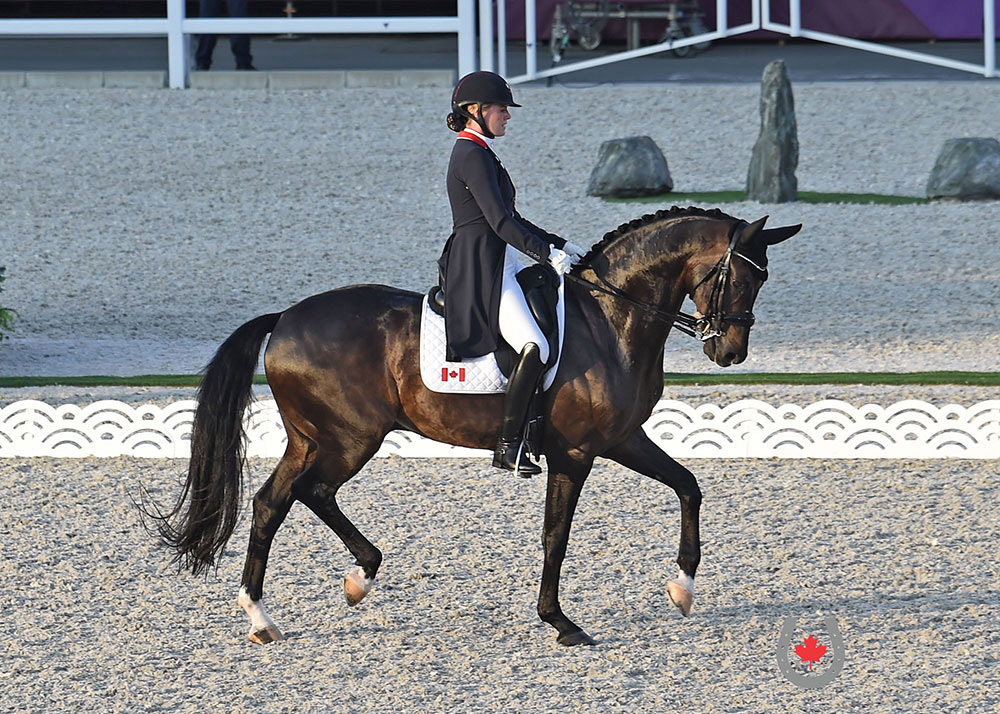 "Everyone should be extremely proud of this young Canadian team," said Christine Peters, Chef d'Équipe of the Canadian Dressage Team. "The support they've had for each other to overcome the challenges of the past two years just to get here is very inspiring. Not everything went our way in the team qualifier but our riders showed determination, professionalism and so much promise for the future The evening ended on a high note with Brittany and All In putting in a brilliant performance; one of their best tests to date."
The Canadian Dressage Team is supported at the Games by: Peters; Coach, Ashley Holzer; Team Veterinarian, Dr. Alan Manning; Equine Therapist, Dr. Usha Knabe; and Equestrian Team Lead, James Hood. For more information on equestrian events at the Tokyo 2020 Olympic Games, including the full schedule of equestrian competition and results, please click here.
Further information on the Canadian Equestrian Team can be found at on the Equestrian Canada #RidetoTokyo webpage.
TOP RIGHT PHOTO – Brittany Fraser-Beaulieu of Saint-Bruno, QC, and All In made a lasting impression at the Dressage Grand Prix Team and Individual Qualifier on July 25, 2021, at the Tokyo 2020 Olympic Games.

BOTTOM LEFT PHOTO – Lindsay Kellock of Toronto, ON, and Sebastien earned the title of "Olympian" in the Dressage Grand Prix Team and Individual Qualifier.

ALL PHOTO CREDITS – MacMillan Photography & Media Services
Source: Equestrian Canada