rouble for Deslauriers and Bardolina 2 first came at 6b,
Tokyo, JPN, Aug. 4, 2021 – Canadian Olympic veteran Mario Deslauriers, 56, of New York, NY, and Bardolina 2 (Clarimo x Landos) spared no effort for a 22nd-place finish in the Jumping Individual Final on Aug. 4, 2021, at the Tokyo 2020 Olympic Games in Japan.
The Saint-Jean, QC, native and 12-year-old Holsteiner mare he co-owns with Wishing Well Farm LLC were introduced to Spanish Course Designer, Santiago Valera's twisting challenges and demanding distances in the previous evening's Jumping Individual Qualifier. After making the top 30 to move on to the Final, riders from 17 nations were faced with the challenge of completing an additional 18 jumping efforts with a maximum height of 1.66 metres in 88 seconds.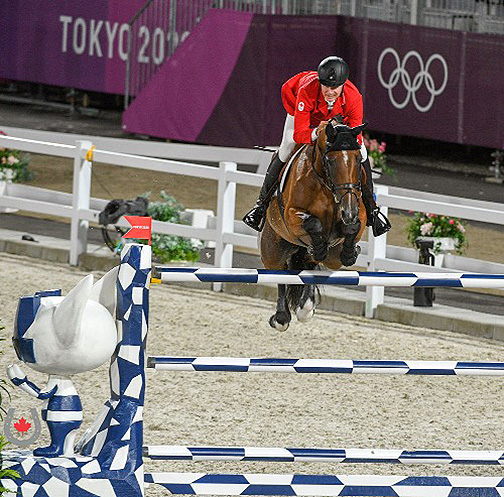 Trouble for Deslauriers and Bardolina 2 first came at 6b, an imposing vertical representing the famed Shinkyo Bridge that was the downfall of many a combination coming off a wall at 6a. The next combination also proved problematic with rails falling at the square oxer, 8a, which was styled after Japanese Kabuki theatre. A final rail at 13, which featured the blooms of cherry trees, and one time penalty combined for a total of 13 faults.
"This course tonight was definitely a big notch higher than last night," said Deslauriers. "Not that last night was easy by any means but tonight was definitely a big boy's course. I think my rail at 6b was very, very light. Coming in the triple [at 8a] was another light rail, maybe the second to last one [at 13] was a bit harder but overall Bardolina rode very well and I was pleased with her. She gave me a very good effort."
Deslauriers continued, "I feel Bardolina got better through this process here in Tokyo. She gained some experience and she actually jumped quite well tonight. There were a few little rubs here and there but overall, she put in a good effort and we can build on that and do some good stuff at home."
Deslauriers was supported at the Games by: Jumping Team Manager, Karen Hendry-Ouellette; Jumping Chef d'Équipe, Mark Laskin; Groom, Megan Grabowski; and Equestrian Team Lead, James Hood.
"In our sport at this level, all you can hope for is to be in the game," said Laskin. "You then try to ride to your capabilities and hope the horse jumps to their capabilities and you let the process play out. By qualifying for the Olympic Individual Final against this field of the best horses and riders in the world, we were right in this game. Unfortunately, tonight the chips didn't fall our way. We'll get them the next time."
A thrilling jump-off with six riders going clear decided the gold medal for Ben Maher of Great Britain, who rode Explosion W to a final time of 37.85 seconds. Silver went to Sweden's Peder Fredricson and All In, who stopped the timers in 38.02 seconds, while 0.88 seconds behind came Maikel van der Vleuten and Beauville Z for bronze.
While Canada will not appear in the team competition, the Jumping Team Qualifier will be held on August 6 and the Jumping Team Final will close out equestrian competition at Tokyo 2020 on August 7.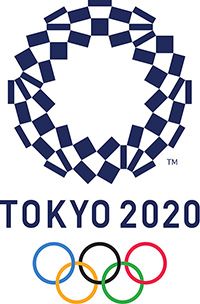 For more information on equestrian events at the Tokyo 2020 Olympic Games, including the full schedule of equestrian competition and results, please click here.
Further information on the Canadian Equestrian Team can be found at on the Equestrian Canada #RidetoTokyo webpage.
PHOTO  – Mario Deslauriers of New York, NY, and Bardolina 2 closed the chapter on equestrian competition for Canada with a 22nd-place finish in Jumping Individual Final on Aug. 4, 2021, at the Tokyo 2020 Olympic Games in Japan.

PHOTO CREDIT – MacMillan Photography & Media Services
Source: Equestrian Canada