Sara Tindale Double Clear in Nations' Cup Debut.
Rabat, Morocco – The Canadian Show Jumping Team finished seventh in the Nations' Cup team competition held on Sunday, October 16, during CSIO4*-W Rabat, Morocco.
Susan Horn, Kyle Timm, Sara Tindale, and Beth Underhill formed the Canadian show jumping team with both Horn and Tindale making their Nations' Cup debuts. Canada faced off against nine other nations over the two-round outdoor competition.
Timm, 33, of Calgary, AB, was the first rider on course with Farezzo, a 12-year-old Dutch Warmblood gelding (Arezzo VDL x Van Gogh) owned by Adam Pearsall and Torrey Pines Stable Inc. The pair appeared to be making easy work of the course until the 'b' element of the triple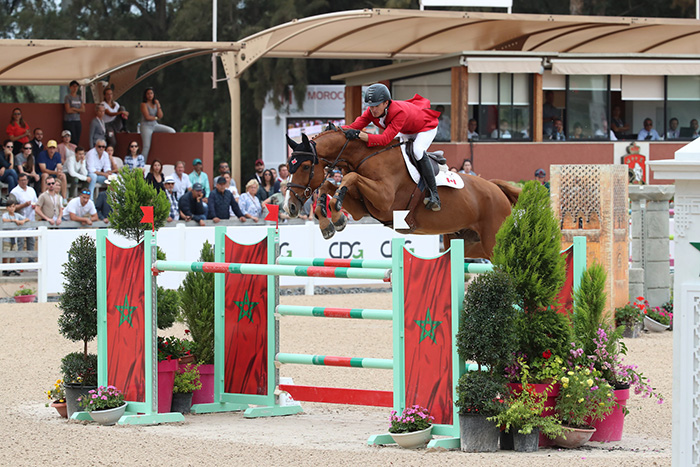 combination fell at fence 11 followed by the final fence for a total of eight faults. Returning for the second round, Timm and Farezzo again incurred two rails plus two time faults for exceeding the 75-second time allowed.
Tindale, 20, of Campbellville, ON, was the star of the show for Canada riding Elco van hof ter Naillen owned by Tindale Farms. In the pair's senior Nations' Cup debut, Tindale and the 12-year-old chestnut Belgian Sport Horse gelding (Elvis ter Putte x Toulon) jumped double clear over the course set by Gregory Bodo of France. Tindale was one of only two competitors to accomplish the feat, with the other double-clear performance coming from Sophie Hinners riding Churchill 48 for the winning German side.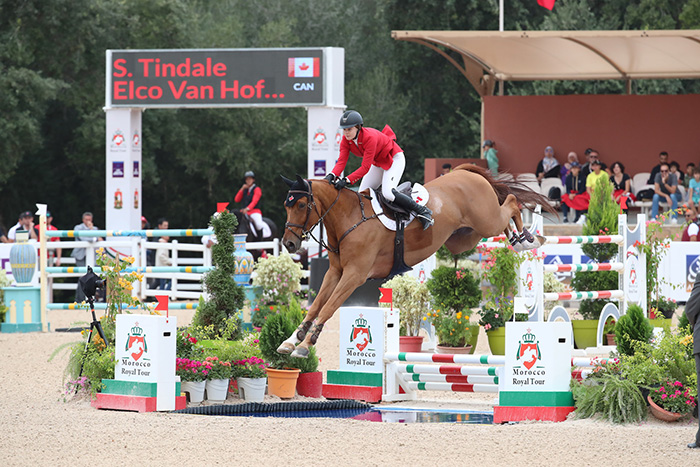 "It felt absolutely amazing," said Tindale of her performance. "My horse tried his hardest today; I couldn't have asked any more from him. I got him mid-summer last year and we formed a partnership quite quickly. He's instilled a lot of confidence in me for jumping bigger tracks. I'm proud of my horse, my team, and everyone who helped get me here. To go in and jump double clear for your country – you can't replicate that feeling!"
Tindale, who trains with Underhill, has been based at Torrey Pines Stable in Belgium alongside her coach since April. In August, she and Elco van hof ter Naillen represented Canada at the 2022 North American Youth Championships held in Traverse City, MI, where they won a team bronze medal and placed eighth individually in the Young Riders' division.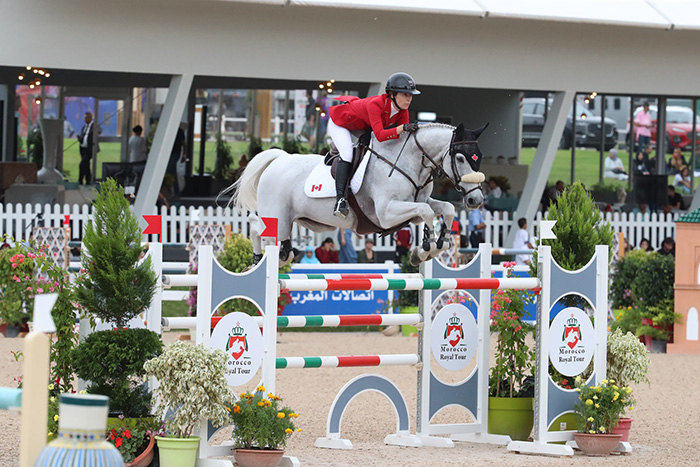 "Being able to spend this summer in Europe at Torrey Pines with Eric Lamaze and Beth Underhill has been an incredible opportunity and one that I'm so thankful for," said Tindale. "You compete against the best in the world in every single class in Europe, no matter what level you're showing at. There are so many opportunities over here to gain experience and grow as a rider. It's pushed me to become a better rider both mentally and physically. It's been amazing. I wouldn't trade this experience for anything in the world."
Like Tindale, Horn, 38, of Bolton, ON, was also making her Nations' Cup debut for Canada. Having incurred 12 faults in the opening round riding Dominka van de Lucashoeve, a 13-year-old grey Belgian Sport Horse mare (Cardento 933 x Chin Chin), the pair rebounded to produce a clear effort on their second tour of the track.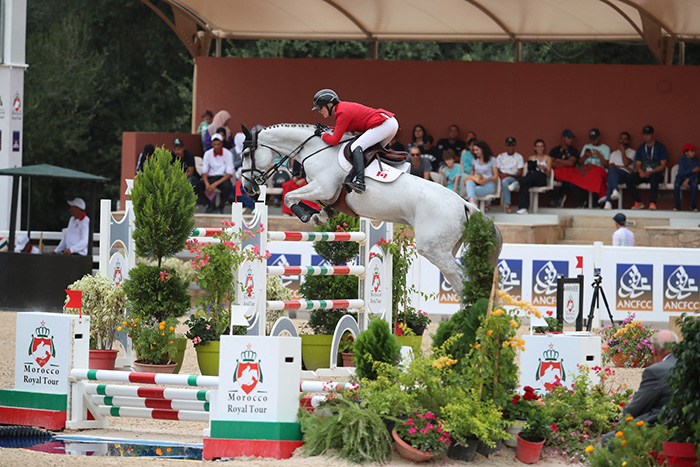 Underhill, 60, of Mulmur, ON, was making her third appearance at the international level with the newly acquired Mademoiselle-A, a 10-year-old grey Belgian Warmblood mare (Corland x Cardento 933) owned by Rein Family LLC and Torrey Pines Stable Inc. The Canadian Olympian and Mademoiselle-A incurred 16 faults in both rounds to provide the drop scores for Canada, who counted the best three scores from each round toward the team total.
With 20 faults in the opening round and a further 10 added in round two, Canada finished on a final score of 30 faults.
Germany claimed victory with 13 faults followed by the French in second with 16 faults. Switzerland completed the podium with 23 faults followed closely by the home side of Morocco in fourth with 24 faults. The Netherlands was fifth with 25 faults, Brazil took sixth with 29 faults, and Canada placed seventh with its 30 faults. Belgium was eliminated in the second round while both Spain and Portugal failed to be among the top eight teams that advanced to the second round of competition. Eric Lamaze, chef d'equipe of the Canadian Show Jumping Team, said, "We tried two different warm-ups with Kyle's horse that helped us get to know him better, and I thought Kyle rode very well. Beth's horse wasn't itself today. Susan had some problems in the first round, and she corrected it in the second round. That's why these riders come to Europe. We're building up riders."
Lamaze had nothing but praise for Tindale.
"Sara was outstanding," he said. "She's been based with us [in Belgium] since April. She struggled at first, but we kept sending her to shows, and today she was able to produce a double clear in a Nations' Cup. You can't do that by staying in North America and being comfortable in your surroundings. The way of riding in Europe demands a more precise type of riding than anywhere else in the world. If we want one day to have some really good Canadian riders, we have to teach them the ropes in Europe, and we have the perfect proof of that in front of us today. What a thrilling day for the younger riders."
Rabat is the second of three consecutive stops that comprise the Morocco Royal Tour, which opened a week ago in Tetouan and concludes on October 23 in El Jadida.
"The show was fantastic," said Lamaze. "I cannot say enough good things about Rabat. It was beautiful jumps, the footing was at its best, and the facility was amazing. It was an incredible week, and extremely well-organized."
For full results from CSIO4*-W Rabat, visit https://online.equipe.com/en/competitions/51577.
The Canadian Show Jumping Team will next compete in the Nations' Cup at CSIO3* Vejer de la Frontera, Spain, from October 27 to 30, 2022.
PHOTOS
Kyle Timm of Calgary, AB, and Farezzo, owned by Adam Pearsall and Torrey Pines Stable Inc. Photo by Stefano Grasso for Morocco Royal Tour
Sara Tindale of Campbellville, ON, and Elco van hof ter Naillen, owned by Tindale Farms. Photo by Stefano Grasso for Morocco Royal Tour
Susan Horn of Bolton, ON, and Dominka van de Lucashoeve, owned by Kingsfield Farm. Photo by Stefano Grasso for Morocco Royal Tour
Beth Underhill of Mulmur, ON, and Mademoiselle-A, owned by Rein Family LLC and Torrey Pines Stable Inc. Photo by Stefano Grasso for Morocco Royal Tour