Canadian team was one of 15 countries competing.
Vejer de la Frontera, Spain – The Canadian Show Jumping Team finished seventh in the CSIO3* Nations' Cup held during the Andalucía October Tour in Vejer de la Frontera, Spain.
In its final outing of the season, the Canadian team was one of 15 countries competing in the Nations' Cup that offered €50,000 in prize money. Course designer Javier Trenor Paz of Spain set fences at a height of 1.50m in the expansive grass arena for the two-round competition which saw the top eight teams move forward to the second round.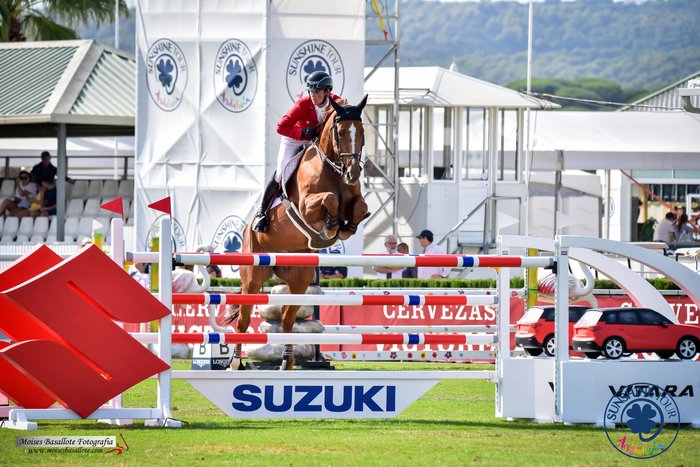 Tim Wilks, 27, currently residing in Henley on Thames, England, was the lead-off rider for Canada. Riding Diamanthella VG Z, a nine-year-old Zangersheide mare (Diamant de Semilly x Hickory Mail) owned by IN Showjumpers, Wilks got things off to a strong start in the opening round with a score of four faults.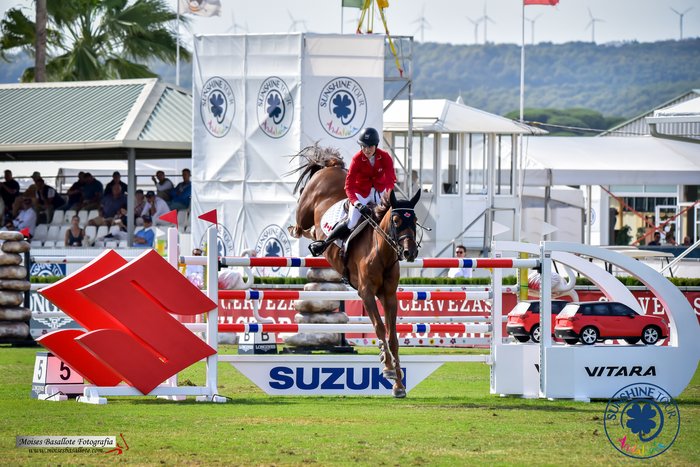 Rebecca McGoldrick, originally from Toronto, ON, then produced a beautiful clear round for Canada with Fanta M, the 12-year-old Dutch Warmblood gelding (Cicero Z van Paemel x Navarone) she owns in partnership with Debbie McGoldrick. In her second Nations' Cup performance for Canada, Susan Horn, 38, of Bolton, ON, posted 12 faults which would prove to be the drop score riding Dominka van de Lucashoeve, a 13-year-old grey Belgian Sport Horse mare (Cardento 933 x Chin Chin) owned by Kingsfield Farm.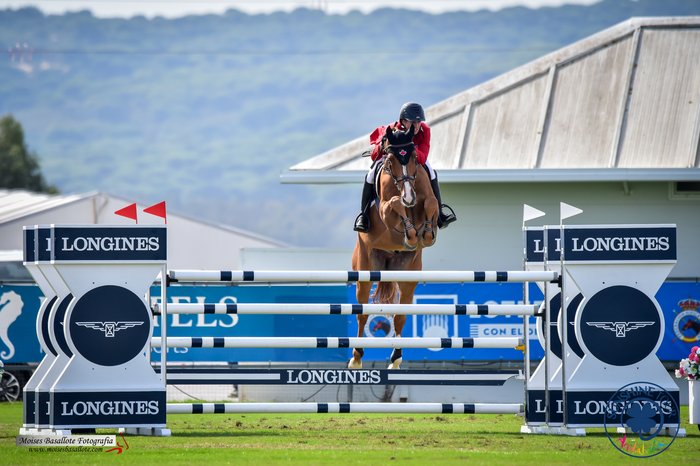 Kyle Timm, 33, of Calgary, AB, rode in the anchor position for Canada with Farezzo, a 12-year-old Dutch Warmblood gelding (Arezzo VDL x Van Gogh) owned by Adam Pearsall and Torrey Pines Stable Inc. After his eight faults were added to the four incurred by Wilks, Canada had a total of 12 faults in the opening round to sit in sixth position. The home team from Spain led the proceedings with a clear score sheet.
In the second round, Wilks put a score of 12 on the board while McGoldrick left all the rails in place but touched the tape at the open water for four faults. Horn then added eight faults to the final score before Timm posted a 12-fault effort to close out the Canadian performance. Dropping Wilks slower 12-fault round, Canada counted 24 faults in the second round to finish on a final score of 36 faults.
To the delight of the crowd, Spain claimed victory with a final score of four faults while Colombia took second with 12 faults. Great Britain was third with 16 faults while Ireland, also on 16 faults but in a slower combined time, placed fourth. Belgium was fifth with 24 faults and Sweden was sixth with 28 faults.
"Everyone rode really well in the first round; jumping on the grass is always a different atmosphere for the horses and riders," said Beth Underhill, who acted as chef d'equipe of the Canadian team. "Tim did a super job leading us off and was very commendable, keeping in mind that his horse is only nine years old. For Rebecca to jump clean with a beautiful round gave confidence to the rest of the riders. She had a foot on the tape in the second round but produced two excellent rounds that we are most proud of.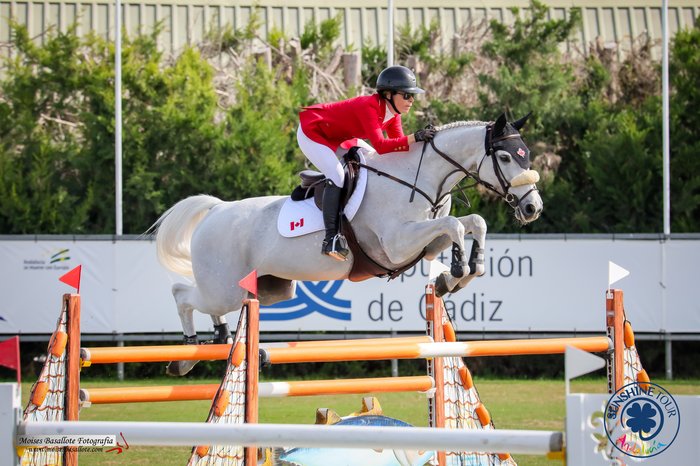 "Susan's horse was a bit strong in the first round and got her down some of the lines too early, but Susan really kept it together and showed improvement in the second round," continued Underhill in her assessment of the team's performance. "Tim's horse got a little tired mentally and physically and came back a little empty in the second round. We're still learning about this horse, maybe it wasn't as comfortable on the grass, but Kyle did his best. It's a new partnership, and the horse will only learn from the experience of jumping two rounds."
Overall, Underhill was pleased with the Canadian team's performance, saying, "It was super that, with a less experienced team, we were able to get back into the second round. We've had the opportunity this fall to give some exposure to our up-and-coming riders to hone their craft and create more depth in our Nations' Cup roster, which we need. Everyone will learn from the experience, which will only make us more competitive in the future. All the riders were very supportive of one another and bringing input to the table. That's what Canada is all about, and that's what good team riding is all about."
For full results from CSIO3* Vejer de la Frontera, Spain, visit https://www.longinestiming.com/equestrian/2022/ii-andalucia-october-tour-week-3-vejer-de-la-frontera.
PHOTOS:
Tim Wilks of Henley on Thames, GBR, and Diamanthella VG Z, owned by IN Showjumpers. Photo by Moisés Basallote
Rebecca McGoldrick of Toronto, ON, and Fanta M, owned by the athlete and Debbie McGoldrick. Photo by Moisés Basallote
Kyle Timm of Calgary, AB, and Farezzo, owned by Adam Pearsall and Torrey Pines Stable Inc. Photo by Moisés Basallote
Susan Horn of Bolton, ON, and Dominka van de Lucashoeve, owned by Kingsfield Farm. Photo by Moisés Basallote