The Canadian Quarter Horse Association is pleased to announce the ten youth who will represent Canada at the 2023 American Quarter Horse Youth World Cup.
Ottawa, January 9, 2023 — The Canadian Quarter Horse Association (CQHA), the Canadian affiliate of the American Quarter Horse Association (AQHA), and representative of the largest breed population within the Canadian herd, announced today the ten youth members who will represent Canada this summer at the American Quarter Horse Youth World Cup being hosted in Bryan/College Station, Texas, June 29th – July 8th, 2023! This international event is hosted every two years by a different country and involves teams representing sixteen nations!
Throughout this competition, each country will ride for gold medals in the equestrian events of cutting, reining, horsemanship, ranch riding, trail, hunt seat equitation, hunter under saddle, and showmanship. The American Quarter Horse Youth World Cup is a unique event because competing team members will only few days to get to know and develop relationships with the horses that they will compete on. The host country provides each of the team's horses for participation in skill developing clinics and the international competition.
The CQHA appointed AQHA Professional Horsewoman Jodi Mallette as Team Coach and Jessica Mosley-Cairncross BSc. BEd. as the Team Manager in November 2022. The pair worked over the December holidays to examine the applications of twenty-two accomplished youth riders representing the provinces of British Columbia, Alberta, Saskatchewan, Ontario, Nova Scotia, and New Brunswick.
"We were extremely impressed by the competencies of the riders who applied to be part of this national team" stated Team Coach Jodi Mallette, "all youth displayed strong horsemanship and interpersonal skills which are equally important when fielding a successful team to represent Canada on an international stage."
Team Canada 2023 will be comprised of five riders, two alternate riders, and three horsemanship and leadership development members.
The Riders are named as follows: Brooklyn Shannon age 17, from Ontario; Emily Yates age 16, from Ontario; Ali Chernoff age 18, from Alberta; Taylor Carney age 18, from Ontario; and Hailey Olsen age 16, from Saskatchewan. Alternat Riders are named as follows: Abigail Dunlevy age 16, of Ontario, and Kaidyn Goodwin age 16, from Nova Scotia. Horsemanship and Leadership Development members have been named as: Lauren Irwin age 17, from Ontario; Tylar Randall Gray age 15, from Nova Scotia; and Emily Firth age 15, from British Columbia.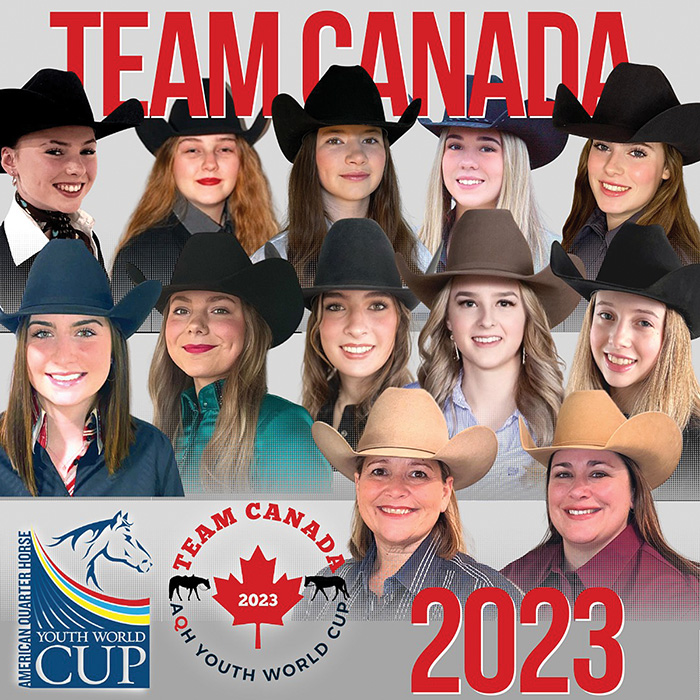 "Team Canada 2023 is representative of the talented youth equestrians that are created here in Canada," said Team Manager Jessica Mosley-Cairncross "Jodi and I have been in contact with all members and they are excited to start team building activities virtually right away which will include everything from fun ice breakers to help the team get to know each other, to media and marketing training to improve their presentation skills as they begin to seek sponsorships to fund their way to Texas this summer." The team is planning on meeting in the early spring to train together in person as well.
Canadian companies and or individuals interested in contributing to Team Canada through corporate partnership or sponsorship support are welcomed to contact the CQHA at admin@CQHA.ca.
The Canadian Quarter Horse Association exists to address issues of concern to Canadian owners of American Quarter Horses; to be a communications vehicle for and with Canadian AQHA members; and to promote and market Canadian-bred and/or Canadian-owned American Quarter Horses, both globally and domestically.
To learn more please visit www.cqha.ca or contact our media director Laurie Haughton, by email at admin@cqha.ca or call 613-978-6977.
Canadian Quarter Horse Association News Release