Both teams were supported by Chef d'équipe and Grand prix rider Denielle Gallagher-Legriffon.
Wellington, FL, February 28, 2023 – Canadian dressage athletes competed in the CDIO-U25 and CDIO3* Fédération Equestre Internationale (FEI) Nations' Cup from Feb. 23-26, during week seven of the Adequan® Global Dressage Festival (AGDF) in Wellington, FL.
CDIO-U25 Team
The Canadian dressage athletes Brooke Mancusi of Chambly, QC and Ava MacCoubrey of Cobourg, ON, finished in third place during the opening day of the Nations' Cup held on Feb. 23.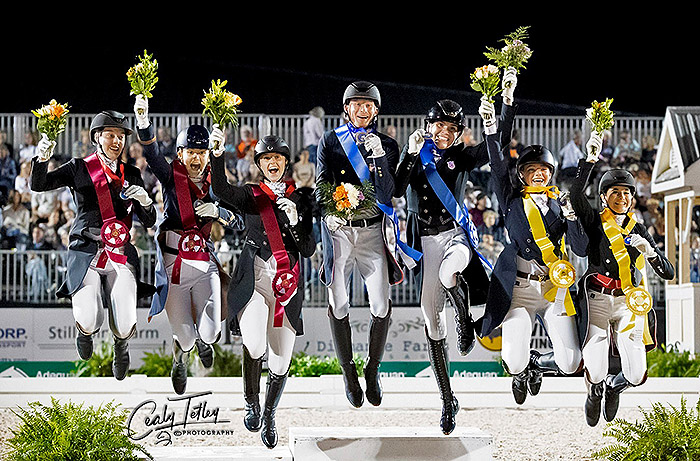 Held in a format that sees three riders compete per country with the lowest score dropped, Canada was at a disadvantage with only two riders competing in the division for athletes aged 16 to 25. Teammate Camille Carier-Bergeron and her partner Acoeur were forced to withdraw earlier in the week leaving Mancusi and MacCoubrey to represent the maple leaf as a duo.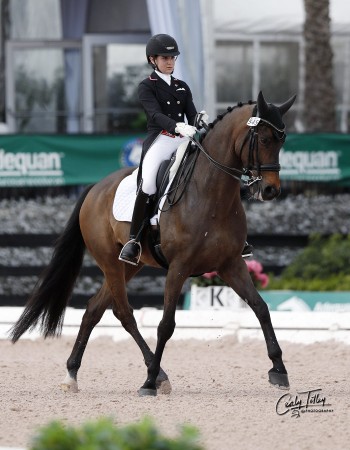 Riding Arthur (Jazz x Contango), an 18-year-old Dutch Warmblood gelding owned by Windhaven, Mancusi posted an impressive score of 69.000% and finished in third place in the overall individual standings.
The 21-year-old Mancusi and Arthur have been together for only a month and a half and fought through extreme heat in Florida to win the bronze medal. "I am truly blessed to have the opportunity to ride a horse like Arthur," Mancusi said. "I am so proud to be able to represent my country on the international stage. I plan on showing Arthur a couple more times in Florida and then at the Ottawa Dressage Festival. We have hopes to represent Canada in the U25 at NAYC in August."
MacCoubrey and her own Don Camillo-S (Spielberg x Osmium), a 15-year-old Dutch warmblood gelding followed up with a score of 64.118% and finished in seventh place and a combined total between the two Canadians of 133.118%.
"I was so honoured to represent Canada in my first Nations Cup," said the 21-year-old. "This was our first CDI together after only a few shows at this level, we had some incredible moments together surrounded by such a great team," she added.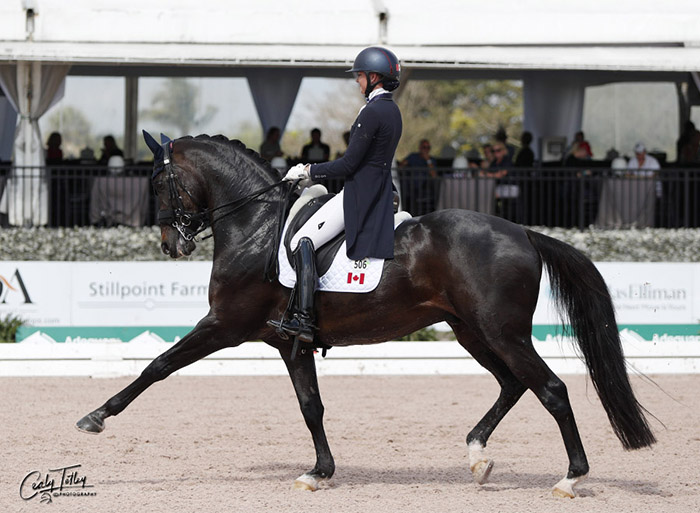 CDIO3* Team
The Canadian CDIO3* Dressage team of Ariana Chia, Shannon Dueck, Vanessa Creech-Terauds and Evi Strasser narrowly missed the podium, finishing in fourth place after strong performances in the Stillpoint Farm CDIO3* Nations' Cup.
The defending champions Germany retained their title in the team competition with a combined score of 437.844%, while the home nation United States took second place with 427.285% and Sweden finished in third with a score of 414.498%. The Canadians finished just behind the Swedes with a score of 409.193%. Canada last won the Nations' Cup in Wellington in 2017, with the team of Jill Irving, Tina Irwin, Jaimey Irwin, and Megan Lane.
Dueck of Langley, BC, and Creech-Terauds of Caistor Centre, ON, contested the CDIO3* Prix St. Georges on Thursday and CDIO3* Intermediate I on Friday. Dueck opened the competition in sixth place with a score of 69.059%, while riding Angelika MW (Fidertanz 2 x Welt Hit II), an eight-year-old Oldenburg mare she co-owns with Elizabeth Ferber, Kathy Putnam and Julie Skinner. The duo repeated their placing the next day, taking sixth with a score of 68.588%.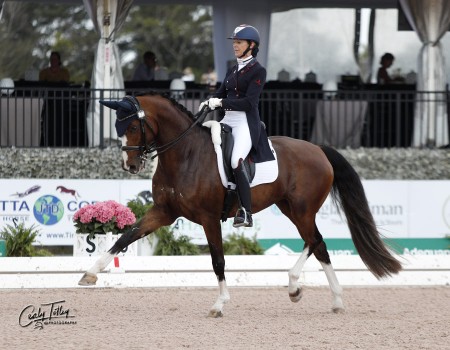 Creech-Terauds and Daniel L (Damsey x Wolkenstein II), an 11-year-old Hanoverian gelding owned by Diane Creech and Louise Leatherdale, opened the Nations' Cup in seventh place behind Dueck, with a score of 68.000% and finished the next day in the same position with a score of 67.735%.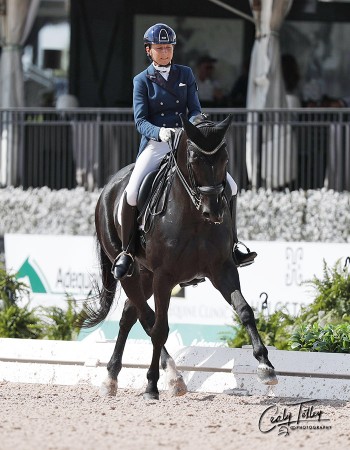 In other competition, Chia of Winnipeg, MB, and Strasser of Sainte-Adèle, QC, competed in the CDIO 3* Grand Prix and CDIO3* Grand Prix Special. Chia, riding her own Fiderflame (Fidertanz 2 x Abanos), a 13-year-old Oldenburg gelding, finished in ninth in both competitions, with a score 66.130% on Thursday and 66.681% on Friday. While Strasser and her own Déjà vu Tyme (Dauphin x Werbellin), a 16-year-old Hanoverian gelding, finished in 11th place with score of 63.826% on the first day and 59.659% on the second day.
Both teams were supported by Chef d'équipe and Grand prix rider Denielle Gallagher-Legriffon. All involved were extremely complimentary of the positive impact she had behind the scenes and for the enthusiasm and organization she brought to the team competition.
When asked for her thoughts after the event, she expressed her pride of the team. "Our Canadian riders had very solid tests, took risks, and were going for it!" she said. "They were so professional and focused; I was so proud to watch each of them in the ring. We have some truly amazing talent in Canada," Gallagher-Legriffon added. When asked what's next for our Canadian Dressage team, she said, "many will continue working and riding towards their goals, for some Pan Am Games is their goal. I'm sure all will be gearing up with that and Paris 2024 in their sights. I'm so excited to follow all of their journeys!"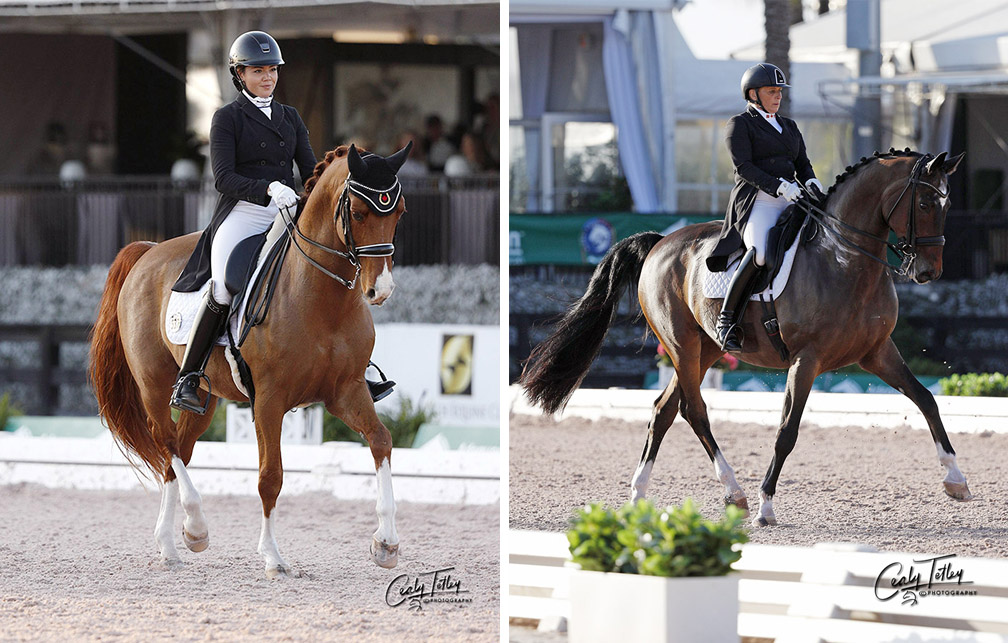 For more information on the CDIO3* Nations' Cup competition, held during week seven of the AGDF, visit gdf.coth.com.
Photo Credits: Cealy Tetley