The unique program is absolutely free!
The Ontario Equine Education and Employment Program is in its second year of preparing interested participants for equine jobs – for free.
Program participants in 2022 were appreciative about the training they received, and the help in finding employment.
The Ontario Equine Education and Employment Program got an encouraging start last year and is back for 2023, providing barn and business owners with a pool of knowledgeable, well-prepared potential employees and helping keen graduates find suitable employment within the horse industry.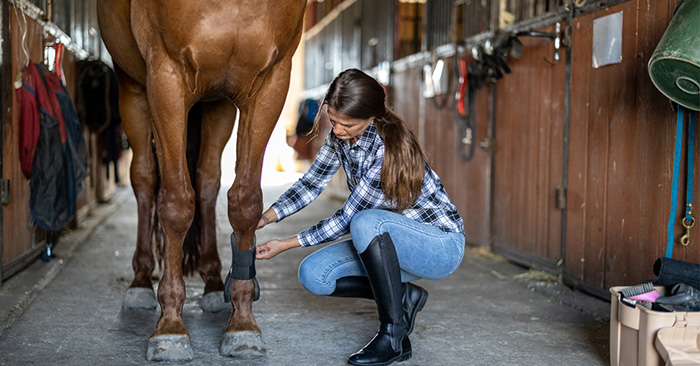 (pikselstock - stock.adobe.com)
The unique program, created by the Ontario Harness Horse Association (OHHA) in partnership with the Ontario Ministry of Labour, Immigration, Training and Skills Development and supported by Equine Guelph, is absolutely free. During an interactive six-week training course taught by industry experts in a variety of fields, participants learn about horse health, grooming, management and welfare, all topics they will need to function effectively in a horse-related career. Also implemented this year are virtual/live "class meetings" where short presentations on subjects such as Social License to Operate for the horse industry and how human behaviour impacts it, exploring career paths, and so on will be offered. Assistance in finding a relevant job is offered at the end of the course.
And it is not only the students who benefit from OEEEP. Industry employers – boarding barn owners, Standardbred and Thoroughbred racing outfits, show stables, breeders – are encouraged to sign up and mentor keen new employees. In addition to filling positions with increasingly hard-to-find employees, this year employers are eligible for wage subsidies of 50 per cent of the salary of the candidates, up to a maximum of $5,000.
Brian Tropea, OHHA general manager, spoke of the importance of investing in the future of the horse industry. "We all have a responsibility if we want to see the equine industry succeed, to ensure there is a work force to support the horses. It's not enough to sit back and say there is a lack of qualified people to work. People need to be willing to spend the time to invest or we are going to continue to struggle.
"There is a barrier to getting into the industry, with employment ads saying that you need to have experience to apply. Those who are willing get discouraged and ask how they are supposed to get the experience they need to be part of the industry. Lots of people want to learn, so we have to make it as easy as possible to educate them."
Last year's grads have high praise for the program. Candelaria Baigorria took the OEEEP course, "so I could have more knowledge about horses and be better prepared for finding a job working with horses, and for job interviews. I really enjoyed it! I learned so many interesting things about horses, how to take care of some injuries, anatomy, the digestive system, and why it is so important to feed them a healthy diet." She later got a job she loves at a boarding and training facility.
Program alum Ihab Elmeniawi said, "I didn't have any professional or work experience with horses" but he took the course and found meaningful employment at Woodbine Racetrack. "For someone just getting started in the equine field, the information in the program was just right and not overwhelming. The way it was structured made it easy to go through the program which was composed of reading materials, audio and videos, and the instructors were very supportive."
Equine Guelph director Gayle Ecker commented on how rewarding it has been to get positive feedback from the students – "their excitement about finding a guided pathway into the horse industry by a trusted source, knowing that there is support for them to find placements and prepare them for a job in the industry. The excitement about learning about horses and knowing that we teach from a welfare- and evidence-based platform. Plus meeting our students from the last run and their excitement about how things are going for them in their jobs!"
Ecker concluded, "Equine Guelph is proud to be an integral part of the OEEEP program as it helps to connect newcomers to industry, which is so needed, and bring them together with equine facility owners who are needing to add more staff to their teams for horse care. Working together, this is a win for the students, a win for the facilities, and a big win for our equine industry and its future."
Three more cohorts will take place this year, spaced seven weeks apart. Space is limited; register at www.ohha.ca