Sunday April 10, 1963, Rockwood Trail Riders was born!
By Anne Dales.
Di Duncan and Babs Ellis were childhood friends, sharing a passion for horses. They found themselves both living in and near Rockwood and got together frequently to ride their horses. As they rode, they talked as only two women can, discussing all manner of things. Somewhere in the jumble of topics, they discussed group rides and getting together with other horse people to enjoy trails and all things equine. They both had children who needed a club to belong to. Roy Ionson had introduced them to Bill Hatch, a good horseman at the top of the 5th line at Hwy 24. Di lived around the corner from the Pattersons, and they knew a few other people who had a horse. They made phone calls and invited them to meet at Rocklea Ranch.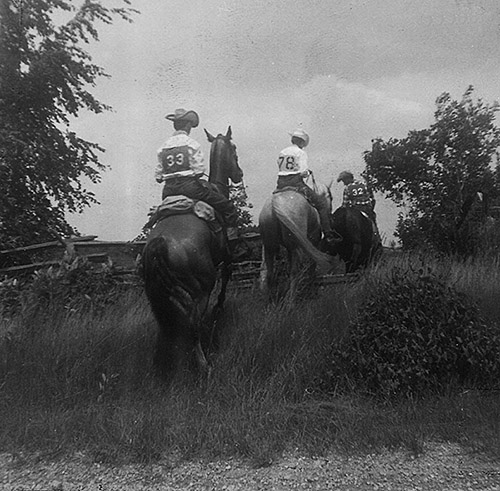 Sunday April 10, 1963, Rockwood Trail Riders was born! Babs Ellis, Bill Hatch, Mary Nelson, Marilyn Patterson, Jean Day, Judi Abram, Bruno Piotto and Jane Bexton showed up and a name was selected. Di was the first President with Babs the Vice and Judi the Secretary. The club grew quickly from 16 members to 24 by the end of the year.
RTR has grown ever since. There were camp-outs, casual trail rides and movie nights and Fun Days featuring homemade ribbons. Eventually the interests of the members changed and so did the events. In 1967, the Dales family offered space for a permanent arena at their farm and since 1968, has been the home of the club.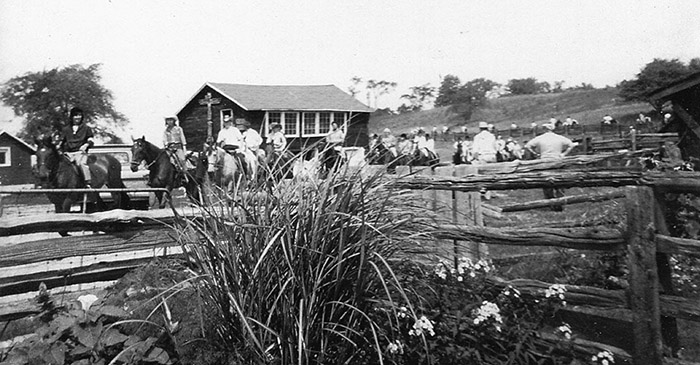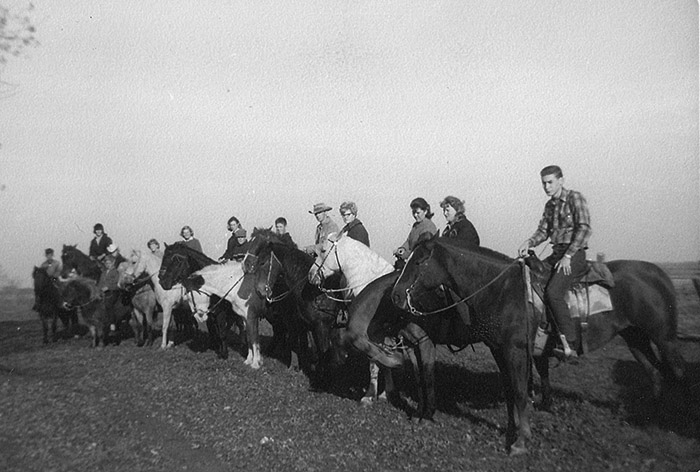 Rockwood Trail Riders was also a founding club of both Ontario Competitive Trail Riding Association as well as Ontario Trail Riding Association. There have also been many people who began their horse career at RTR who have gone on to working, training and competing internationally, some at very high levels.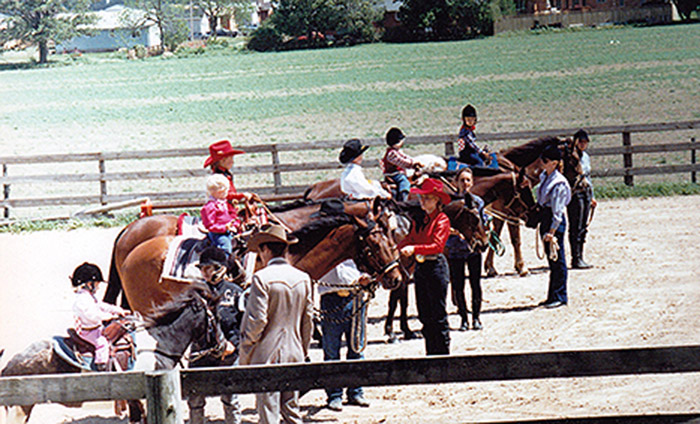 The second Sunday of May, June July and August sees local (and not so local) competitors show their skills in a wide variety of classes. From English Hunter and Flat classes to Showmanship, Western performance and games, there is something for most disciplines. Also offered are classes for both English Beginners and Lead-line. This year RTR has added a Ranch Riding class to the list.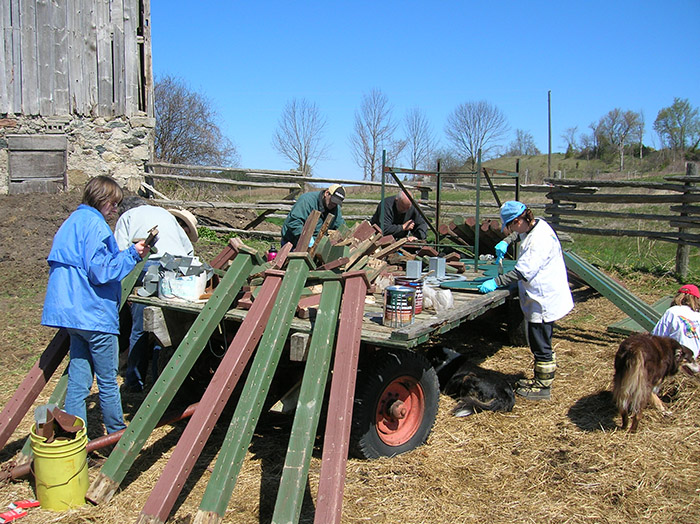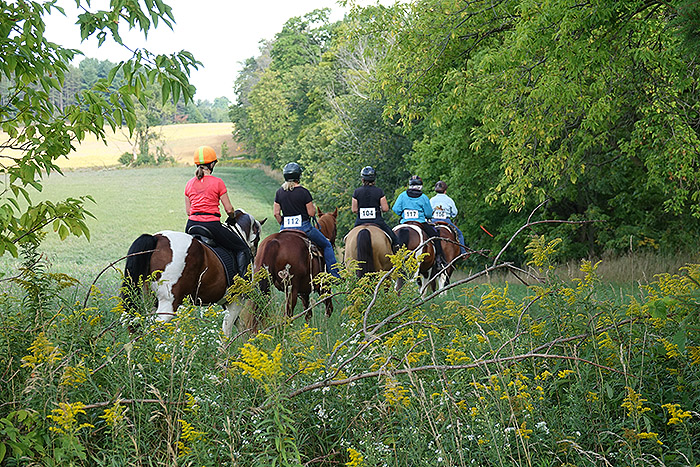 The second Sunday in September sees the Trail Horse Trials start and finish at the farm with ten judged obstacles along the approximate 6.5 km trail through neighbouring farms, forest, around fields and crossing the Eramosa River. This featured event brings riders and their horses from all over southern Ontario.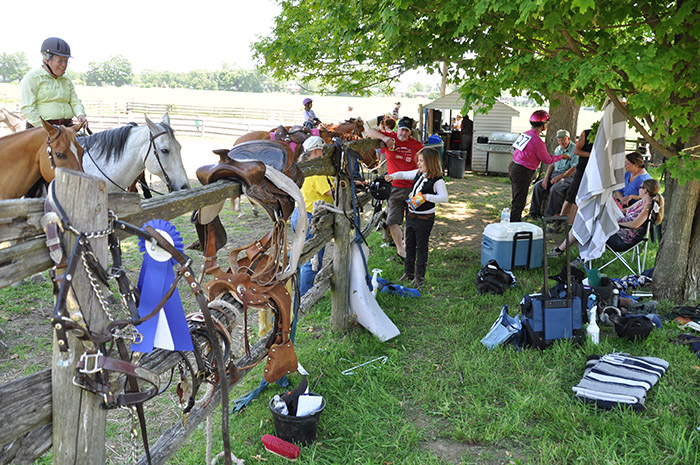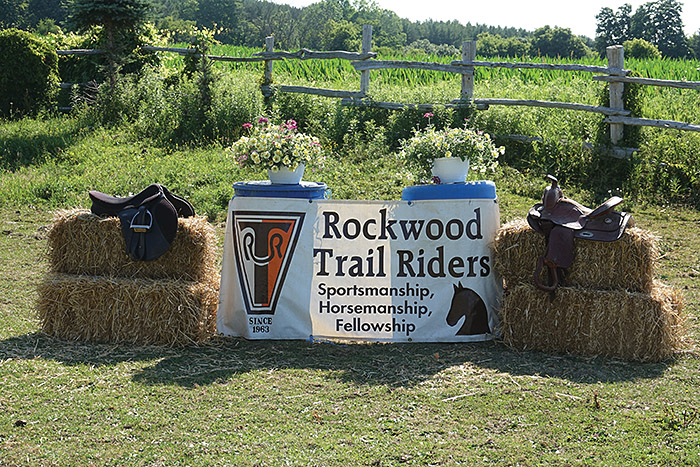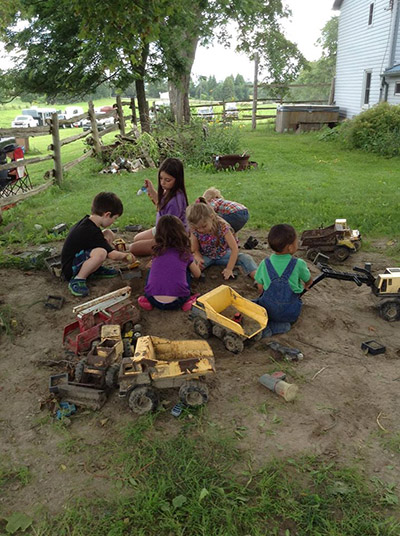 For the 60th Anniversary, there was a contest to choose a design to put on hats, t-shirts and jackets. Contact the president, Jackie Clayton-Charlebois for more details.
We are still a family oriented horse club for many levels of competition. Over the years friends have become like family and lifelong partners in celebrating our favourite animal, the equine. The years have been like any trail: ups and downs, good footing and challenging paths. The club has endured and will continue to do so with the dedication of the members and its volunteers.
"We promote Horsemanship, Sportsmanship and Fellowship"