The Working Equitation Expo is a community-building, teaching and learning event.

Take the elegance of dressage, the thrill of a galloping horse, the challenge of navigating obstacles, and bring them together.  That's Working Equitation (WE), one of North America and Europe's fastest-growing equestrian disciplines. 
This sport is rapidly gaining popularity in Ontario and will be in the spotlight at the inaugural Working Equitation Expo at the Ancaster Fairground May 25 to 28, 2023, hosted by the Ontario Society for Working Equitation (OSWE). It will bring together top international judges/clinicians, riders and spectators for three days of seminars, demonstrations, vendors, competition and entertainment.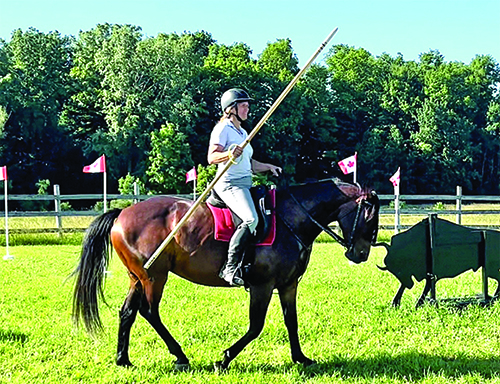 Working Equitation developed in Portugal, Spain, France and Italy in the mid-1990s to showcase the ability of horses working on farms. These brave, agile horses were using basic dressage in their daily work, going through brush, opening gates, crossing bridges and herding cattle. Horses used today in Working Equitation can be any breed or size. It's an inclusive sport that riders and horses from any other discipline can participate in. 
Working Equitation has three phases: Dressage, Ease of Handling and Speed; Cattle Handling is a fourth phase added at some competitions. An Expo highlight will be the inaugural Can/Am Working Equitation Cup, a show where spectators can root for horses and riders in Ease of Handling as they negotiate a course of obstacles and are judged on how well they execute the course. The exciting Speed phase will be a real crowd pleaser, as horses and riders race to complete the course with the fastest time and fewest errors.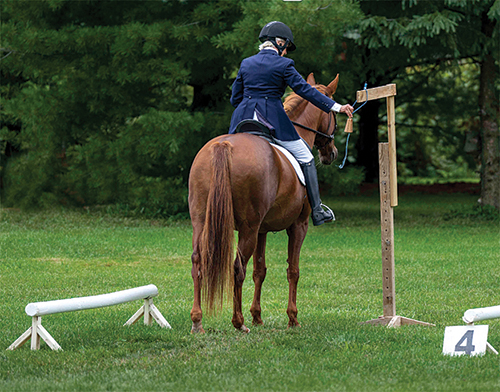 "The Working Equitation Expo is a community-building, teaching and learning event designed to show the sport and allow equestrians to see it performed," says Lise LeBlanc, OSWE president. "It offers get hands-on learning, from judging to running a show to riding. We have two of the best clinicians in the sport coming to mentor us in getting the sport established in Ontario."
The Expo marks the first time North American riders will have the opportunity to ride in a clinic with World Association Working Equitation (WAWE) Senior Judge and International Lusitano Judge Antonio Vicente. He'll be joined by senior USAWE judge and Master Level Rider Doreen Atkinson, who will also teach a clinic. 
"We are thrilled to host António on his first visit to Canada to help educate officials and to judge our inaugural Can/Am Cup show on May 27 and 28," says LeBlanc. "The Expo is attracting local riders in all disciplines and also the Working Equitation community across the border."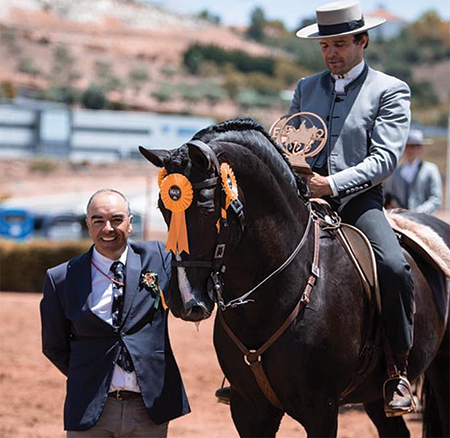 LeBlanc says Vicente is committed to growing enthusiasm and education for Working Equitation in Canada and is encouraging all levels of riders to show. "This is an amazing opportunity to ride under a very experienced senior WAWE Working Equitation official. António is excited to see the sport growing in Canada, and wants to help promote and support the growth of Working Equitation in this region. He looks forward to meeting Ontario riders and their horses."  Vicente is also an international Lusitano breed judge. He is a professor of veterinary medicine at Escola Superior Agrária de Santarém, has a  special interest in rare and endangered breeds of horses and breeds Sorraia horses.
The Working Equitation Expo will be a fun, educational weekend of clinics, show, seminars, demonstrations and more. Highlights include a Battle of the Breeds competition, equine trade show, VIP area and evening entertainment. OSWE will also use the event to raise funds and awareness for Juvenile Arthritis, with a donation going to the Division of Rheumatology, Department of Pediatrics, McMaster University. 
There will be cash prizes for champions and ribbons to fifth place in each division of the show. For more information on the Working Equitation Expo, visit www.oswe.ca/canamcup.