"I've been working on getting [FE Golden Eye] more ahead of my leg," described Loach.
BROMONT, QC - June 9, 2023 - There were surprisingly few shakeups to the top of the leaderboards Friday at the MARS Bromont CCI, but the incredibly close scores leave no margin for error heading into Saturday's exciting cross-country phase across all five levels.
The biggest movement came in the CCI2*-L, with longtime teammate and friendly rival Boyd Martin displacing Phillip Dutton from the top of the pile with Asti's Charming on a score of 23.0.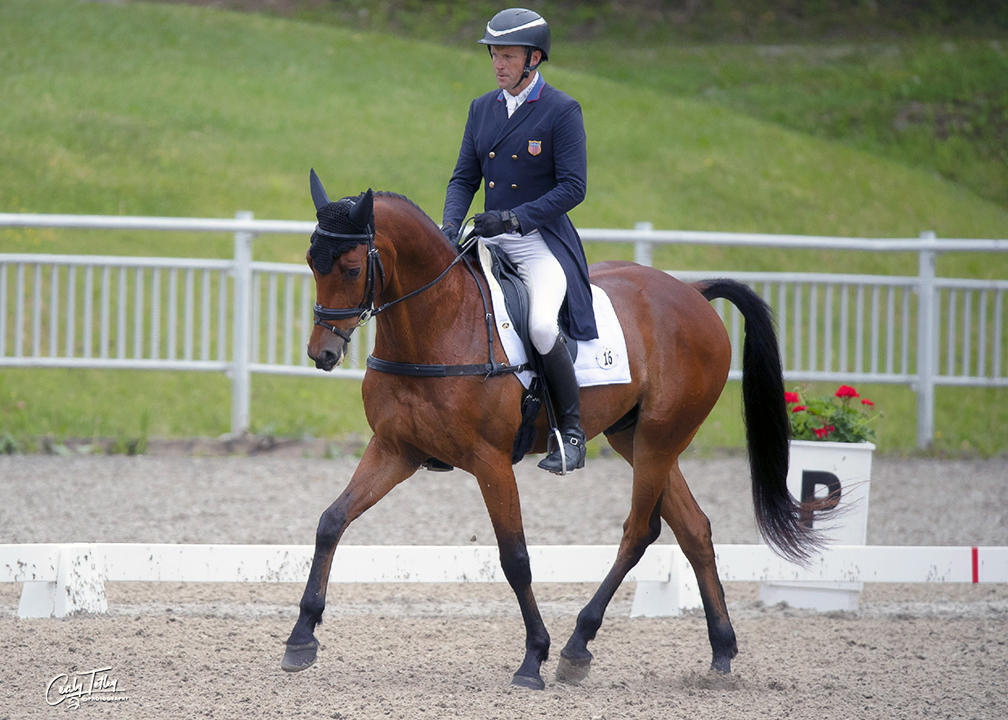 Boyd Martin (USA) and Asti's Charming lead the CCI2*-L at the MARS Bromont CCI. © Cealy Tetley

"Charm, as he's called, went in and did a record of a test this morning," proclaimed Martin before excitedly (and very much tongue in cheek) adding "It was brilliant enough not only to lead the class, but to kick Phillip out of the top!"
Asti's Charming, still quite new to eventing, was originally purchased by owner Catie Boone as a show jumper after working with him in Holland. Boone sent him to Martin for cross-country training, at which point it was decided that with his extravagant movement and flair for galloping and jumping across country, the horse would stay with Martin and see where it went.
Martin has been working with German Olympian Bettina Hoy (at Bromont as guest coach of the MARS Bromont Rising U25 grant program) on focus and engagement in the dressage arena, both of which are transferable skills to Saturday's all-important cross-country course designed by renowned Derek Di Grazia of California.
"I think [Charm] will cope well — it's a 'brain' course," said Martin. "Bringing them up to Bromont, it's obviously great footing and every question you could imagine, they've put on the track. More importantly, I think it's going to be an unbelievable education for these horses for the future."
Boyd Martin also tops the six-horse CCI4*-S division, which completed all dressage tests Friday afternoon. His 17-year-old On Cue is returning from time off following a strained tendon and is feeling "happy and strong" according to Martin. The pair lead the division on a score of 29.0, with Dunham, QC's Canadian Olympian Colleen Loach and Vermont in second on 30.5. Phillip Dutton sits in third with his Tokyo Olympics horse Z on a score of 31.7. 
"She feels rejuvenated and she just loves being a part of [competing]" said Martin. "She's so well seasoned, she came out and did a lovely dressage test today. The cross-country course looks fantastic — we've been blessed with great conditions including a little rain over the last few days. It's ideal conditions for horses." 
Loach also managed to hold onto the lead in the CCI4*-L with FE Golden Eye (27.6), as did America's Lauren Nicholson with Larcot Z in the CCI3*-L (28.4). 
Sitting in second and third now in the CCI4*-L is Lillian Heard Wood (USA) on Chilly (29.0) and today's ride Dassett Olympus (29.2) respectively.
In the CCI3*-L, Lauren Nicholson (USA) earned a score Friday of 30.2 with her brand new ride (of just three weeks), Landmark's Jungle's Gold to move up into third. Boyd Martin managed to hold onto his second place with his score on Chiraz of 29.6.
For complete scores and real-time live scoring click here or visit EventEntries.com.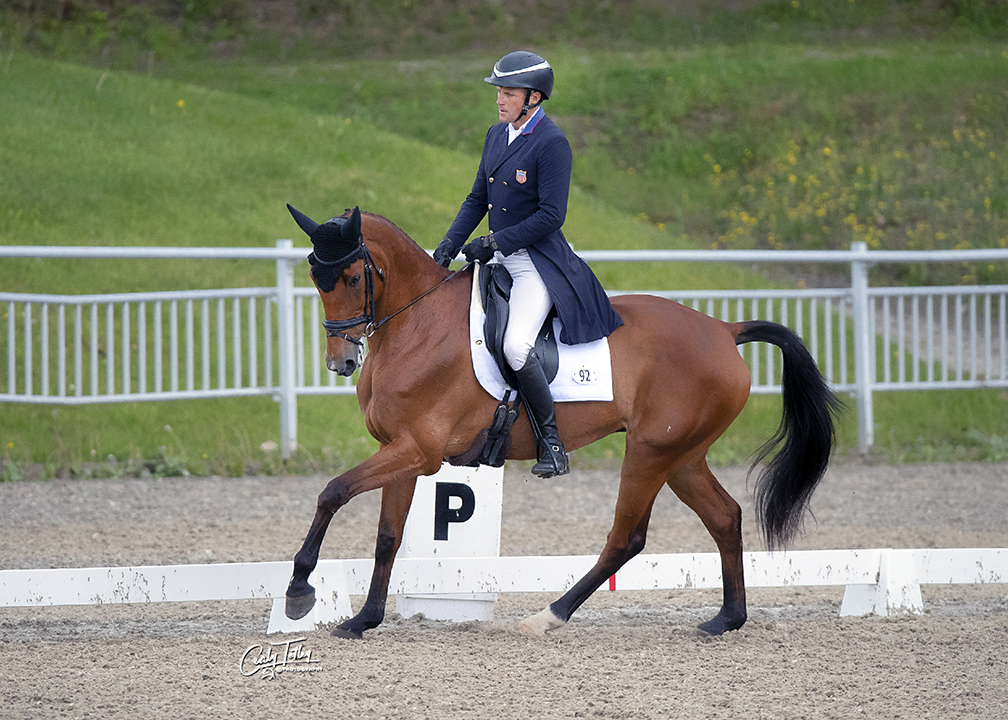 Boyd Martin and On Cue, current leaders in the CCI4*-S division at the MARS Bromont CCI © Cealy Tetley

Saturday is the exciting and spectator-friendly cross-country day, where each level will take to the beautiful fields and hills of the Bromont Olympic Equestrian Park to gallop and jump through water and over natural obstacles. The highest level, the CCI4*-L has a total of 40 jumping efforts over a ten minute optimum time and across 5,700 m.
The event will conclude Sunday with the show jumping phase to determine the overall winners. Daily general admission is free with parking $15/car.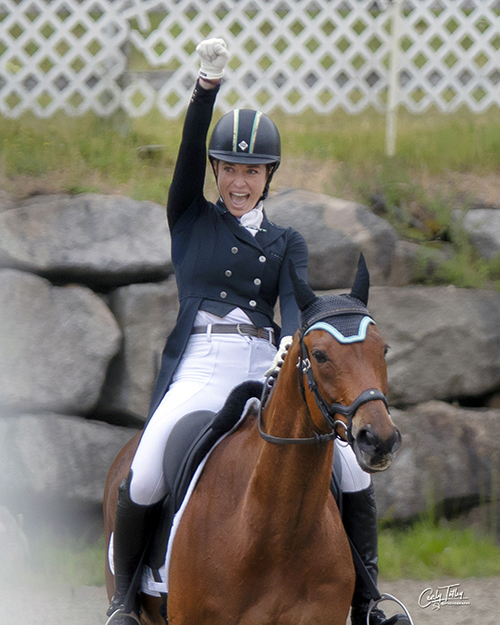 Photo at Left: CANDID CAPTURE Rachel Lawson (USA) was pleased with High Tide's dressage test Friday in the CCI3*-L.
© Cealy Tetley.

For the MARS Bromont CCI 2023, the exciting and spectator-friendly cross-country will take place Saturday and the event will conclude Sunday with the show jumping phase, to determine the overall winners. Daily general admission is free with parking $15/car. Real-time live scoring is available here.

Often described as an equestrian triathlon, the Olympic sport of three-day eventing features three separate phases of competition where the same horse and rider pair complete each phase together over three days.  
For start times, schedule and information please visit www.bromontcci.com 

 For LIVE SCORING please click here
About the MARS Bromont Three Day Event
Bromont, which has featured top competitions for four decades, will be welcoming some of the best horse-and-rider combinations from all over world across three competitions this summer. Located in the beautiful village of Bromont, Quebec, the spectator-friendly venue is within easy driving distance of Montreal, Quebec and Burlington Vermont. For more information please visit www.bromonthorsetrials.com