The 2023 American Quarter Horse Youth World Cup Team in Bryan, Texas. Read the first hand reports from team members below!

Cutting Ride Earns Top 10 Under Both Judges!
CQHA Media Team
Congratulations to Ali Chernoff of Alberta for placing 7th and 8th yesterday in the AQH Youth World Cup Cutting.
Ali competed on Boonlight Sonata a 2000 daughter of the great Peptoboonsmal out of Dixie Lynx by Docs Lynx owned by Jeff Williams. A special thank you to Williams and the rest of the owners who donated their horses to be used for the day.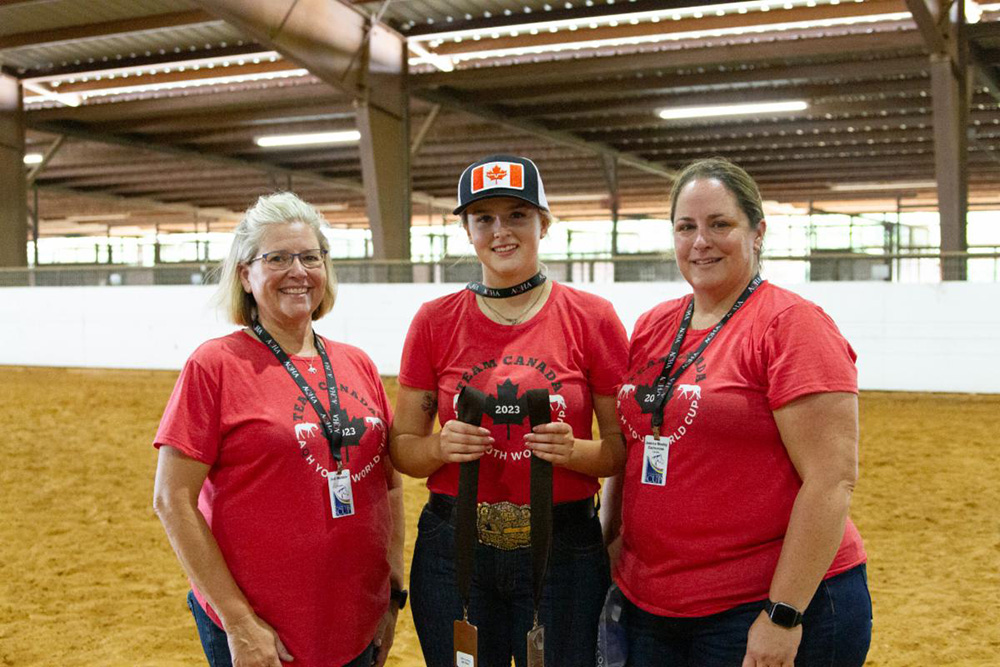 Our Canadian cutting riders Brooklyn Shannon from Ontario and Chernoff had a once in a lifetime opportunity thanks to the Youth World Cup to learn from NCHA Rider Hall of Fame and National Cowgirl Hall of Fame honoree Kathy Daughn.
Having won over $4.25 Million in competition Daughan, was a magnificent addition to the Youth World Cup program! Her clinic was a learning experience for all in attendance no matter if they sat in the saddle or in the bleachers.
The Canadian team would like to thank all those who made the Cutting day special and send their appreciation to our hosts for the event Still Creek Ranch located Brazos County, Texas, just 15 miles from the Bryan Expo facility.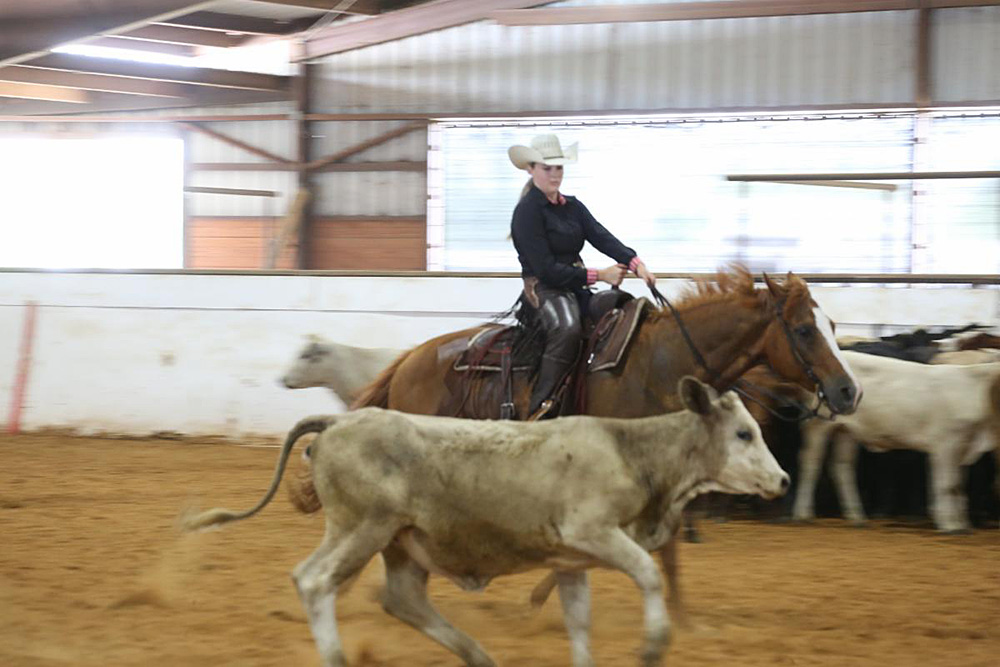 Ali and Boonlight Sonata cutting their second cow.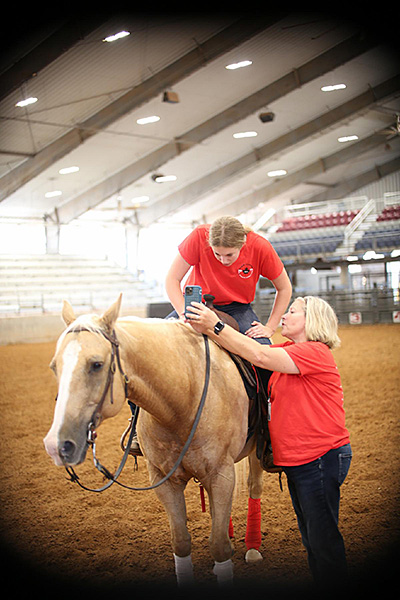 July 2nd, 2023

Gift Exchange
By Kaidyn Goodwin - NS
This morning we woke up bright and early, and got ready for the day.
After breakfast we got to the barn and made sure all the horses were cleaned and watered! We had some great clinics today, Equitation, horsemanship and trail!
All the girls had good rides and we even got a clinic about BEMER from Leanne Karoles which was super cool! Then we got the horses ready for bed and went to the supper/ gift exchange!
We got things from all around the world like key chains, bags, little souvenirs etc! This event gave us even more opportunities to meet to people from all over!
Then we boarded the buses around 6:30 to go back to the hotel, we chatted with Team Ireland about the differences between our countries which was also super cool! Now we are back at the hotel and ready for a full day of cutting tomorrow!


  
Sponsor Highlight: HAALA Canada
THE PERFORMANCE STRETCH RIDING JEAN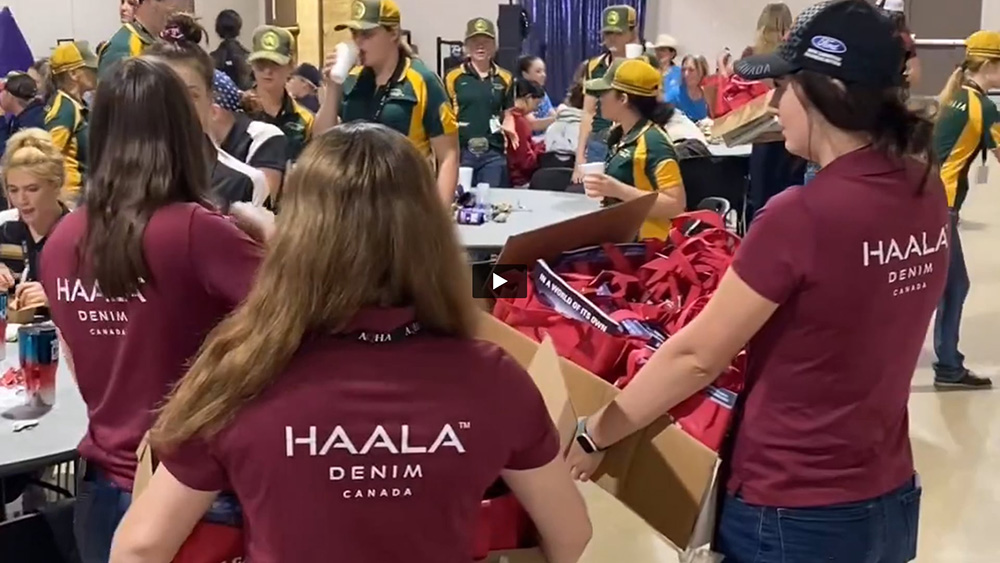 In 2017, they set out to make a jean that would combine fashion and function for the equine industry. The mission was to create a modernized riding jean that provided flexibility without sacrificing durability.
Additionally, an upscale aesthetic that could transition to a street wear or dress-up jean. A comfortable mid.-high rise paired with a contoured waistband make it a flattering fit for almost any body type.
The most consistent testimonial from customers relates to 'stretch recovery', which is the fabric's ability to rebound after stretching.
A premium wash provides the style and feel a customer expects in designer denim, but now as a multi-use jean.
Visit HAALA to Learn more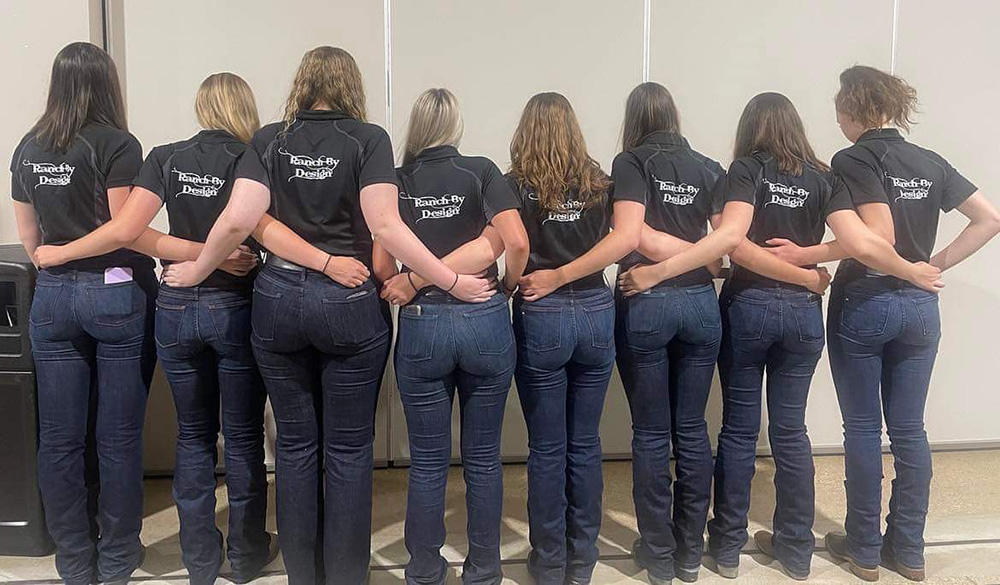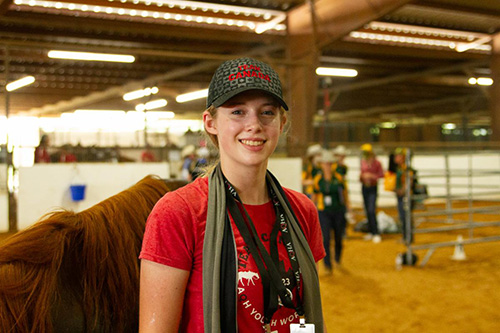 July 3rd, 2023
Cutting!
By Brooklyn Shannon - ON

Today was the cutting day at Still Creek Ranch. I woke up at 5:00 and met my coach and teammate, Ali, at the elevators to depart for the day. Unfortunately, we were a bit late and missed both breakfast and a seat on the bus (we had to stand instead).
We got there and our clinic started. I was chosen as the first rider to show. I was lucky enough to show a wonderful gelding named Stevie. A huge thank you to his wonderful owners for letting me show him!!
I was able to learn from an amazing clinician, Kathy Daughn, and I learned a lot from her. I then got to show Stevie. It didn't go how I was hoping it would (bad, bad cows) but you can't win them all!
I was then able to watch Ali ride and show a mare named Boonlite Sinatra. She placed 7th and 8th today. My favourite part of watching Alie was the snow-cones I got to eat. I also liked cheering for her. After waiting in some of the worst heat I've ever experienced, our bus came and we went back to our hotel.
After that, our team got to go to Kaidyns family's Air BNB for dinner and a slip-n-slide. Thank you Janine and family! It was a wonderful, hot day full of learning and I'm looking forward to the rest of mine and my teammates classes!!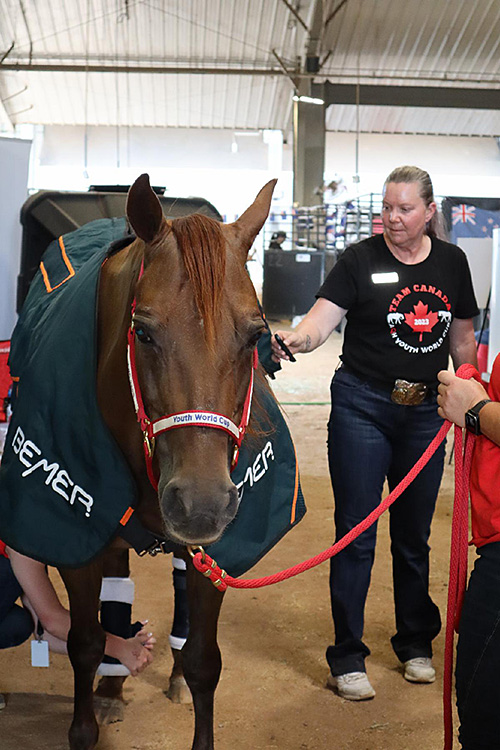 CQHA's Official BEMER Partner - Supporting Team Canada and YWC
Leanne Karoles of Ace Therapy Canada is here with Team Canada in Texas supporting both the team members, coach, manager and their horses with BEMER treatments.
On Sunday Karoles hosted a clinic for all YWC attendees on both BEMER's horse and human devices, a member of Team USA won her quiz contest after the demo (The Canadian team was not eligible to participate as they have all become BEMER experts over the past couple of days)


Watch the Video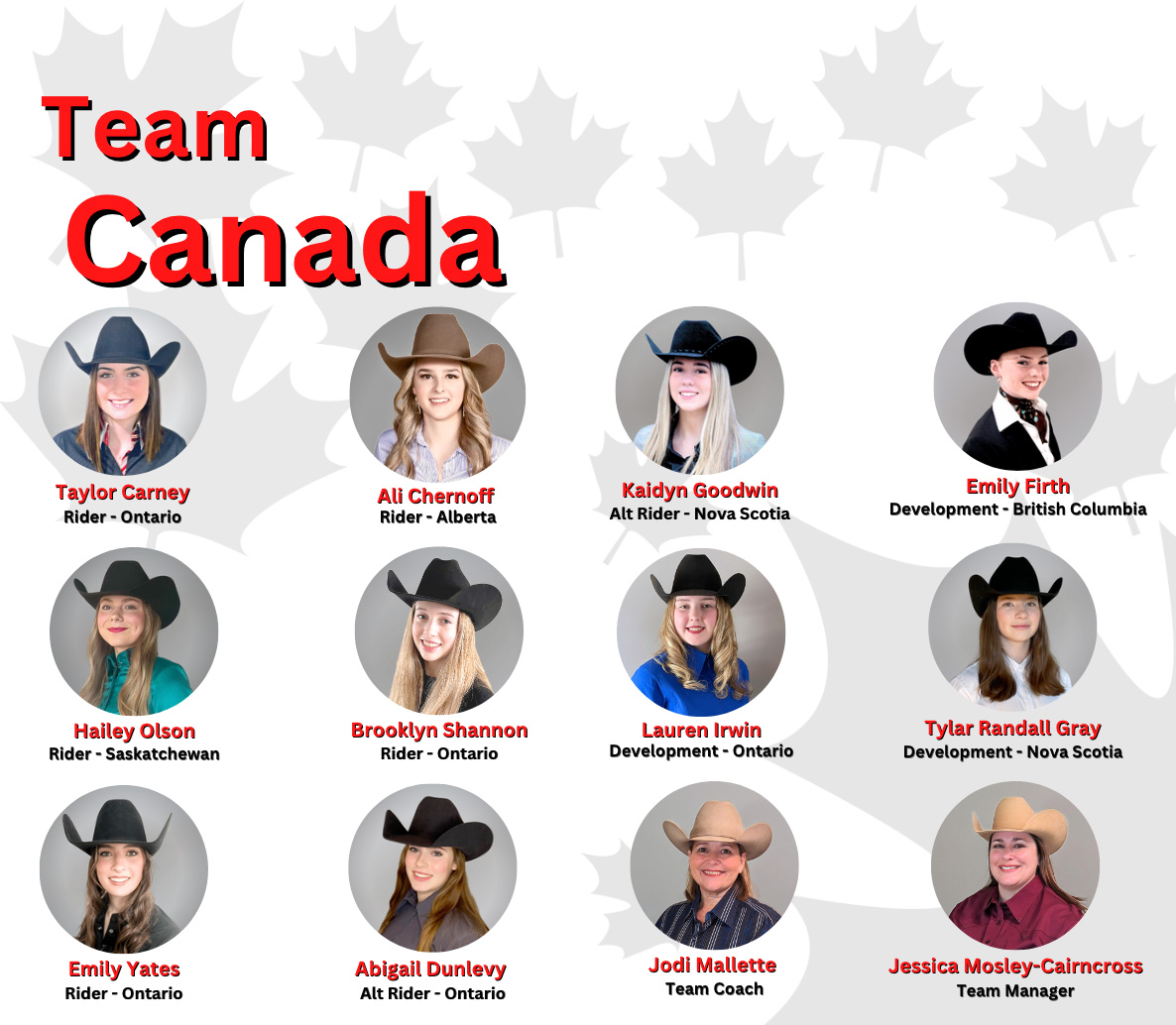 Canadian Quarter Horse Association News Release