Dressage Community Coming together for Team Canada on the road to Santiago.

Ottawa, ON July 14, 2023 – Donors are stepping up to help the Canadian Dressage team get to the Pan American Games in October 2023. The community has risen to the challenge that was posed publicly just last week to help close the gap of $60,000 that is needed to send a full team to the Games in Santiago, Chile this fall.
Equestrian Canada (EC), the Dressage Committee and the EC High Performance Advisory Group (HPAG), Dressage want to thank everyone that has joined the campaign so far. In addition to the $20,000 matching donation set last week, two donors have anonymously provided $10,000 gifts and a family foundation has made a contribution of $5,000.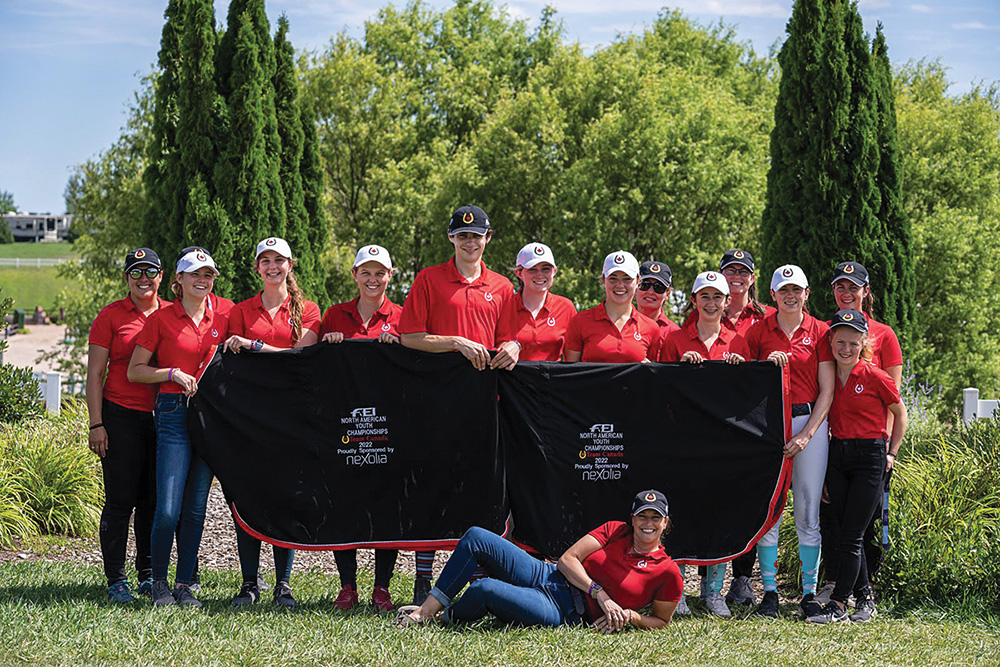 Nexolia supports Canadian Dressage with funding for the North American Youth Championships and is now increasing its support with a $20,000 donation to the Senior Team heading to the Pan American Games in Santiago, Chile from Oct. 20 – Nov. 5. Photo Credit: Ben Radvanyi Photography
The most recent contribution has come from Nexolia Dressage which has answered the match posed by the Christoff Family Foundation with a generous donation of $20,000. Nexolia has a history of support with Team Canada, having provided funding to the North American Youth Championships Dressage team over the last number of years.
Other champions for the cause have created a variety of opportunities to join the movement. Team Irwin Dressage is hosting an evening fundraiser with freestyles and a silent auction on Thursday, August 3 at their Strathfield Farm in Stouffville, ON. A GoFundMe page initiated by Lori Bell has garnered over $5,000 in personal donations, and Wellington Dressage is hosting a fundraiser clinic with Tom Dvorak on August 19.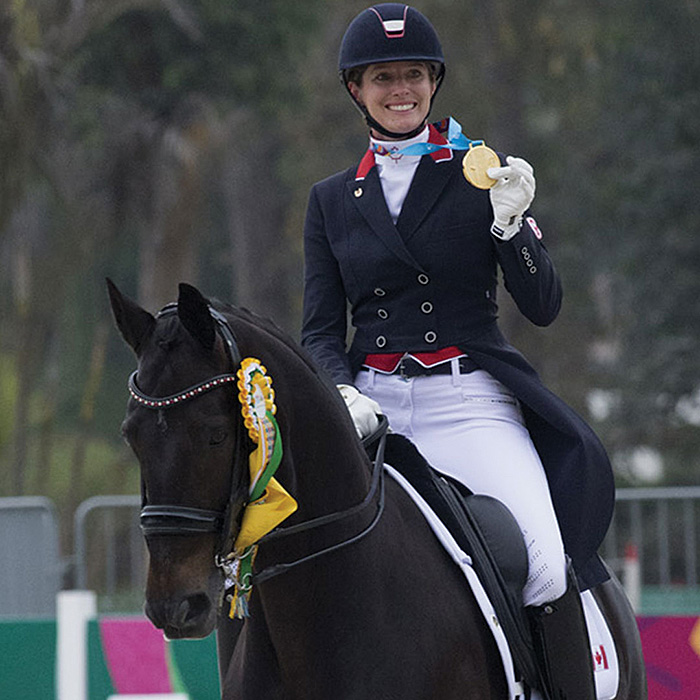 Photo at Right: Tina Irwin (left), EC's Equestrian of the Year 2019 is seen here aboard Laurencio (Laurentio x Donnerhall) holding her gold medal from the 2019 Pan American Games in Lima, Peru. Photo Credit: Cealy Tetley
"Great things happen when the community comes together towards a common goal," said Vicky Lavoie of Nexolia Dressage. "To see the team effort that is happening in Dressage right now, it's so important to recognize this because it has made me believe that we can get it done together. I am inspired and feel others will be inspired too."
Equestrian Canada has $1,111,500 in its budget this year to put towards sending three discipline teams to the cross-continental event in Santiago. With financial challenges faced across all sports and the increasing inflationary strain of horse transport and other direct costs, there are short falls in Dressage, Eventing and Jumping that need to be filled outside of the usual funding channels.
Each of the three Olympic disciplines have approached their fundraising needs in unique ways and the latest appeal initiated by the Dressage Committee and the HPAG has been met with such enthusiasm that the initial goal has been surpassed within just one week.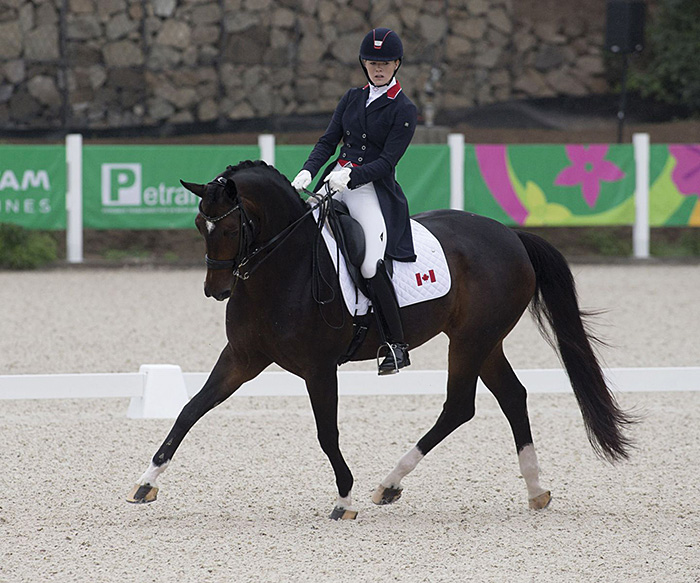 Photo Above:  Lindsay Kellock (right), also part of the 2019 Pan Am team rides Floratina (Fidertanz x Rubin Royal) owned by Chloe Gasiorowski to a 73.147 test score that helped Canada secure the top spot on the podium. Photo Credit: Cealy Tetley
"We are so thrilled with the response from our community," said Christine Peters, Senior Manager, Dressage Olympic/Paralympic Program. "We know that it may have come as a surprise that we needed help, but as soon as we asked, the community answered. The challenge from the Christoff Family Foundation, prompting donations like this one from Vicky and Nexolia Dressage is exactly what we had hoped for – it is so amazing to see we are coming together as a sport and making a difference for the future of Dressage in Canada."
Established in 2014, Nexolia Dressage is Lavoie's passion venture where she has combined her love of dressage with her business acumen to become an owner and breeder of world-class horses. She is a highly successful entrepreneur and the founder and CEO of Nexolia, a company focused on industrial acquisitions and sustainability. She splits her time between her breeding and training facility in Magog, Quebec, and Wellington, Florida.
With Paris 2024 on the horizon, donations that are now coming in beyond the $60,000 initial goal will go towards meeting the Canadian dressage team's needs for the Olympics next year, which also requires additional support from the community. There are many ways to donate including online, in person or contacting Christine Peters directly. All donations received directly by EC over $20 are eligible for a charitable tax receipt. Secure donations can be made through the website by clicking on the Donation Link and selecting "Major Games – Dressage".
Source: Equestrian Canada