Only Canada and America have confirmed their participation.

BROMONT, QC - August 1, 2023 - It is with deep regret that the organizing committee of Bromont Horse Trials announce their withdrawal from the FEI Eventing Nations Cup™ series for 2023.
The minimum requirements to run an Eventing Nations Cup™ stipulate the participation of three teams and with just days left to the entries deadline, only Canada and America had confirmed their participation. 
While teams from Spain and Mexico had expressed interest, extensive logistical issues relating to global travel and import/quarantine were not able to be resolved within the timeline.
"We are obviously frustrated and incredibly disappointed after working so hard to provide the only North American leg of the series in 2022 and again this year," said event organizer Sue Ockendon. "Our core focus at Bromont has always been to further the development of eventing in Canada and North America, in particular our Teams and Young Riders. We are still 110% committed to delivering a world-class event in 10 days time and have already started the application and approvals process to host a Nations Cup again in 2024. We want to thank the FEI, Equestrian Canada, the EC HPAG Eventing and those Government officials who left no stone unturned in our attempts for this year. In the end we have simply run out of time."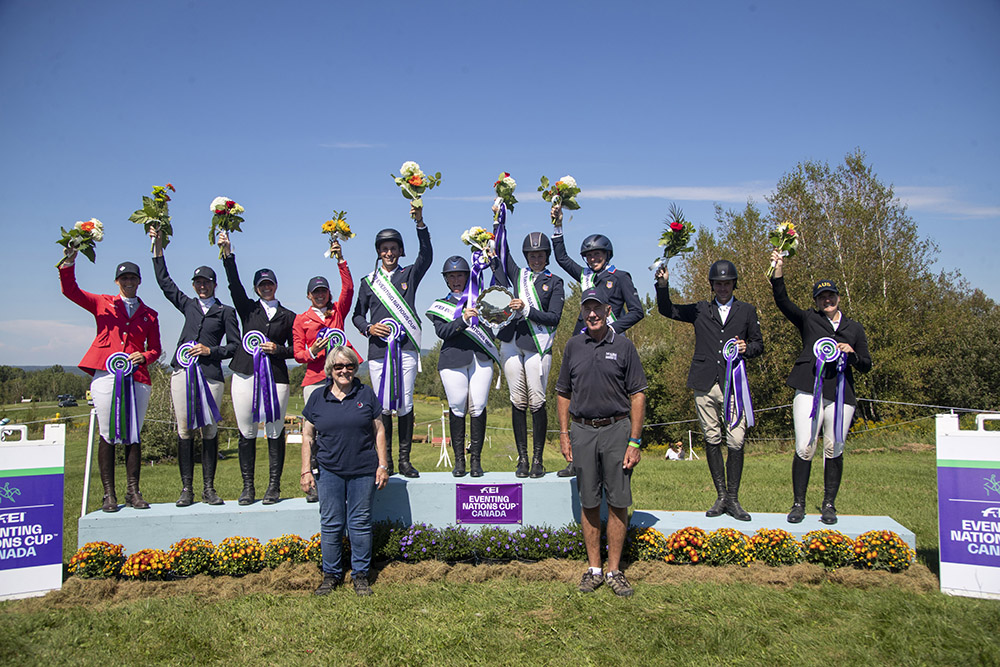 The awards podium from the Bromont 2022 FEI Eventing Nations Cup™ with teams from the United States, Canada and Australia. Organizer Sue Ockendon and committee member Peter Gray in front. © Cealy Tetley
Emily Gilbert, Chair of the EC High Performance Advisory Group, Eventing said: "While we are disappointed at the unfortunate cancellation of the Bromont Nations Cup, consistent with our strategic plan, we will use this weekend to provide our Canadian riders with experience and exposure in a team setting. This decision reflects the importance of strengthening our competitiveness across the board in team competition.  The named riders for the Bromont Nations Cup Team will continue to receive the bursaries we dedicated to them, and the Riders will be led and supported by Chef D'Equipe and Technical Advisor, Rebecca Howard with additional support from Equestrian Canada High Performance in place."
Entries are strong and still coming in for the August event, which for some is being used as a prep run before heading overseas to compete at the Defender Burghley Horse Trials in the United Kingdom, one of the largest CCI5* events in the world. 
Top horse and rider combinations currently entered include American Olympian Boyd Martin with Tsetserleg and On Cue; Canadian Olympians Jessica Phoenix with Freedom GS and Watson GS and Colleen Loach with FE Golden Eye; Australian Ryan Wood with Cooley Flight, Great Britain's Lucienne Bellissimo with Dari and Tremanton; Belgian Jan van Gysel with Eiffel de L'Abbaye and Spain's Susana Tezanos-Moreno with French Kiss.
Although the Nations Cup team competition will not run, the event will still host CCI4*-S, CCI3*-S, CCIU253*-S, CCI2*-S, CCIU252*-S, EV110 and EV100 levels including a Team Challenge. With a venue among the best in the world and cross-country courses designed by Derek DiGrazia (USA) and Jay Hambly (CAN), the MARS Bromont CCI4*, 'Little Bromont' and August Bromont CCI4* offer a true test for horse and rider in the perfect 'summer resort' setting.
To enter visit www.evententries.com. Follow us on social media at @bromontcci.

About Bromont Eventing 
Bromont, which has featured top competitions for four decades, welcome some of the best horse-and-rider combinations across three competitions this summer: the MARS Bromont CCI4*, 'Little Bromont' and the August Bromont CCI4*. Located in the beautiful village of Bromont, Quebec, the spectator-friendly venue is within easy driving distance of Montreal, Quebec and Burlington Vermont. For more information please visit www.bromonthorsetrials.com.
The Bromont Horse Trials are made possible in part through a contribution from Sport Canada. The Bromont organizing committee also wishes to thank the Government of Quebec, and the City of Bromont for their support.