The scores were incredibly close at the top.

Canada waved their flag proudly on team day of the Gotham North FEI North American Youth Championships, presented by USHJA, on Friday afternoon. The four team riders in the Young Rider category, William Martin, Quintyn Werner Baeumler, Lily Elliot, and Halle Duke, put in the strongest overall performance over the two rounds, sealing the deal for the gold medal in the Team Final.
2023 marks the first time in many years that Canada has won the gold at NAYC in this category, which made the riders and their chef d'equipe, Dayton Gorsline, tremendously proud. They had to earn the win, too, as Nick Granat's (USA) courses for the day were demanding and few were able to jump clear. Fault-free rounds from Duke and Martin as the leading and anchor riders, respectively, kept them on the lowest score.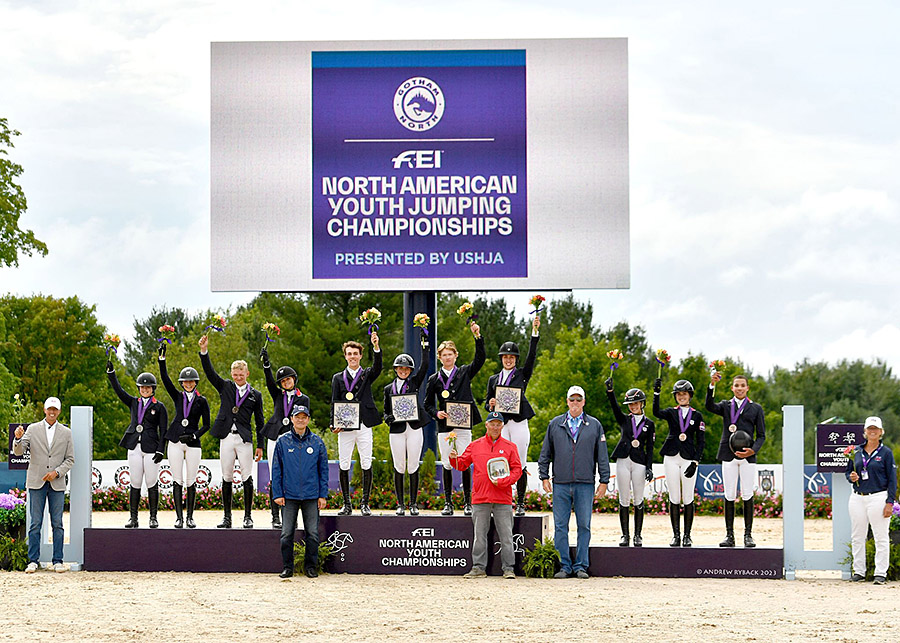 "I think any time you can represent your home country it's a big deal," Martin, who took an individual gold medal in the 2022 Junior section, remarked. "Canadians really take pride in that. This is a show we look forward to all year long mainly because we get to represent our home country. To bring back a medal means a lot."
Duke leaned on her partnership with Ilana to come through and jump clear for the team, even after an unexpected break in competition due to weather conditions.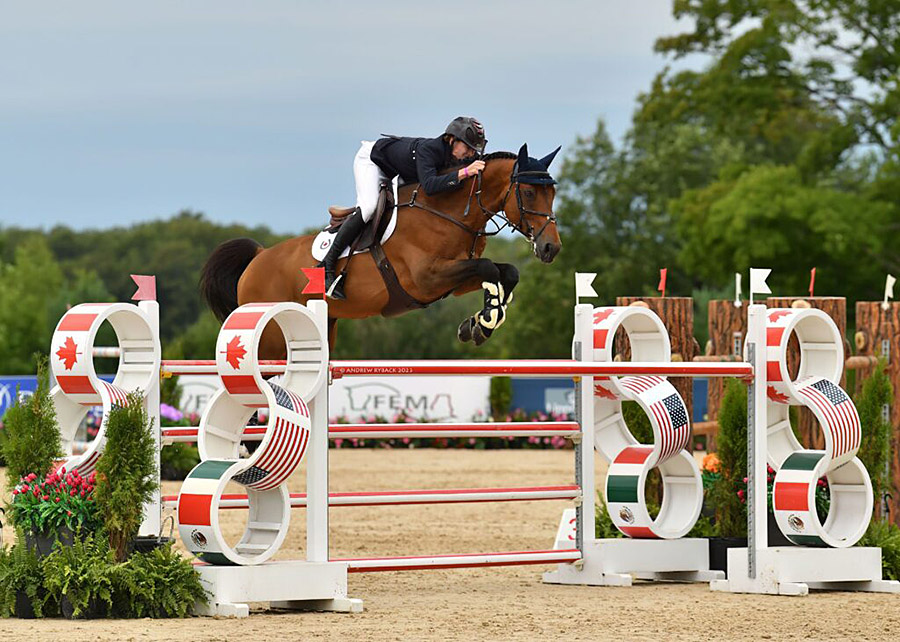 Will Martin and Ricore Courcelle. Photo © Andrew Ryback Photography.
"I've had this horse for four years this week actually," she said of her horse. "We are pretty much best friends. She jumped incredibly today and the second round I gave her the ride she deserved and she jumped clear for me. This is my second year coming here and it's amazing, every part of it. To be able to represent your own country is incredible."
Baeumler knows he and his teammates are inching closer to representing Canada on a grander stage. "Being on a Canadian team is wonderful and the team we have here is one of the best," he shared. "Everyone is kind, caring, and works really hard. I'm thankful to have such a great team behind me and this is the one step before the senior teams. We're all looking forward to that and we'll all be working hard for that day."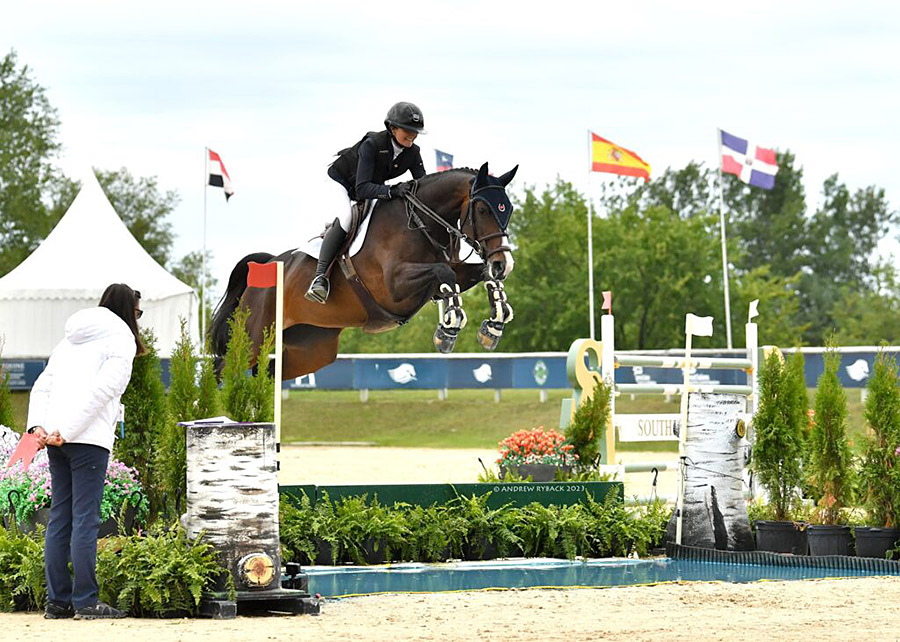 Halle Duke and Ilana. Photo © Andrew Ryback Photography.
In the silver medal position, Zone 7 featured Luke Jensen, Sofia Cady, Stella Wasserman, and Hallie Grimes. The team faced a few unexpected challenges later in the class but Cady's clear round helped solidify their second-place finish.
"I don't think there's a horse show I enjoy more," Cady said. "There isn't anything like it. Pressure aside, it's a lot of fun. There's limited opportunity to do team events and this teaches you a lot about how to master your nerves and mental game along with how to have your horses jump best and how to sustain yourself as well."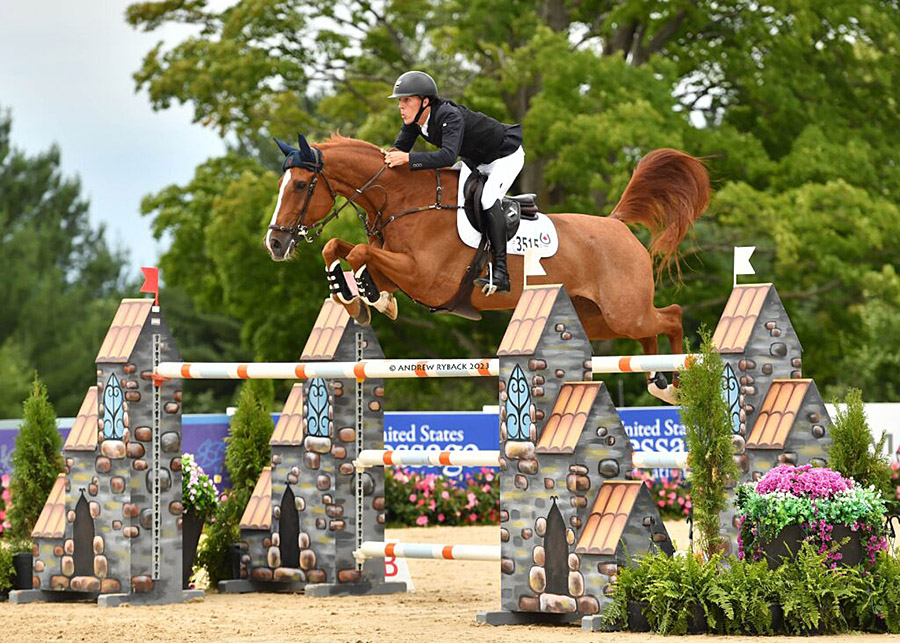 Quintyn Werner Baeumler and Haydn. Photo © Andrew Ryback Photography.
Grimes is jumping the highest levels of the sport at 21 years old and still gets more butterflies jumping at NAYC than she does in the CSI5* events. 
"I've never felt more pressure than I do at Young Riders," Grimes remarked. "I jumped my first five-star last week and today was [more pressure] than that. It's unbelievable because I really want to show up for these people. It's once a year and you know you can't take it back. You give it everything you have. I can speak for all of us when I say we're going to come out of it stronger because we've had this experience."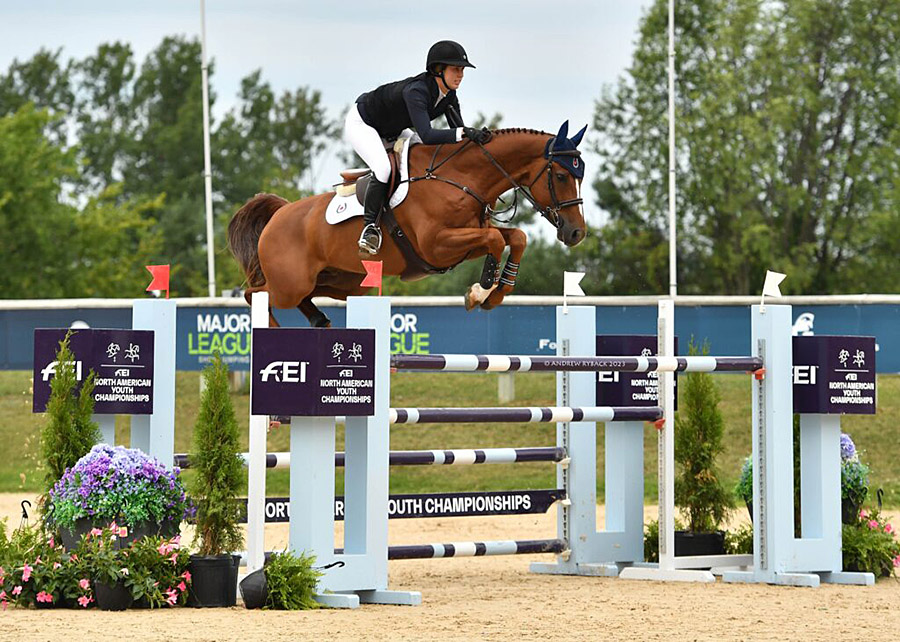 Lily Elliot and Pesto Adelheid Z. Photo © Andrew Ryback Photography.
The Bronze medal went to Zone 5's trio of Maggie Jacobs, Olivia Williams and Alexander Alston. 
Young Riders return Sunday for their Individual Final with Mexico's Maya Ines Denis Chambon on top aboard Jantien de Muze with 1.41 faults.
See full results from the Young Rider Team Competition here - https://results.hippodata.de/2023/2328/docs/r_yrt_c2_final.pdf?style=hippo