The dry crisp conditions seemed to suit the horses.

SANTIAGO 2023 – UPDATE DAY 1
The Canadian Team turned nerves into excitement at the first Horse Inspection and Familiarization for Dressage
Dressage
What may seem like a relatively easy non-competition day, the first full day of the Pan American Games period was still nerve wracking. The athletes have been preparing over such a long period of time, and they are now anxious to get things started. On the agenda at the Escuela de Equitación Regimiento Granaderos venue was the first horse inspection that began at 10am followed by ring familiarization at 1pm.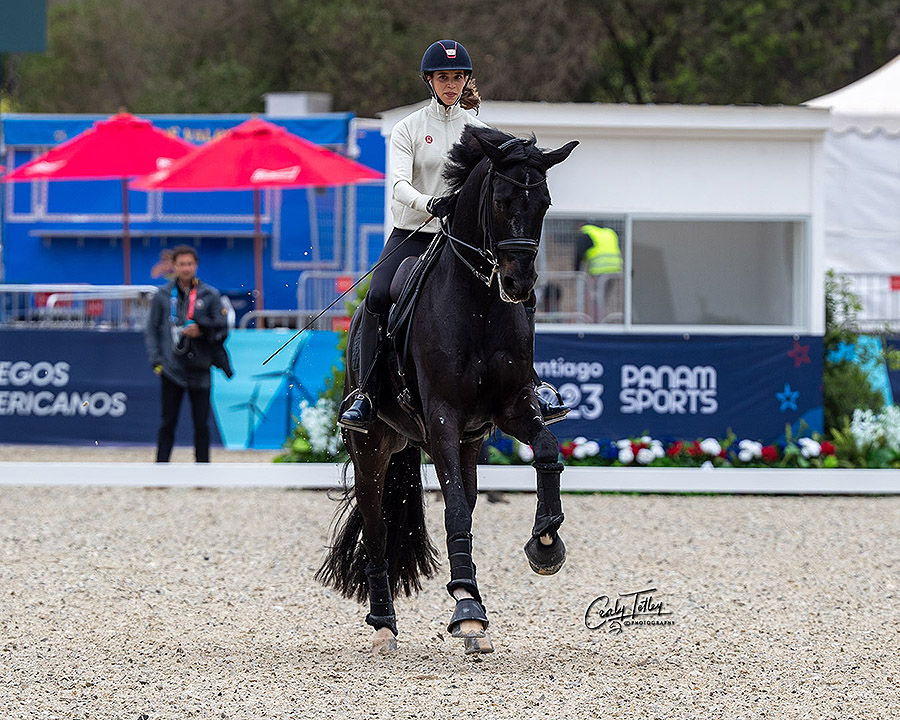 It was a day to harness nerves with Naima Moreira-Laliberte and Statesman doing their best to accomplish that during familiarization. Photo Credit: Cealy Tetley
The weather in Quillota, about two hours northwest of Santiago, had turned cooler with clouds hovering over the mountains nearby. The dry crisp conditions seemed to suit the horses and offered an uneventful walk up the hill to the inspection venue.
All of the athletes came into the day showing maturity beyond their years, each with a smile on their face exuding genuine happiness to be here with their horses, and for Canada. The group were in tune with their equine partners and could be seen supporting them through the inspection and the elements of the atmosphere.
With only two dressage team qualifying spots for Paris 2024 up for grabs here at the Pan Am Games, the pressure is on. Countries in addition to Canada still looking for their Olympic ticket include Argentina, Brazil, Chile, Colombia, Ecuador and Mexico. The team appeared to be able to harness the nerves into excitement in hopes of making the Olympic berth a reality here in Santiago. Here's Day One in pictures: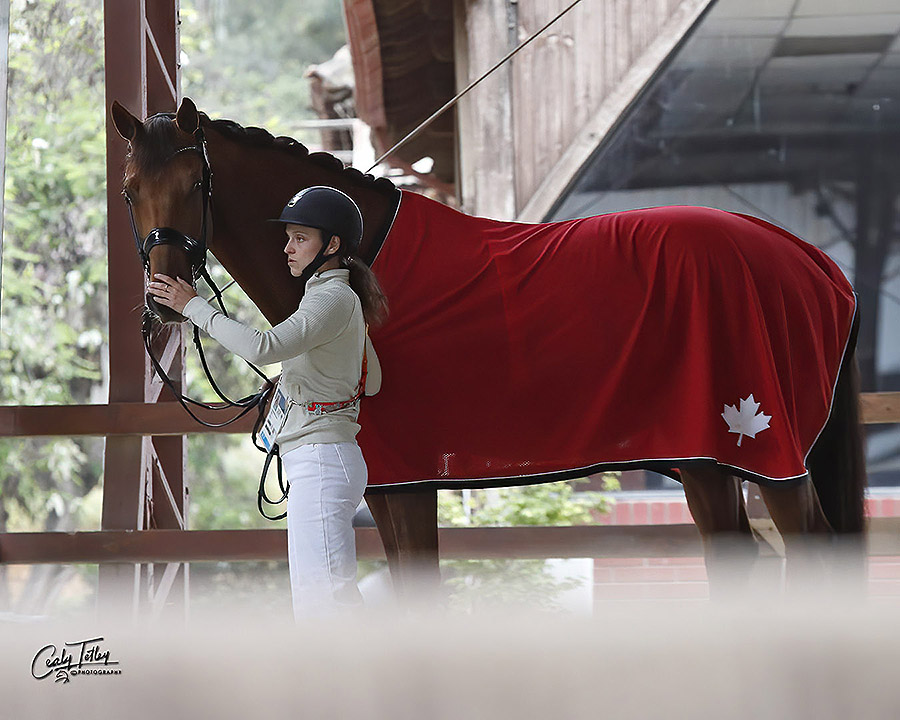 Mathilde Blais Tetreault knows her horse well, having helped train him since he was five years old. She knows he prefers to prepare with minimal distractions, and made sure to give him the space and calming energy to do so. Photo Credit: Cealy Tetley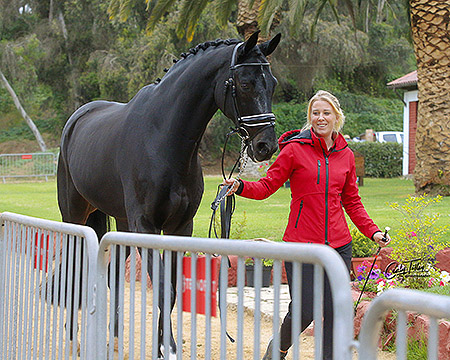 Left: Naima Moreira Laliberte's horse Statesman is seen here with his groom Yasmine Lee Saunders as they make their way to the inspection arena. So beautifully turned out, he appeared almost like a perfect statue and very fitting to his name. He looked the part of a true statesman. Photo Credit: Cealy Tetley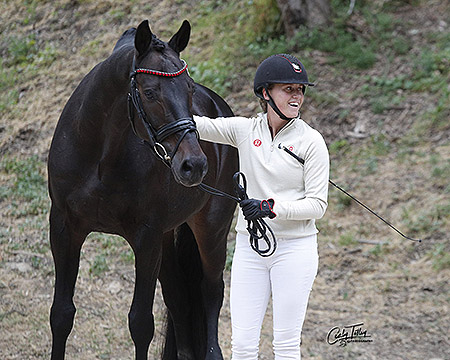 Right: Camille Carier-Bergeron with long-time partner Sound of Silence 4 seemed ready for the Games to begin. SOS was representing the maple leaf with his Canadian red browband. Photo Credit: Cealy Tetley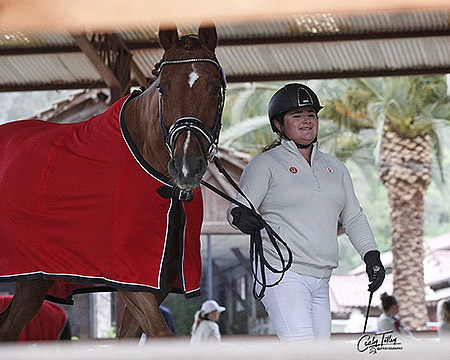 Left: Reserve rider Tanya Strasser-Shostak with Fidelis Tyme looked in sync while they prepared in the holding arena. Photo Credit: Cealy Tetley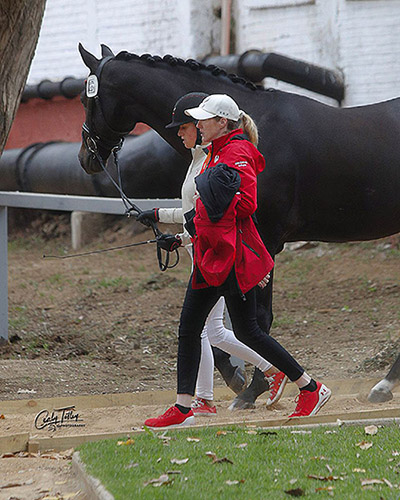 Right: Carier-Bergeron is in lock step with Statesman and Canadian Olympian Brittany Fraser-Beaulieu Photo Credit: Cealy Tetley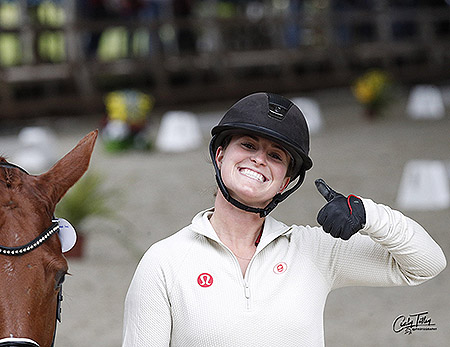 Left: Béatrice Boucher celebrated with a thumbs up when her mare Summerwood's Limei was accepted at the inspection. At age 25, Boucher along with other fellow youth rider Camille Carier-Bergeron, 23 are required by the FEI to wear helmets during the inspection. Photo Credit: Cealy Tetley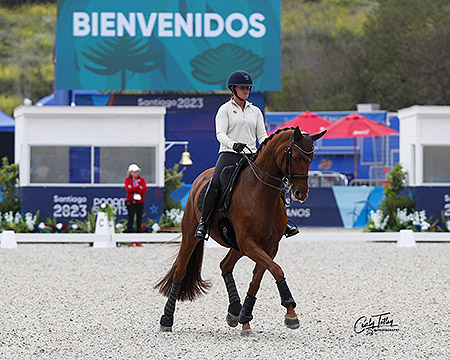 Right: Boucher riding Summerwood's Limei in the competition ring familiarization time. Photo Credit: Cealy Tetley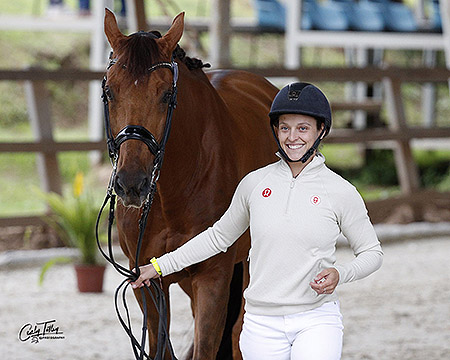 Left: Blais-Tetreault is all smiles with Fedor after being accepted in the jog. Photo Credit: Cealy Tetley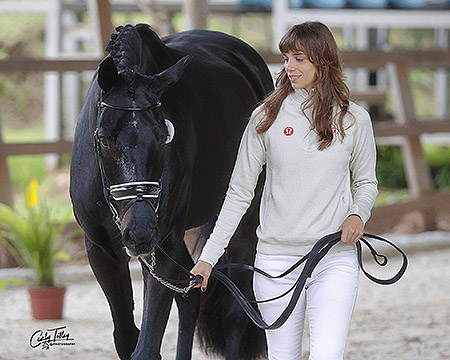 Below Right: Naima Moreira Laliberte and Statesman share some calm moments together after the jog. Photo Credit: Cealy Tetley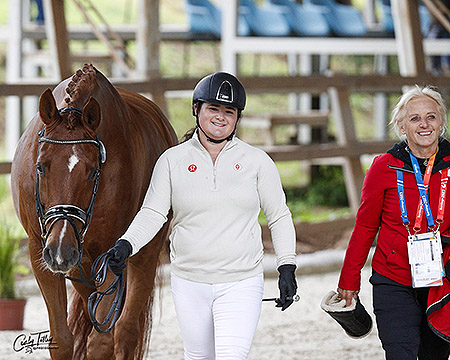 Above Left: Reserve pair Strasser-Shostak and Fidelis are accompanied by his owner and Tanya's mom Evi Strasser. Photo Credit: Cealy Tetley
Source: Equestrian Canada News Release