Group of young riders from Quebec produce solid tests to put Canada in third going into second day of dressage competition.

SANTIAGO 2023 – UPDATE DAY 2
Dressage

Before October 22, three of Team Canada's dressage athletes had yet to step into the ring of a major games. The fourth, only 26 years old, is the team's 'veteran' rider. The time had come on Sunday to put everything they have worked for up to the test.
The first day of competition was filled with all the emotions one can imagine comes from an event of this significance. The road to the games – for anyone - is loaded with a roller coaster of ups and downs. For this young group, they tried to stay focused on the task at hand while remembering the little girl that had once only dreamed of competing for Canada.
The countless hours of training, the competitions, the sacrifices, the coaches who have pushed them along the way, and everything that it took to get to Chile, came together. After four solid tests, Canada ended the day in third place going into the Intermediate I and Grand Prix Special day.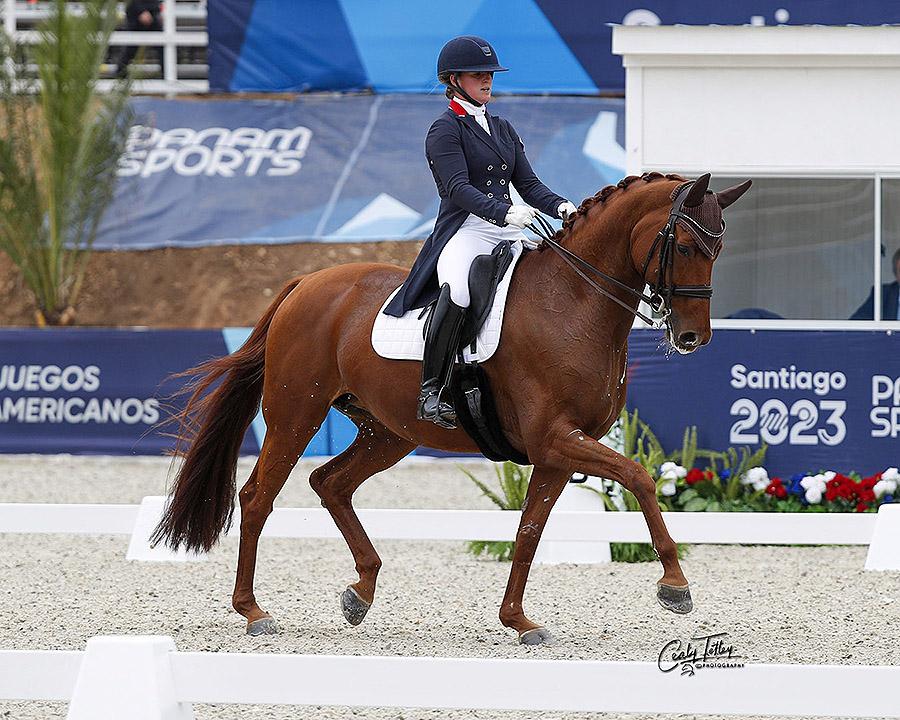 Beatrice Boucher and Summerwood Limei. Photo Credit: Cealy Tetley
First up in the order was 25-year-old Beatrice Boucher from Saint-Dominique, QC, riding the Prix St Georges with Summerwood's Limei (LondonDerry x Weltmeyer), a 10-year-old Hanoverian mare owned by Monica von Glahn and groomed by Amelié Sauriol. With a lovely first test, Boucher and her mare scored 71.147% and secured 11th place.
Boucher felt that things went well and that they both tried to approach the test like it was just a regular day. "She's so consistent, she is just always there for me. She never lets me down. It felt like almost every other test that she's just there and I'm there and we are dancing together. We went for a quiet clean test, so I'm really happy."
At the same time being at the Pan Ams still feels a little unreal to her. "I'm kind of pinching myself. Even this morning when I woke up, I was just like, I'm really here. Like, wow. That's amazing."
Second into the arena was 23 year-old Camille Carier-Bergeron of Laval, QC with her 15-year-old Westphalian gelding Sound of Silence 4 (San Amour I x Limes) owned by Gilles Bergeron and groomed by Joanie Carrier.
After having a great warm up session, the pair had a challenging entrance through the chute that affected the contact and created a series of small challenges in their test in the piaffe. Thanks to their lengthy history together and the work they have put in, they were able to get through with a final score of 67.565% for 20th place.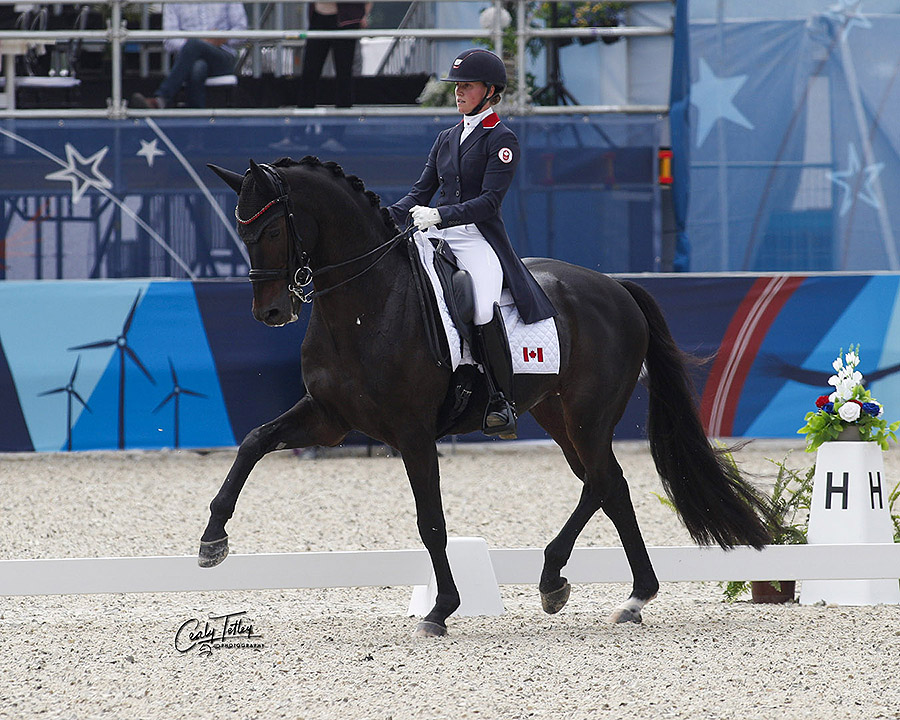 Camille Carier Bergeron and Sound of Silence 4. Photo Credit: Cealy Tetley
"There were some nice moments, but he felt a bit electric," Carier-Bergeron explained. "On my way into the ring, he got scared at a flag so, it kind of revved him up. But we did our best. I'm so very proud of him because he was a little scared in there.
She's also loving the Pan Ams experience. "It feels amazing. I mean, we have such a great team. The spirit is really nice. Everybody's so supportive of each other. It's a dream come true. We've worked so hard to be here. I wish all my team the best and I'm very excited to be a part of this event with them."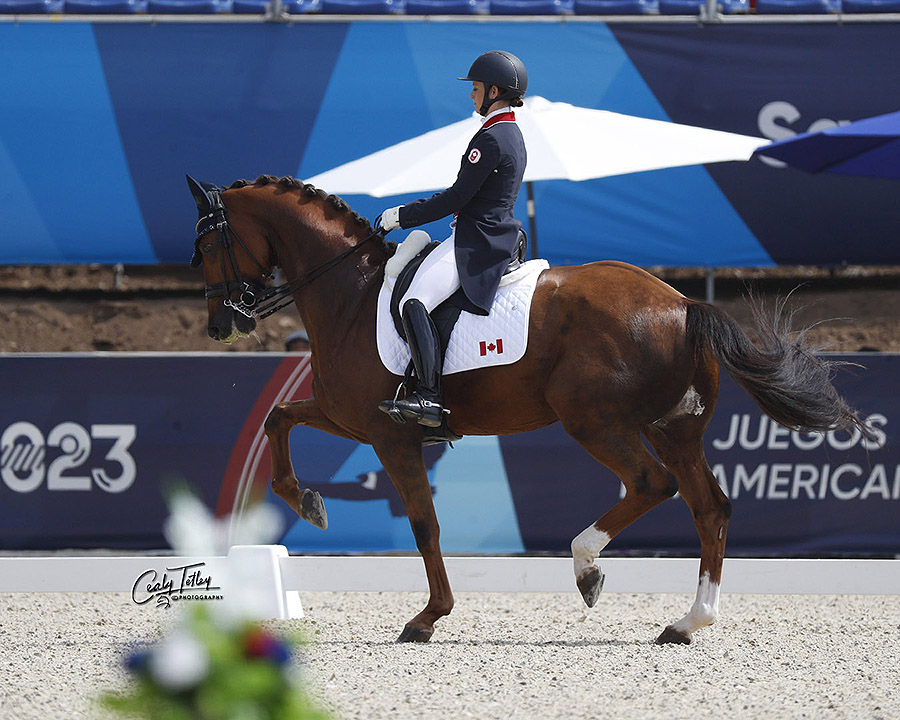 Mathilde Blais Tétreault and Fedor. Photo Credit: Cealy Tetley
Third in the order was 31-year-old Mathilde Blais Tétreault of Montreal, QC riding Fedor (Johnson TN x Negro) the 13-year-old Dutch warmblood gelding owned and groomed by her sister Laurence Blais Tétreault.
The pair had some errors but in general earned good marks across the board and ended with a score of 70.391% for 12th place. Blais Tétreault was pleased with the result. "I'm very happy with my horse. Of course, obviously we had a couple of mistakes in the changes that were very, very costly. Otherwise, I'm really happy of how he coped with the atmosphere."
She too is living out her equestrian goals, but it hasn't really hit her yet. She's especially proud that she's doing it together with her sister Laurence, Fedor's owner and co-trainer. "It's a dream to represent Canada on the senior team, so it's feel a little bit surreal, honestly. This is something that we've been talking about for many years and to actually make it and to be here together to experience it, it's something that I can't put into words."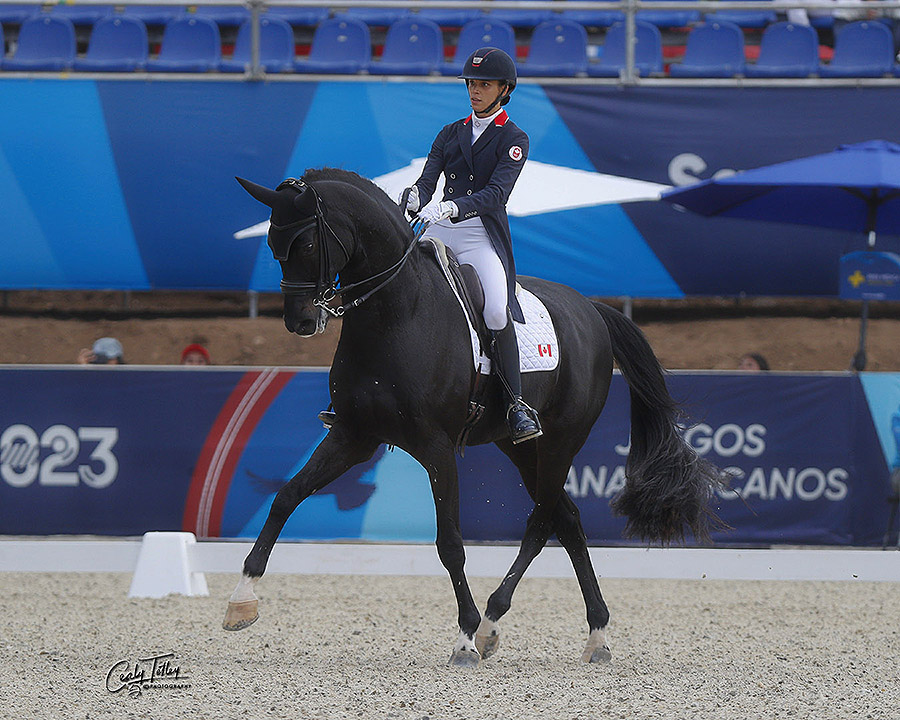 Naima Moreira-Laliberté and Statesman. Photo Credit: Cealy Tetley
Anchoring the day's rides was 26-year-old Naima Moreira-Laliberté of Outremont, QC with her 16-year-old Hanoverian gelding Statesman (Sandro Hit x Brentano II) owned by KML Inc. and groomed by Yasmine Lee Saunders. Moreira-Laliberté was a member of the gold medal team in Lima four years ago and has firsthand knowledge what is needed to harness the power of nerves on a day like today.
Her experience paid off and apart from a few small issues, the pair earned a score of 72.739% and ended the day ranked 9th overall and Canada's top placed rider. From her perspective, the ride also went well. "I'm quite pleased overall. Unfortunately, it wasn't a clean test. We had a costly mistake in the one tempis change. But tomorrow's another day and I'm going to try and go clean."
As the only team member with Games experience, she is glad to be back. "It's amazing (to be back). I love championships. We've got a very exciting goal ahead of us - which is hopefully qualifying the team, and the country for Paris."
Canada finished the day in third with 211.277 points behind the USA with 221.578 and Brazil second with 218.152. With the USA already having their spot for Paris 2024, the pressure remains for Canada to earn a spot on the podium and to secure the Olympic berth.


Source: Equestrian Canada News Release