Dressage Competition wraps up with two top ten performances in the individual freestyle.

SANTIAGO 2023 – UPDATE DAY 5
Dressage
For the final day of dressage competition, with three representations per country on offer, Canada selected to have its three Grand Prix horse and rider combinations ride the freestyle. With the Olympic berth secured with the team bronze medal on Monday, the energy was lighter with the team excited to dance with their horses to music in front of the international crowd.
20 athletes from ten countries had their choreography on display with a variety of musical choices from classical to mixes that included Kate Bush's "Running Up That Hill" and 50 Cent's "In da Club." Canada's Camille Carier Bergeron scored a personal best and a seventh-place finish as the top Canadian of the day.
In the end on the podium was Ecuador's Julio Mendoza Loor and Jewel's Goldstrike with an impressive 84.230 to take the gold followed by Brazil's Joao Victor Marcari and Feel Good VO on 83.160 with the silver and the USA's Anna Marek and Firefly scoring 78.305 for the bronze.
We caught up with the riders after they came out of the ring and asked to hear from them how it went.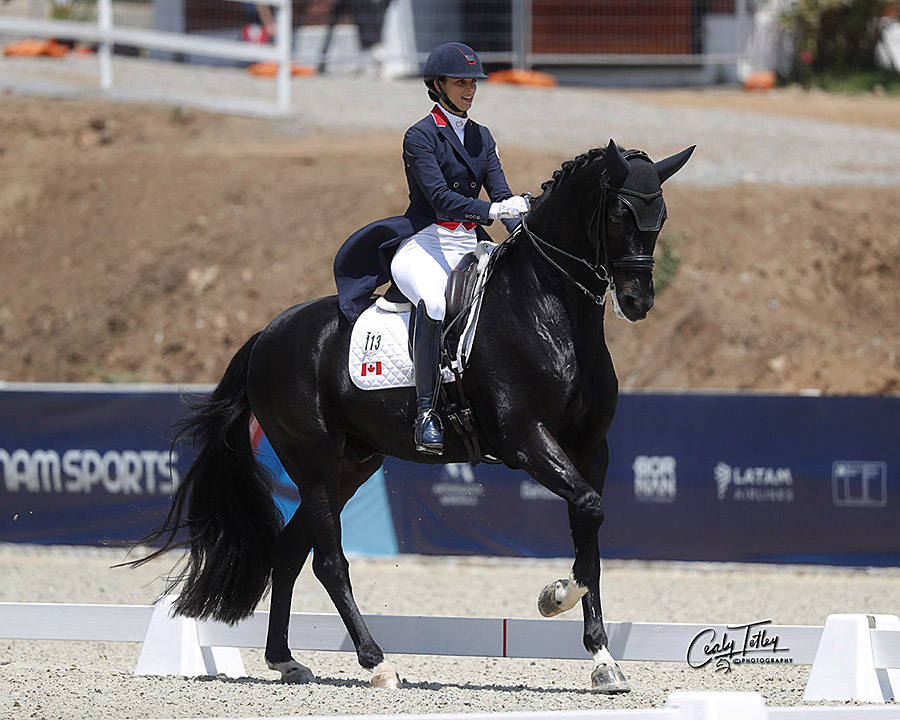 Mathilde Blais Tétreault of Montreal, QC with her Pan Am partner Fedor (Johnson TN x Negro) the 13-year-old Dutch warmblood gelding owned and groomed by her sister Laurence Blais Tétreault scored a 71.195 for 12th place. Photo Credit: Cealy Tetley
How did things go for you today, Mathilde?
"Overall I'm really happy. He was really tired but he tried his best for me. We had a couple of mistakes but overall I'm super proud. I had to work really hard but he did everything I asked so I'm super pleased with him!
How does it feel to be done your first Pan Am Games?
"It doesn't feel quite real right now. I feel like I am going to realize it when I'm home and I see all my friends and all my people and it will of kind of rush to me, because right now it feels a little like it was a big horse show with more stress <laughs>. But now I'm heading straight to Florida to start training for the Olympics! Wow!"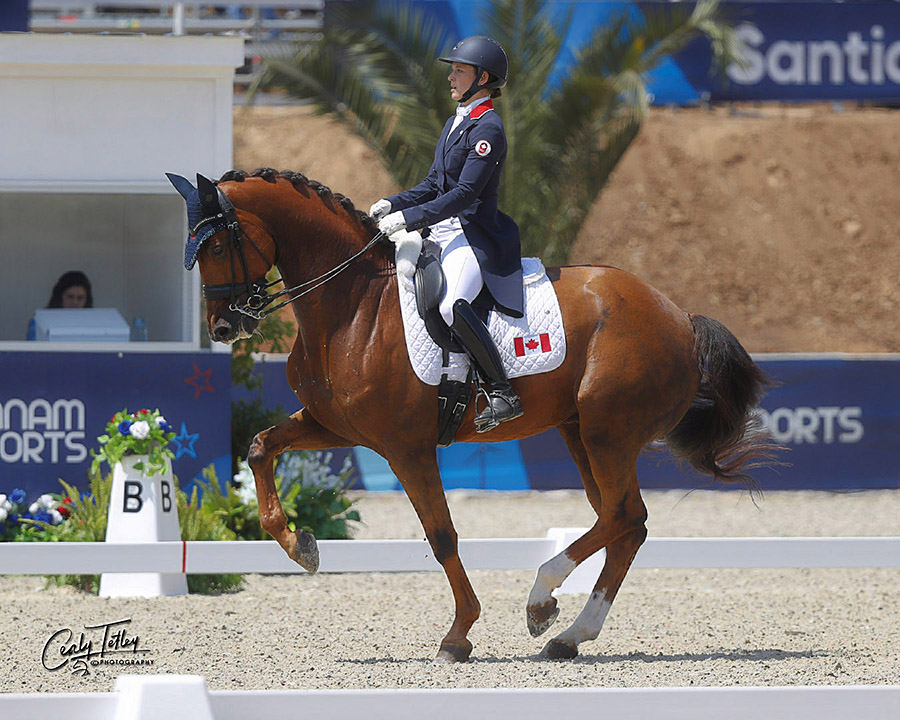 Camille Carier Bergeron of Laval, QC with her 15-year-old Westphalian gelding Sound of Silence 4 (San Amour I x Limes) owned by Gilles Bergeron and groomed by Joanie Carrier scored a personal best of 75.195 and secured a 7th place finish. Photo Credit: Cealy Tetley
Camille, how was your ride today?
"It was amazing! He felt wonderful and so connected and I'm really happy with how my ride went."
What does it feel like to represent your country?
"I feel really proud. It's a dream come true and it ended so well that I couldn't be more happy with everything."
Do you have any messages for everybody back home?
"Well, I want to thank everyone who's behind us, who's been so supportive, who sent us all team messages, support, clothes, and I feel really thankful to have such a big team, behind us, thank you!"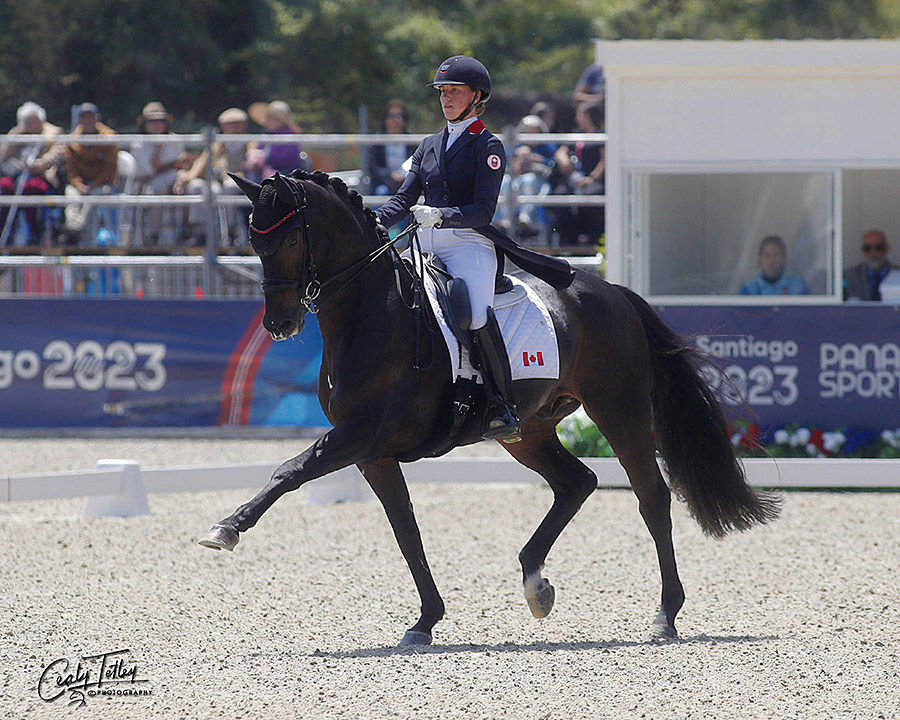 Naima Moreira-Laliberté of Outremont, QC and her 16-year-old Hanoverian gelding Statesman (Sandro Hit x Brentano II) owned by KML Inc. and groomed by Yasmine Lee Saunders scored a 74.130 for 10th place. Photo Credit: Cealy Tetley
How did it go for you today, Naima?
"I had a lot of fun in there it's always great to dance with your horse! Unfortunately, again I had mistakes in the ones, but I caught it again in my joker line so there was a little bit of redemption in there. It was still amazing."
What's it like to be here representing Canada?
"It's a special feeling always to be on the team you know there's so many people at home that look up to you, count on you, encourage you, and are cheering you on. I think it's amazing that we managed to qualify the country so it's an honour but also I understand the responsibility. I think we have a mission accomplished so I have to thank everyone.
Do you have any messages to share?
"I keep saying it, but it really takes a city, it's not even a village, it's a city, to get us to where we are today. I'm really grateful to my family, my friends, my team at home, my vets, my coaches. Thank, you, so, much… this was for you guys so, thank, you, thank, you!"
Source: Equestrian Canada News Release