The chase is on for Olympic qualification, the Canadian eventers hold the silver medal position after day one

SANTIAGO 2023 – UPDATE DAY 7
Jumping
Quillota, Chile, October 28, 2023 - Friday was a great start for the Canadian Eventing Team at the 2023 Pan American Games in Santiago. Sitting in the silver medal position as a team, strong individual performances put all of the Canadian riders inside the top eight after the conclusion of the dressage phase.
While the Americans have taken a strong lead, securing the top three individual positions, the focus for Canada is on getting to Paris. With an Olympic berth only granted to the top two teams s
till unqualified for the Olympics (The USA qualified for at the 2022 World Championships), Canada's combined score of 93.5 puts them in a solid second position ahead of Brazil with a collective 99.9 and Mexico with 109.2.
This team of Canadian eventers has shown up in Chile focused on the competition and is dialled into their job of delivering on their abilities and strong horse-rider partnerships to drive a positive competitive trajectory for Canadian Eventing and accomplish the task at hand.
Leading the day's entrances into the ring was Michael Winter of Toronto, ON riding El Mundo (Numero Uno x Calvaro F.C.), a 14-year-old Dutch warmblood gelding co-owned by himself, his wife Emma and Jonathan Nelson and groomed by Amy Ferris.
 Not new to championships, Winter put up a solid test, finishing on a score of 32.3 for sixth place overall. Winter felt his test was good but not great. "Oh, I just think there's better work in him, and I probably just didn't execute it as sharply as I wanted to but he's a very special horse, and I have a lot of attachment to him as I've had him since he was a five-year-old," he said when asked about his horse and his performance.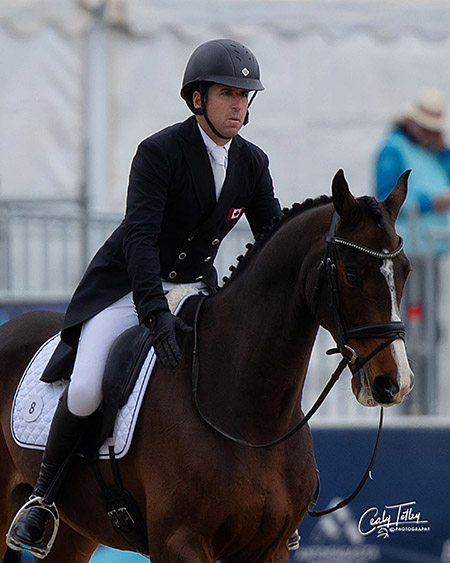 Left: Mike Winter and El MundoPhoto Credit: Cealy Tetley
Next in the order was Colleen Loach of Dunham, QC, riding FE Golden Eye (Goldfever 3 x Contendro I) the 11-year-old Hanoverian gelding co-owned by Loach, Peter Barry and Amanda Bernhard and groomed by Brooke Massie.
After a well-gaited and fluid test, Loach secured a 28.6 for fourth place overall and Canada's top score. She was pleased with her horse and the connection they have. "I was happy with how he stayed with me; he wasn't bothered by any atmosphere. He stayed focused on me and the ring," she said.
"He's got a lovely uphill build and he's very steady in the ring," Loach continued. "He can fall a little bit behind the leg, which is sometimes a problem, but mainly I struggle with the changes, and we got one out of two today, so we're getting there!"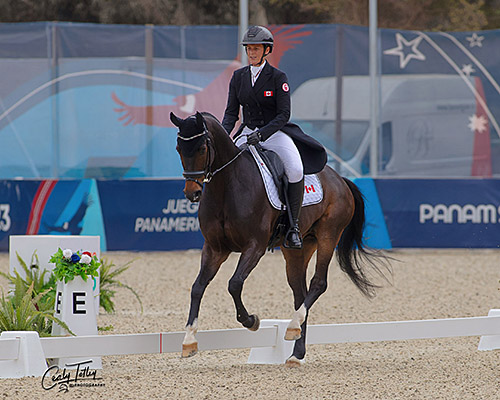 Right: Colleen Loach and FE Golden Eye. Photo Credit: Cealy Tetley
With two good numbers on the scoreboard, Lindsay Traisnel of Maidstone, ON stepped into the ring with Bacyrouge (MyLord Carthago*HN x Clyde de la Combe) the 12-year-old Selle Français gelding owned by Patricia Pearce and groomed by Jade MacInnes.
Ending the test on 32.6, Traisnel was content with their placing of 7th. "He's such a good boy – it was a very, very comfortable ride. He did everything that you're asked in this test and I think it was as good as I could expect. He didn't let me down."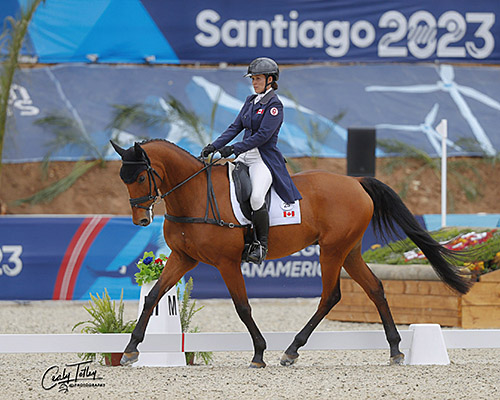 Right: Lindsay Traisnel and Bacyrouge . Photo Credit: Cealy Tetley
Anchoring the team was Karl Slezak from Tottenham, ON, riding Hot Bobo, the 10-year-old Irish Sport horse mare sired by VDL Arkansas, owned by Slezak and his wife Katlyn Hewson and groomed by Amber Wavryk.
Ending the day with a 32.7, Karl also rounded out the placings for the Canadians in 8th. Although it wasn't the result he had hoped for, he was proud of his mare. "I was a little disappointed, but I was pleased with the test. I couldn't be happier with her. She felt amazing and was doing all the right things."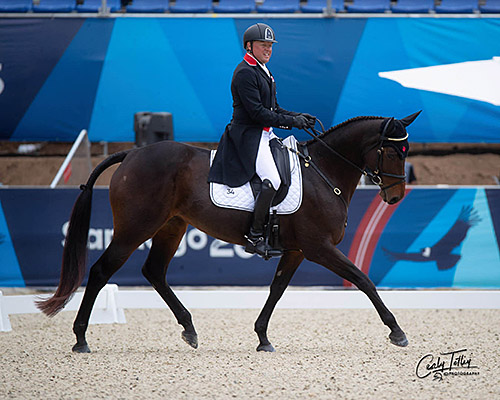 Left: Karl Slezak and Hot Bobo. Photo Credit: Cealy Tetley
Going into cross country, the world will be watching as the team, chalked full of talent to tackle the track, the Canadian's will be aiming to jump clean and fast to stay under time and keep Canada on the podium and book the ticket to Paris. Mike Winter will leave the starting box at 11:28, with each rider following at approximately 30 minute intervals thereafter.
Watch all the action live on CBC Gem, FEI TV and with a subscription on Clipmyhorse.


GO CANADA!
Source: Equestrian Canada News Release