Canadian Eventing Team holds on to podium spot finishing cross country in third

SANTIAGO 2023 – UPDATE DAY  8
Jumping

Quillota, CHL, Oct. 29, 2023 –The thoughtfully designed and beautifully "Chilean" jumps laid out by Pierre le Goupil provided enough challenging questions to keep things interesting on cross-country day at the 2023 Pan American Games. Canada's team all successfully navigated the 37 jumping efforts over 4.425 km to remain on the podium in bronze position going into the last day of Eventing competition.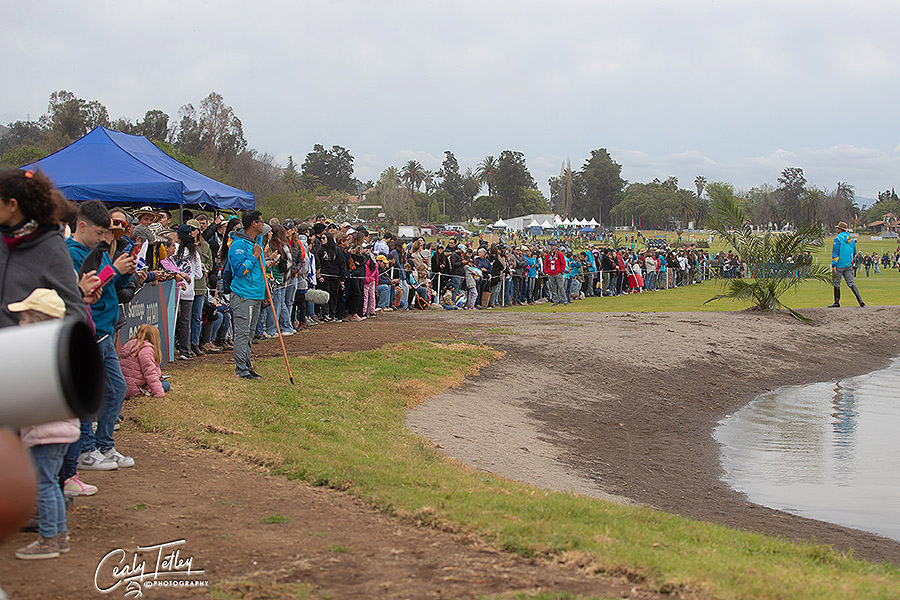 Photo Credit: Cealy Tetley
With the Canadian's focused on a result to give them a team Olympic qualification, they are step closer to securing this position. The collective efforts of this group leaves just 3.7 penalties between them and second-placed Brazil. Over 5,000 people were on site to take in the exciting eventing action firsthand. Le Goupil's Paris preview course proved able to strike the delicate balance of safe yet challenging, with only six of the 34 starters going double clear (including 2 Canadians). Attendees were treated to a great day of sport.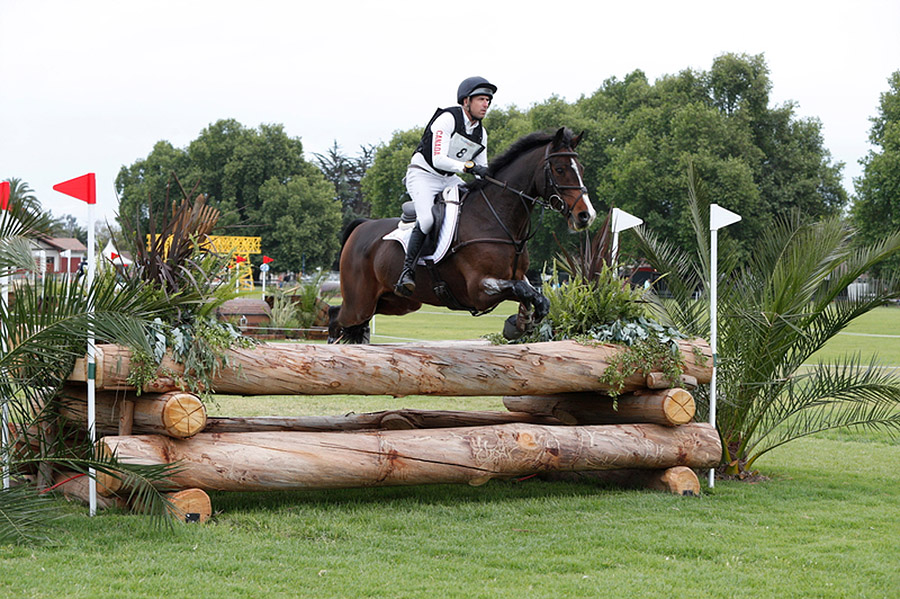 Mike Winter and El Mundo. Photo Credit: Cealy Tetley
Trailblazers Mike Winter of Toronto, ON and El Mundo (Numero Uno x Calvaro F.C.) had no jumping faults but added 7.6 points to their dressage score ending the day in 10th place. A silver medalist at the 2007 Pan American Games, he is the most seasoned on the team and was selected to be the lead-off rider for Canada with the plan to deliver a confident round and set the tone for the remaining three. Winter delivered.
"The rule is to put a score on the board. To go quickly, but not take too many risks," he said about the role of the first rider out. "One of the things about him (El Mundo), which makes him probably more of a five-star horse, is that he really takes it on. To step him down to this level, some of the jumps in the combinations weren't enough to hold him," Winter explained. "So, I had to show jump through a few combinations, which affected my ability to make the time."
Always one to consider his horse, he shared his pride for his KWPN gelding 'Roberto' that he's owned and developed over the last nine years. "It's always fun to ride your favourite horse," he said, "he's such a good boy."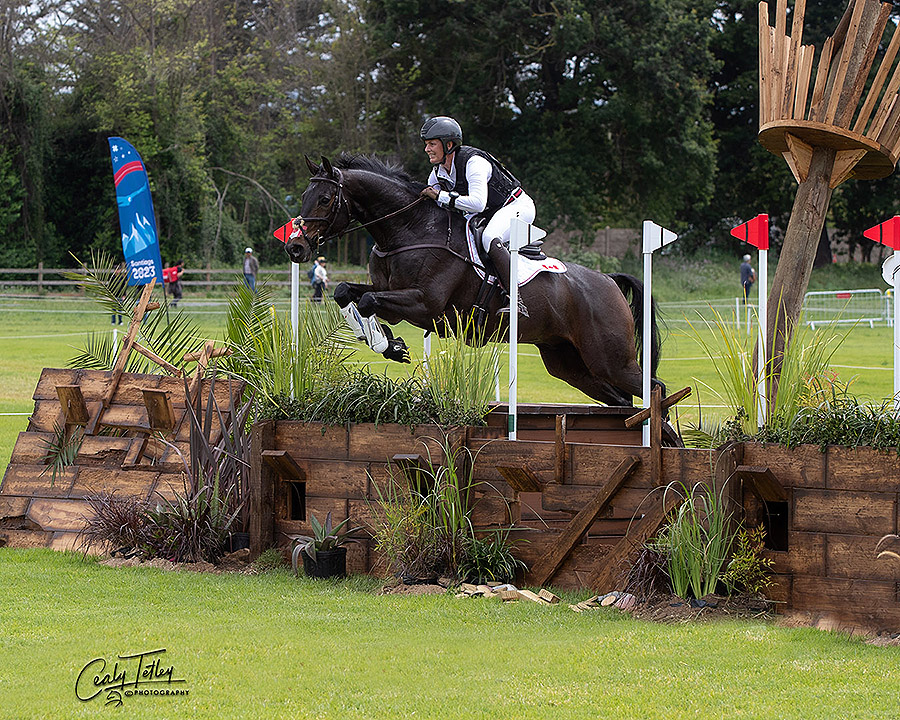 Colleen Loach and FE Golden Eye. Photo Credit: Cealy Tetley
The next Canadian pair on course was Colleen Loach with FE Golden Eye (Goldfever 3 x Contendro I) who started the day in fourth place individually. They were clean around the course, but added 13.2 time penalties, dropping them to 11th place.
Loach was happy with her ride but had hoped to be under the time. "I wish I could have gone a little faster, but he got a little backed off at the first water and a couple of the turning questions near the beginning, and we lost a bit of time there," she explained. "We didn't lose any more after that, but we couldn't make it up. I think the second half he just felt spot on and was galloping a bit better, and I was getting better distances out of stride."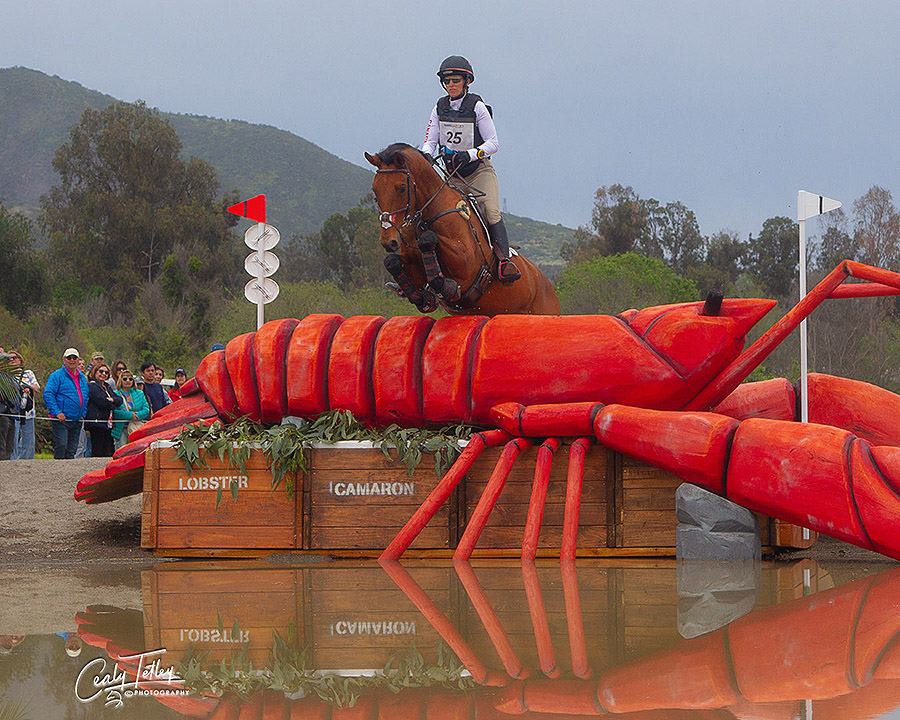 Lindsay Traisnel and Bacyrouge. Photo Credit: Cealy Tetley
The third rider of the day for Canada was Lindsay Traisnel with her 12-year-old gelding Bacyrouge (MyLord Carthago*HN x Clyde de la Combe) who were placed seventh after dressage. The pair seemed to be in their element and produced a strong, clean round in the optimum time of 8:03. They will go into the final day on their dressage score of 32.6, moving them up to 5th place overall. Other teams remarked about the quick work the pair made of the track as a 'how to do it' guide for the day.
"Today was awesome; he's just the best cross-country horse, I'm so lucky," Traisnel shared after their return home. When asked about her double clear round, her response was that she left that up to the preparation through multiple strategic walks with Team Canada and in particular with Chef D'Equipe, Rebecca Howard. "I didn't really notice the time when I was out there, it was all just happening so fast! This isn't his ideal track, but he was super, we are thrilled".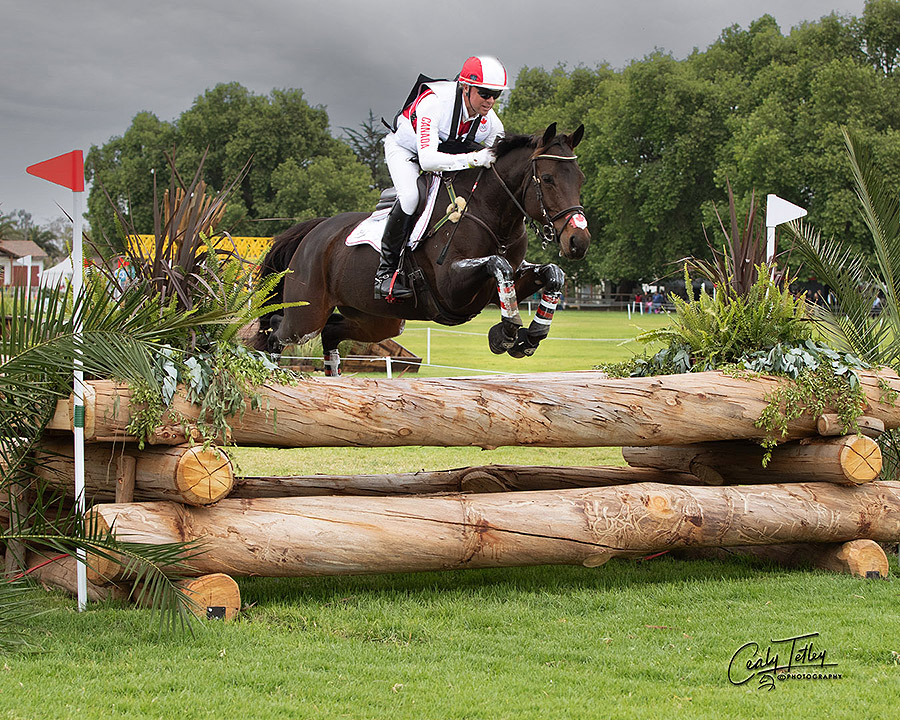 Karl Slezak and Hot Bobo. Photo Credit: Cealy Tetley
True to her name, Slezak and his 10-year-old mare Hot Bobo sired by VDL Arkansas were on fire over the course with the quickest time of the day, coming through the finish flags in 7 minutes and 53 seconds. With no jumping faults and the speedy time, the dynamic duo moved up from 12th to 6th remaining on their dressage score of 32.7 just behind Traisnel.
Although they were the last combination of the day to head out on course, they experienced a hold out on course, just before jump 13 - the Aconcagua Valley Market Cart. A true professional, Hot Bobo was right back in her rhythm following the pause.
"After they let me go again, she was right back in the groove, so I wasn't too worried about it, she galloped strong, so I just kept on going!" he shared.
His enthusiastic response to the course and the feeling of representing your country in a sport you love summed up the day. "It was pretty awesome. She felt amazing and was right in stride right out of the box. It was a really good course with lots of technical questions and I loved every minute of it."
Next up will be show jumping beginning at 12:00pm local time with Canada hoping to secure one of the two Olympic berths up for grabs. With Team USA already qualified, it's up to the Canadians and Brazilians to make it happen. Medal ceremony will take place at 2:15pm local time.
Source: Equestrian Canada News Release