"It was tough sport today, and I could not be more proud of the team," said Chef d'Equipe Ian Millar.
JUMPING

Nov. 2, 2023, Quillota, CHI – You couldn't write a better story of equestrian competition than what happened in the Santiago 2023 jumping team final. The Canadian team came to Chile to earn a medal and secure an Olympic berth. With grit, determination, and exceptional teamwork, they did just that, taking home the silver and punching their ticket to Paris 2024.
It certainly wasn't without pressure. After nail-biting competition that saw the podium positions decided down to the last rail, the day was as exciting as it gets. The Nations' Cup style competition took place over two rounds covering 13 obstacles with 16 jumping efforts at 1.60m and a time allowed of 77 seconds. Brazilian course designer Marina Azevedo proved her skill and design talents once again with the track a nod to Southern Chile and offering a true championship level test for the day.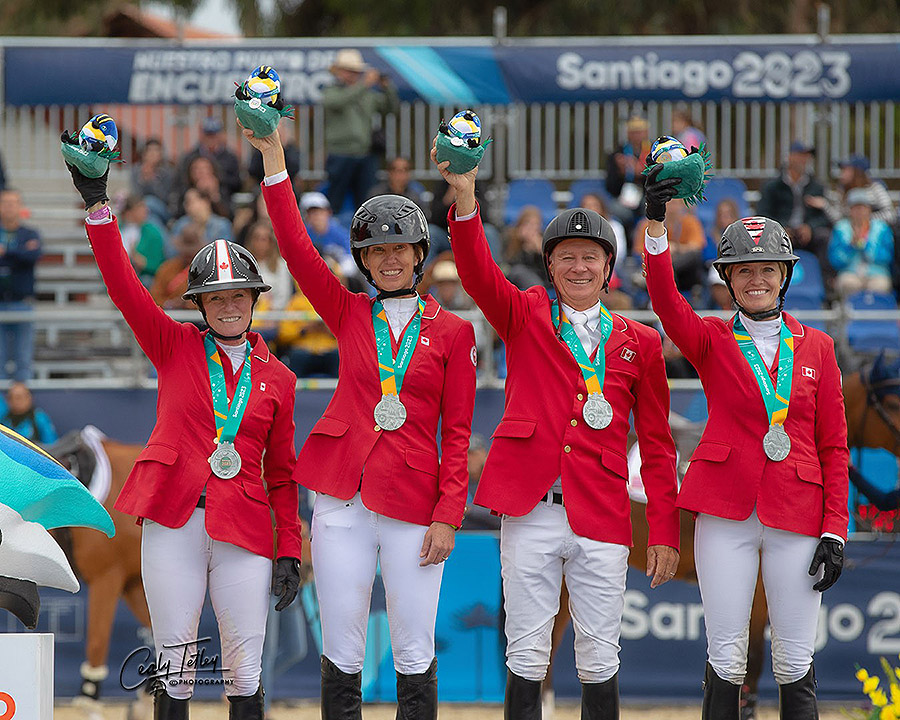 Silver medalists Beth Underhill, Amy Millar, Mario Deslauriers, and Tiffany Foster. Photo credit: Cealy Tetley
Canada began the first round of competition in third place and ended the day on the podium earning silver with a final score of 17.62 and the ever-important Paris qualification. Team USA who started the day in fifth, earned their Olympic ticket and the gold medal after delivering two double clear rounds and ended on their score of 12.37. Defending champions Brazil who had already qualified for Paris, held the lead through much of the competition, yet finished with the bronze on 20.32 after the final rider incurred eight faults. Mexico, in fourth place, earned the third Olympic qualifying spot that was up for grabs.
"It was tough sport today, and I could not be more proud of the team," said Chef d'Equipe Ian Millar. "There were a few little things that happened in the first round; however, I was absolutely confident they would all get cleaned up in the second round, and sure enough, they did."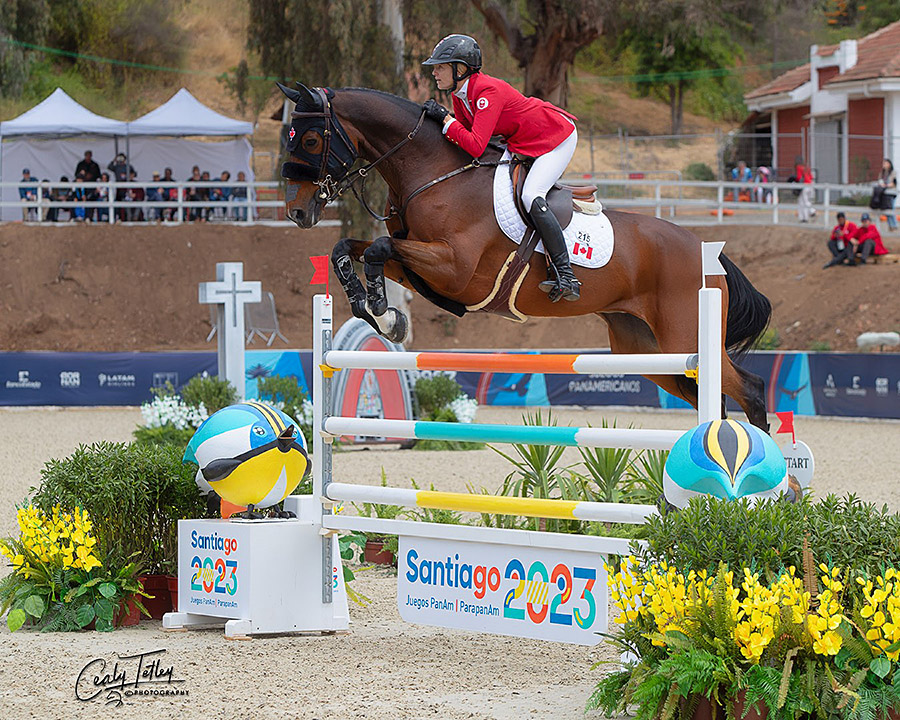 Tiffany Foster and Figor. Photo Credit: Cealy Tetley
Pathfinder for the day was Tiffany Foster of Langley, BC, riding Figor (VDL Groep Zagreb x Indoctro) the 13-year-old Dutch Warmblood gelding owned by Foster and Artisan Farms and groomed by Caroline Holmberg. They kicked things off with a bang and rode an exceptional clear round in 76.59 seconds.
"Tiffany and Figor's first round was the round of the day in terms of its accuracy, its precision, and its classical style," noted the Chef d'Equipe. Coming back in the second round, the pair laid down another clear.
"He was amazing I mean he just felt even better this round," said Tiffany. "The more he jumps, the more relaxed he gets and I'm just so proud of him and so grateful to have a horse like this, to make these things fun, because they're very stressful, but he makes it fun." She continued, "I would just love to mention his owners, Andy and Carlene Ziegler because they make all this possible."
Canada's only double clear combination of the day, their confident and skillful rides made it look easy and were important confidence builders for the team. Foster and Figor finished the day on their individual score of 4.40, standing fifth overall heading into the Individual competition on Friday.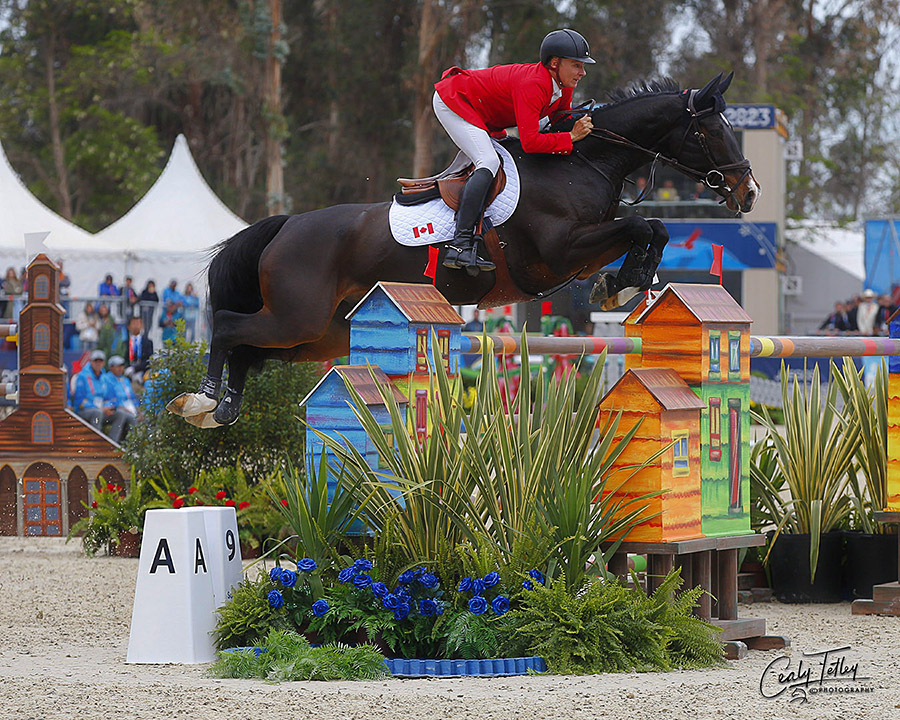 Mario Deslauriers and Emerson. Photo Credit: Cealy Tetley
Second to go was Mario Deslauriers, of Venise-en-Québec, QC riding Emerson (Eldorado VD Zeshoek x Berlin), the 11-year-old Belgian warmblood gelding owned by Wishing Well LLC and groomed by Megan Grabowski.
In round one, after navigating the course well, the pair had an unlucky rail and incurred four faults with a quick time of 71.64. Then in round two, the pair had an unfortunate rail near the end of the triple combination. With the four faults incurred, that left it to Amy Millar and Beth Underhill to hold the team score with clears. Deslauriers finished on a score of 11.89 placing fifteenth overall.
"He was jumping great both rounds," said a disappointed Deslauriers after the second round faults. "It was beautiful. He still needs the experience as he hasn't been to any games yet but it's kind of sad because he can really jump these courses. So now no pressure, but we need two clear rounds."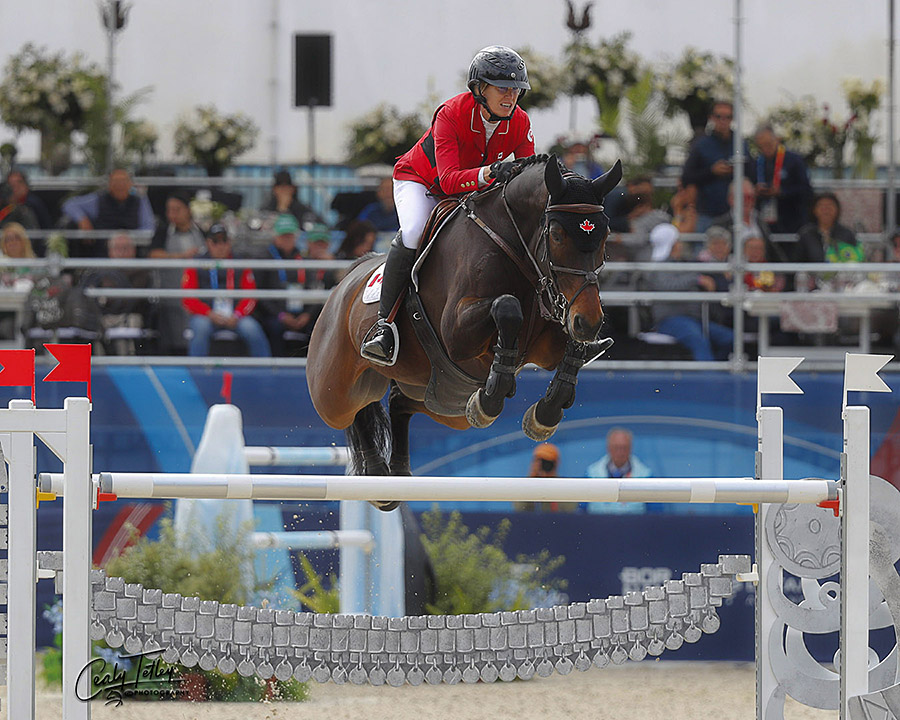 Amy Millar and Truman. Photo Credit: Cealy Tetley
Third up was Amy Millar of Perth, ON, aboard Truman (Mylord Carthago*HN x Kolibri), a 14-year-old Selle Francais gelding owned by Millar Brooke Farm LTD. & Overlund and groomed by Danny Ingratta.
The pair delivered a strong first round in 75.76 seconds but had a late rail down incurring 4 faults. The pair came back strong in the second round delivering the crucial clear. Millar finished on a score of 5.71 in ninth place and qualified for the individual final on Friday.
"I'm so happy with Truman. He really wanted to jump clean today, and that second round I just felt looser and more concentrated, and my horse felt awesome, and so we pulled it off!" Said Amy. "And now it's just the waiting. These championships are stressful for everyone so it's really a lot of a mental game, but I got it done."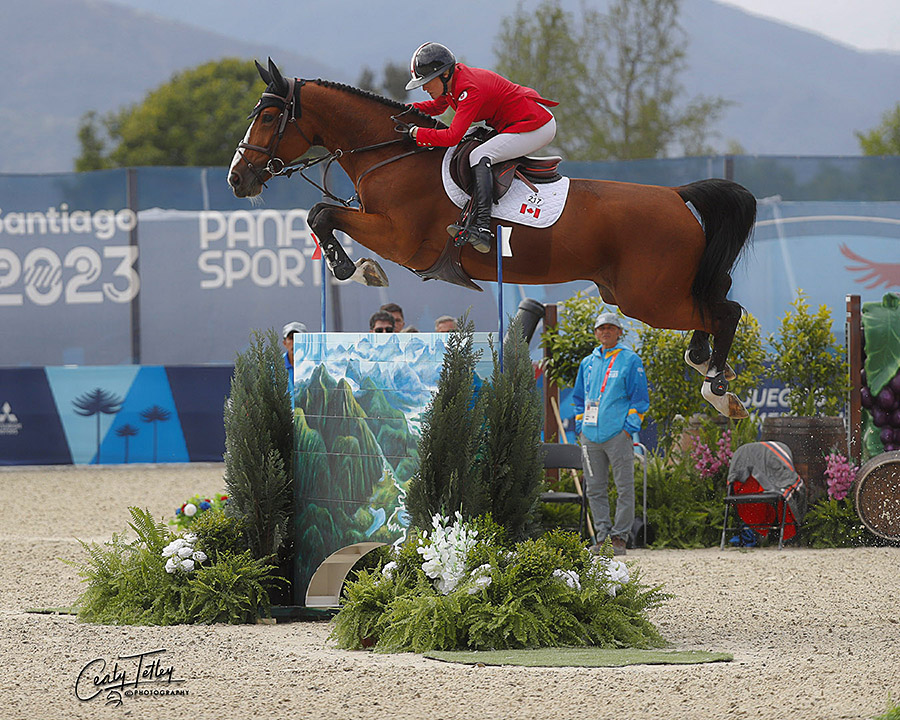 Beth Underhill and Nikka vd Bisschop. Photo Credit: Cealy Tetley
Anchor rider for the team final was Beth Underhill, of Mulmur, ON, riding Nikka vd Bisschop, (Emerol NOP x Nabab de Reve) the 10-year-old Belgian Warmblood mare owned by the Rein Family LLC and groomed by Clemence Resseguier.
Having had an unlucky rail at the end of round one, the pair became the deciding ride for the team. With an exceptional clear final round, and the scoring of the other teams, it was clear that the Olympic berth had been secured and Team Canada had netted a medal. At the time, with two riders left to go, it was expected to be bronze.
"I think we all felt the same pressure honestly. It was right there from the get-go. Tiffany needed to go out and show us the way and she did both rounds admirably. And everyone's score counted, and everyone contributed," Underhill expressed. "Amy going clear was a little extra inspiration and being anchor rider is always a little extra pressure, but my horse delivered beautifully and came back and jumped clean in the second, I am so thankful to her owners Mark Rein and Tara Dow-Rein. We just couldn't be more excited to be on the podium like that and to be going to Paris."
With the four faults incurred added to her overall score, she finished the round on a score of 8.02 placing her in eleventh individually, also qualifying for the individual final.
At the end of Underhill's second round there were just two riders left – one from Team USA in second and Brazil in first. By the end of their two rides, the Americans with another clean had moved into first and Brazil with eight faults fell to third, leaving Canada in second place for the silver medal.
When reflecting on how things came together over the week and through the high stakes' day, Chef d'Equipe Captain Canada felt it was truly the Canadian way. "It's about team spirit which is so critical," he said. "One of our greatest strengths as a Canadian Team is our synergy and we've always been able to pull together. That's part of what made the second round today happen, was that synergy. It was a beautiful thing to see."
"These are four top horse and rider combinations, and they know how to function under pressure and they got the job done," continued Ian Millar. "And our reserve rider, Erynn Ballard, has been the best reserve you can imagine and we appreciate all she and Gakhir's owner Ilan Ferder and groom Stephanie Kerman have done for the team. We got a silver medal and we are off to the Paris Olympics!"
"A team medal is an incredible achievement and with the ticket to Paris booked, we are now thrilled to be represented by all three discipline teams at the Olympics," said EC's High Performance Director James Hood. "We are so proud of this team. Everyone including the athletes, horses, grooms, owners, staff, coaches, supporters, friends and family all played a role in this success. For all the support that has helped make this happen, we offer a huge congratulations all around, it is well deserved."
"Thank you also to Sport Canada and the Canadian Olympic Committee for their ongoing support of our programs and for their assistance in helping get us to the Pan American Games. We share our appreciation with our hosts Santiago 2023, the Pan Am Sports Organization, and the Pan American Equestrian Confederation."
Tune in on Friday Nov. 3 for the individual competition running from 11:00 am – 4:30 pm (local) and cheer on the three individual riders that will be representing Canada – Tiffany Foster, Amy Millar and Beth Underhill.
For more information and full results, click here.
Source: Equestrian Canada News Release