"It was an incredible crowd," enthused Dutton.

Toronto, Ontario – Two-time Olympic gold medalist Phillip Dutton claimed the $20,000 Mad Barn Indoor Eventing Challenge in a thrilling night of competition on Saturday, November 4, at the Royal Horse Show, held as part of the Royal Agricultural Winter Fair in Toronto, ON.
Having won Friday night's first round of competition, Dutton, a six-time Olympian, was last to contest Saturday's deciding second round riding Quasi Cool. He thrilled the packed house once more with an electric performance and clear effort to take the championship title.
"It was an incredible crowd," enthused Dutton, 60, who is based out of his True Prospect Farm in West Grove, Pennsylvania. "It was a full house, and it's fun to show off our sport in a major city like this. We spent the day looking at the cows, sheep, and pigs, and it's just really a lot of fun to be here. We even met Royal Ambassador Kay, so it was a great day."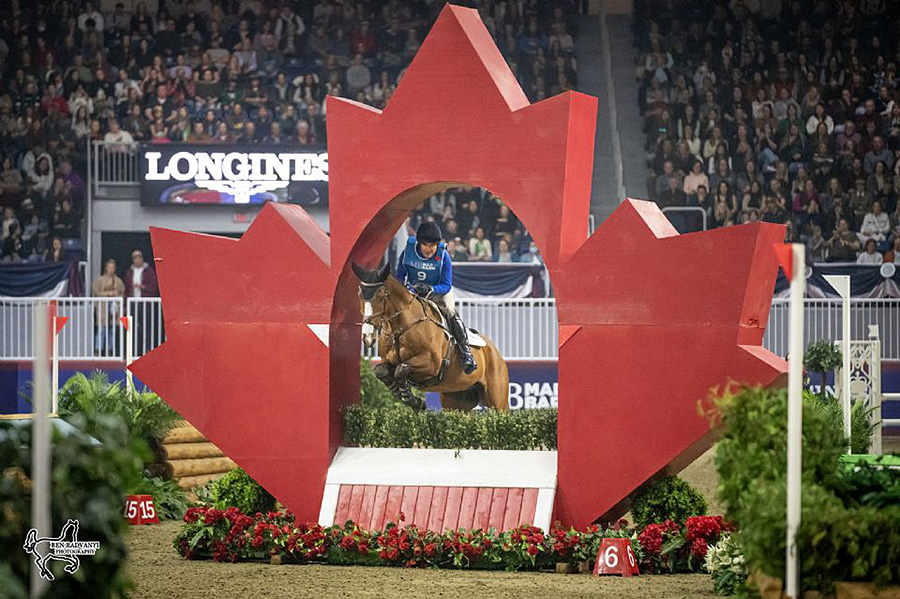 Phillip Dutton and Quasi Cool jumped clear in both phases of the $20,000 Mad Barn Indoor Eventing Challenge to claim the overall title on Saturday, November 4, at the Royal Horse Show in Toronto, ON. Photo by Ben Radvanyi Photography
While Friday's course certainly tested the athletes, Saturday's track designed by Captain Mark Phillips of Great Britain proved to be even more demanding. Competitors raced back and forth across the arena over a combination of show jumping and cross-country obstacles, negotiating several tricky lines as they took chances and made tight turns in an effort to produce the fastest clear time.  Just three combinations managed a fault-free ride, but it was Dutton's double-clear across the two days of competition and combined time of 181.41 seconds that reigned supreme.
"I couldn't be more proud of my horse," shared Dutton of Caroline Moran's 12-year-old Holsteiner gelding (Quo Vados x Lord).  "He's coming back from a bit of time off, and he's just showing me how much he loves doing this.  On Friday, the format was a bit foreign to him with all the turning, and he really learned from that and did it so well on Saturday.  Obviously, I haven't done this kind of stuff with him before, but he came out Saturday and was much more maneuverable and adjustable.
"The hard part of eventing is that for a lot of the cross-country jumps we want the horses to not go too high and stay lower over the top," he continued.  "When you put show jumping fences and cross-country jumps in here, it's not that easy for the horses to understand not to get too high for some and then to be careful with the others.  'Quasi' is very good at judging how high to go, and he's very careful all the time, so it's nice to have."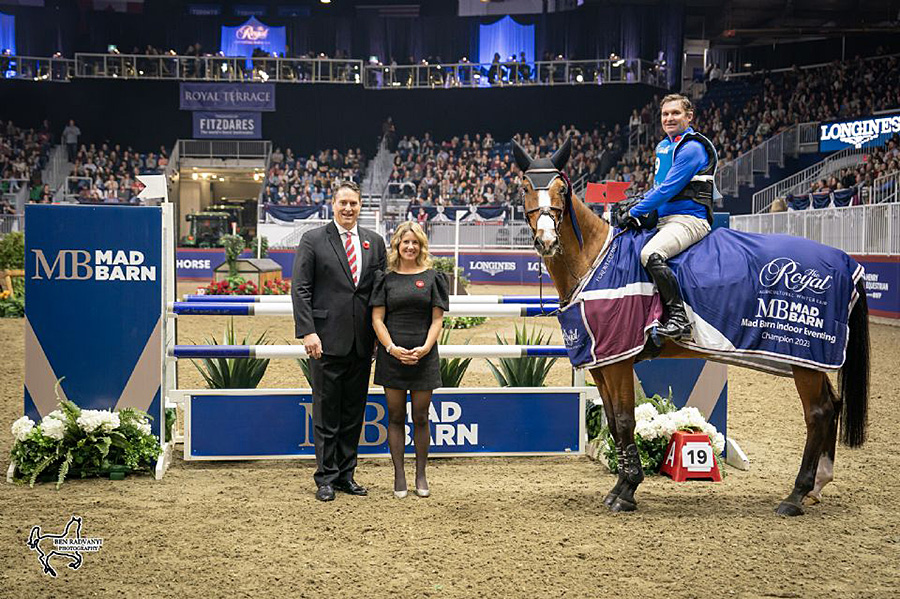 Six-time Olympian Phillip Dutton is presented as the winner of the $20,000 Mad Barn Indoor Eventing Challenge by Scott Cieslar (left), CEO and Chief Nutritionist of Mad Barn, and Dr. Emily Gilbert, Mad Barn's Performance Science Specialist. Photo by Ben Radvanyi Photography
Top Canadian talent Kendal Lehari, 36, of Uxbridge, ON, was the only other rider to jump fault-free both rounds with Iron Lorde for a second-place finish in a combined 193.03 seconds. As the highest placed Canadian rider, she was presented with the Col. Michael Gutowski Award.
"I love indoor eventing," expressed Lehari, who has been competing in the Indoor Eventing Challenge for more than a decade. "We are used to riding across acres where things are so spread out, and here everything comes up so fast and it's such an adrenaline rush. It really tests your instincts, and you just ride gritty and get it done. You have to think so fast. It's totally different than what we normally do, but it's so exciting and so great having the spectators. It's such a fun atmosphere and opportunity."
Lehari's partner for the class, Iron Lorde, is normally campaigned by her mother, Gwen Lehari, but Kendal took over the ride a couple weeks prior to prepare for The Royal. While Iron Lorde has not tackled an upper-level event recently, his past experiences, including foxhunting, driving, and even competing in the Cup classes at the Royal Horse Show as a three-year-old, helped the 11-year-old Canadian Sport Horse gelding by Prinz Habicht prove his versatility.
"He was amazing," said Kendal. "I might have to steal him off my mother now because he impressed me a little more than I was expecting. I couldn't be happier. He really stepped up to the plate."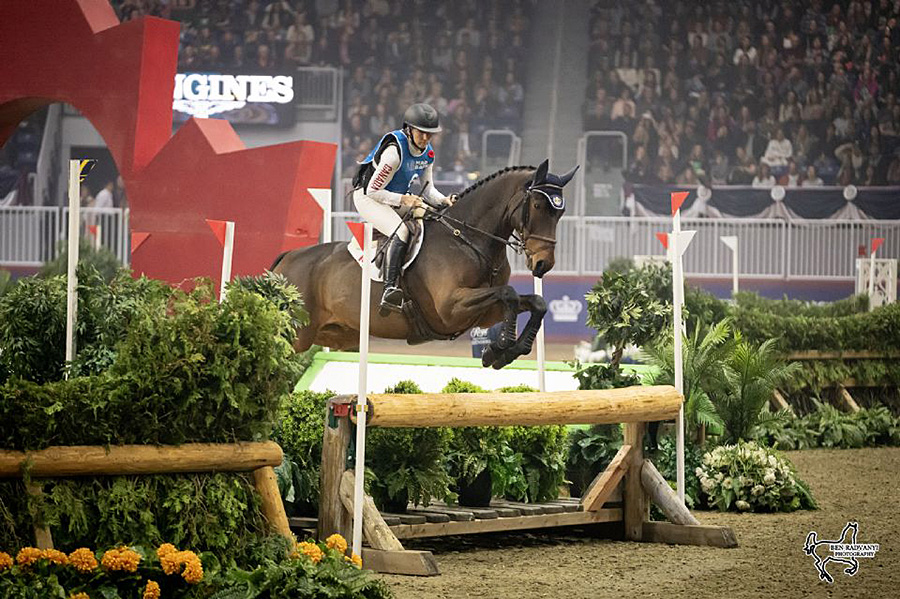 Kendal Lehari was the top Canadian in the $20,000 Mad Barn Indoor Eventing Challenge, finishing in second riding Iron Lorde. Photo by Ben Radvanyi Photography
Dutton's daughter, 22-year-old Olivia Dutton, completed the top three on five faults and a combined time of 194.28 seconds riding Pioneer Archibald, a 12-year-old British Sport Horse gelding (Primmore's Pioneer x Holland) owned by Joanie Morris.
Hunter competition was in the spotlight on Sunday, November 5, when Taylor Brooks of Ashton, ON, and Spectre, owned by Taylor Bond, claimed victory in the $15,000 Braeburn Farms Hunter Derby.
A field of 19 horse-and-rider combinations contested the decorated course set by Ken Krome of the United States.  Ninth to go in the order, Brooks and Spectre, a 10-year-old Zangersheide gelding, impressed the judges with their brilliance and handiness to earn a base score of 86 with an additional 10 high option points and 10 handy points for an overall score of 106.
"Spectre truly is an incredible horse," said Brooks, 32, who won the $25,000 Knightwood Hunter Derby at the 2022 Royal Horse Show with the flashy chestnut.  "I've had the pleasure of being his rider for almost six years now, so our partnership is pretty solid.  We showed here last year together, and I knew going into this week that I had a good chance to trust him, believe in him, and go out there and do our best.  It's magical anytime I ride him, and it's a dream come true to win here.  It's an amazing opportunity to compete under these lights with the crowd and a course set so beautifully."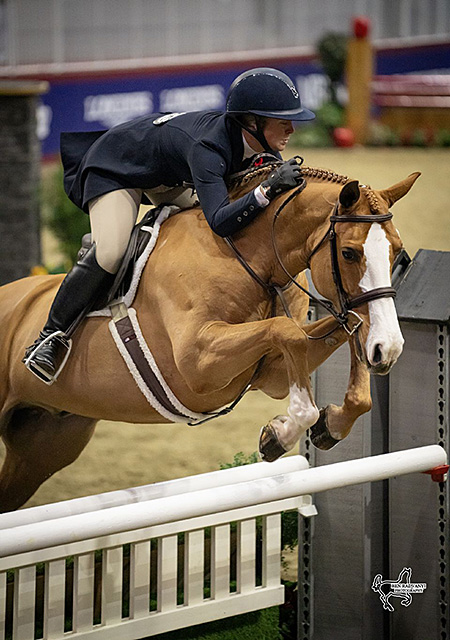 Photo at Right: Taylor Brooks of Ashton, ON, and Spectre won the $15,000 Braeburn Farms Hunter Derby on Sunday afternoon, November 5. Photo by Ben Radvanyi Photography
Second place honours went to Elodie Lemieux of Saint-Lambert, QC, and King's Landing, her 12-year-old warmblood gelding, with an overall score of 102. Isabelle Lapierre of Levis, QC, and Carrera S, a 13-year-old Holsteiner gelding sired by Corrado I and owned by Johannie Légaré secured third place with a total score of 100.5.
The Royal offers numerous hospitality experiences including the Royal Terrace for VIP and corporate hosting and the Coliseum's Sky Suites which offer stables and groups their own private suites. The Tanbark Club will continue to welcome Gold and Platinum VIP ticket holders. Contact groups@royalfair.org or HSvip@royalfair.org for full details.
For more information on the Royal Horse Show, including daily schedules and to purchase tickets, visit www.royalfair.org/royalhorseshow. Also download the new Royal Agricultural Winter Fair app for more news and information at your fingertips!

$20,000 Mad Barn Indoor Eventing Challenge
Saturday, November 4
Rider / Hometown / Horse / Faults / Total Time
1. Phillip Dutton / West Grove, PA / Quasi Cool / 0 / 181.41
2. Kendal Lehari / Uxbridge, ON / Iron Lorde / 0 / 193.03
3. Olivia Dutton / West Grove, PA / Pioneer Archibald / 5 / 194.28
4. Diana Burnett / Blackstock, ON / Whatsyourproblem / 5 / 215.16
5. Colleen Loach / Dunham, QC / Major Chase / 10 / 180.48
6. Jessica Phoenix / Cannington, ON / Fluorescent Adolescent / 10 / 180.95
7. Holly Jacks / Hillsburgh, ON / Josephine / 10 / 199.80
8. Jamie Kellock / Cedar Valley, ON / Summer Bay / 10 / 200.29
9. Hanna Bundy / Toronto, ON / Don't Blink / 30 / 189.45


$15,000 Braeburn Farms Hunter Derby
Sunday, November 5
Rider / Hometown / Horse / Score
1. Taylor Brooks / Ashton, ON / Spectre / 106
2. Elodie Lemieux / Saint-Lambert, QC / King's Landing / 102
3. Isabelle Lapierre / Levis, QC / Carrera S / 100.5
4. Kristjan Good / Campbellville, ON / Nitecap / 100
5. Sarah Long / Newmarket, ON / Good Vibes / 99
6. Emma Edwardson / Calgary, AB / Diarado Dream / 97
7. Kennedy Ballard / St Lazare, QC / Jazz Air / 96
8. Cawthra Burns / King City, ON / Buckingham / 93
9. Kristjan Good / Campbellville, ON / Carano / 92
10. Ashley Arnoldt / Langley, BC / Light My Fire / 90.5
 
Photo of the Day
From the Coca-Cola Coliseum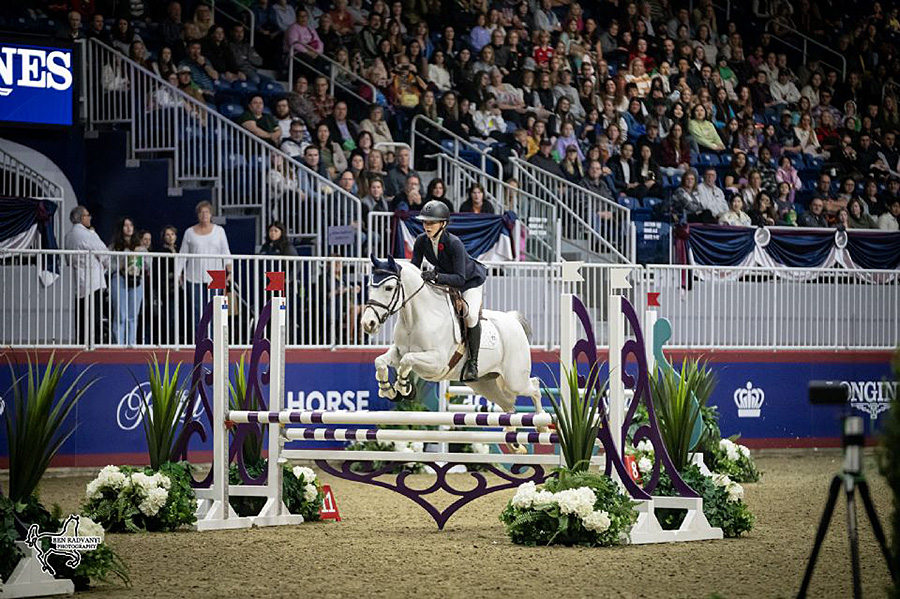 Mathilde Candele, 14, of Orangeville, ON, won the $2,500 Royal Pony Jumper Welcome and the $5,000 Pony Jumper Final to secure the Royal Pony Jumper Championship, presented by MarBill Hill Farm, for the second year in a row! Photo by Ben Radvanyi Photography
About The Royal

The Royal Agricultural Winter Fair is the world's largest combined indoor agricultural and equestrian event. The Royal Agricultural Winter Fair runs November 3-12, 2023, at Exhibition Place in Toronto, Canada. For competition schedules, live webcasting, results, and to purchase tickets, please visit www.royalfair.org.
Source: Jump Media News Release