"It's incredible; the horse owes me nothing," said Swail of his win on Count Me In.

Las Vegas, NV – November 18, 2023 – Maximum horsepower was on full display this weekend in Las Vegas as Conor Swail and Count Me In jumped to a thrilling win in the $226,000 Longines FEI Jumping World Cup™ Las Vegas on Saturday night, November 18, at the Las Vegas National CSI4*-W.
Finishing in second place was Canada's Vanessa Mannix on Lehar, and third place went to Jill Humphrey (USA) and Chromatic BF. Defending champions Lillie Keenan and Agana van het Gerendal Z finished in fourth, while fifth place went to Australia's Katie Laurie on Django II.
"It's incredible; the horse owes me nothing," said Swail of his win on Count Me In, better known as "Crosby" in the barn. "He's the best horse that I've ever ridden."
On his way to the victory, Swail first had to navigate the challenging first-round track designed by Olaf Petersen Jr. As rails fell throughout the course and three riders were eliminated, it was not until the 18th in the order, Katie Laurie, that the enthusiastic crowd saw the first clear round of the night.
"It's always like this; when they come in reverse order, you get the better ones in the end. Still, after 20 riders, I thought, 'Hmm, hopefully I will get some more clear rounds!'" said Petersen.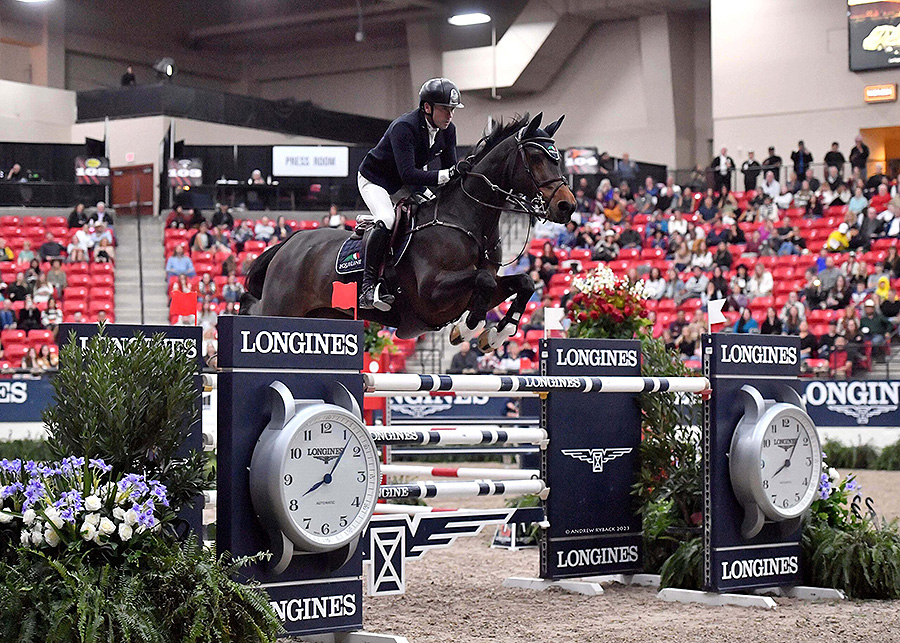 Conor Swail and Count Me In. Photo by Andrew Ryback Photography
In the end, the course played out exactly to plan, with six riders from the 28-horse field qualifying to advance to the short course including Swail, Mannix, Humphrey, Keenan, Laurie and Charlotte Jacobs. 
"The level of competition has been fantastic all week from the very beginning," said Robert Ridland, President of the Las Vegas National's host organization, Blenheim EquiSports. "One thing that we are very proud of, when we have course designers like Olaf, when we have the world's best that come here, one thing we know is that the course is going to be at the standard. There's nothing worse for a World Cup Qualifier than to be below the standard just to get the right number in the jump-off. It doesn't do anybody any good; it does the riders a disservice when they actually qualify for a World Cup Final."
Ridland continued, "Tonight was absolutely world class. It was exactly the type of difficulty that they're going to have when they get to the Final."
As the first to punch their ticket to the jump-off, Laurie and Django II were the first to return, and they finished with one rail down in a time of 41.28 seconds. Keenan came next and similarly saw one fence fall for four faults in 40.07 seconds. Then, it was Swail and Count Me In's turn.
"There were no clears before I came into the ring, but there were fast riders behind me," said Swail. "I'm lucky enough that Crosby is very quick regardless, and he's very careful, so I thought I would just stick to the plan and have a nice, tidy round there. It worked out very well for me." 
The duo crossed the finish in a clear 38.28 seconds to ultimately clinch the win.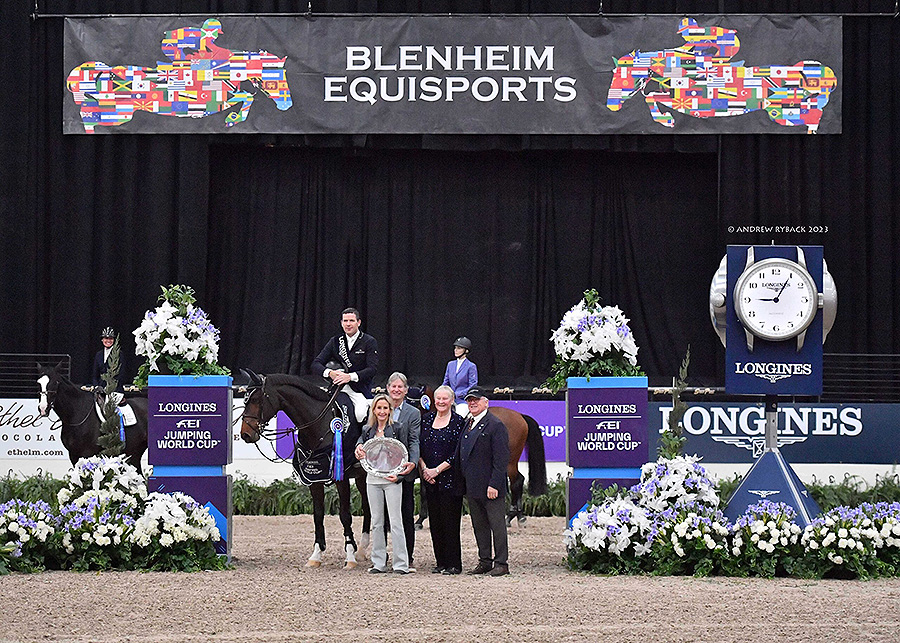 Conor Swail and Count Me In were joined in their winning presentation by Robert and Hillary Ridland of Blenheim EquiSports, FEI judge Cathy Harper and FEI foreign judge Phil Rozon. Photo by Andrew Ryback Photography
Mannix – who trains with Swail – returned next aboard her own Lehar to produce the only other double clear effort with a time of 39.49 seconds. Humphrey and Jacobs each also saw one rail fall to take third and sixth, respectively. 
For Swail, the win felt a bit extra special as it has been an up-and-down year for Count Me In.
"We started out really well in Wellington; he won a CSI4* grand prix there, and that was just the usual for him," explained Swail of the 17-year-old Hanoverian gelding, owned by Sandy Lupton and Mannon Farm. "Then we went through a little period there throughout the middle of the year where he wasn't as comfortable jumping the bigger events, so we took a step back. We did a few smaller classes, a few 1.45m and 1.50m. He was very successful at those and more comfortable, so I thought I would just leave him doing those basically for the rest of the year." 
Swail continued, "Then, lately at home, he was feeling better than he had been over the last few months, so I thought, 'Let's go to Vegas and give him another go at the World Cup.' He was fantastic all week, obviously he won the qualifier as well. He was outstanding. He produced two great rounds there today.
Honestly, he felt as good as he ever has, so I'm really delighted! He's brought me a lot of incredible days. He took me to basically the top 10 in the world. If he wanted to do 1.45m or 1.40m or he doesn't want to jump anymore, that's totally fine with me. Thankfully, he's feeling really good again, and hopefully, he can do another little bit and we can stay going at this higher level."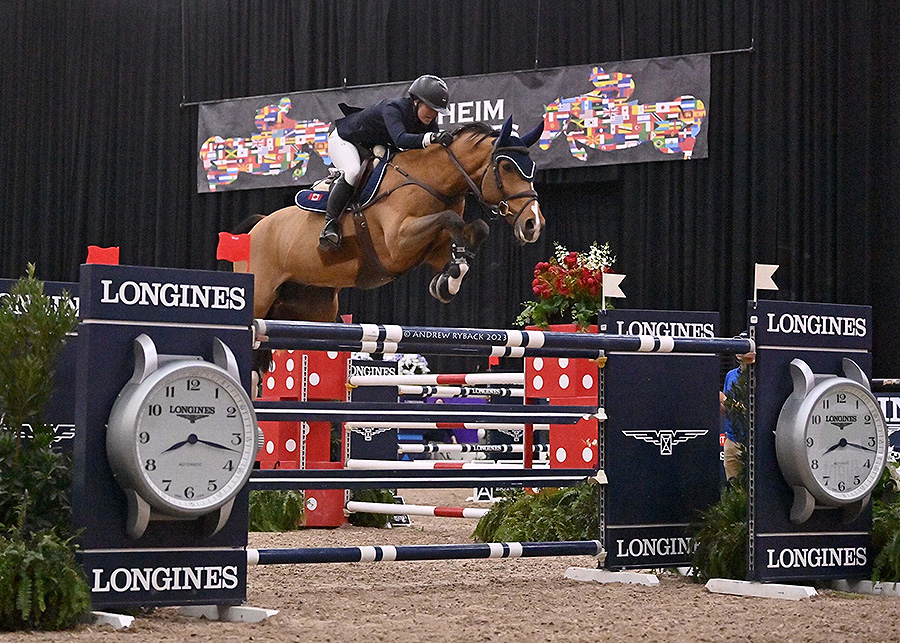 Second-place finishers Vanessa Mannix and Lehar. Photo by Andrew Ryback Photography
For full results of the $226,000 Longines FEI Jumping World Cup™ Las Vegas, click here. 
The action and excitement surrounding the $226,000 Longines FEI Jumping World Cup™ Las Vegas began early and continued throughout the day on Saturday. Prior to the competition, attendees had the opportunity to meet the participating athletes at an autograph signing session and enjoy a performance from singer Ki-Juan Minors, face painting, a selfie station, Vegas-style performers and more.
Many guests enjoyed dining in the Ethel M Chocolates VIP Lounge, and USHJA Golden Backstage Pass recipients also enjoyed their own special experiences, including judging the evening's leadline class and attending the post-event press conference.
With the Longines FEI Jumping World Cup™ Las Vegas concluded just prior to the start of the Formula 1 Las Vegas Grand Prix, riders and spectators alike then got to enjoy double the horsepower, as the post-show fun continued with a Formula 1 viewing party in the Showroom at the South Point. With two grand prix events in one night and two types of horsepower, the Las Vegas National is truly an experience like no other!
While Saturday night's class marked the finale of CSI4*-W at the Las Vegas National Horse Show, the competition continues on Sunday, November 19, with the conclusion of the Marshall & Sterling Insurance / USHJA National Championships. Learn more about the Las Vegas National CSI4*-W at TheLasVegasNational.com.
Scenes From the South Point
Photos by RandolphPR and Andrew Ryback Photography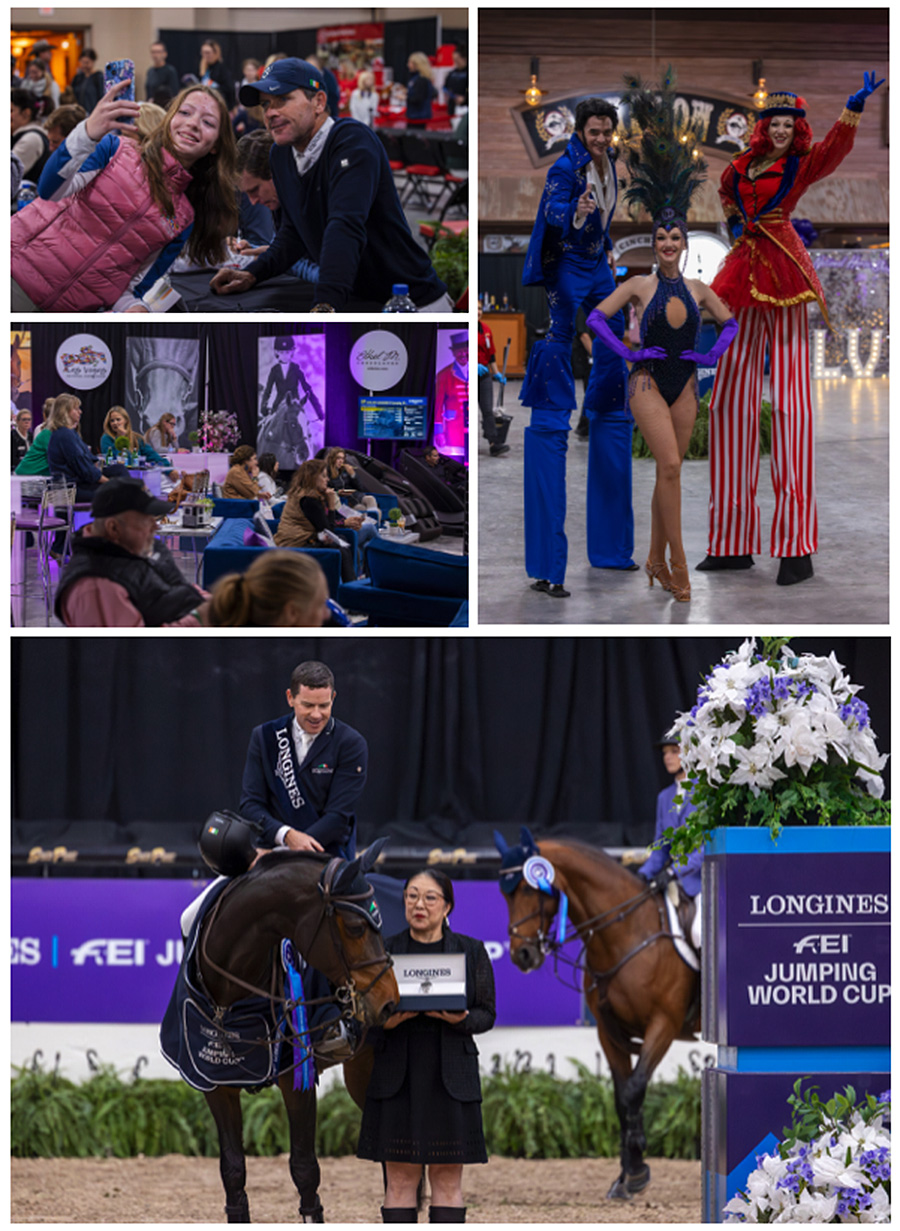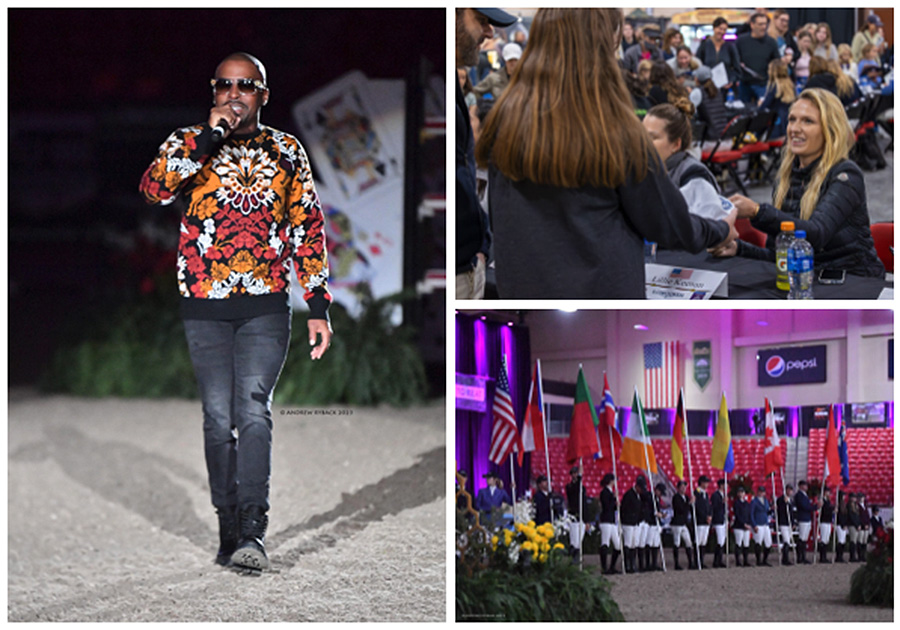 Source: Blenheim EquiSports News Release