Farms & Stables

For information about Ontario farms and stables listed in The Rider Business Directory, follow the links provided or call them.
---
---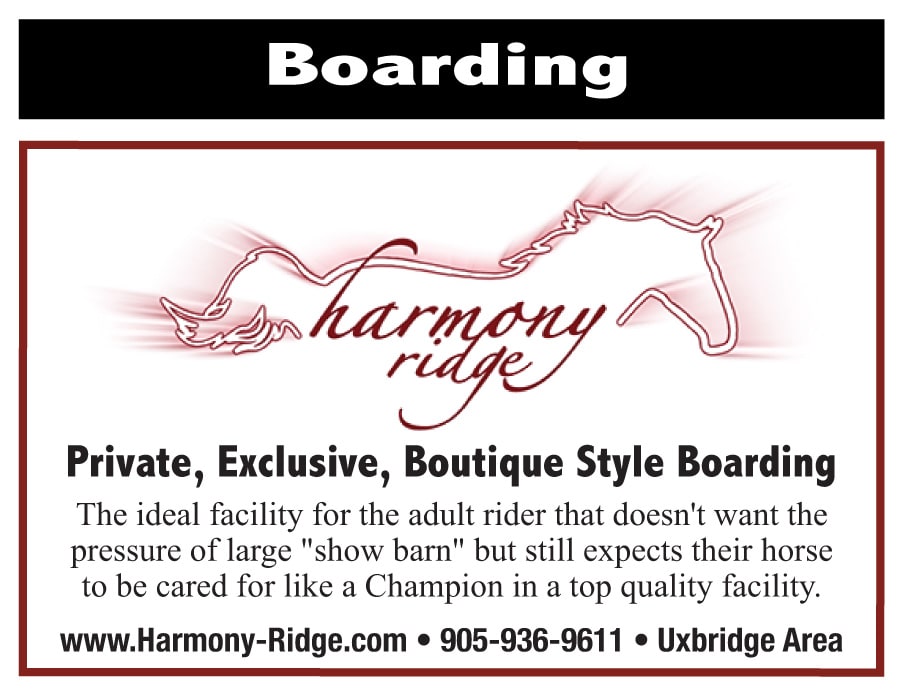 Harmony Ridge
Phone: 905-936-9611
Email: harmonyridge@gmail.com 
Private, Exclusive, Boutique Style Boarding
The ideal facility for the adult rider that doesn't want the pressure of large "show barn" but still expects their horse to be cared for like a Champion in a top quality facility. 
18555 Highway 12, Greenbank, ON L0C 1B0
---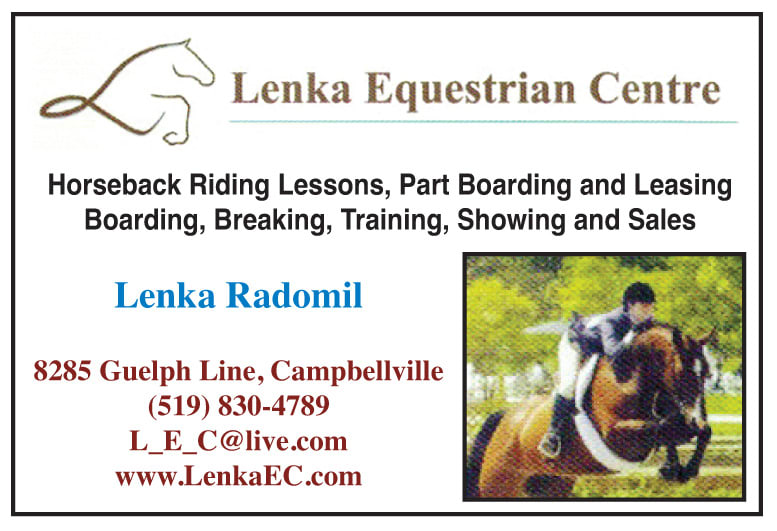 Lenka Equestrian
Contact: Lenka Radomil
Phone: 519-830-4789
Email: L_E_C@live.com 
Horse back riding lessons, part boarding and leasing boarding, breaking, training, showing and sales
8285 Guelph Line, Campbellville
---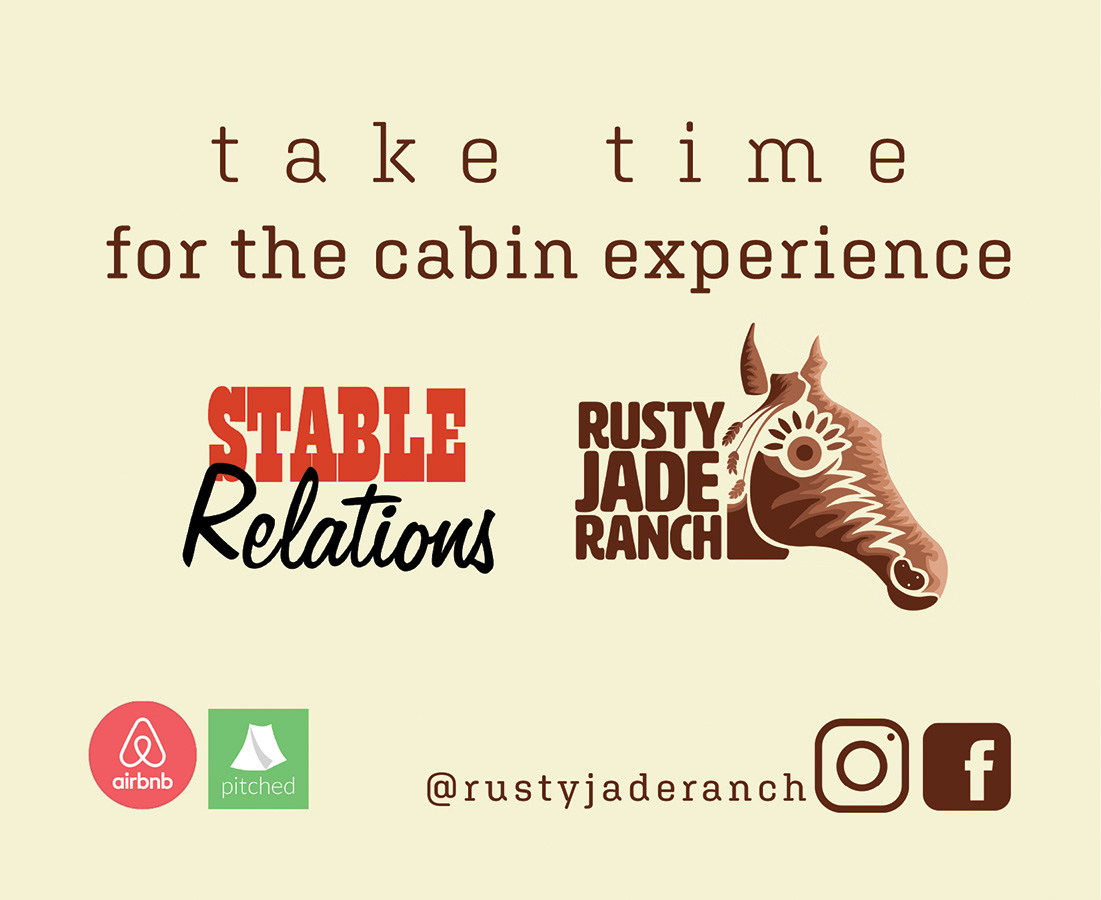 Rusty Jade Ranch
Phone: 416-938-1830
Email: rustyjaderanch@gmail.com
TAKE TIME FOR THE CABIN EXPERIENCE
Rusty Jade Ranch is dedicated to encouraging individuals to be present and mindful, with the help of nature and animals. While living in an ever-changing world, it's hard to take a moment for yourself, your friends or even your family. We get it! Strong relations and a healthy diet require time. Not just a slot in your schedule, but genuine, non-stressed, time. That's why, at Rusty Jade Ranch, we make sure that we make time, and take time to properly care for our horses, the land and our overarching community.
18070 Duffy's Ln, Palgrave, ON L7E 3C4
---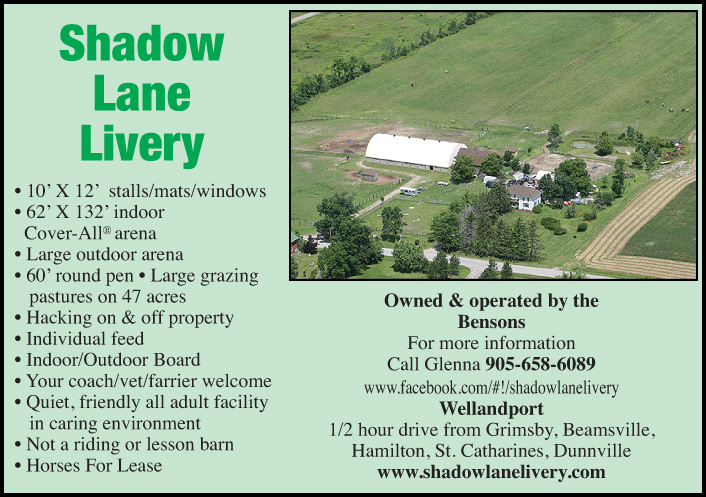 Shadow Lane Livery
Contact: Glenna Benson
Phone: 905-658-6089
OWNED AND OPERATED BY THE BENSONS
10' X 12' Stalls/mats/windows
62'x132' indoor CoverAll arena
large outdoor arena
60' round pen, large grazing pastures on 47 acres
hacking on and off property
individual food
indoor/outdoor board
your coach/vet/farrier welcome
quiet, friendly all adult facility in caring environment
not a riding or lesson barn
horses for lease
6429 Elcho Road, Wellandport, ON L0R 2J0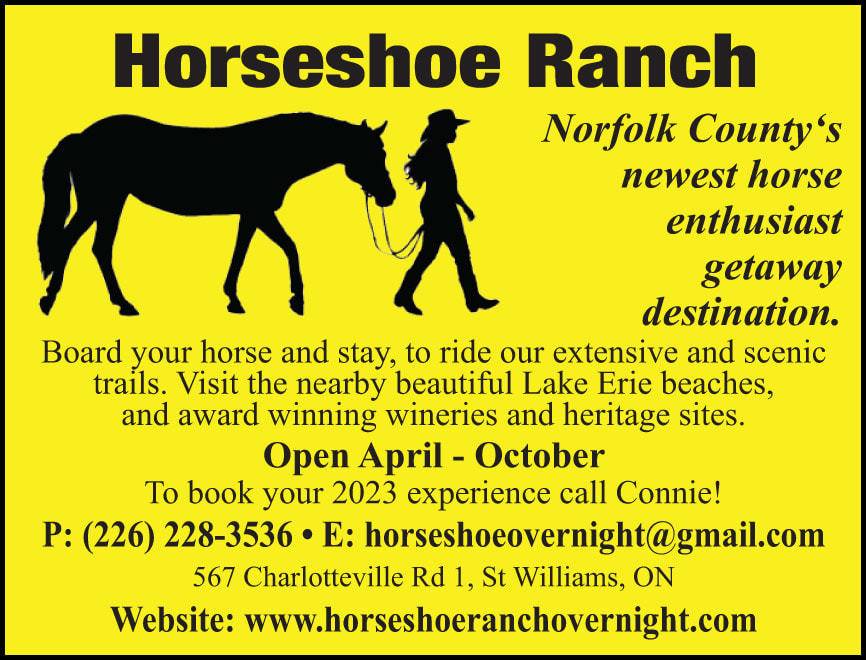 Horseshoe Ranch
Contact:  Sally
Phone: 289-242-7137
Email: horseshoeovernight@gmail.com 
NORFOLK COUNTY'S NEWEST HORSE ENTHUSIAST GETAWAY DESTINATION!
Board your horse and stay, to ride our extensive and scenic trails. Visit the nearby beautiful Lake Erie beaches, and award winning Wineries and Heritage Sites. 
Open April - October. Call Sally to book your 2023 experience. 
567 Charlotteville Rd 1, St. Williams, ON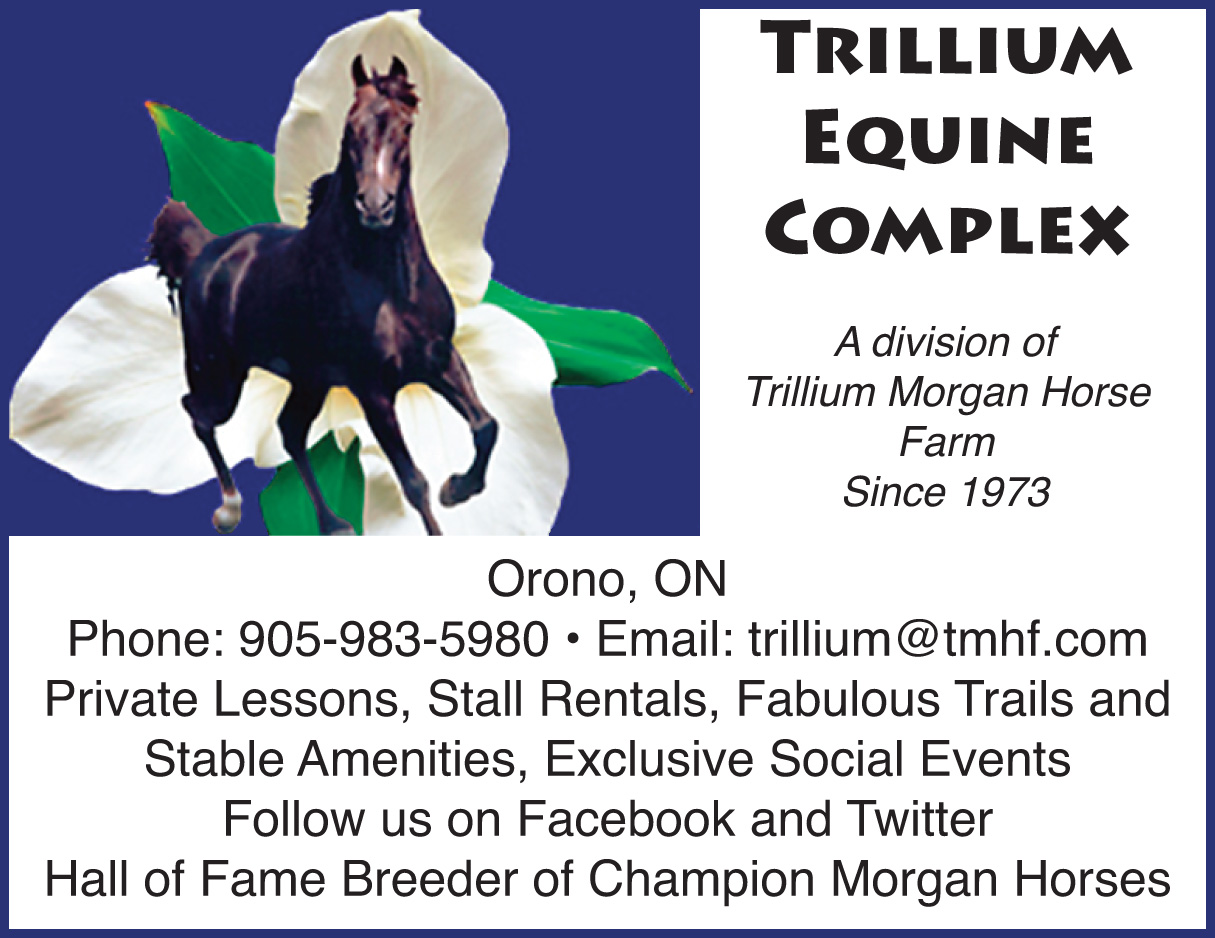 Trillium Equine Complex
Phone: 905-983-5980
A division of Trillium Morgan Horse Farm Since 1973
Private lessons, stall rentals, fabulous trails and stable amenities, exclusive social events. Follow us on facebooke and twitter. Hall of Fame Breeder of Champion Morgan Horses
RR2 5454 Ochonski Rd., Orono, ON L0B 1M0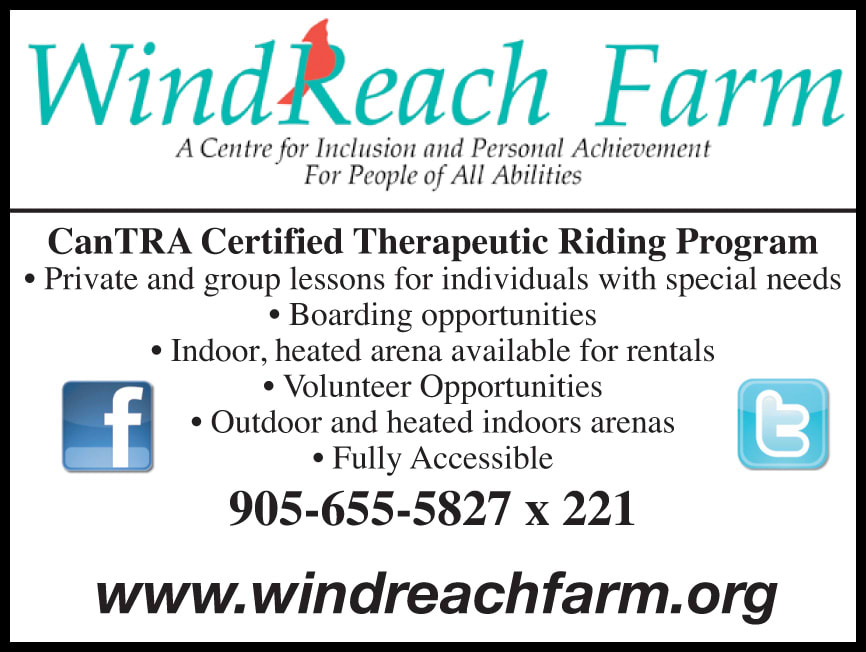 WindReach Farm
Contact: Carol Dahlquist
Phone: 905-655-5827
Email:  carol.dahlquist@windreachfarm.org  
CanTRA CERTIFIED THERAPEUTIC RIDING PROGRAM
Private & group lessons for individuals with special needs
Boarding Opportunities
Indoor, heated arena available for rentals
Volunteer Opportunities
Find us on Facebook
Outdoor & heated indoor arenas
Fully accessible
A centre for inclusion and personal achievement for people of all abilities
312 Townline Rd., Ashburn Rd., ON L0B 1A0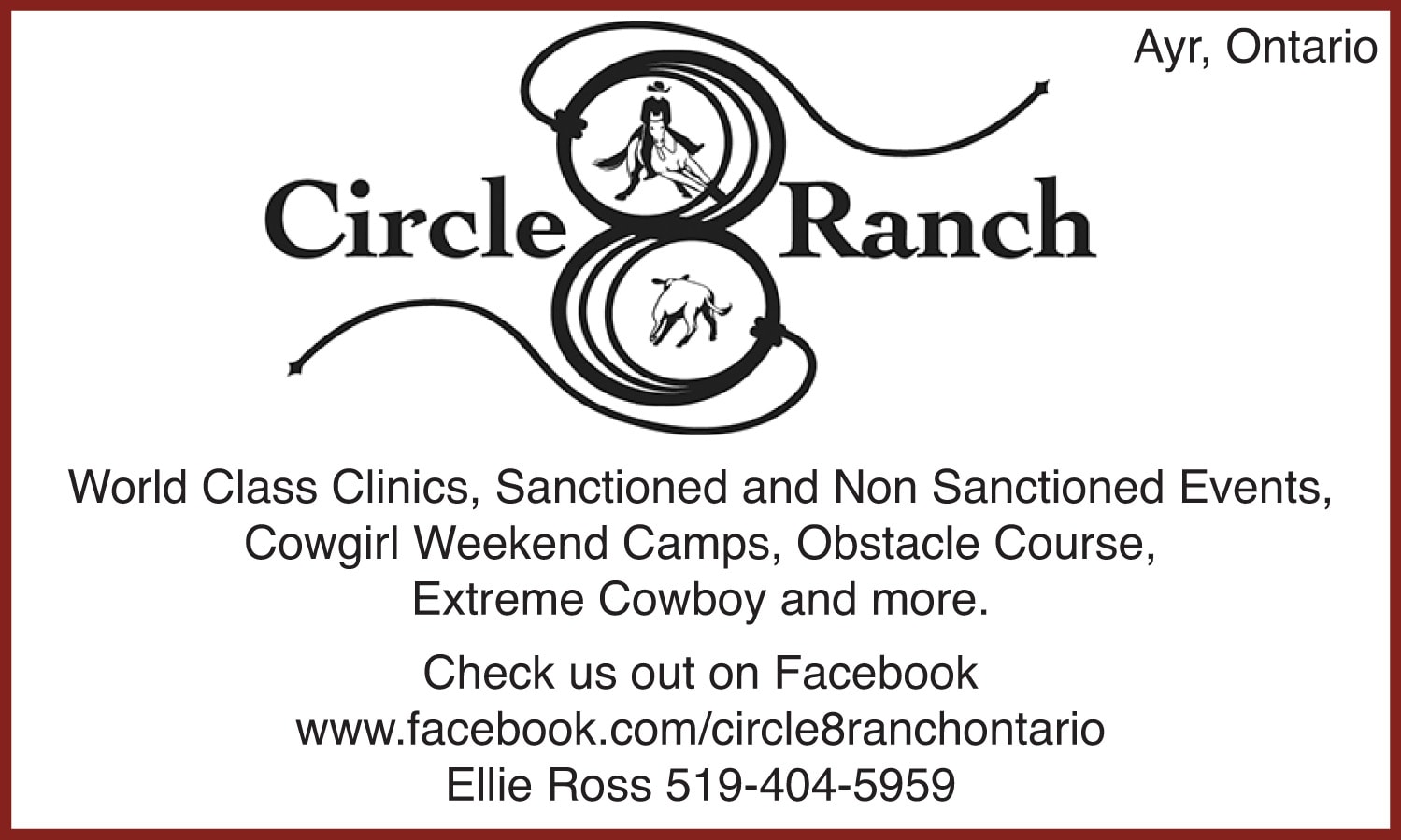 Circle 8 Ranch
Contact: Ellie Ross
Phone: 519-404-5959
Email:  circle8qh@gmail.com  
World class clinics, sanctioned and non-sanctioned events, cowgirl weekend camps, obstacle course, extreme cowboy and more. 
827544 Township Road 8, Drumbo ON N0J 1G0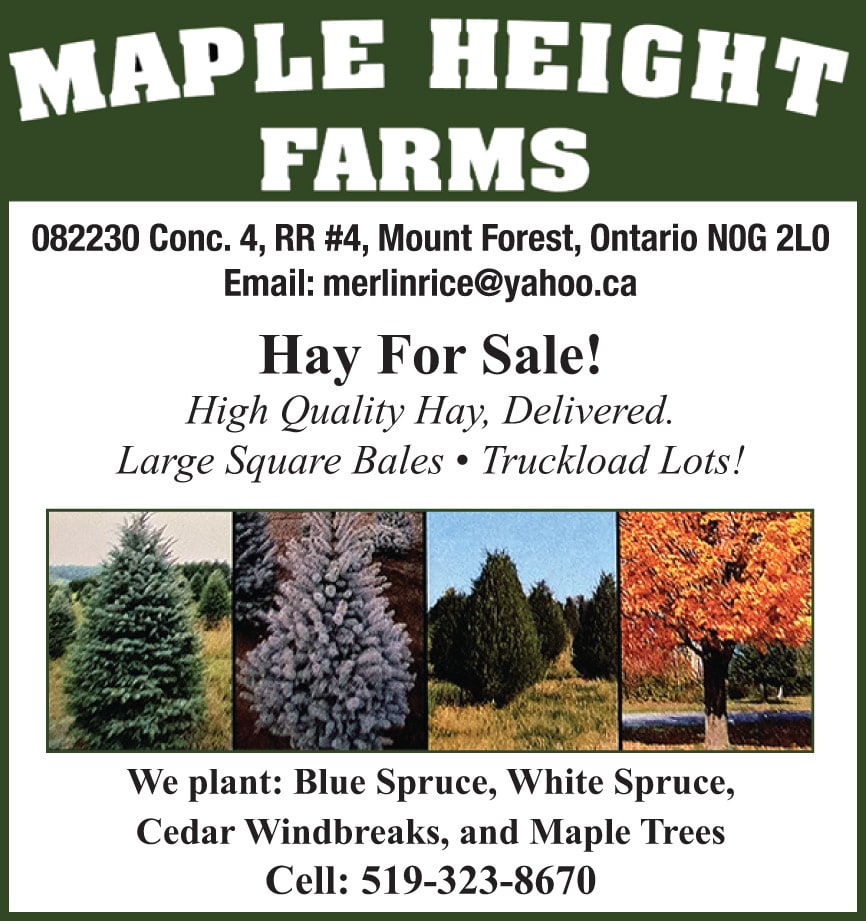 Maple Height Farms
Phone: 519-323-8670
Email: merlinrice@yahoo.ca 
Hay & Trees
20' SeCans, Sale or Rental
Large bales of good horse Hay., Delivery Available
We plant: Blue Spruce, White Spruce, Cedar Windbreaks and Maple Trees
082230 Concession 4, RR4 Mount Forest, ON N0G 2L0