Therapeutic Riding

Horse Industry Services in Ontario. Please support those who support The Rider Equine Business Directory.
---
---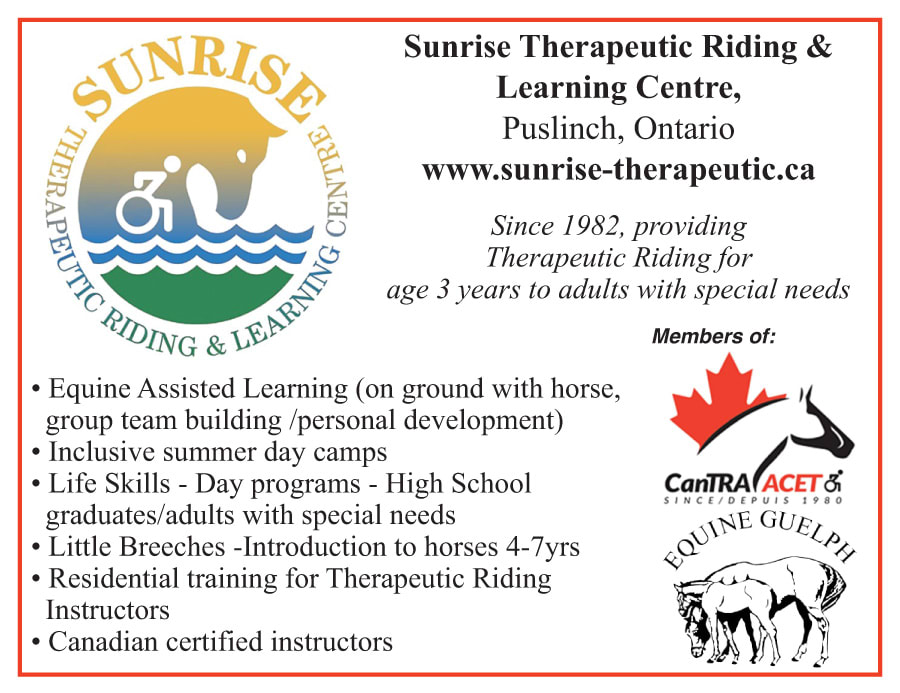 Sunrise Therapeutic Riding & Learning Centre
CanTRA TRAINING & EXAM CENTRE
Sunrise is a CanTRA certified Instructor Training / Exam Centre offering residential training opportunities and exam prep courses, in addition to our core therapeutic riding, life skills and inclusive recreation programs.
#6920 Conc. 1, RR #2, Puslinch, ON N0B 2J0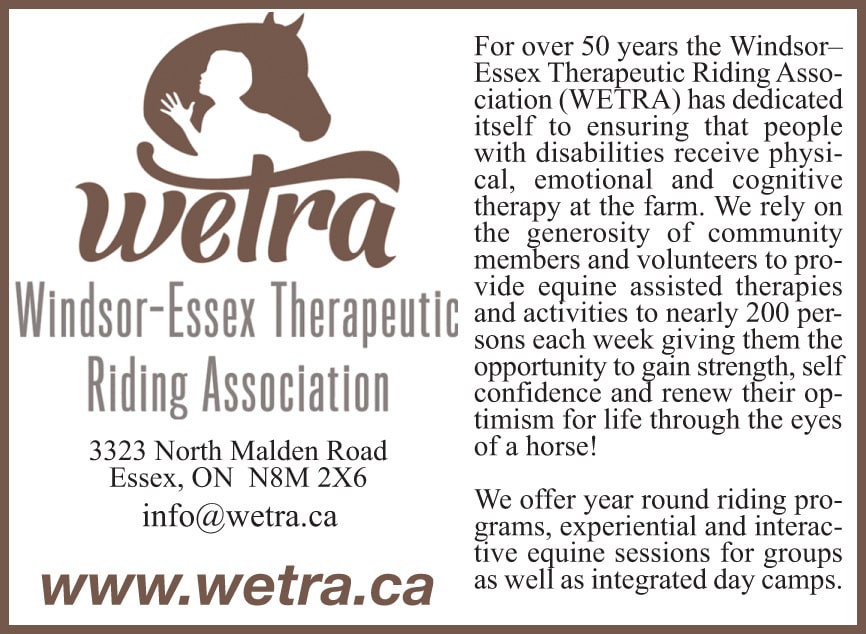 Windsor-Essex Therapeutic Riding Association
For over 50 years the Windsor-Essex Therapeutic Riding Association (WETRA) has dedicated itself to ensuring that people with disabilities receive physical, emotional and cognitive therapy at the farm. We rely on  the generosity of community members and volunteers to provide equine assisted therapies and activities to nearly 200 persons each week giving them the opportunity to gain strength, self-confidence and renew their optimism for life through the eyes of a horse! 
We offer year round riding programs, experiential and interactive equine sessions for groups as well as integrated day camps. 
3323 North Malden Road, Essex, ON N8M 2X6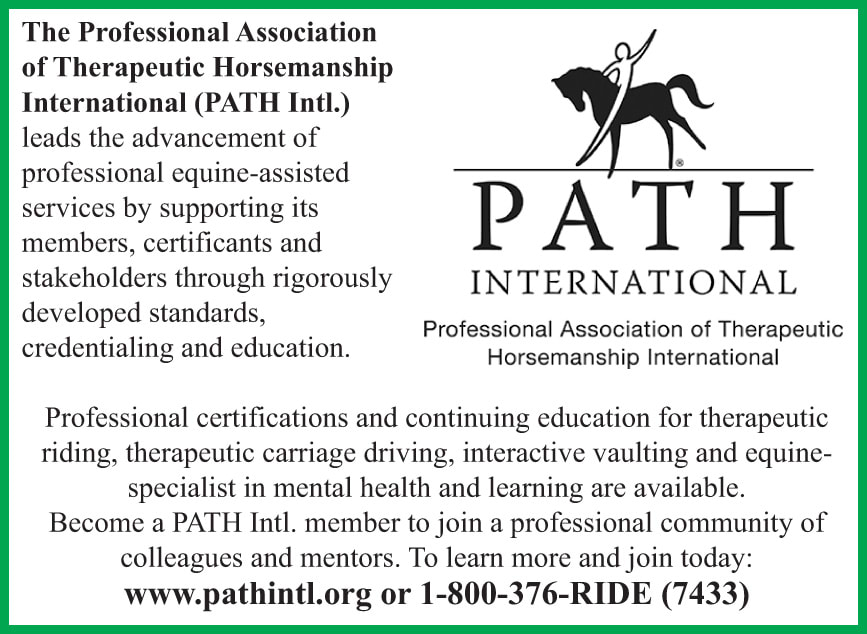 PATH International
Phone: 1-800-376-RIDE (7433)
The Professional Association of Therapeutic Horsemanship International (PATH Intl.) 
leads the advancement of professional equine-assisted services by supporting its members, certificants and stakeholders through rigorously developed standards, credentialing and education.
Professional certifications and continuing education for therapeutic riding, therapeutic carriage driving, interactive vaulting and equine-specialist in mental health and learning are available. 
Become a PATH Intl. member to join a professional community of colleagues and mentors.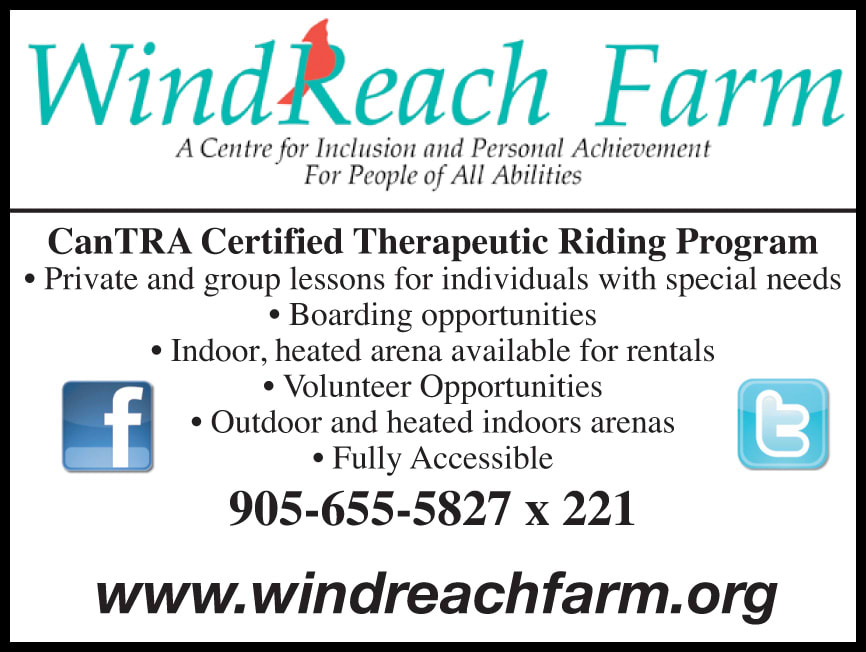 WindReach Farm
Contact: Carol Dahlquist
Phone: 905-655-5827
CanTRA CERTIFIED THERAPEUTIC RIDING PROGRAM
Volunteer opportunities
Instructor certification welcome, fully accessible
Outdoor arena & heated indoor arena
Conference and Meeting facilities
Find us on Facebook
Overnight accommodations
Clinic & show facility rentals
A centre for inclusion and personal achievement for people of all abilities
312 Townline Rd., Ashburn Rd., ON L0B 1A0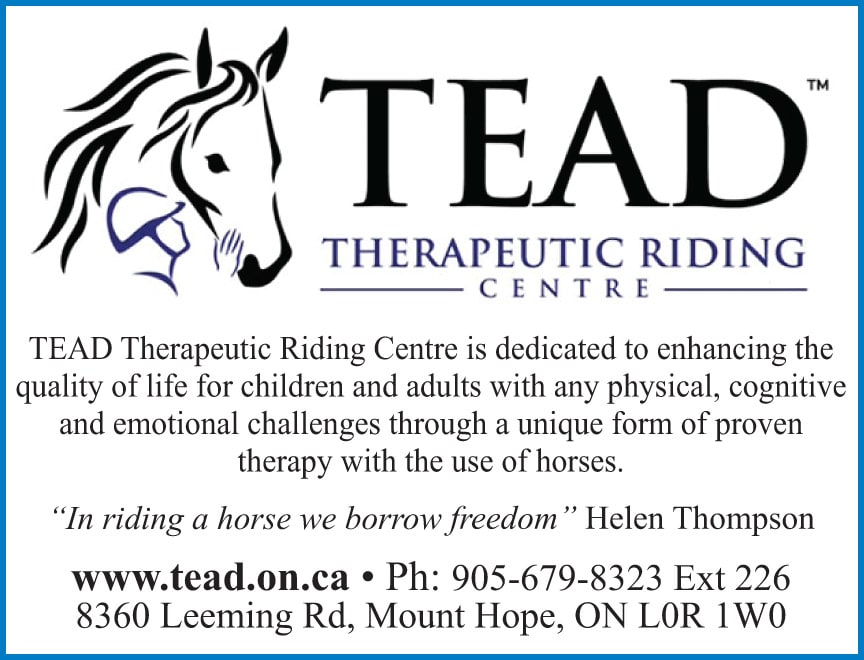 T.E.A.D. Equestrian Association for the Disabled
Phone: 905-679-8323 ext. 226
"In riding a horse we borrow freedom" ~ Helen Thompson
TEAD Equestrian Association for the Disabled is dedicated to enhancing the quality of life for children and adults with any physical, cognitive and emotional challenges through a unique form of proven therapy with the use of horses. 
8360 Leeming Rd., Mount Hope, ON L0R 1W0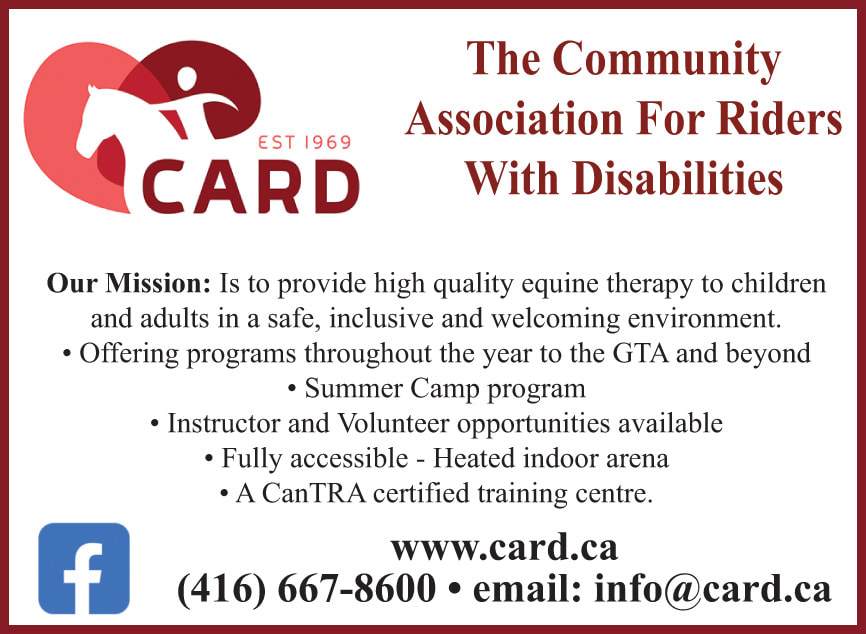 The Community Association for Riders with Disabilities
Phone: 416-667-8600
Our Mission: To improve the lives of children and adults with disabilities through quality therapeutic riding programs, offering:
Programs throughout the year to the GTA and beyond

Summer camp programs

Instructor and volunteer opportunities available

Fully accessible - Heated indoor arena

A CanTRA certified training centre.

4777 Dufferin St., Toronto, ON M3H 5T3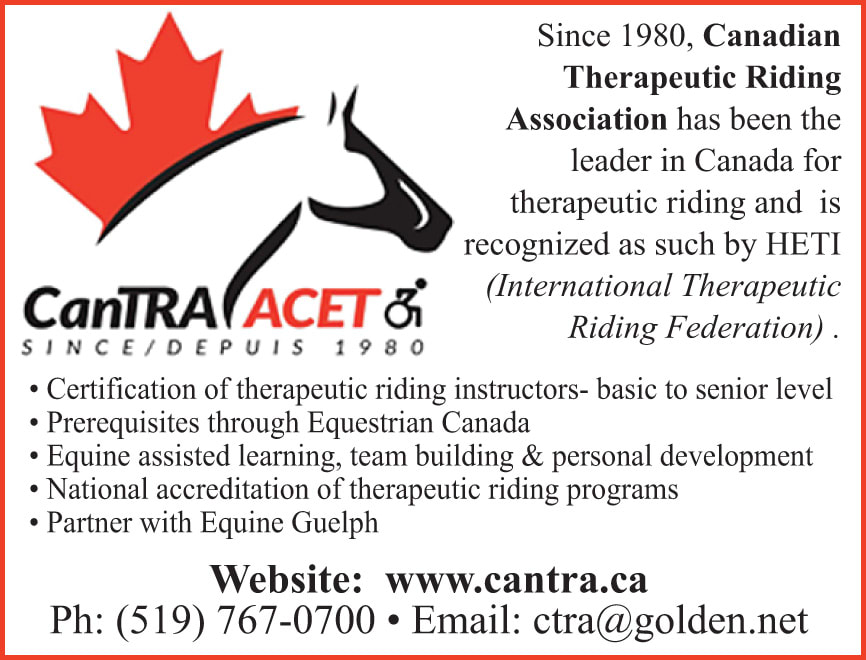 Cantra
Phone: 519-767-0700
Since 1980, Canadian Therapeutic Riding Association has been the leader in Canada for therapeutic riding and is recognized as such by HETI (International Therapeutic Riding Federation). 
Certification of therapeutic riding instructors - basic to senior level

Pre-requisites through Equestrian Canada

Equine assisted learning, team building & personal development

National accreditation of therapeutic riding programs

Partner with Equine Guelph