Equi-Bow Certified Practitioner Directory

---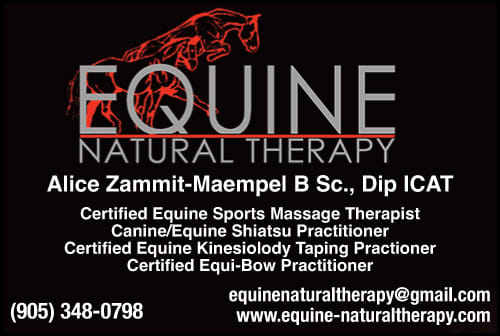 Equine Natural Therapy
Contact: Alice Zammit-Maempel, B Sc., Dip ICAT
Phone: 905-348-0798
Email: equinenaturaltherapy@gmail.com 
Certified Equine Sports Massage Therapist
Canine/Equine Shiatsu Practitioner
Certified Equine Kinesiology Taping Practitioner
Certified Equi-Bow Practitioner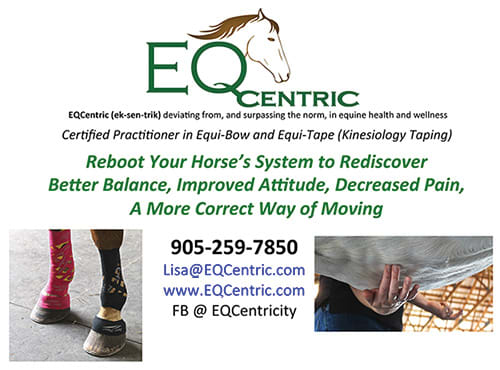 EqCentric
Contact: Lisa
Phone: 905-259-7850
Email: lisa@eqcentric.com 
EQCentric (ek-sen-trik) deviating from and surpassing the norm in equine health and wellness 
Certified Practitioner in Equi-Bow and Equi-Tape (Kinesiology Taping) 
Reboot your horse's system to rediscover better balance, improved attitude, decreased pain, a more correct way of moving.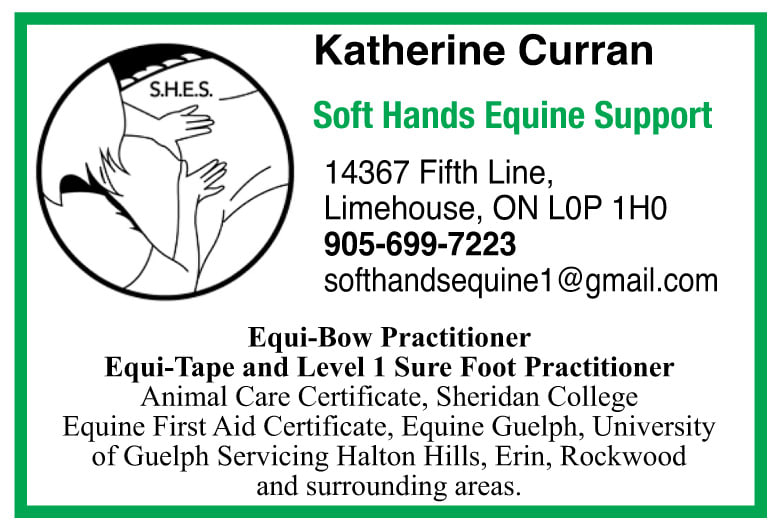 Katherine's Soft Hands
Equine Support
Contact: Katherine Curran
Phone: 905-699-7223
Email: softhandsequine1@gmail.com 
Equi-Bow Practitioner
Equi-Tape and Level 1 Sure Foot Practitioner, Animal Care Certificate, Sheridan College, Equine First Aid Certificate, Equine Guelph, University of Guelph Servicing Halton Hills, Erin, Rockwood and surrounding areas.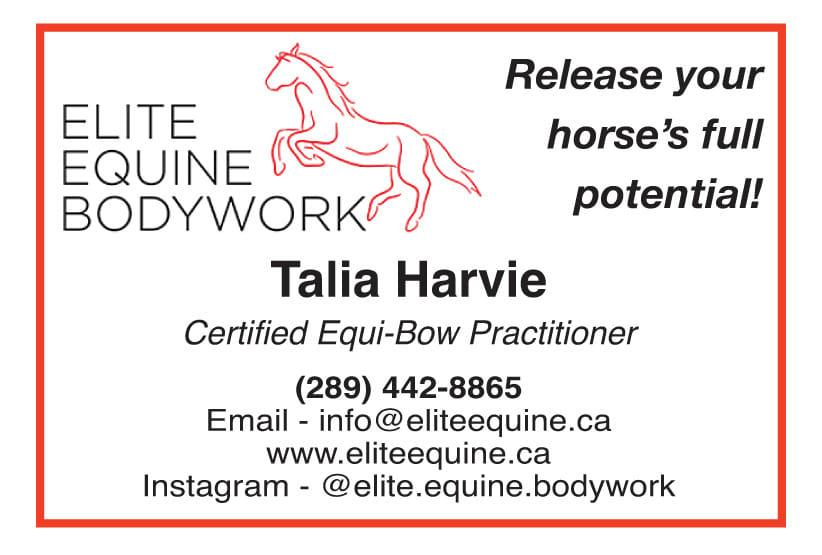 Elite Equine Bodywork
Contact: Talia Harvie
Phone: 289-442-8865
Email: info@eliteequine.ca  
Release Your Horse's Full Potential 
Certified Equi-Bow Practitioner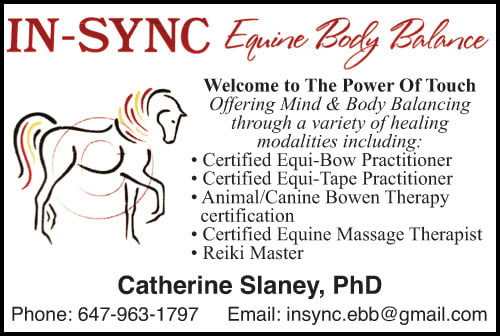 In-Sync Equine Body Balance
Contact: Catharine Slaney, PhD
Phone: 647-963-1797
Email: insync.ebb@gmail.com
Welcome to the Power of Touch 
Offering mind & body balancing through a variety of healing modalities including:
Certified Equi-bow Practitioner
Certified Equi-tape Practitioner
Certified Equine Massage Therapist
Reiki Master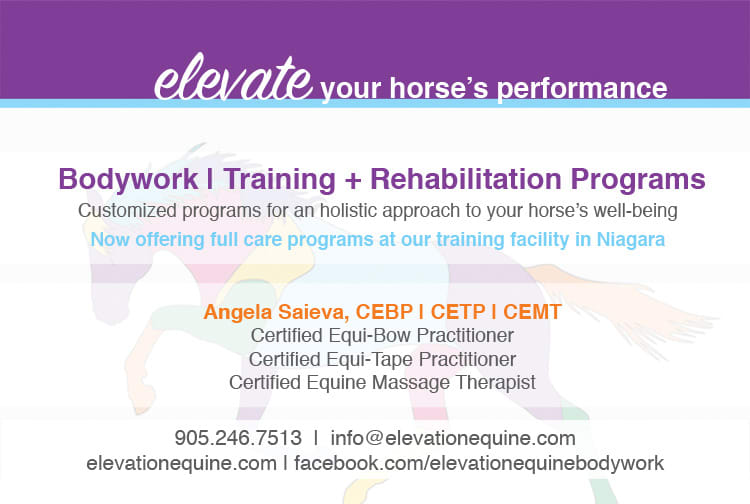 Elevation Equine Body Work
Contact: Angela Seieva, CEBP, CETP, CEMT
Phone: 905-246-7513
Email: info@elevationequine.com 
Elevate your horse's performance
Bodywork | Training & Rehabilitation Programs. Customized programs for an holistic approach to your horse's well-being. Now offering full care programs at our training facility in Niagara. 
Certified Equi-Bow Practitioner
Certified Equi-Tape Practitioner
Certified Equine Massage Therapist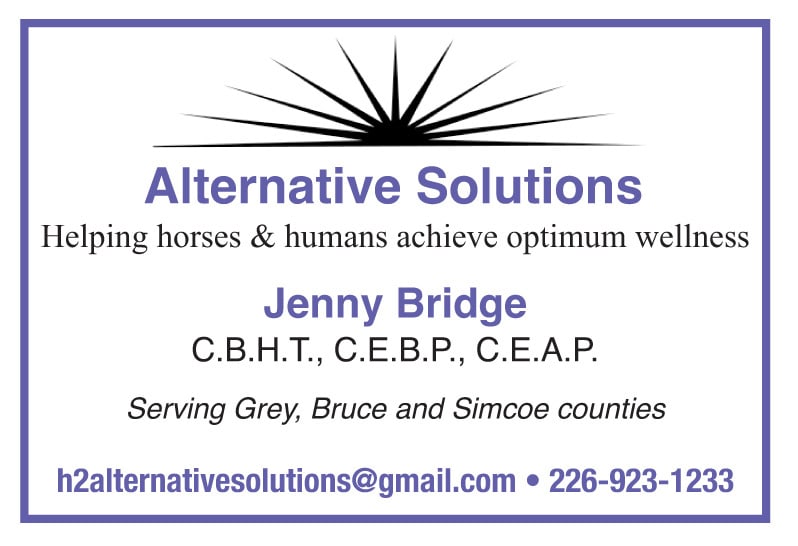 Alternative Solutions
Contact: Jenny Bridge CBHT, CEBP, CEAP
Phone: 226-923-1233
Email: h2alternativesolutions@gmail.com 
Helping horses and humans achieve optimum wellness.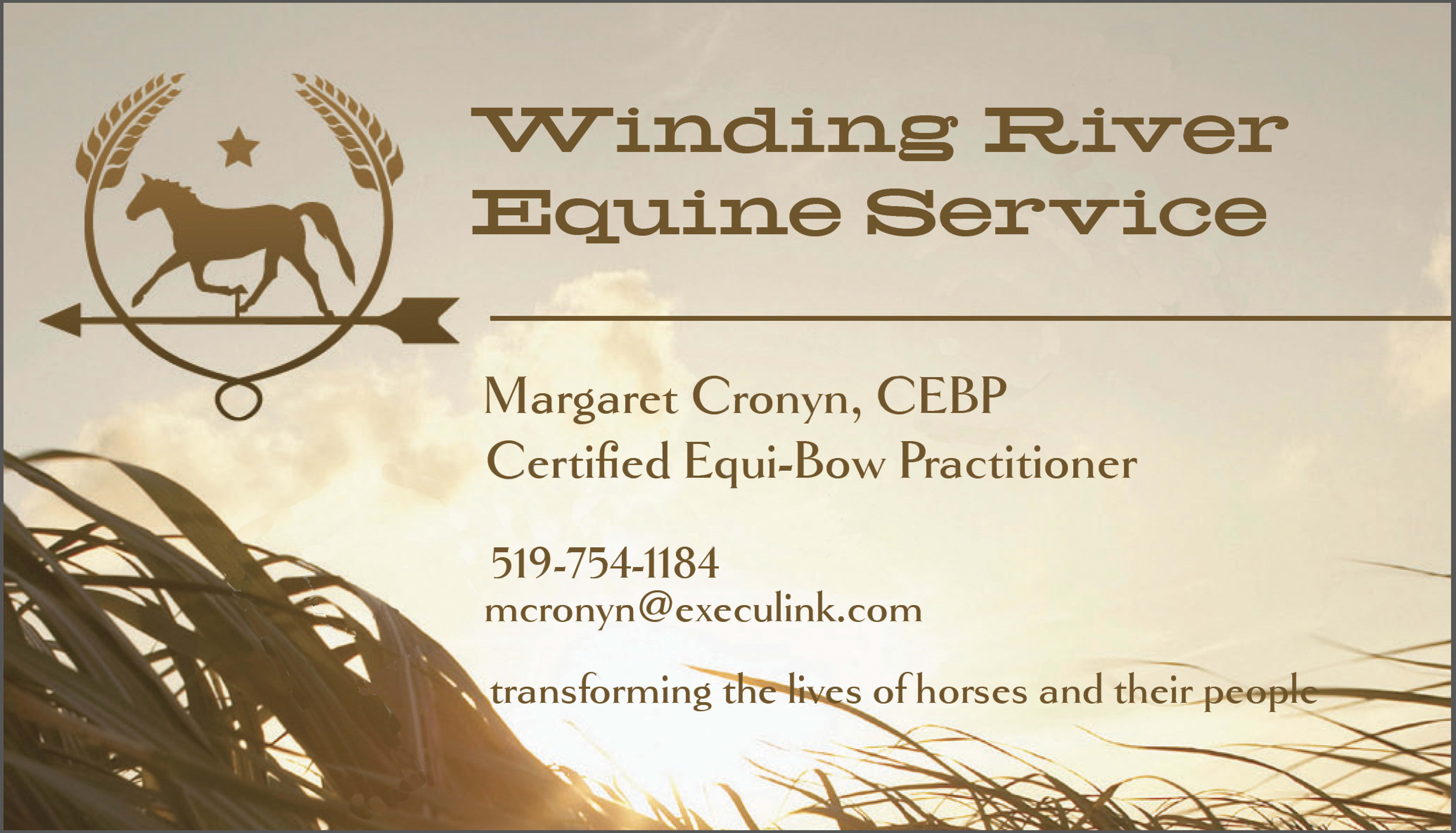 Winding River Equine Service
Contact: Margaret Cronyn, CEBP
Phone: 519-754-1184
Email: mcronyn@execulink.com 
Transforming the lives of horses and their people.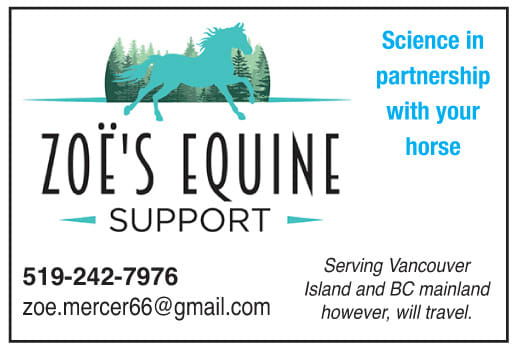 Zoe's Equine Support
Contact: Zoe Mercer
Phone: 519-242-7976
Email: zoe.mercer66@@gmail.com 
Science in partnership with your horse. 
Serving Vancouver Island and BC mainland however, will travel.